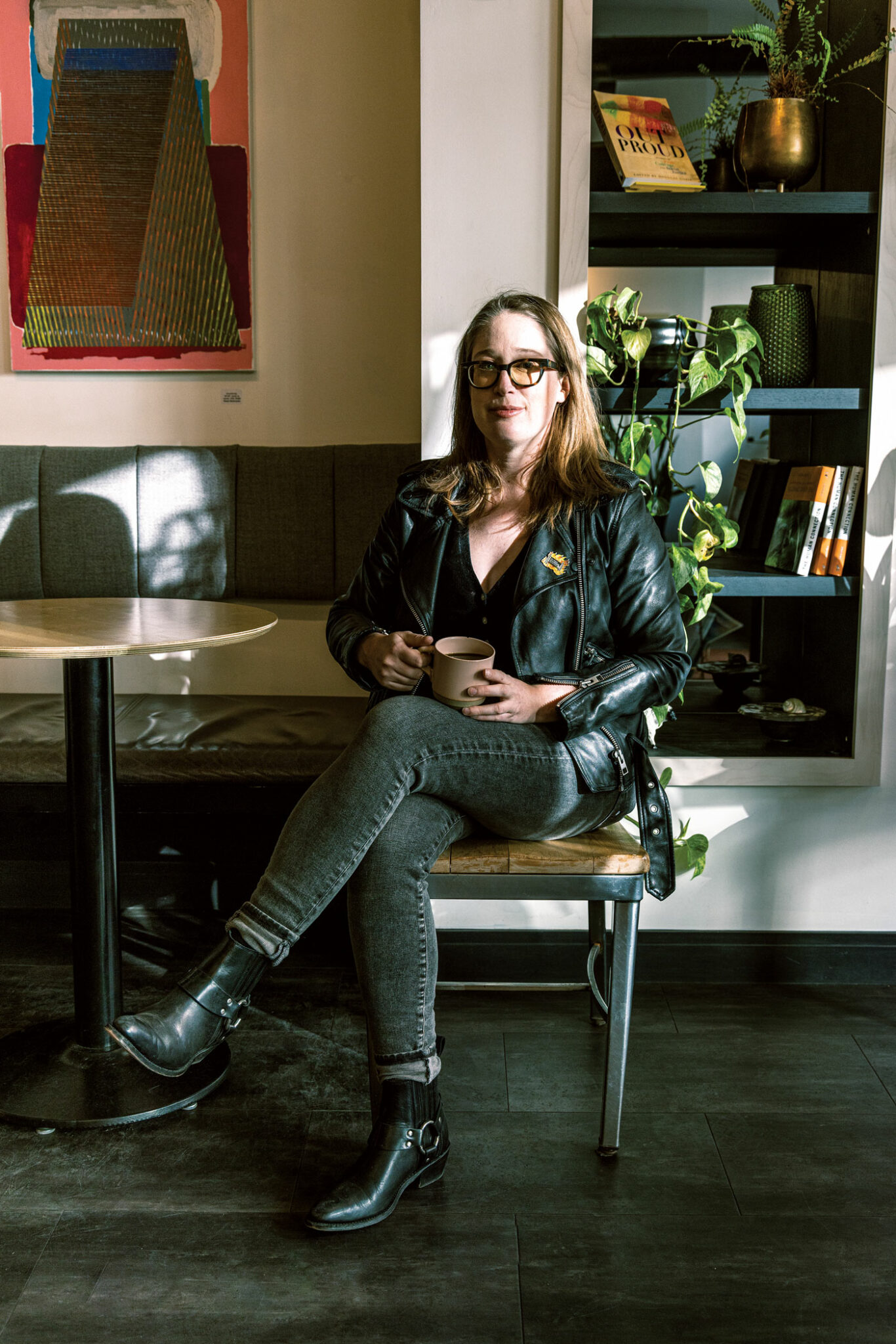 Kaffeeklatsch is a German word meaning "coffee and gossip." It's also the name of a coffee shop founded by Jessica McCarrel. McCarrel moved to Calgary from Ontario during high school and attended Alberta College of Art + Design (now AUArts). After graduating, she lived in Berlin for six months, indulging her love of German art and culture.
McCarrel first opened Kaffeeklatsch in 2014 inside a 25-square-foot closet in the CommunityWise Resource Centre (the Old Y building), while also running a coffee cart. Fast-forward through some other business models and Kaffeklatsch now has a storefront on 1st Street S.W. (as well as a kiosk at the Cambrian Wellness Centre). In addition to coffee and goodies, the shop sells books (from Shelf Life Books), wildflower seeds (from ALCLA Native Plants), flowers (from Grasslands Flower Co.) and work by local artists. "I see Kaffeeklatsch as an art project," McCarrel says. "I see [the shop] as a gift … and I want to be able to share that gift with many others."
Here are just some of 
McCarrel's favourite things 
in Calgary.
Artist-run Centres (like
"I go as someone with a background in art to see work that I know is going to be interesting to artists."
"I've tried all of the beers from Dandy's classic menu, so I get excited for new beers as they come out. Recently, I especially enjoyed the 2021 Haste Still Pays Haste: Vienna Lager."
"The magical thing about Sled Island is seeing local bands amongst bigger bands and travelling around to venues I adore, like The Palomino and Tubby Dog."
Biking the Bow River Pathway
"Past Inglewood, it gets really industrial and you can go all the way to Fish Creek Park."
"Each Tuesday, we would read either a Jacobin article or a chapter from a book. There's nothing greater than a bunch of nerds getting together to drink beer and discuss politics. [The club] is now online, but I don't do Zoom meetings that well."
"It's the most delicious, and you can add in tripe and oxtail, which is really fabulous."
"Cinematheque spotlights a specific director each season and does a deep dive on that director's craft. They have different programming themes, so you can learn a lot about a specific director, actress, movement or region."
"The pricing system here is based on the length of your hair, which is actually really smart. My stylist is Tyler. He knows my hair and it's hard to find someone that you trust with your hair."
"I can't not talk about The Allium because it's a place in Calgary that's run as a workers' collective and is unabashedly anti-capitalist. I'm not a vegan or vegetarian, and I don't really care about that. I just think their food is fabulous and I like what they stand for."
"I went there for my birthday two years ago, so it's extra- special to me. I really like the lamb skewers, oil-splashed hand-pulled noodles and smashed-garlic cucumber."