Celebrating Avenue's Best Dressed 2015
On Tuesday March 31, Avenue magazine celebrated the Best Dressed list with a Veuve Clicquot reception at Limitless – Calgary.
By Kthe Lemon
The 2015 Avenue Calgary Best Dressed. Top row from left to right: Savannah Qiu, Avenue editor-in-chief Kthe Lemon, Lana Rogers, Sheenah Rogers, Hazel Anderson, Kara Chomistek, Avenue senior editor Ricky Zayshley, Andrew Clelland and Chloe Cappelletto. Bottom row: Kasra Payandehjoo, Asim Haque and Chima Nkemdirim. (Missing: Ann McCaig and Yves Trpanier)
Photography by Brian Buchsdruecker
On Tuesday, March 31, Avenue magazine celebrated the 2015 Best Dressed list with a Champagne reception at the super stylish modern furnishings boutique Limitless – Calgary in Inglewood. A full house of the city's style and fashion community raised a glass of bubbly to toast this year's dozen Calgarians named to the list and featured in the April issue of the magazine.
Veuve Clicquot, which with its yelloweek event May 1 to 7 has a long history of demonstrating its dedication to creativity and ingenuity, provided the guests Champagne. Guests were also treated to samples from Babor Beauty Spa, Kent of Inglewood and Sant Spa as well as hors d'oeuvres by Bite.
"Calgary has become a city of style with a growing number of high-fashion retailers and amazing Calgarians who truly exemplify the Best Dressed," said Ricky Zayshley, Avenue Senior Editor and coordinator of the Best Dressed project, in his remarks to the crowd.
Zayshley says he looks forward to continuing Avenue's coverage of stylish Calgarians and encourages readers to reach out to him with suggestions and feedback on who should be featured in the magazine.
Joyce Byrne, Avenue Publisher, noted that the Best Dressed list and the event were a demonstration of Avenue's strength in and support of the fashion and style communities, and that in addition to this event, there are more fashion events and coverage planned for the coming year. In addition, Byrne said, the magazine is proud to support fashion shows held throughout the city.
As part of the celebration of Avenue's 20th anniversary publishing year, the magazine has been actively involved in hosting events in support of the various industries it covers including style and dining. The next in this year-long celebration is the first Dinner Series event – a series of five multi-course wine paired dinners taking place at the Top Overall Restaurants featured in the Best Restaurants issue in March. The Il Sogno dinner will take place April 29th and tickets are on sale now.
Avenue senior editor Ricky Zayshley with stylist Crystal Mckenzie and guests.
Guests included Gwendolyn Richards, Kim Flanagan and Judy Gabriel.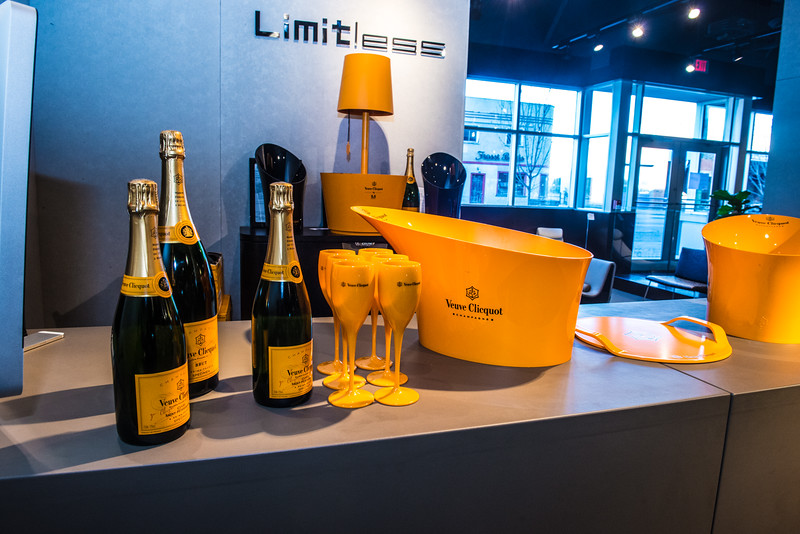 Limitless-Calgary was the venue for the party that included toasting with Veuve Clicquot Champagne.