In July 2010, Ellis Choe and Richard Kim's entire family lived out of just one suitcase for more than six weeks. After selling their home, they found they couldn't get into their new house until September. Instead of waiting around, they opted to make a road trip down the West Coast for the summer, armed with only the suitcase, a longboard and a stroller.
"It was the best, freeing feeling in the world," says Choe. "I said to my husband, if our storage unit went up in flames, I would not care. Except for the photo albums, I wouldn't miss a thing."
Less is more – more or less
It set the stage for their new way of life, what they call "spare Scandinavian." Their modern Elbow Park home is filled with wide, open spaces and light from the casing-less windows pouring over the white walls. There are no extraneous knickknacks, but the serene space is still grounded with wood panels and bold, black light fixtures.
"We embrace the modernist mantra of the '50s and '60s, where less is more – more or less," Choe laughs. "We try to live where we have only what we need and to not go beyond that."
Choe recalls letting go of their grand piano, which had been in their family for 15 years. With every move, they would start by looking for houses that could fit the piano, but this time was different. They became a family of five with the birth of their daughter eight years ago, and their priority was four bedrooms.
"[The piano] was something very meaningful to me, but it was time to finally let it go," Choe says. "We learned that we could live without it, and that you have to be able to let go of things you don't need anymore."
Decluttering your home
With 10-foot ceilings on the main floor and expansive windows, Ellis Choe and Richard Kim's home is crisp, clean and bathed in light, but it took some work to get there. The family began planning their spacious dream home about three years ago but were left renting while it was being built.
With dark walls and little storage, Choe recalls everything piling up around them in the rental. Pulling her shoulders up in exasperation, she says, "It was very demotivating, almost depressing."
Adds Kim: "It was just a matter of getting organized and getting rid of the stuff you don't need. You can't declutter your home if you have nowhere to put your stuff, so storage is important. We have storage everywhere."
Not that you could tell just from looking at it, though – all the storage is discreetly tucked away. The kitchen appliances, including the fridge and dishwasher, are disguised as cupboards, leaving a criss-cross pattern of white space and panels. "Everything just becomes this white wall, so it blends into the space," says Choe. "I didn't want to segregate anything and chop it up by having everything sticking out, so all of our storage is hidden."
Choe and Kim also opted for built-in closets with drawer space inside. Without a single dresser in the home, even the bedrooms have storage tucked away into walls. Choe says that life is cluttered enough, so having a peaceful backdrop is exactly what her family needed.
"We have a very busy family life with three kids," she says. "So, to me, having a light and airy home equates to having a calm home. The less clutter in the background, the more we can manage the foreground – which is our kids. Now, I feel like we can breathe again."
Designing for a family
Though their last home was similar in style, Ellis Choe, Richard Kim and their three children only had three bedrooms between them, causing their oldest son to set up camp in the basement. He was just nine years old at the time, and Choe says she hated having him separated from the rest of the family.
"We were all upstairs, and it was really important for us to have him on the same level," says Kim. "So the kids dictated how this home started, really. The biggest challenge was trying to fit four good-sized bedrooms on the same floor."
But after bringing on Choe's brother, Ron Choe, an intern architect in Calgary, to help with the design, they made it happen. With only 2,100 square feet of space, Choe says it was a challenge but that they still have everything they could need to hold their family.
With their children now aged eight, 10 and 16, they had a few other challenges in store for them. For their teenager, they set up a projector in the basement to give him and his friends their own space to play video games and watch movies. And beneath the stairs they built a tiny playroom for the younger children, complete with bright yellow paint and a tiny door.
"There's nothing that sits empty in the house," says Choe. "There are multiple needs, and with a family of five you share everything, but it's nice to be able to give them their own space, too."
Kim and Choe's favourite room
While working for a builder for 20 years, and now as a realtor for Re/Max, Richard Kim says he always encountered the same formula for every home: formal living room, formal dining room, kitchen, nook and family room. But he and his wife Ellis Choe wanted to do something a little different with their family home.
"These formal living rooms and dining rooms were only really used two or three times a year," Kim says. "Now, it's transitioning to the 'great room' concept, and, for us, this open space was what we wanted. Everything's connected, and we don't need all those unused, separate spaces."
On the main floor of Choe and Kim's home, the kitchen, dining room and living room are all together in one vast space. With all their appliances cleverly tucked away behind white cupboards and light streaming from the windows in every direction, the open area is the perfect meeting ground for a large family.
Choe describes the typical evening scene: their 16-year-old son works on his homework at the island while she cooks a meal, and, just a few feet away, the other two children play a board game at the table or pull out a book and read in one of the window seats.
"It's the hub," says Choe. "Everything is done in this room – we're always here. It's our home."
---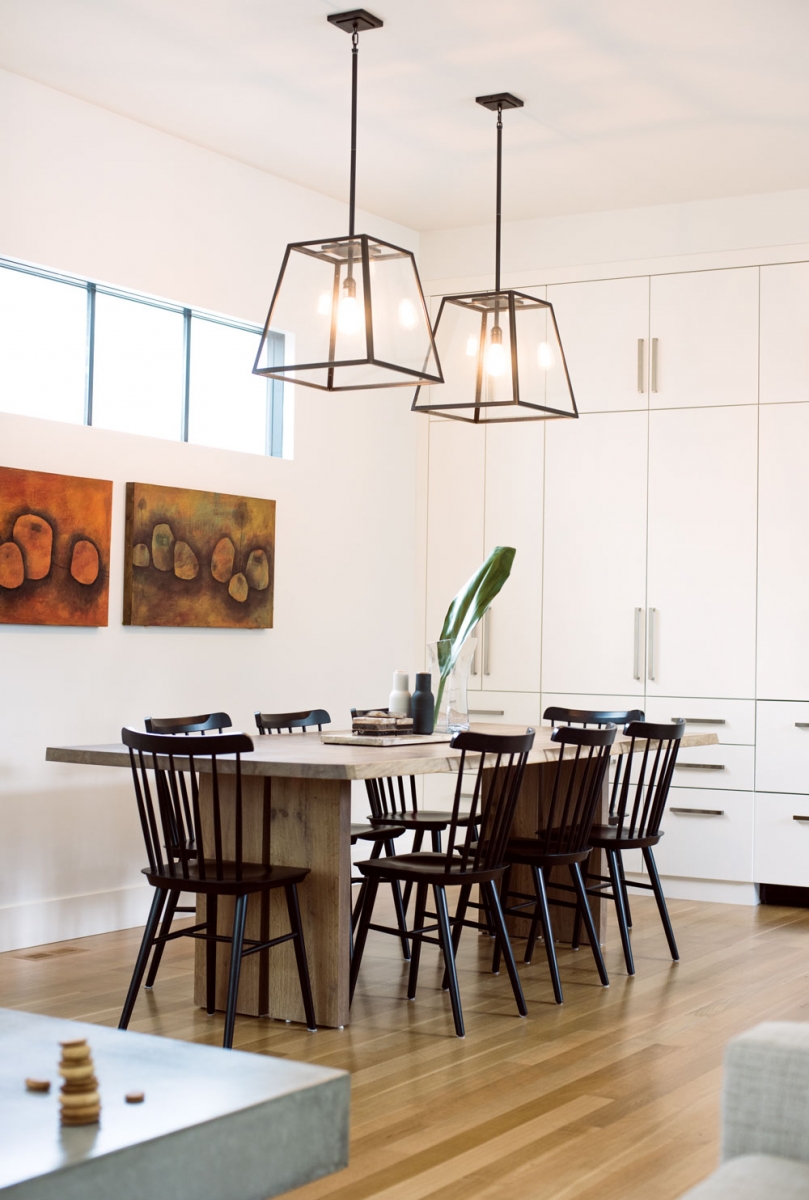 Choe and Kim furnished their home with classic, minimalist furniture, making it easier to stay true to their less-is-more philosophy.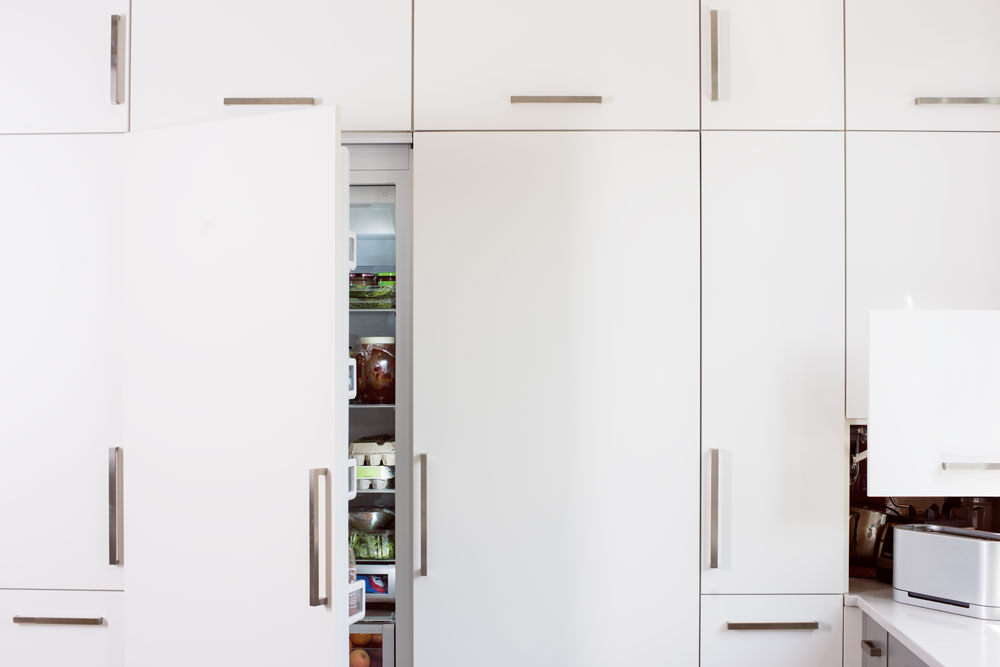 A vast amount of storage space in the kitchen and throughout the home is cleverly concealed.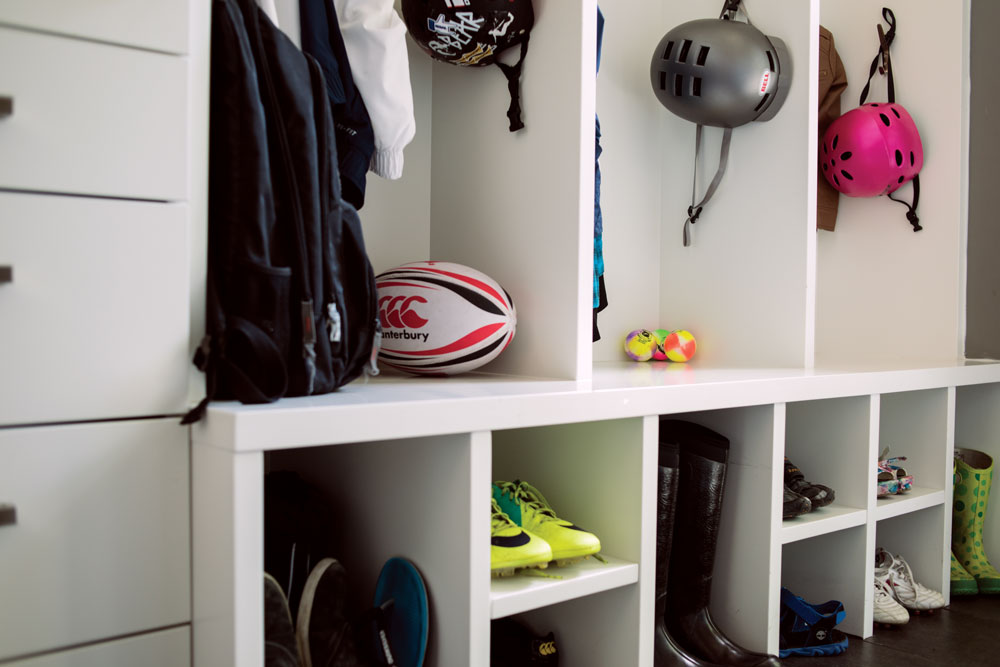 While the home is modern, minimalist and decidedly sophisticated, it's also built for everyday family life. Built-in cubbies in the entryway store daily outerwear essentials.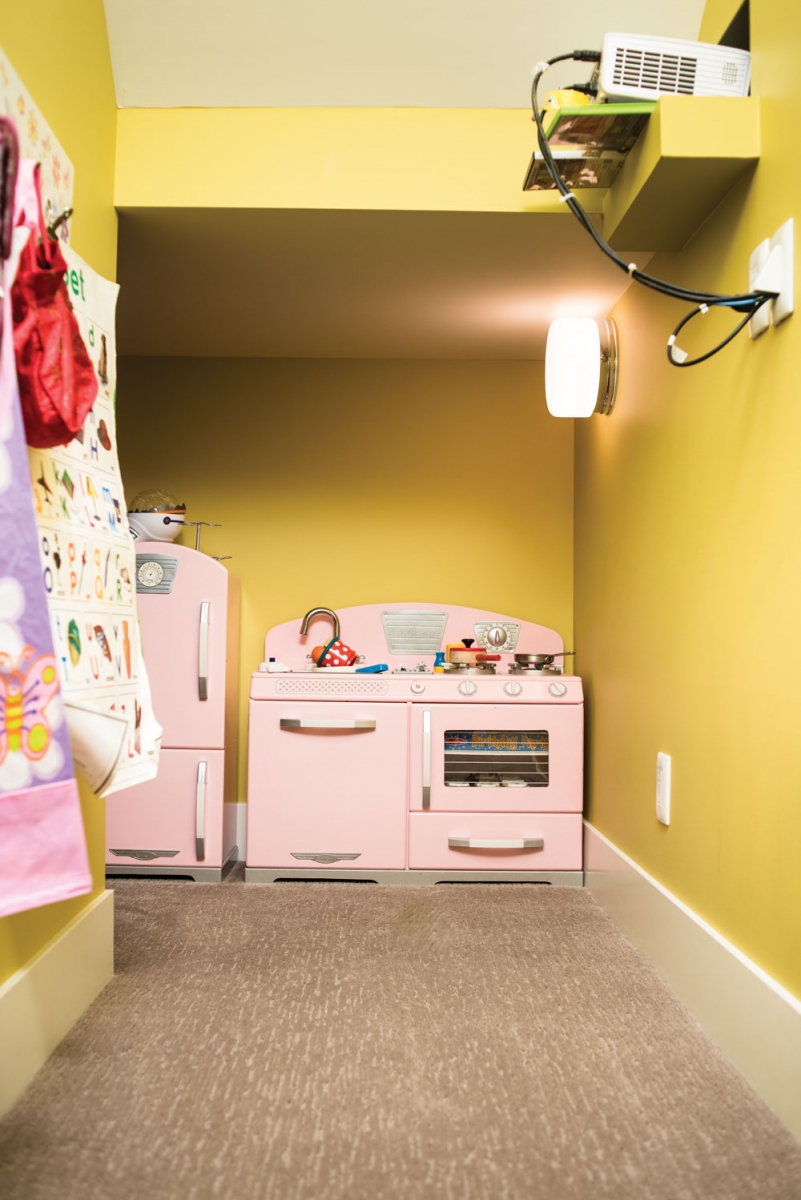 Utilizing every inch of the home's 2,100 square feet, Choe transformed the space beneath the stairway to the basement into a tiny playroom.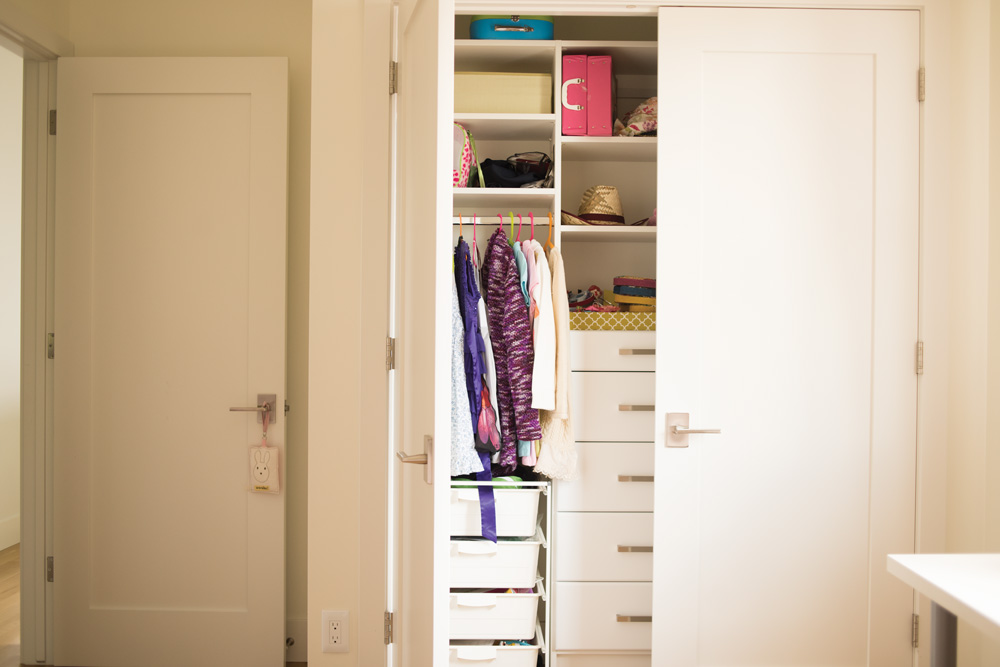 The minimalist aesthetic continues in the kids' rooms, where closet storage is hidden behind double doors.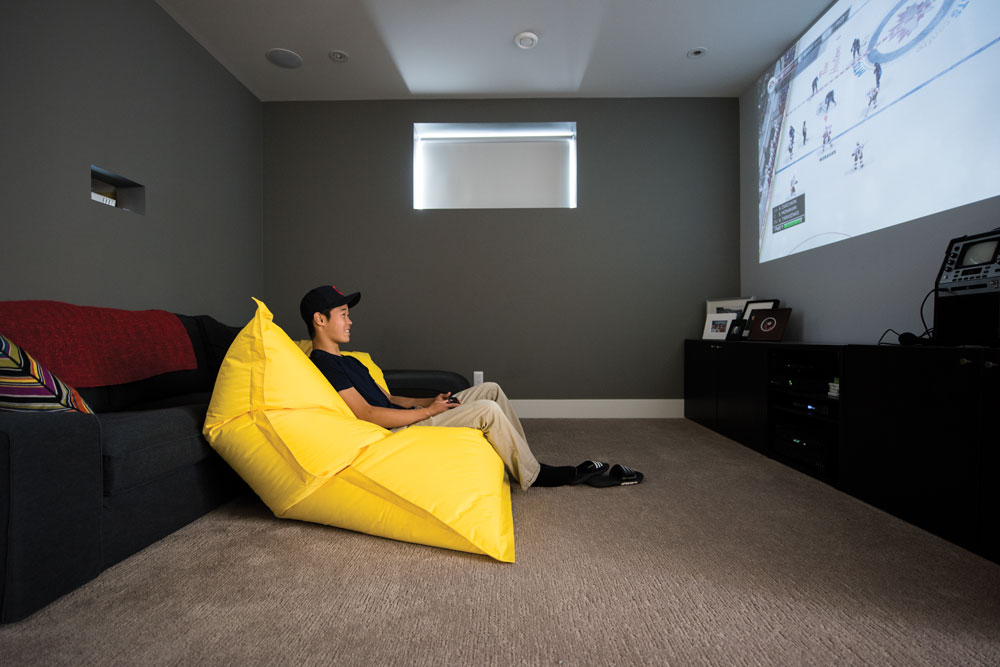 A projector setup in the basement complete with a Fatboy beanbag chair from Kit Interior Objects is the perfect getaway for the family's three children.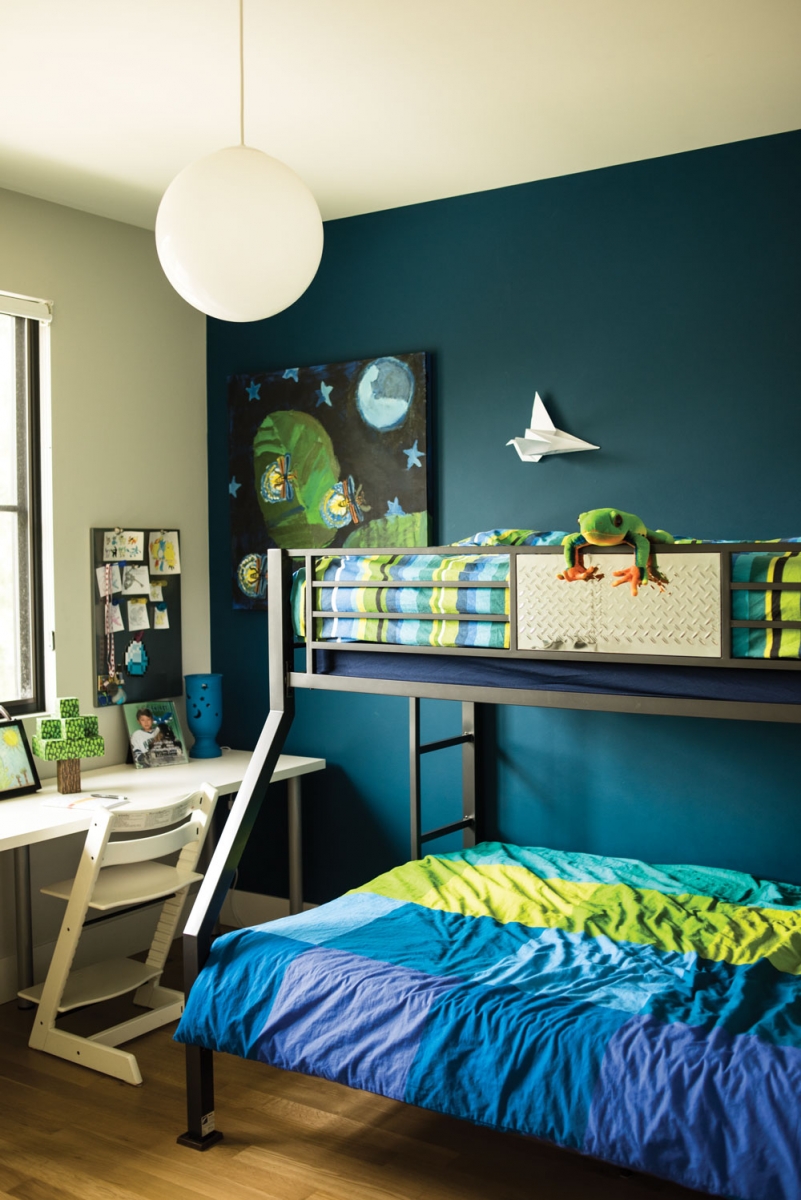 For the homeowners, family comes first. That's why it was important to have all the bedrooms on the same floor, a luxury they didn't have in their previous home.
Ten-foot celings and expansive windows give the modestly sized home an airy, lofty feel. Choe repurposed a reclaimed wood post to create a mantel with impact.