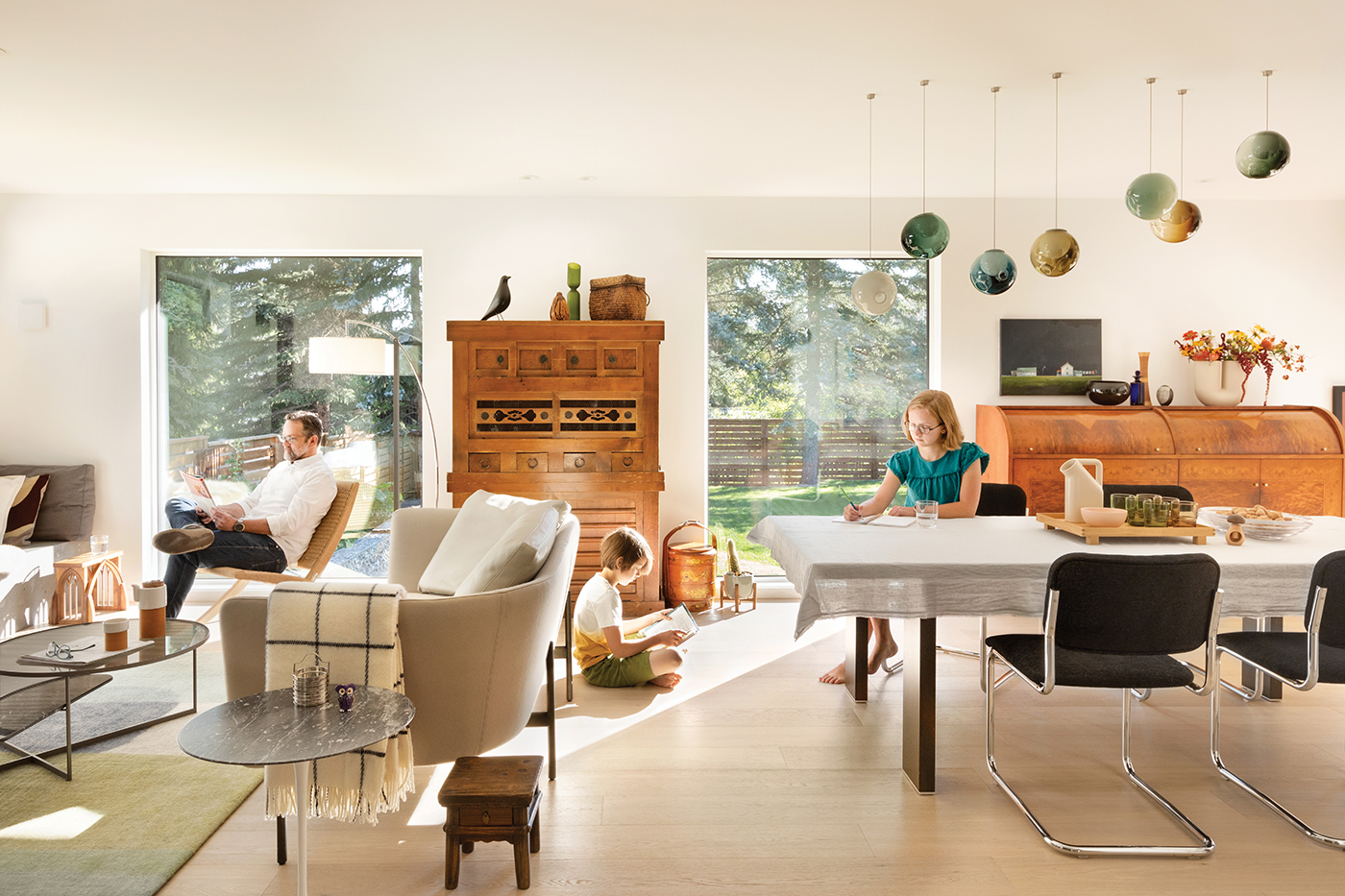 After Vancouver-based couple Vreni and Russ made the permanent move to Calgary in 2013, they began searching for the perfect house that would help them plant deep roots. Vreni, born in Vancouver, and Russ, originally from the U.S. and a resident of Vancouver since 1999, first moved to Calgary in 2005, then back to Vancouver in 2011. But, when work brought them again to Calgary, they decided to stay for good. They saw Calgary as an affordable place to raise their two children, and they'd fallen in love with the city's parks, great sense of community and proximity to the mountains.
Unable to find their perfect home right away, the family rented until friends told them about a 1970s-era split-level house coming up for sale on their street — a quiet loop in Varsity, close to Bowmont Park and its many opportunities to walk, cycle and be in nature. "It was a purchase not so much for the house, but for the location," says Vreni, a physician, who describes the original siding as "ugly and butter-coloured."
After buying the house in 2014 and living in it for nearly five years, the family had had enough of the outdated configuration and inadequate storage. Russ, a product manager for a tech company, says they grappled with how to reconfigure the cramped kitchen, sunken family room and too-big living room.
Then they spotted an Instagram post by Vancouver interior design studio Falken Reynolds Interiors, featuring a beautiful, yet highly functional mud room: a bench for kids to put on their shoes, closed cabinets to tuck away mess and a lighted key drop. The details made Vreni think, "Okay, these are the people for me."
Falken Reynolds is known for its clean lines, quality materials and a focus on creating homes shaped by the lives and experiences of its clients — mostly young, active families. Renovations comprise 70 per cent of its work. Chad Falkenberg, co-owner with Kelly Reynolds, says they weren't fazed when Vreni and Russ contacted the studio about redesigning their Calgary house. "We'd already worked remotely with clients on a few projects outside Vancouver," says Falkenberg.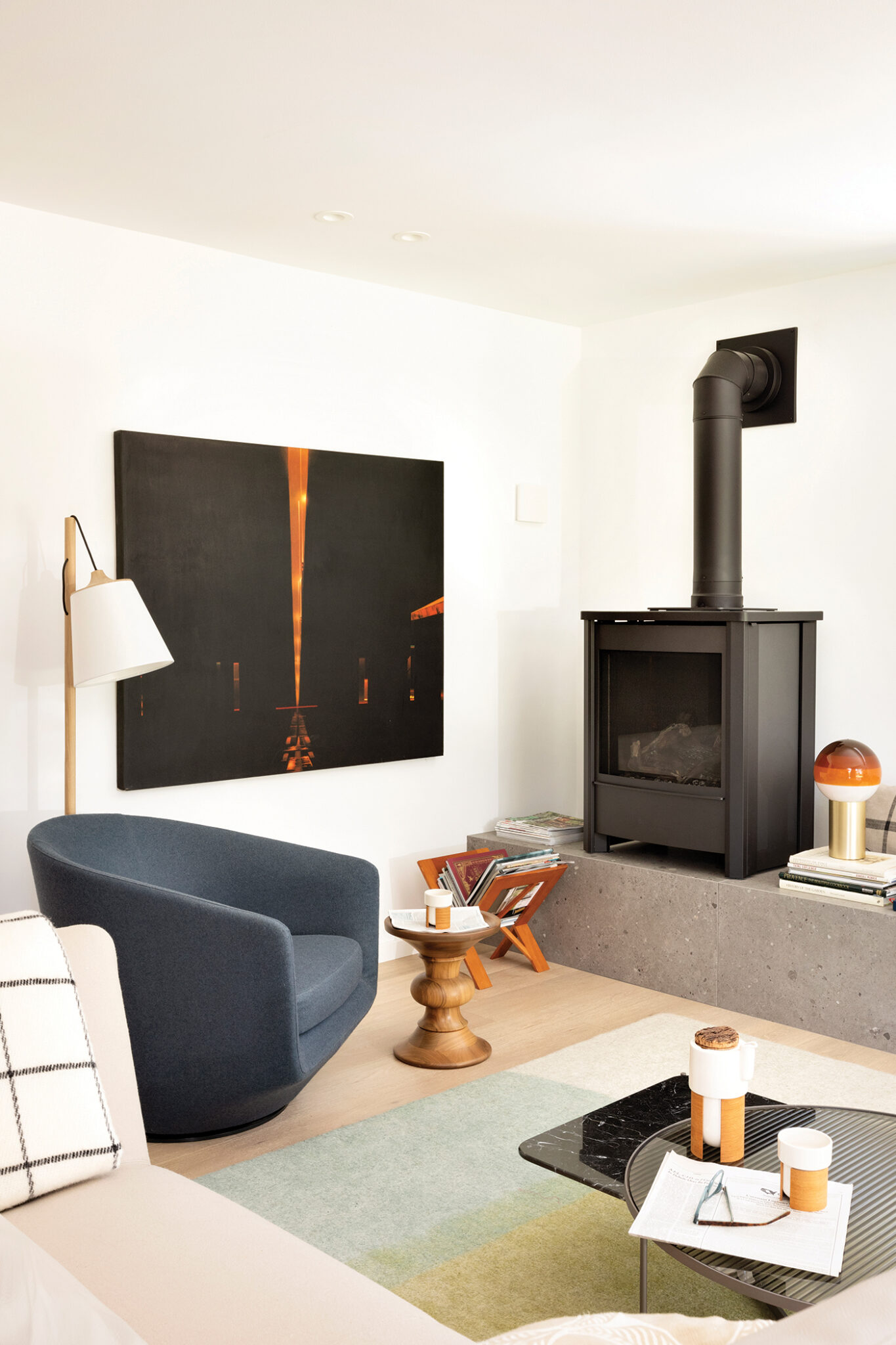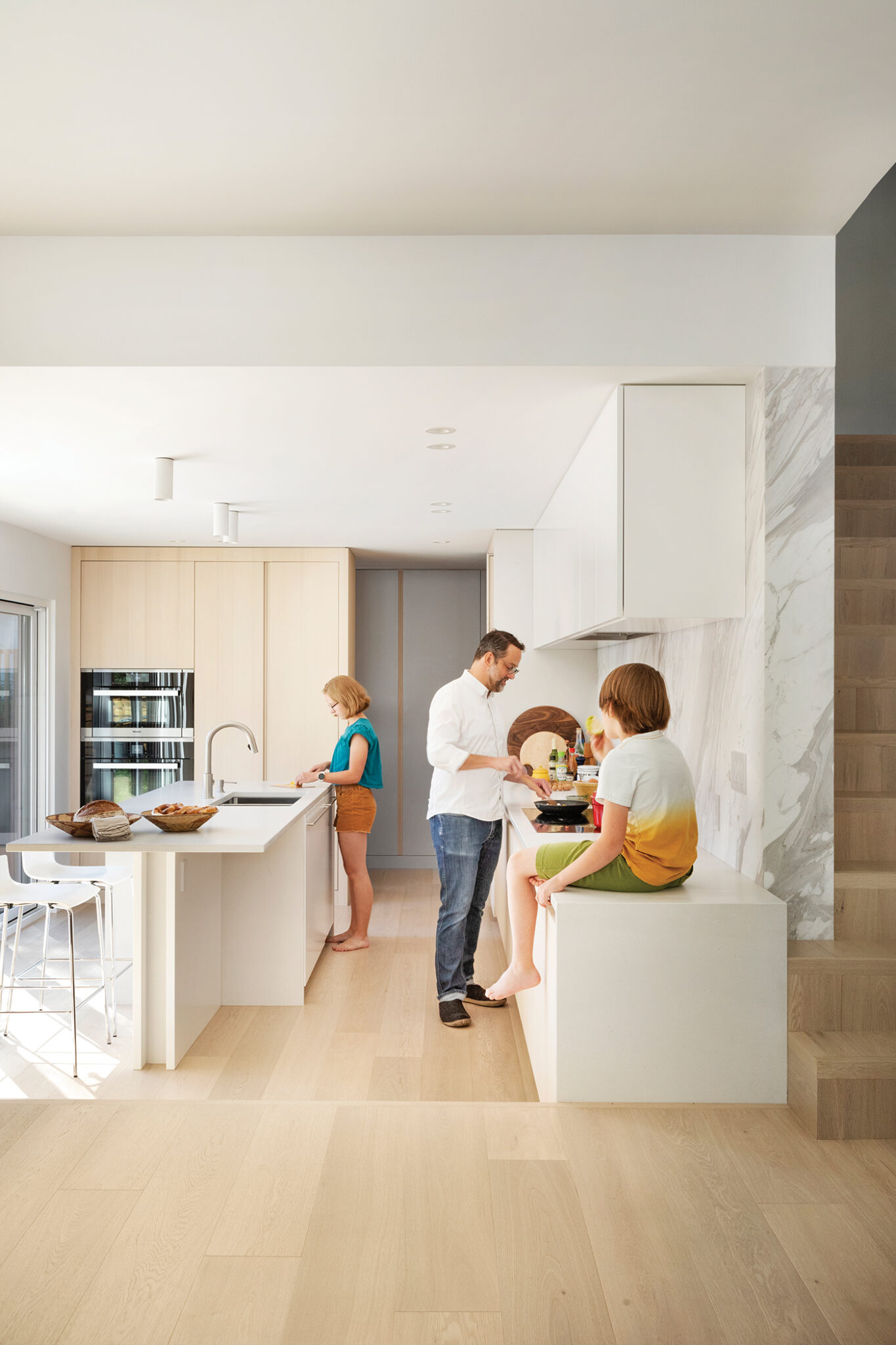 Vreni and Russ toured two completed Falken Reynolds projects in Vancouver, while Reynolds flew to Calgary to see the home and observe its "pinch points." He documented Russ and Vreni's extensive collection of art and vintage furniture, asked many questions and coaxed stories from the family about how they live in order to frame a home around their lives, now and in future.
"We wanted to bring it into the 21st century, freshen it up and make it practical for how their life is going to be in the next 10 years while their kids are growing up," says Falkenberg. The collaborative design process took 18 months. The subsequent renovation began in March 2020, with Byron Brooks of Alair Homes Calgary acting as general contractor. Brooks' team was gutting the interior at the onset of COVID-19, and the pandemic paused construction for a week. Thereafter, the Alair team communicated with the homeowners and designers online, sharing photos and video of their progress. The house was stripped to the studs, the plumbing and electrical redone. Only the foundation, exterior framing and (reinforced) roof are original, says Russ.
The renovation wrapped in spring 2021. Eight years after moving to Calgary, the quest for a perfect home had been realized with a warm, highly personalized modern space inspired by nature.
The home's new exterior is striking: black board-and-batten siding above, with natural black slate cladding below. A wide walkway flanked by native perennials leads to an expansive glass door.
Inside, a large metal pinecone by Ontario sculptor Floyd Elzinga sets a playful tone in the foyer, and natural light floods the open-plan dining and living areas. The family's cherished antique cabinets — one Japanese, one Italian — hold pride of place, with large picture windows designed around them. Glass pendant lights by Bocci in green, tan and glacial blue hang above a Bensen dining table.
The "think room" — a multipurpose corner of the living area that can be closed off with sliding doors — contains a piano, computers and reading nook. Whitewashed ash millwork hides cables, while niches display collectibles. A bench sits beside the living area's freestanding gas stove, and the oak floor below is warmed by a Swedish felted rug. Part of the design considerations were quiet places for the kids to read or play games while still being part of what's happening around them, says Falkenberg.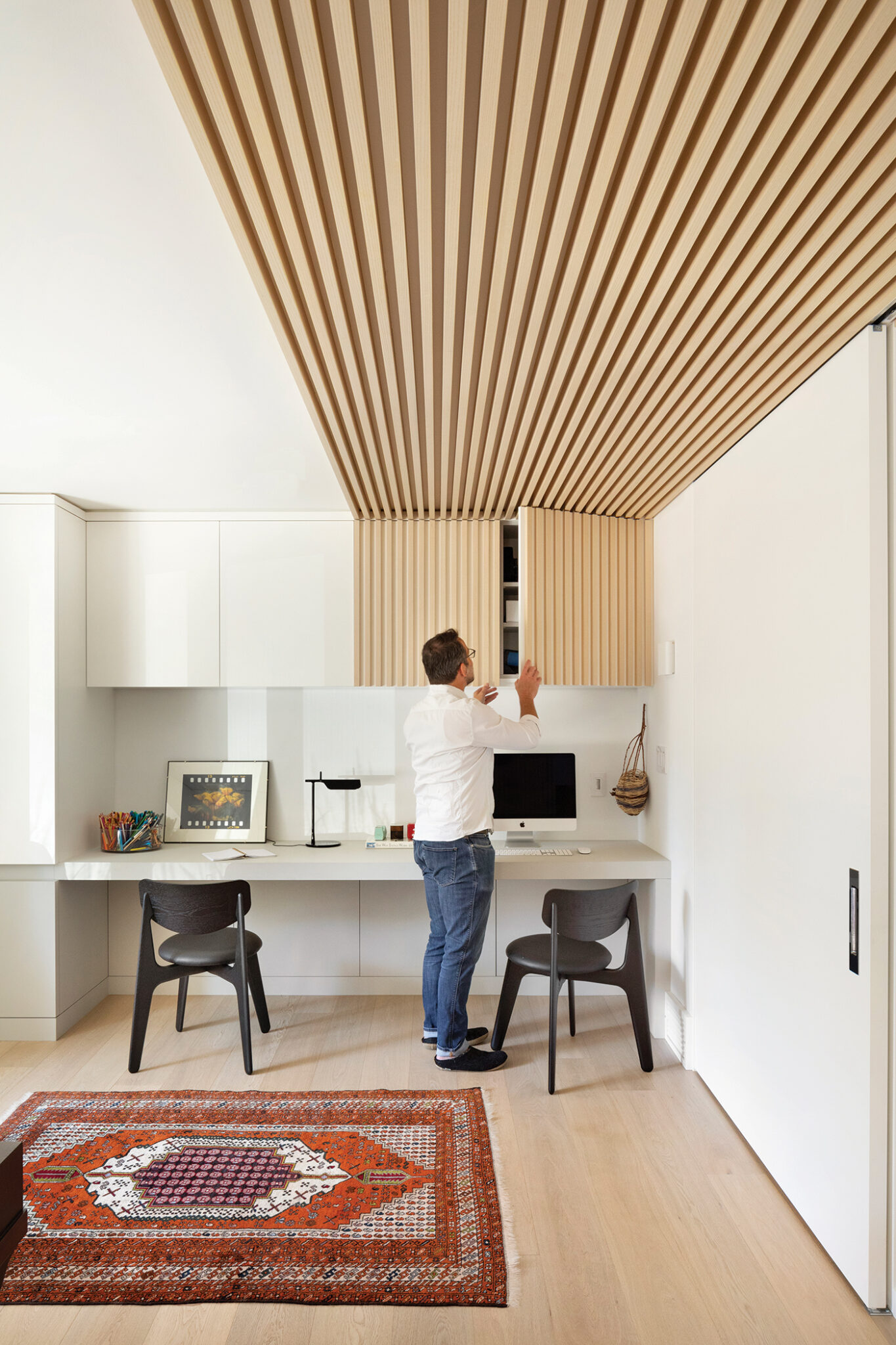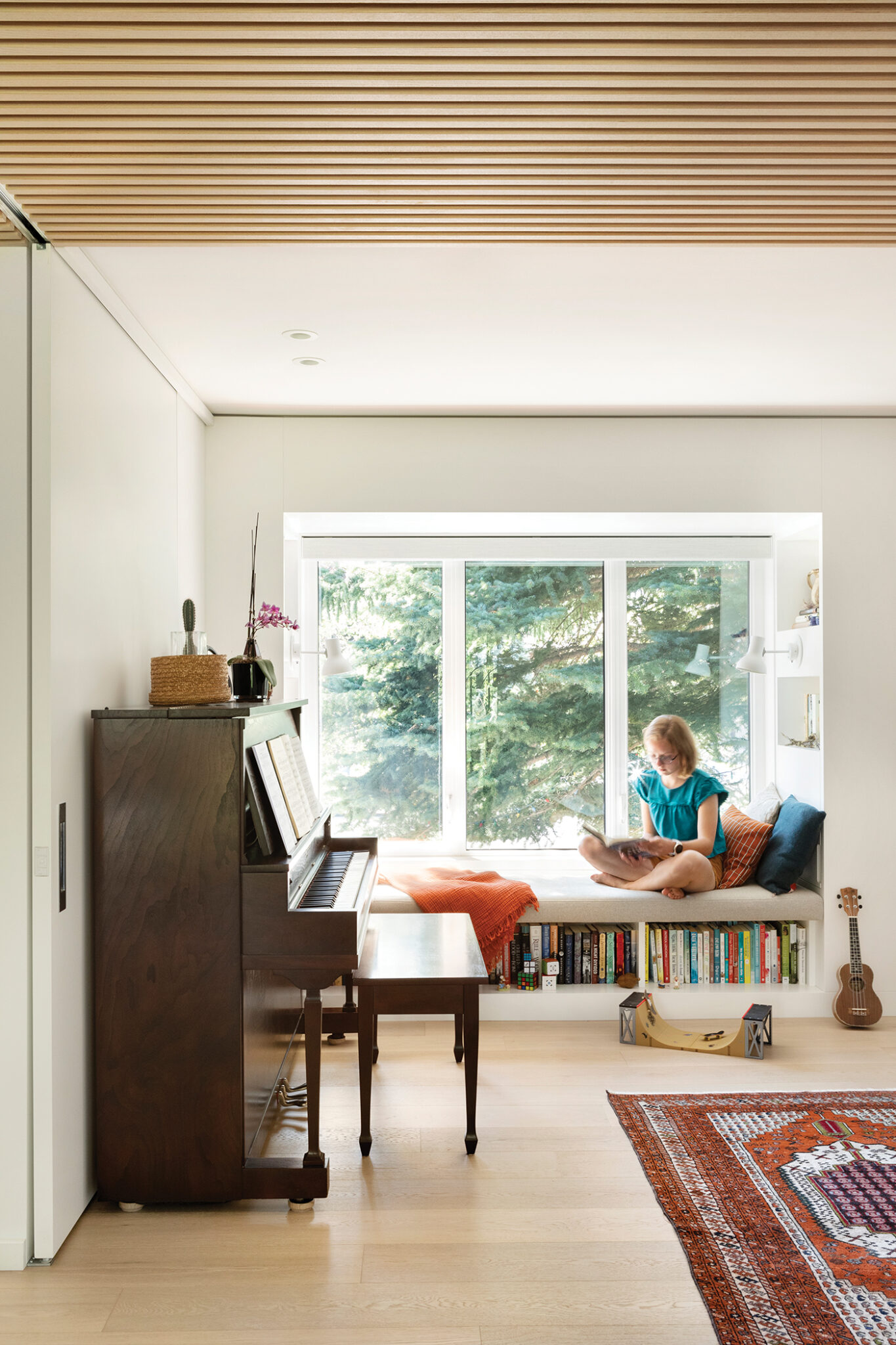 The sunken kitchen — replacing the old family room and now closer to the front-drive garage — connects to the backyard via a bank of sliding glass doors. Caesarstone quartz flows down the side of the island for maximum durability, while full-height ash cabinets conceal drawers, appliances and clutter. There is a place for everything, says Vreni.
The mud room/pantry mixes open shelving for cookbooks with closed cabinets for clutter, and its handwashing sink, designed pre-COVID, is a prescient and practical feature. A home gym in the basement incorporates a climbing wall, a barre and bikes on cycling trainers.
"Fantastic" is Vreni's word for her reimagined home. "It allows us to live the way we like to live," she says. "It's an open, calm space.
"It's our forever home."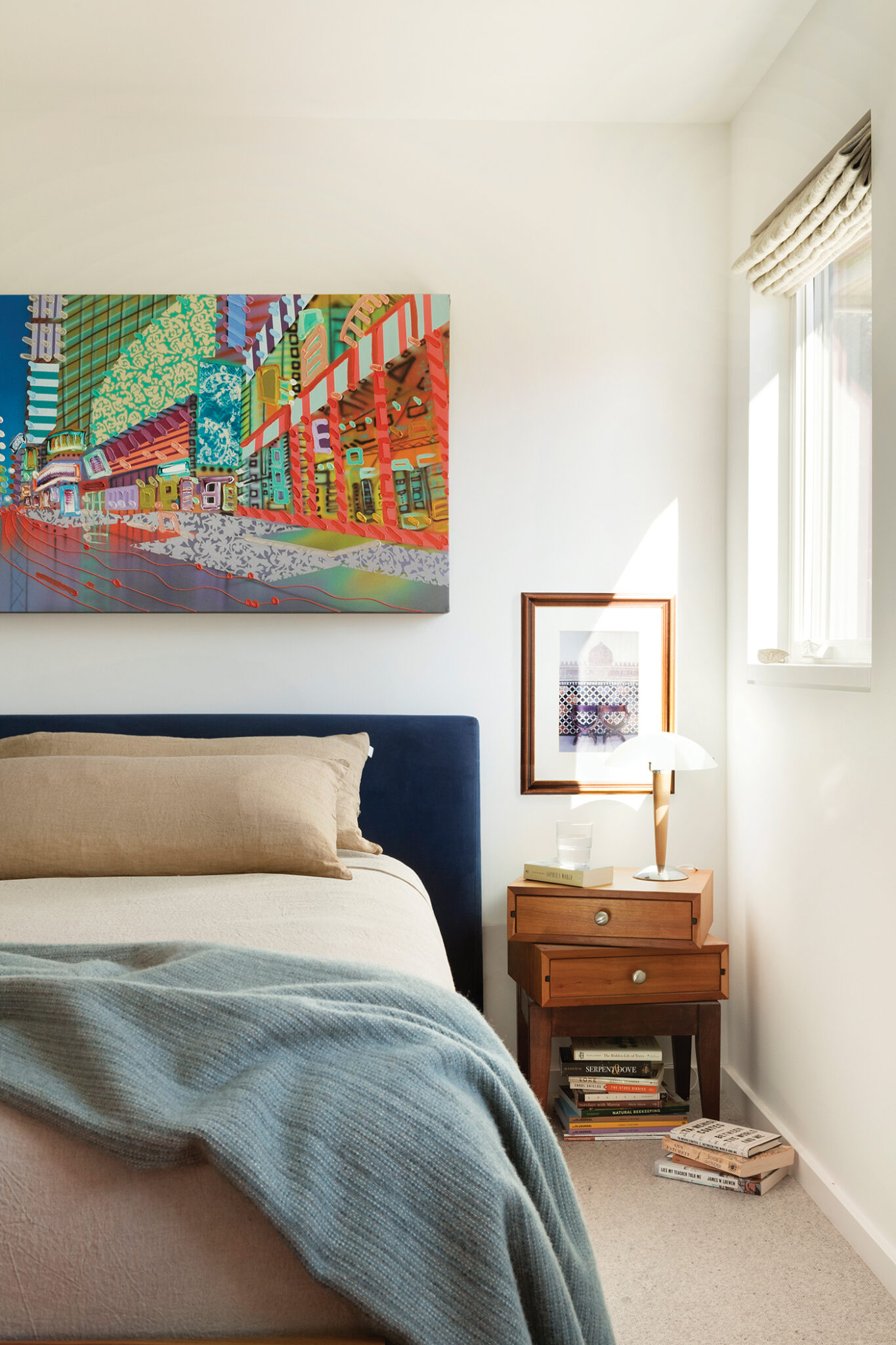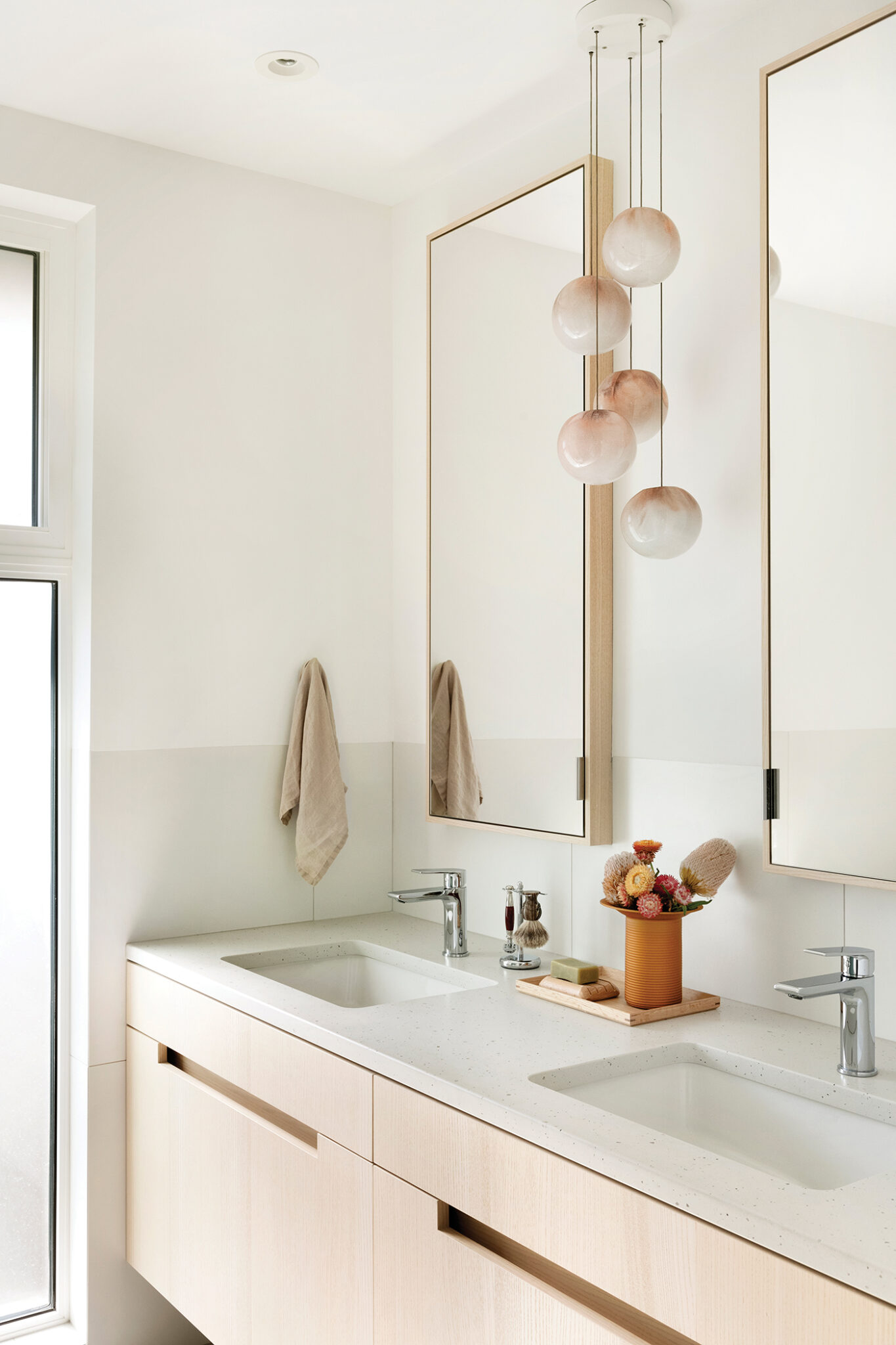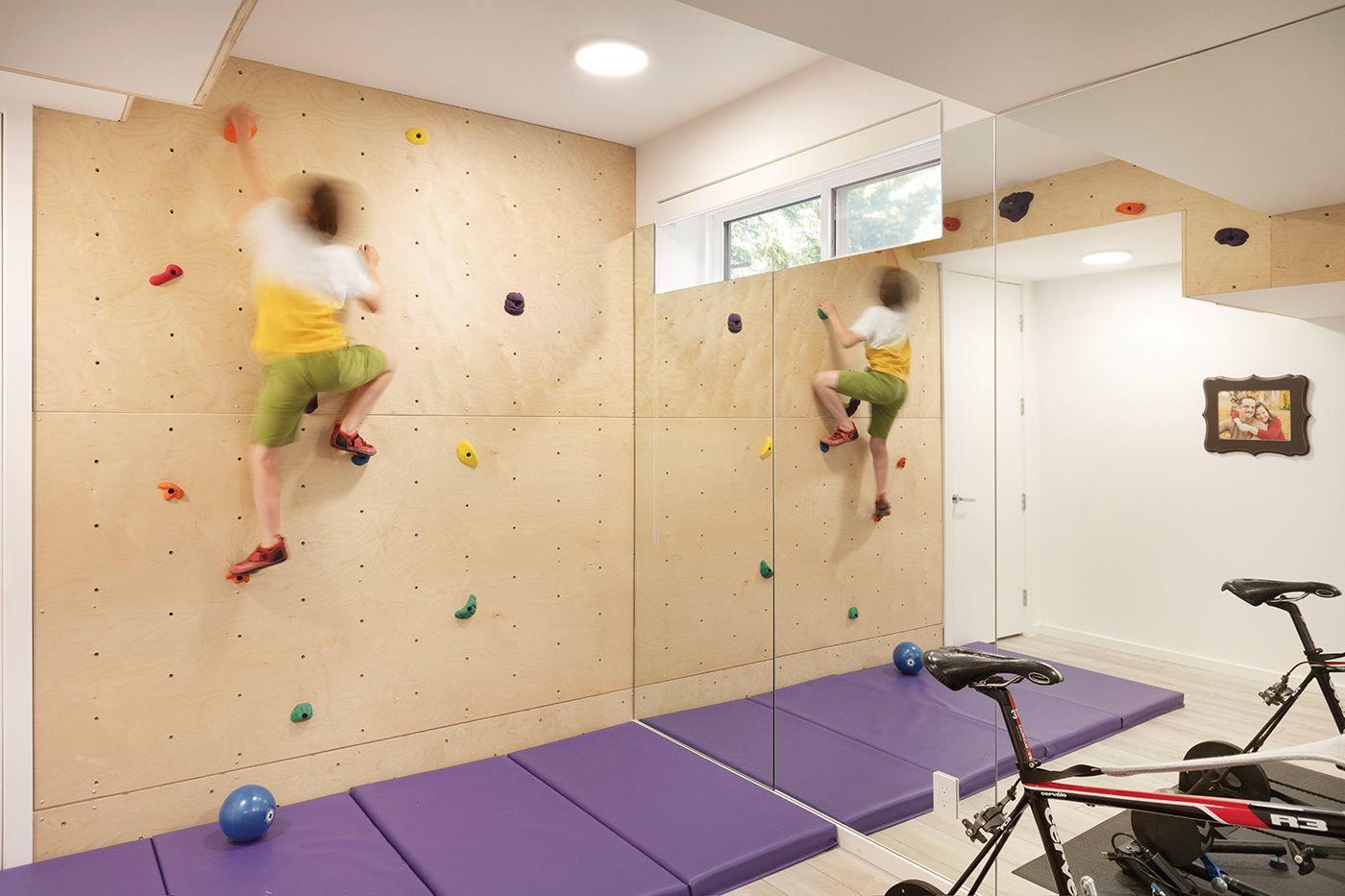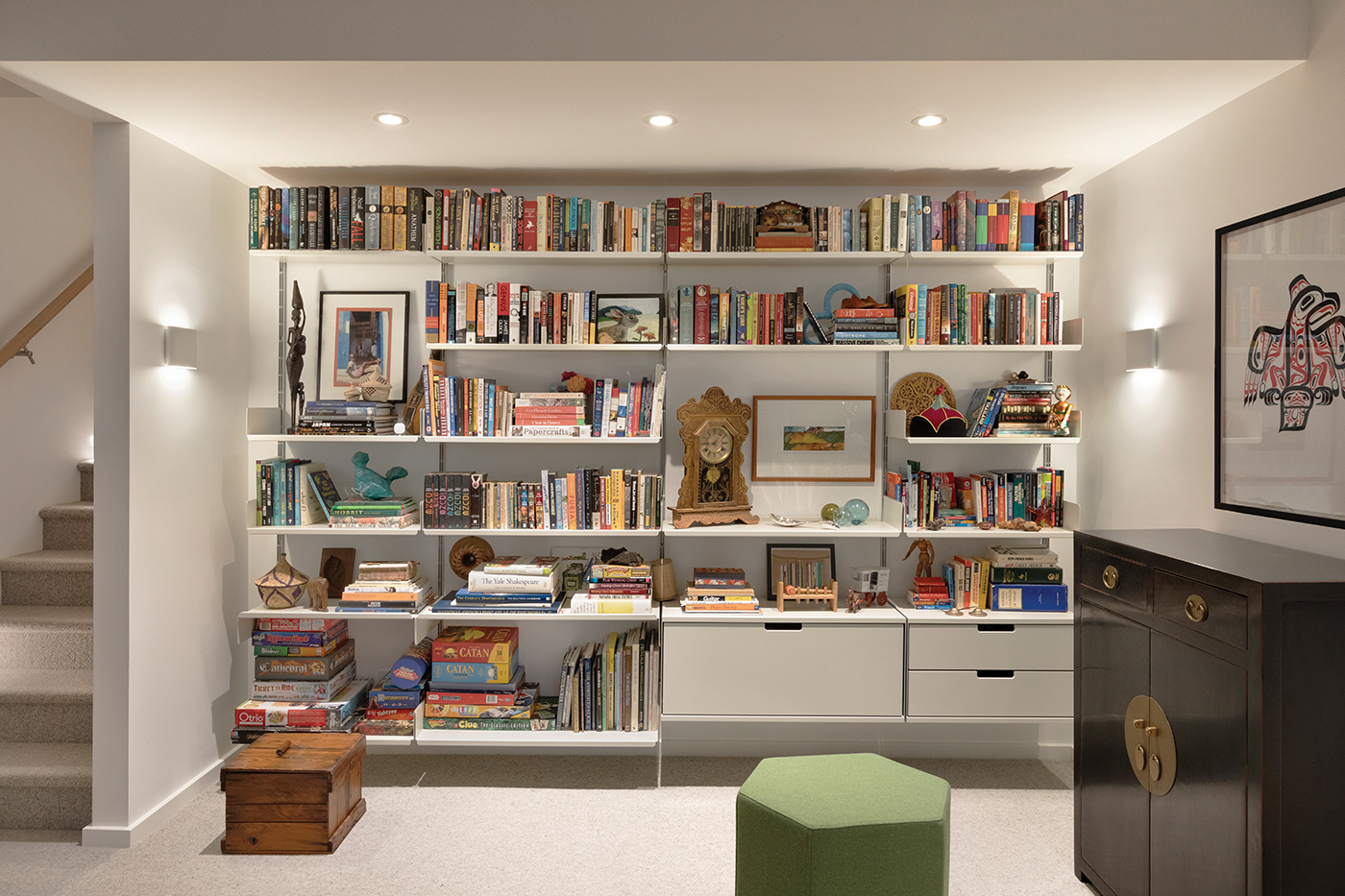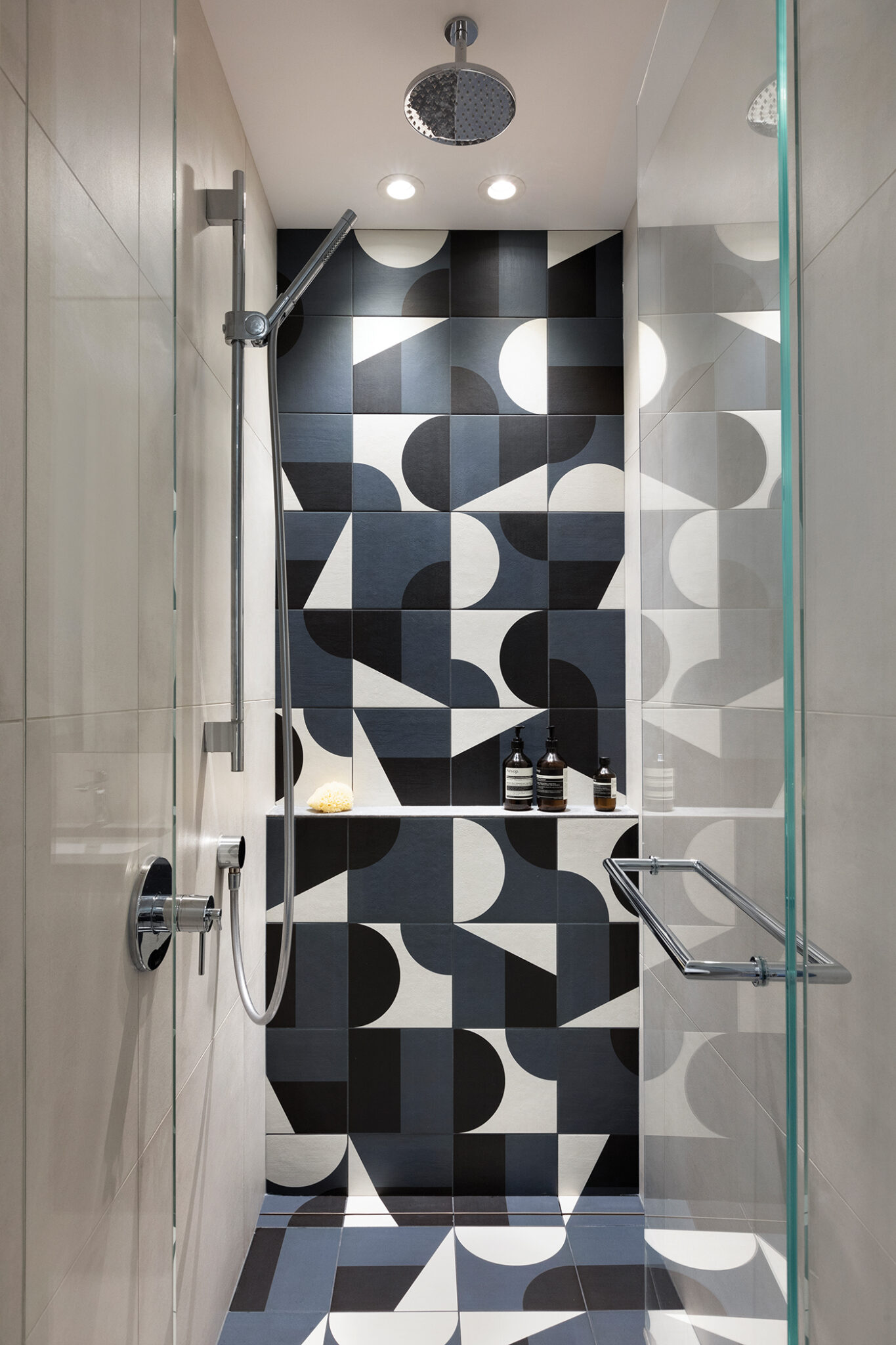 How to Build Back Better
Designer Chad Falkenberg offers three suggestions to get the most from a home renovation.
1.  Change the Things You Can
"In the design process, there are things that can't change and some that can," Falkenberg says. "With the Varsity house, we put the antique cabinets in the drawings first and then figured out how large the windows should be so the cabinets looked their best. People often put in windows where they think they should be. Instead, put the furniture you want to keep in first, then design the windows around it. It doesn't change the cost of the windows or the construction."
2. Mud Rooms Count
Falkenberg says many clients appreciate his studio's focus on the "less-sexy rooms" (like the mud room). These important spaces have to perform well. "High-traffic areas need the same attention to detail as a kitchen so that all the little things are figured out and there's enough storage," he says.
3. Relaxing vs. Entertaining
A good home redesign has to understand the difference between how people relax at home versus how they entertain, Falkenberg says. At the Varsity house, the many little nooks are ideal for studying and reading when the family is at home. The house also works well for entertaining because the kitchen connects to the dining and living rooms and the backyard, allowing people to flow inside and outside, sit on the wide stairs and chat.