From the massive living room windows overlooking wetlands behind their home, Norma-Jean and Doug Risdon often catch glimpses of deer, geese and sandhill cranes exploring the waters.
Just outside the front doors, Norma Jean recalls how the old railway would have run straight through their driveway to the Strathmore train station. She laughs, explaining how everyone used to come to town on Saturday nights and the kids would watch the train roll through.
Strathmore has always been home to the third-generation farmers, and they plan to keep it that way.
"Home is kind of where your heart is," says Norma-Jean. "And our home is in Strathmore, so we're not going anywhere."
With Norma-Jean turning 68 this year, and Doug 79, the couple converted their home to ensure it remains safe and comfortable as they age. In January 2019, Norma-Jean reached out to Deborah Cockx, owner of the Strathmore-based design firm, I Design it Interiors, and they began work in May of that year.
"We want to stay in this house in a way that is very user-friendly as we age," says Norma-Jean. "I've seen some of the transformations that Deborah has been able to make, and I wanted to use local people that I felt I could put my complete trust in."
The renovation required moving a wall, adding windows, and completely overhauling the kitchen and bathroom in order to allow space for the changes needed.
"This renovation was looking at right now as well as the future," says Cockx. "We spent weeks researching details … We spoke to different resources for safety and getting the right information to get the construction right."
Adding light was a major factor to mitigate the possibility of vision loss, so Cockx's team expanded and added windows throughout the main level, as well as LED lighting and box-lit cupboards. They even selected reflective paint colours.
Cockx planned the kitchen meticulously to allow space for wheelchair turnaround points and appliance access. Behind the French doors to the pantry, an automatic light turns on and the Lazy Susan unfolds with the door.
With the possibility of needing wheelchairs or a caregiver, Cockx designed the bathroom with added light, a seat, an adjustable hand-wand and other accessibility features. The shower door swings both in and out with thermostatically controlled taps on its exterior.
"Bathing can be a very difficult task for seniors, either on their own or with assistance," says Cockx. "By having the controls outside the shower, you can go in when it's the perfect temperature."
As a long-time collector of antiques, Norma-Jean had an assembly of character decor items to use in the design.
The home was designed to reflect the couple's history, blending traditional styles with modern textiles. Ceilings and walls feature shiplap boards as a stylish callback to the Risdons' farm life, and flashes of blue and yellow keep the space alive.
"There's herringbone tile in the front entryway that looks like old barn board," says Norma-Jean. "I was just in awe when we walked in the house and saw it done for the first time. I wanted a look that was going to look good in 10 to 15 years, and Deborah was able to make that happen."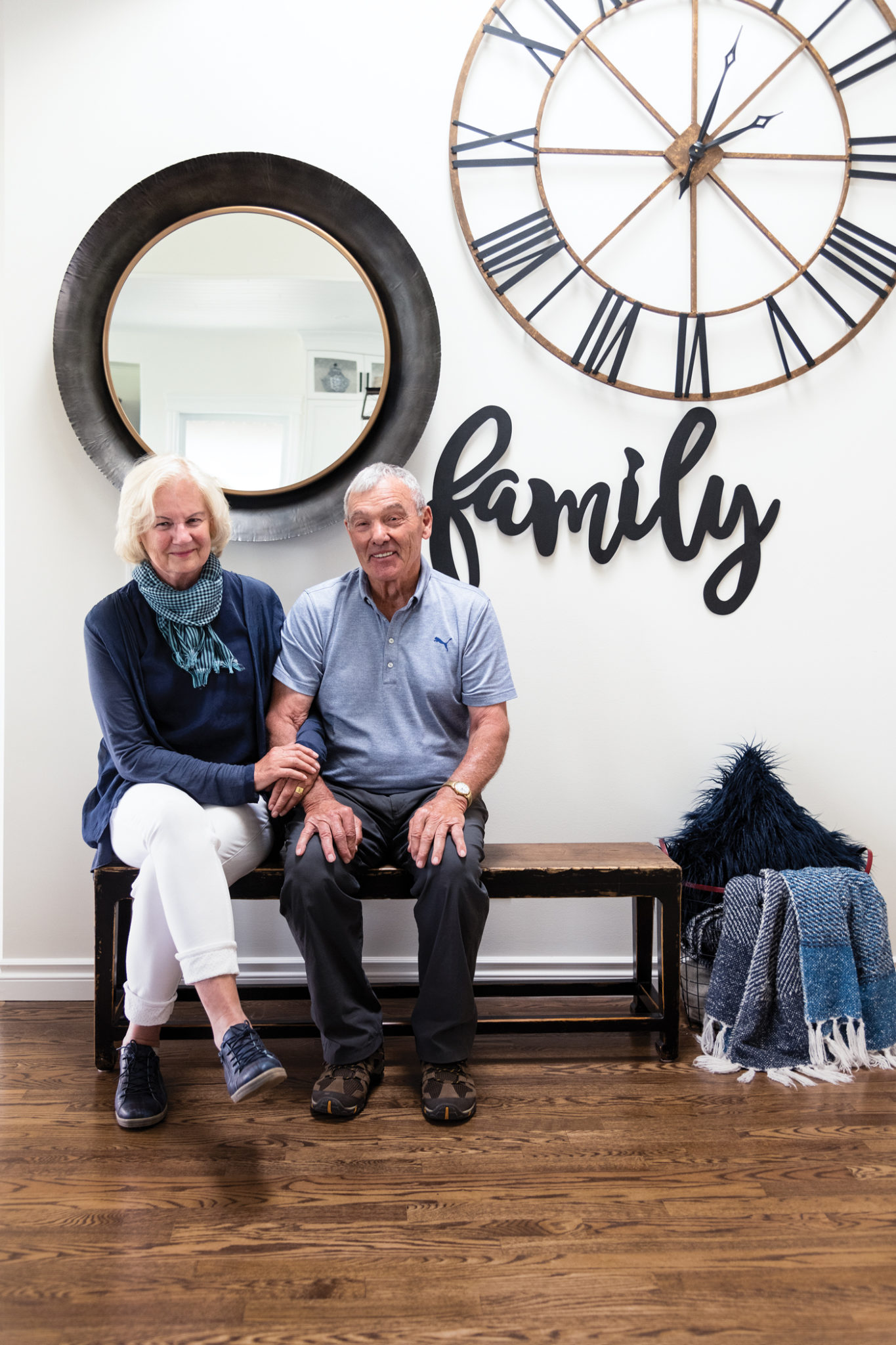 How to Balance Modern and Traditional Styles
When designing for the Risdons, Deborah Cockx melded their traditional styles and antique furniture with chic, modern textiles to create rooms that weren't too masculine or too feminine. Here's a few tips from her on how to get this look yourself.
Let a little light in. "We opened walls, added windows and skylights and used a neutral colour palette for our walls because we wanted a space that felt bright, but still warm and inviting."
Follow the 80/20 rule. "We had 80 per cent of the design materials be traditional and 20 per cent were modern. We applied the same rule with colour. Norma Jean's go-to color is blue so you will find it in every room, making the space feel balanced and cohesive."
Mix it up. "It's important to avoid sets of furniture. It's much more interesting and pleasing to the eye to have a mix of furniture and styles. In this design, it was about mixing old with new by adding texture and organic elements with shiplap, wood floors, natural stone, forged iron and brass elements. We also paired an antique table with modern chairs with a bold pattern, and Mission-style recliners with rattan wing backs chairs."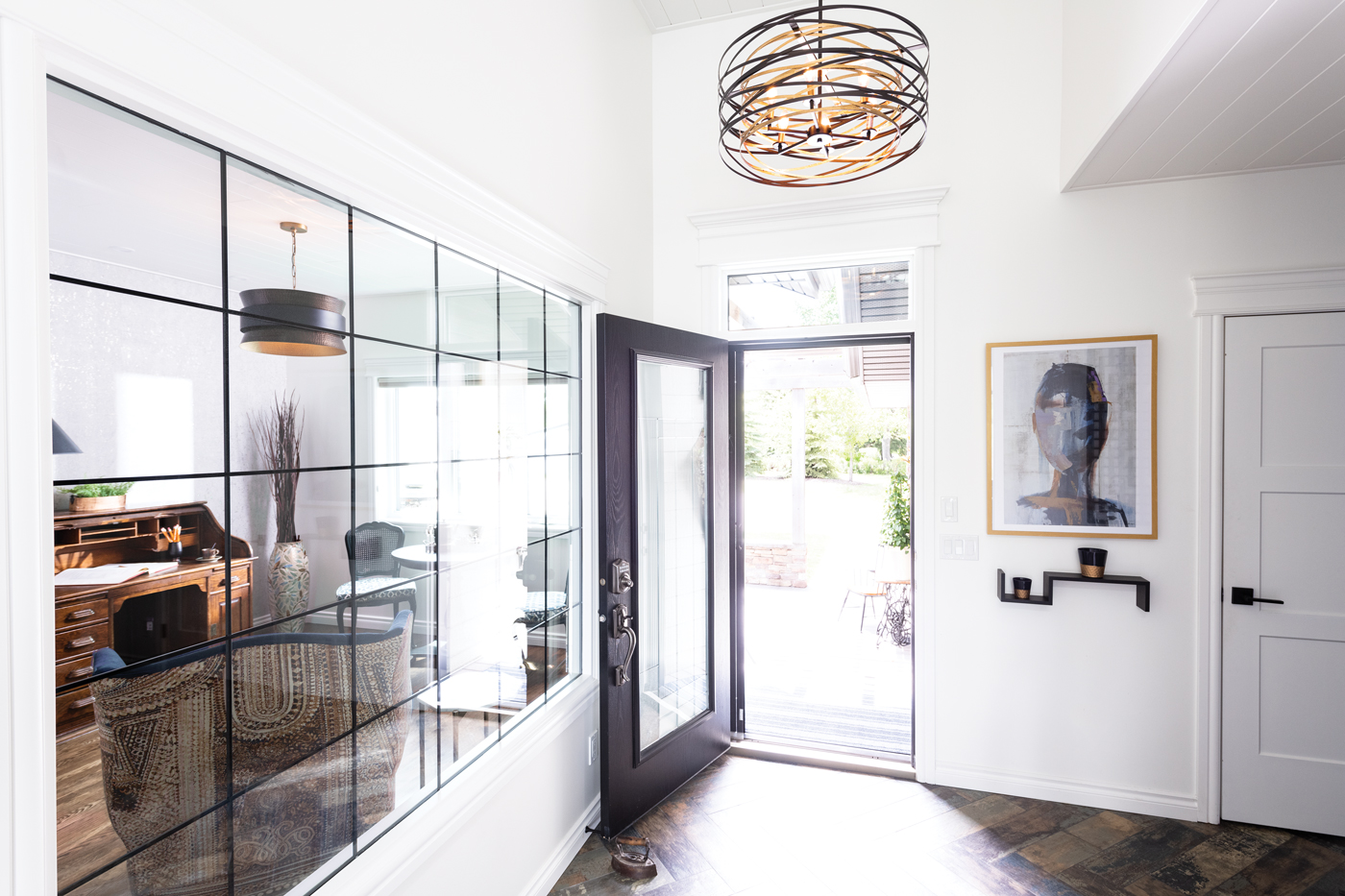 To prepare for aging eyes, Norma-Jean said she "wanted light in every corner." By using white, reflective paint and adding windows, the previously dark hallways became easy to navigate.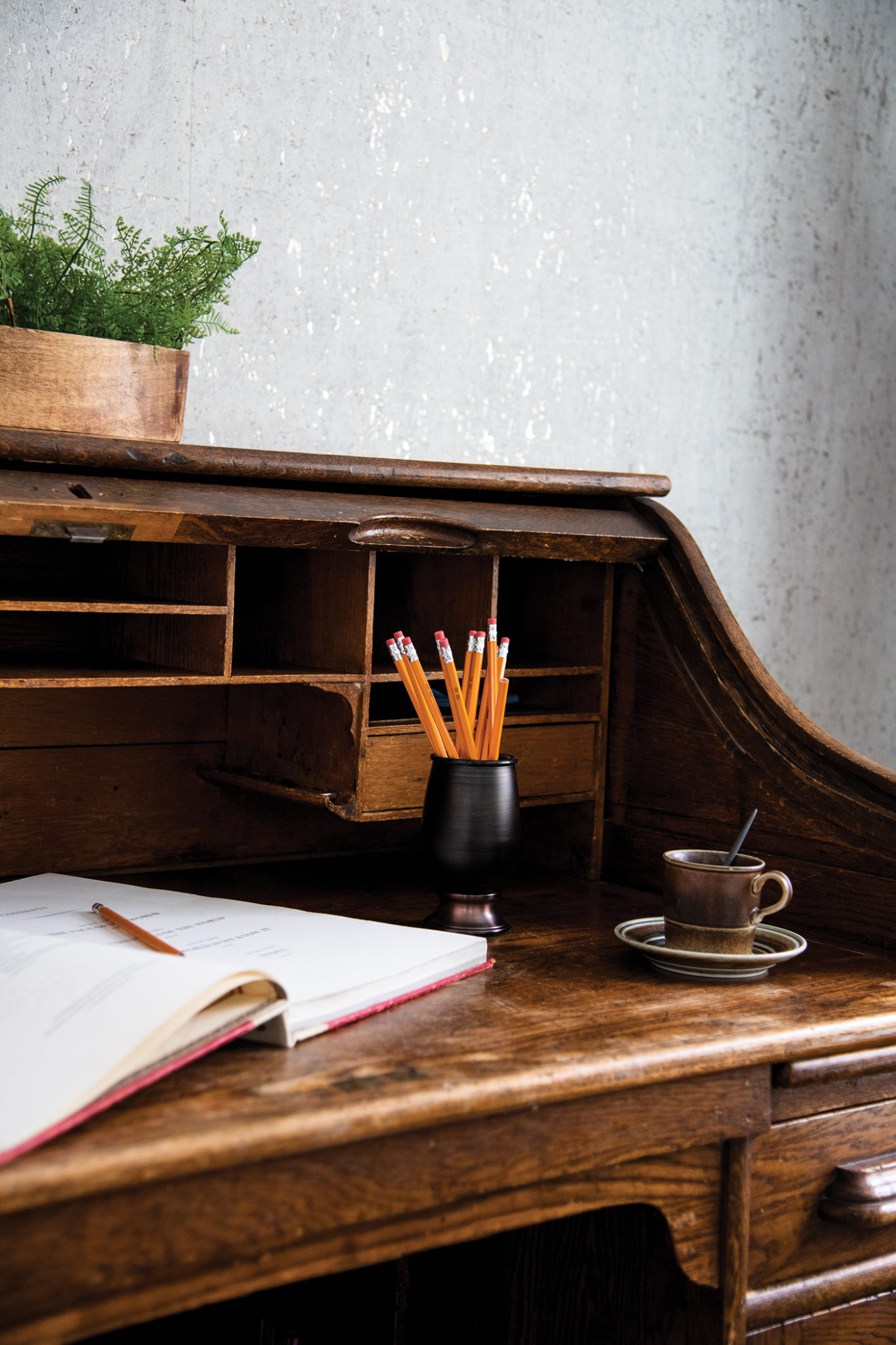 Complete with her antique roll-top desk and her father's lawyer bookcases, the newly designed and organized study is Norma-Jean's favourite room in the house.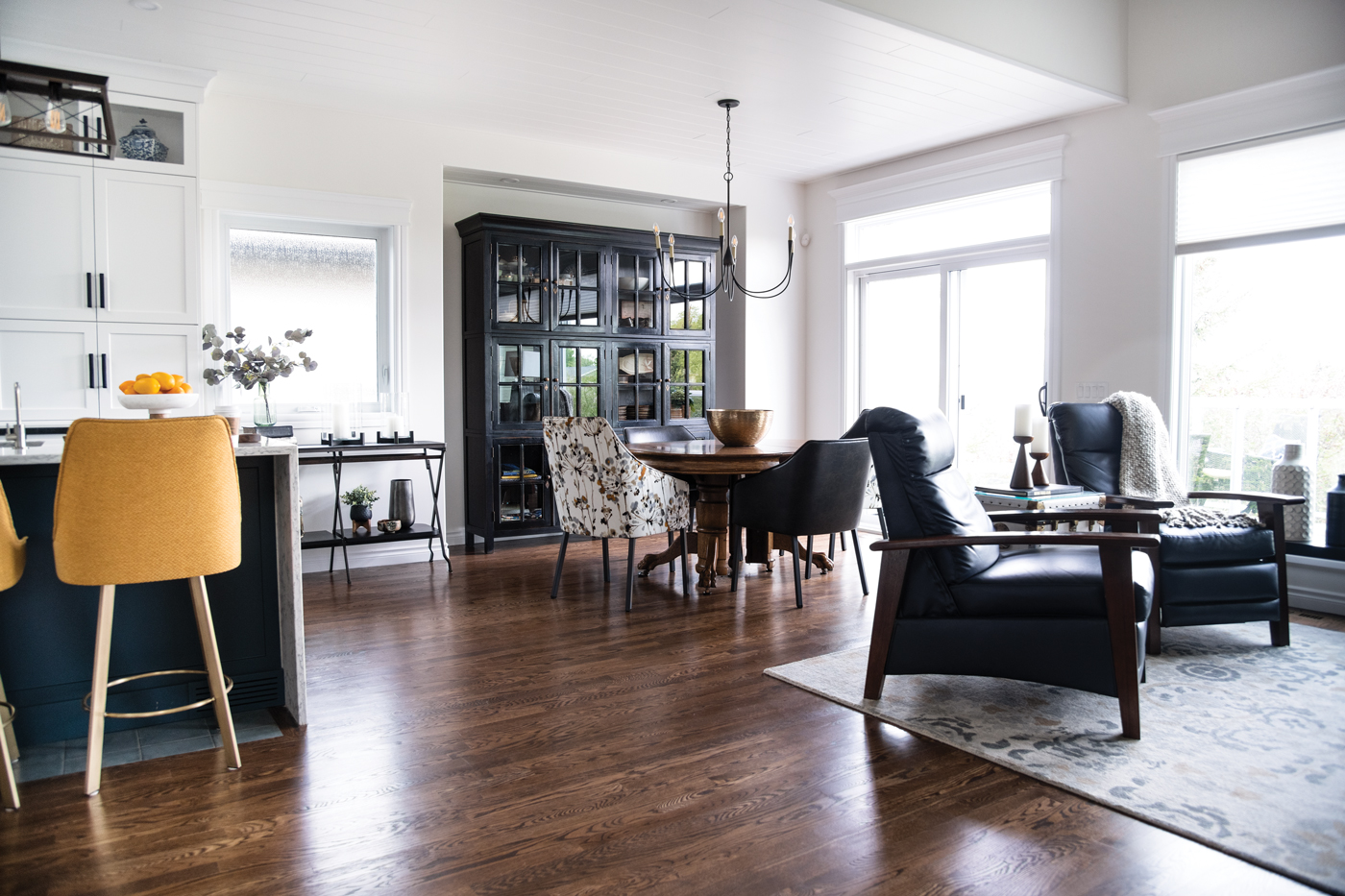 To maintain a traditional style, designer Deborah Cockx kept the majority of the Risdons' furniture — including Norma-Jean's father's oak dining table — while adding bolder textiles.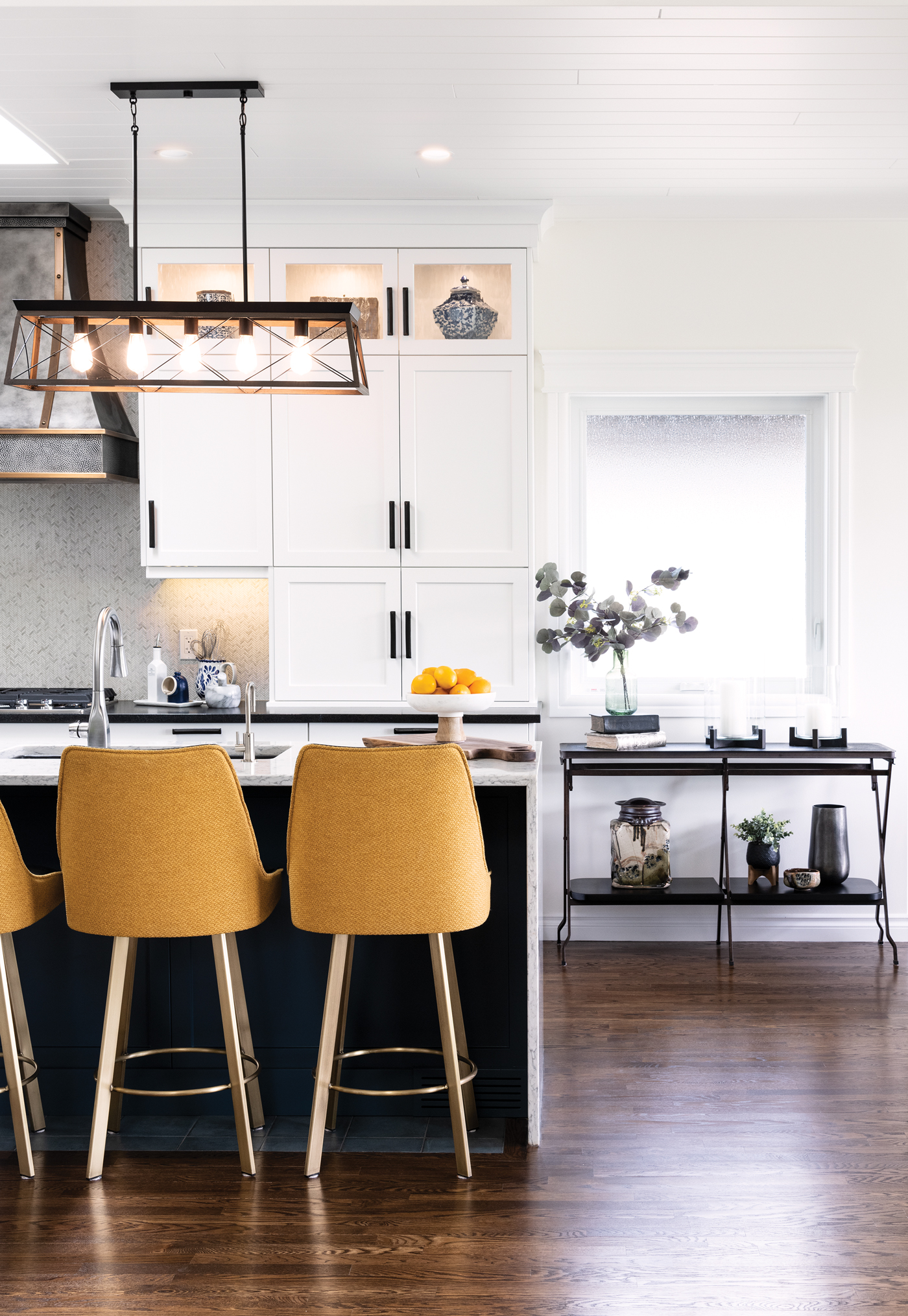 The main-floor kitchen of the Risdon home was completely renovated for aging-in-place, leaving 60-inch turnaround spaces for wheelchairs and added front-facing appliance controls for ease of usage.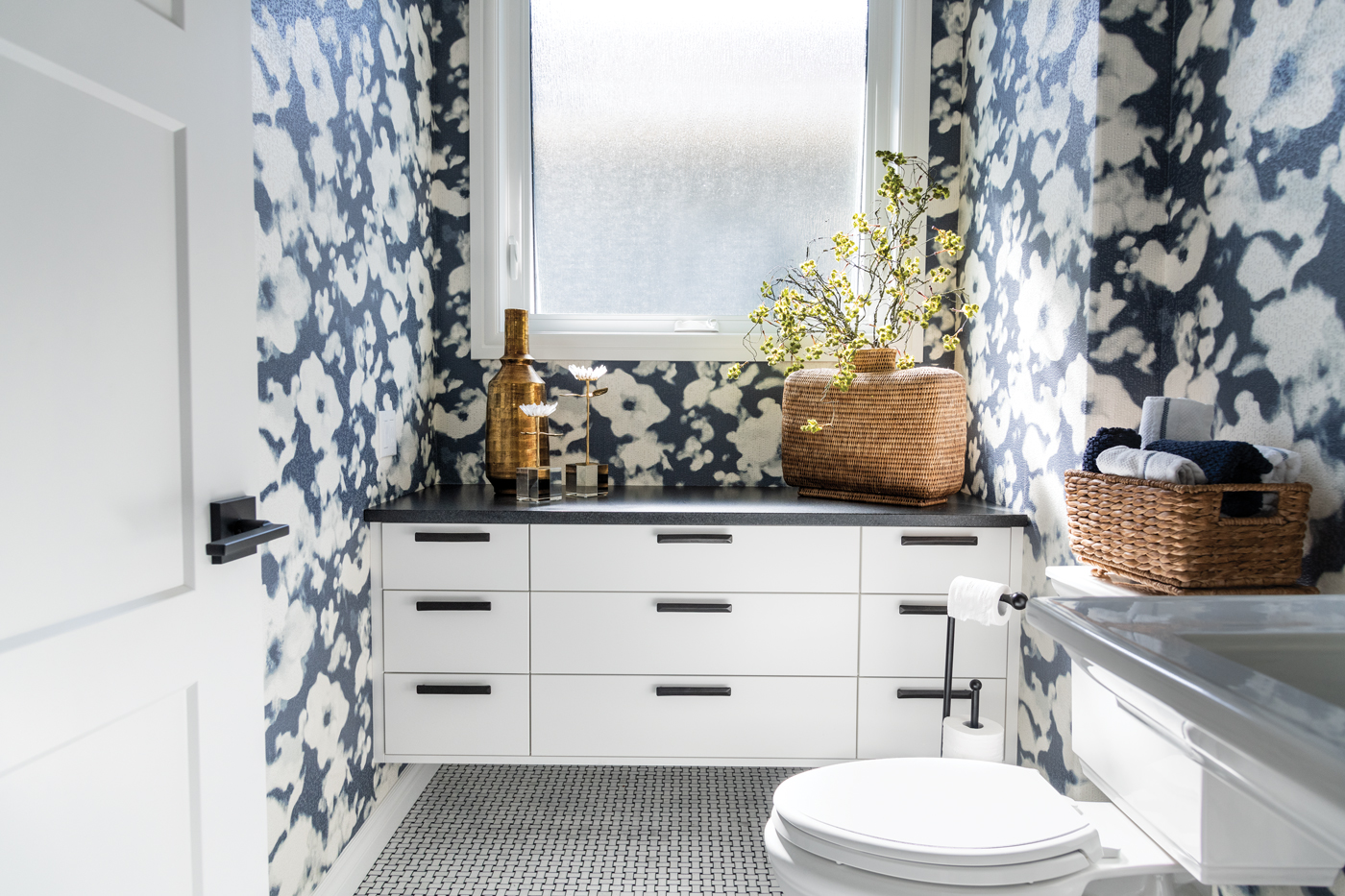 Using bold textiles and the colour blue as a unifying element for the design, the powder room is complete with a bold blue flower-print wallpaper.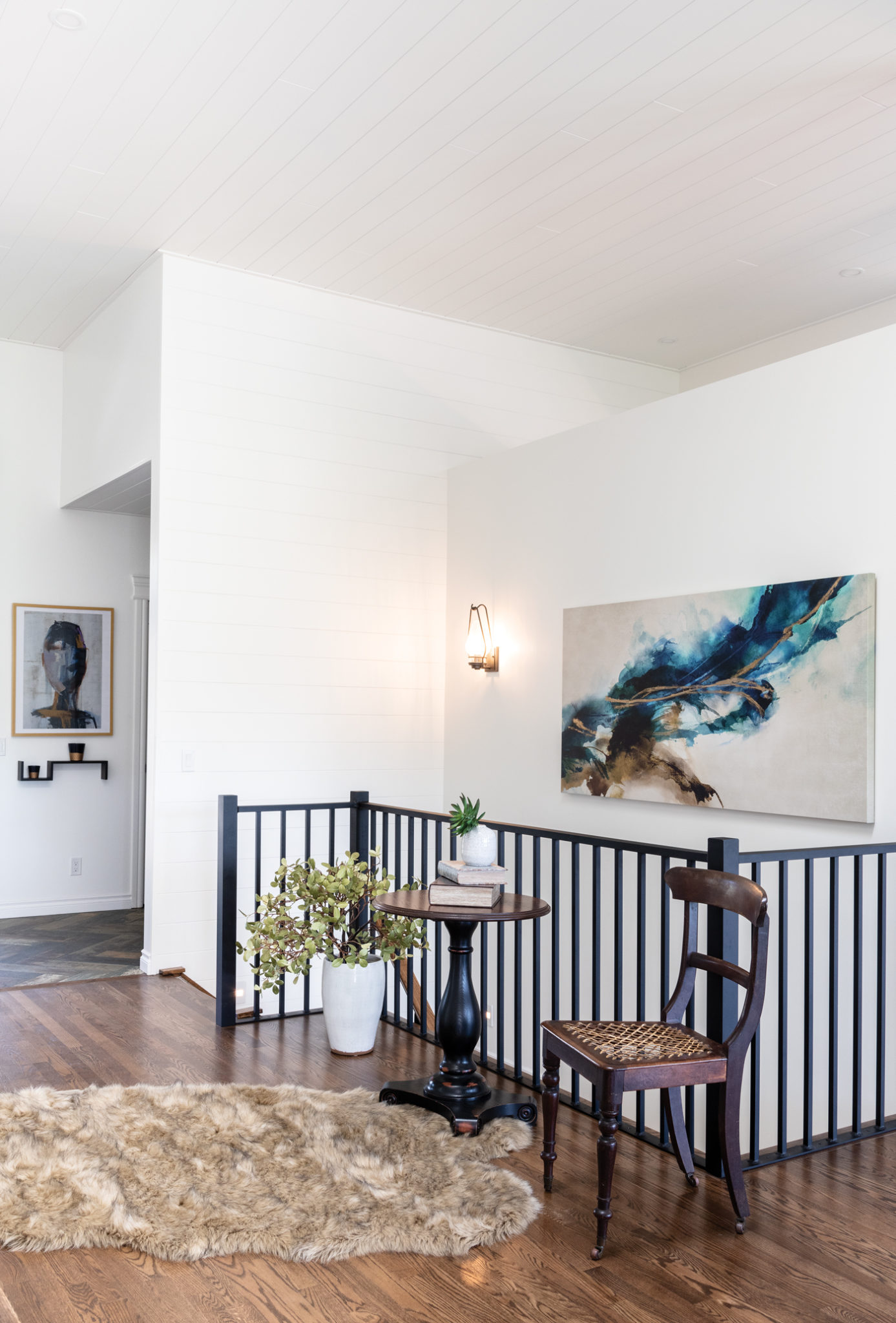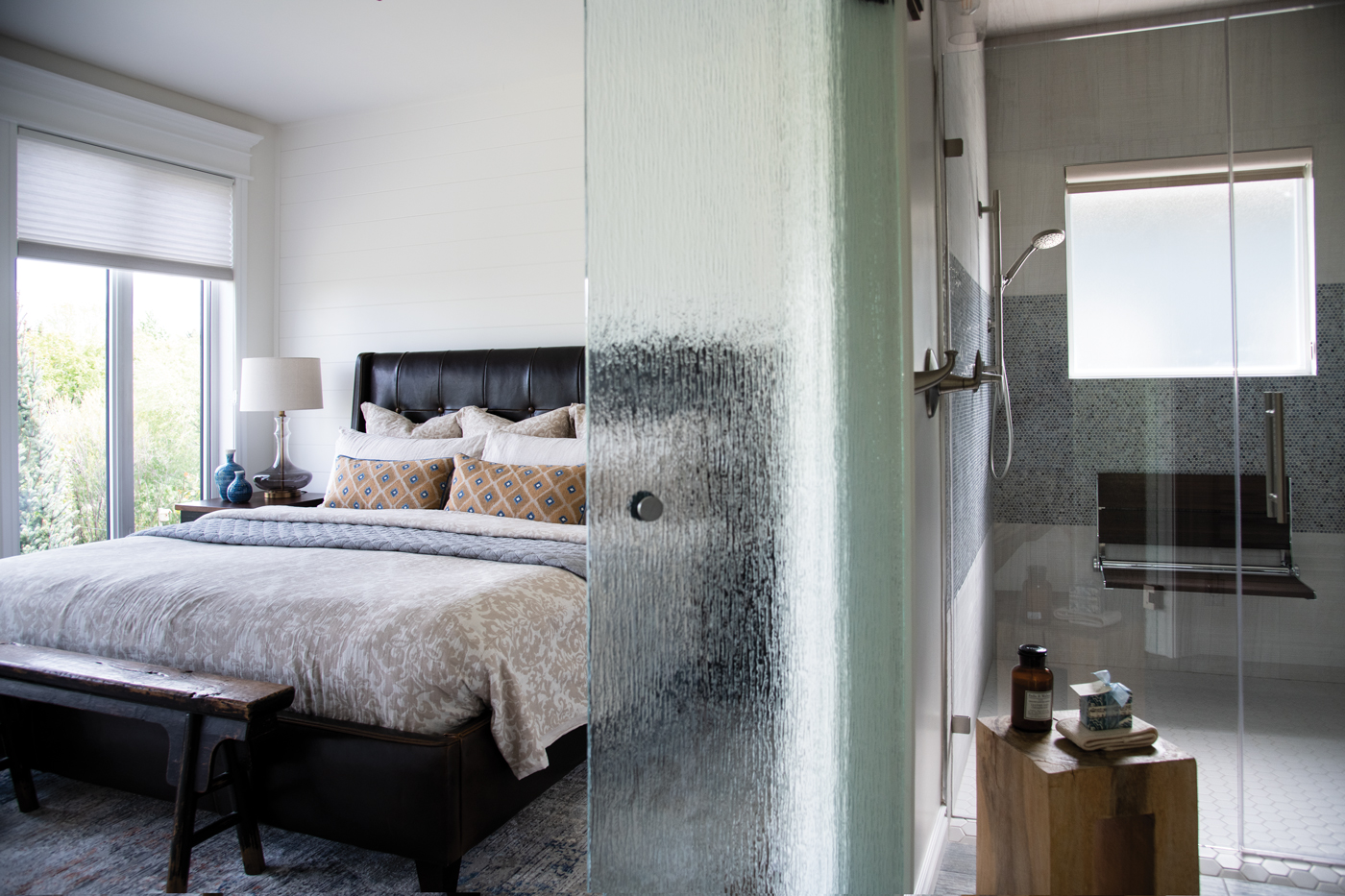 The bedroom and ensuite bathroom were methodically designed with added space and light to accommodate for the possibility of having a caregiver or moving a wheelchair into the shower.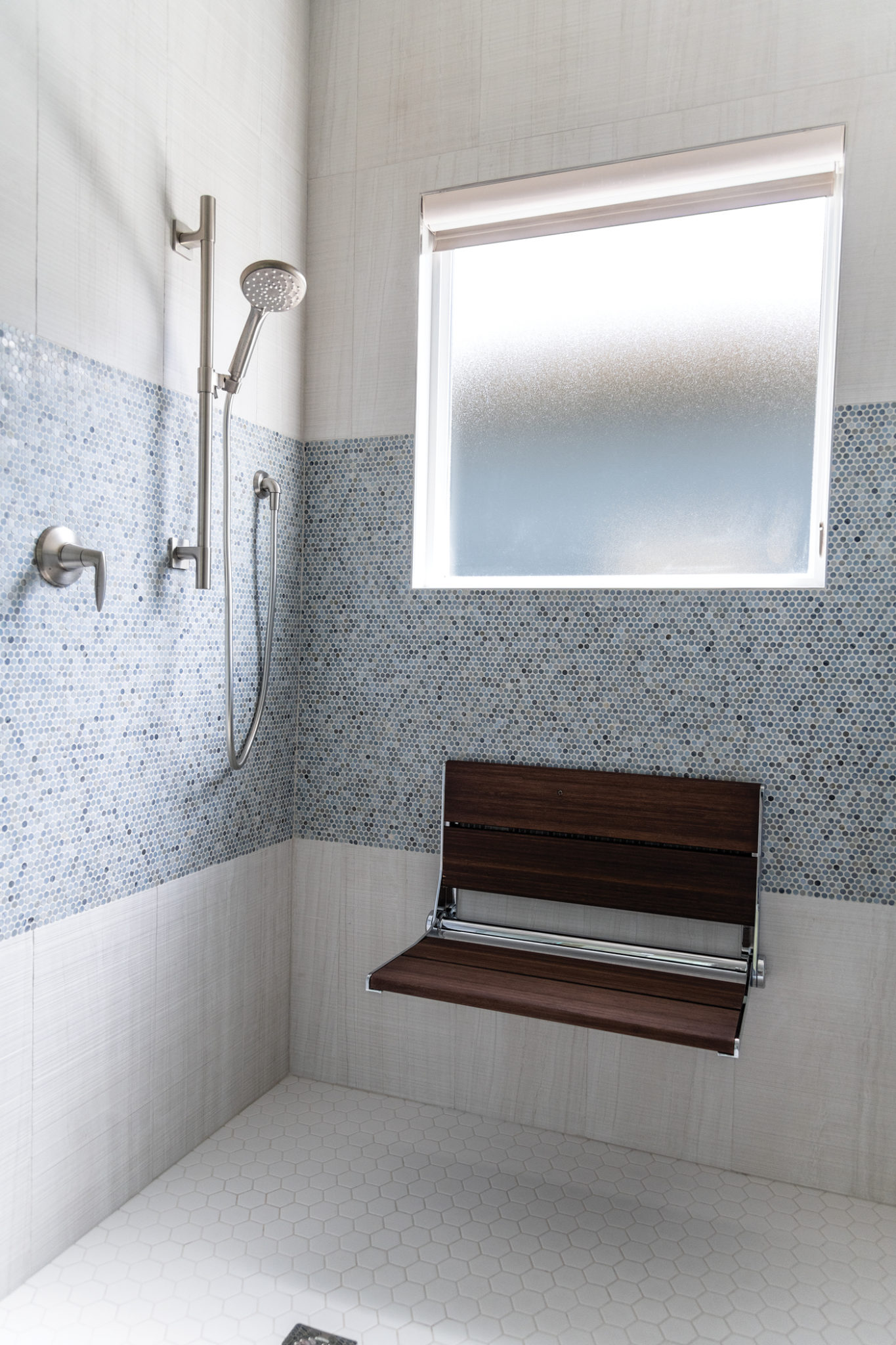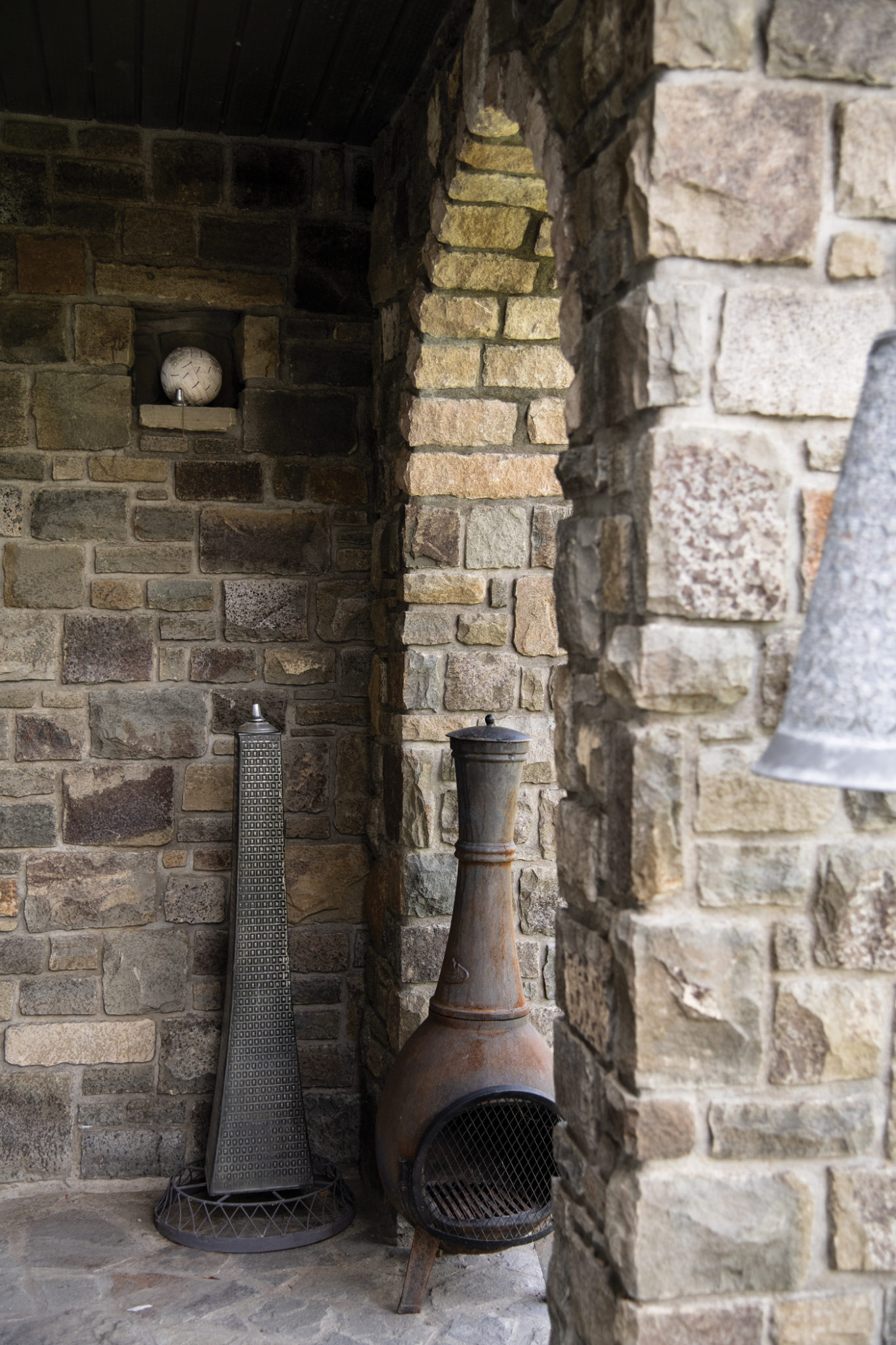 This design connects interior and exterior by mixing natural textures and organic elements. Use of natural stone and forged iron blends the elements together.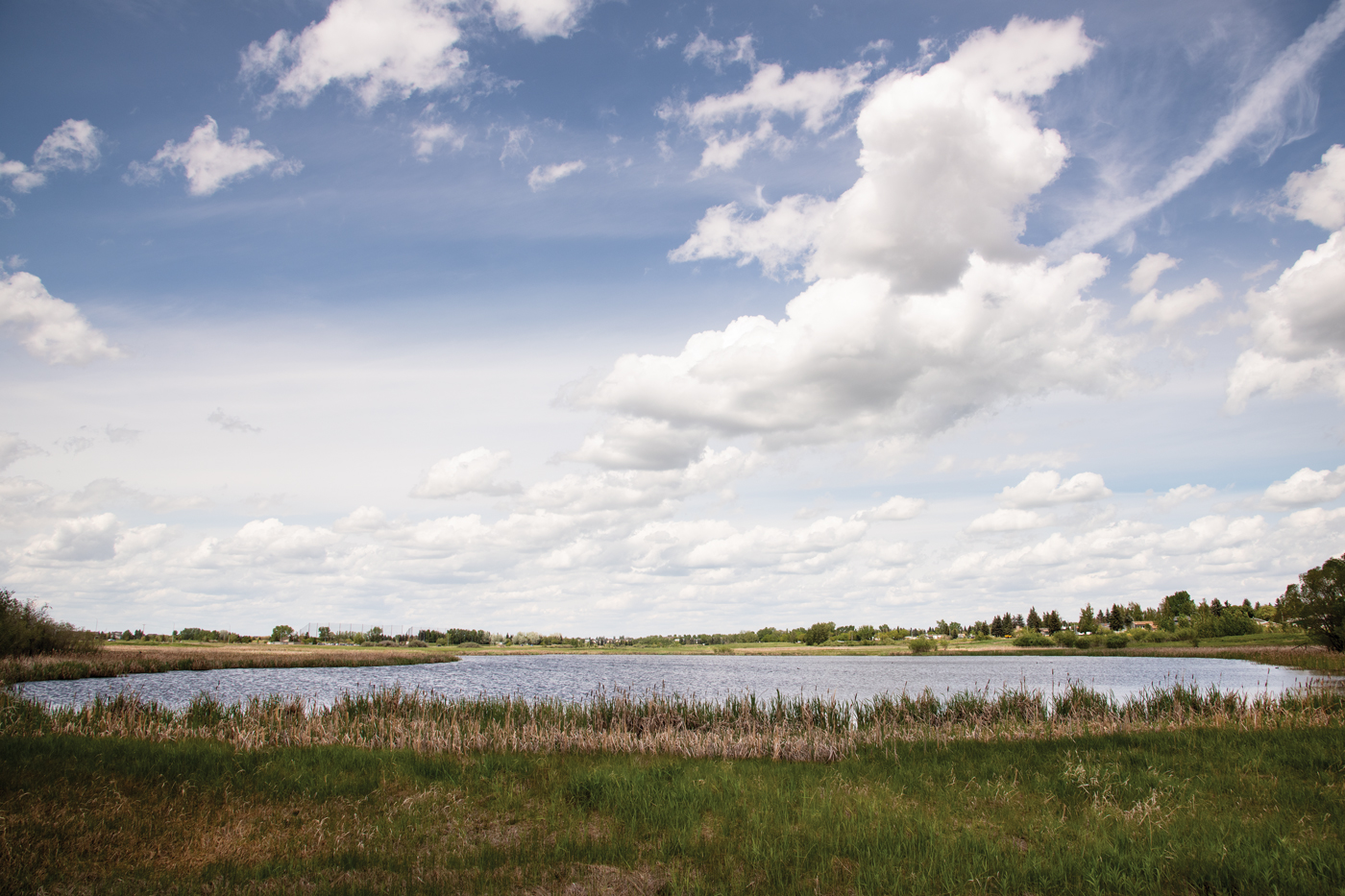 Maintaining a sense of country living was important to the Risdons, so I Design it Interiors ensured that furniture never blocked views of the backyard wetlands.