The house, located on a prime corner in Mount Royal, was built in 1914.
Photography by Jared Sych
Sometimes it just happens: a small design consultation blossoms into a full-scale renovation. And, most often, it occurs right before the homeowners' eyes, without any kind of prior plan or pressing need. Just ask Jared and Aja Kichula.
"It all started with a couch," says Aja with a laugh. "It's kind of the running joke."
In February 2013, the young couple decided it was time to replace their dated living room sofa. Jared had purchased both the century-old Lower Mount Royal home and the sofa before marrying Aja. "My furniture was old and dark and uncomfortable," he says.
The couple consulted with designers Jeannie Sturdy and Arlene Ladner of Sturdy Design Co., with whom they had previously worked on several projects. (Sturdy had redesigned their inner-city Italian restaurant La Vita Bella, refaced the couple's pub, Standard Tap, in Airdrie and assisted with the interior design on several condo-conversion projects.)
With the guiding hands of the designers, the Kichulas began to choose new furniture. While they were in the process, however, Jared and Aja agreed the outdated Anaglypta wallpaper that peppered the main-floor walls would have to go. They attempted to strip it themselves, but the exercise ended in frustration.
"There were about 11 layers of paper, all in wild colours from pink to red, orange, green and gold, and, as we stripped, the old plaster crumbled," says Aja.
The walls beneath the century-old lath and plaster were stuffed with horsehair and newspaper – hardly suitable insulation for Calgary's long and arduous winters. "This is probably one of the best examples of 'scope creep,'" says Sturdy. "As we started one project, it just became apparent that we needed to do another, and then another."
New insulation, new wiring, new wire-brushed distressed-oak flooring throughout the entire home, a sleek white-on-white kitchen, a sophisticated powder room and a reworked, open-style ensuite featuring a sculptural tub and wall-to-wall frosted glass doors all followed. And, of course, the infamous sofa was replaced with a tufted leather sofa.
And it didn't stop there. Next came an overhaul on the exterior. The original bright-red facade was replaced with muted, earth-toned colours and new cedar soffits. The property was further upgraded with the addition of new fencing and a south-facing rear deck.
Careful attention was taken to retain the original character of the home while infusing it with the personality and style of the young, urban couple. "Jared and Aja love the Restoration Hardware look, so that made it easier as they were both on the same page with their design sense," says Sturdy. Throughout the home, layers of soft neutrals highlight the graceful lines and detailed millwork.
Initially, the arrangement worked because the couple spent long hours at their restaurants, and could easily eat outside the home. But, when floodwaters engulfed La Vita Bella in June 2013 and had to close for renovations, everything changed. "We basically cooked on a hot plate in the basement [of the house] and washed dishes in the bathtub. It was a nightmare," says Aja.
Since the scope of the project wasn't known from the start, the couple remained in the home during construction. "We lived upstairs for several months, and then, when we decided to overhaul the upper level, too, we moved to the basement," says Aja. "It really was a process. We didn't think it would take as long as it did."
The built-in cabinetry, the beamed- and coffered-ceiling detailing and the colonnades were all retained and refurbished; however, not everything was salvageable. "We tried to save the hardwood flooring, but it was just too far gone, and the floors were sagging, so we had to rework the joists. And then, because the floors weren't level, we had to rebuild the stairs," says Jared.
Despite the unseemly temporary living conditions, both agree it was well worth it. "This is our forever home. This is where we want to have our family. We love this area and wouldn't leave for anything," says Jared while seated on his comfy new living room sofa.
Aja relaxes on the couch that spurred the entire renovation, as Jared works in the den.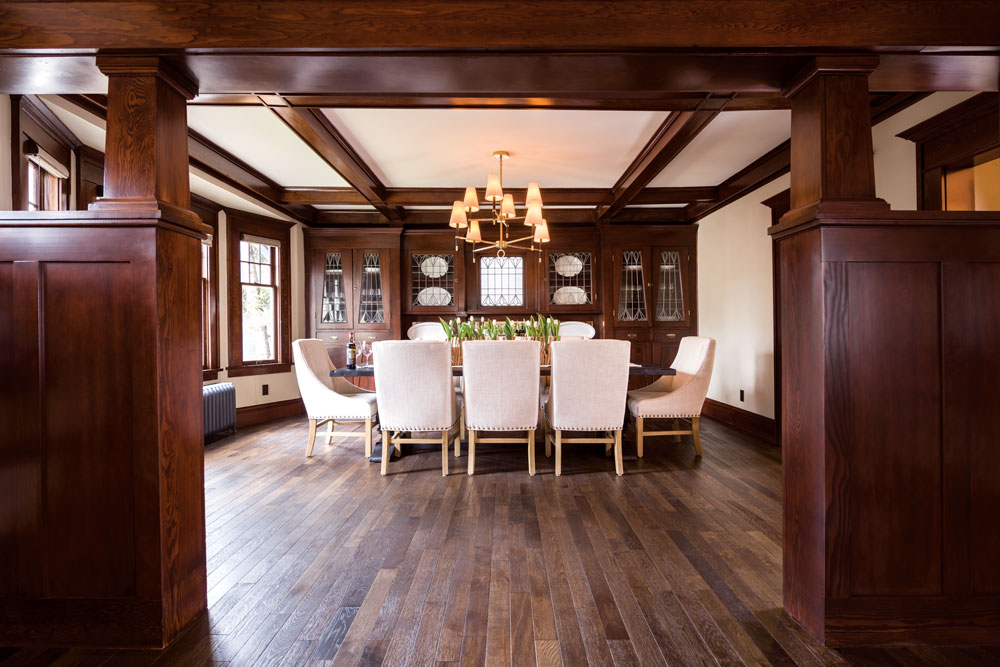 The original home's woodwork blends seamlessly with the Restoration Hardware dining room furniture and Jonathan Adler chandelier.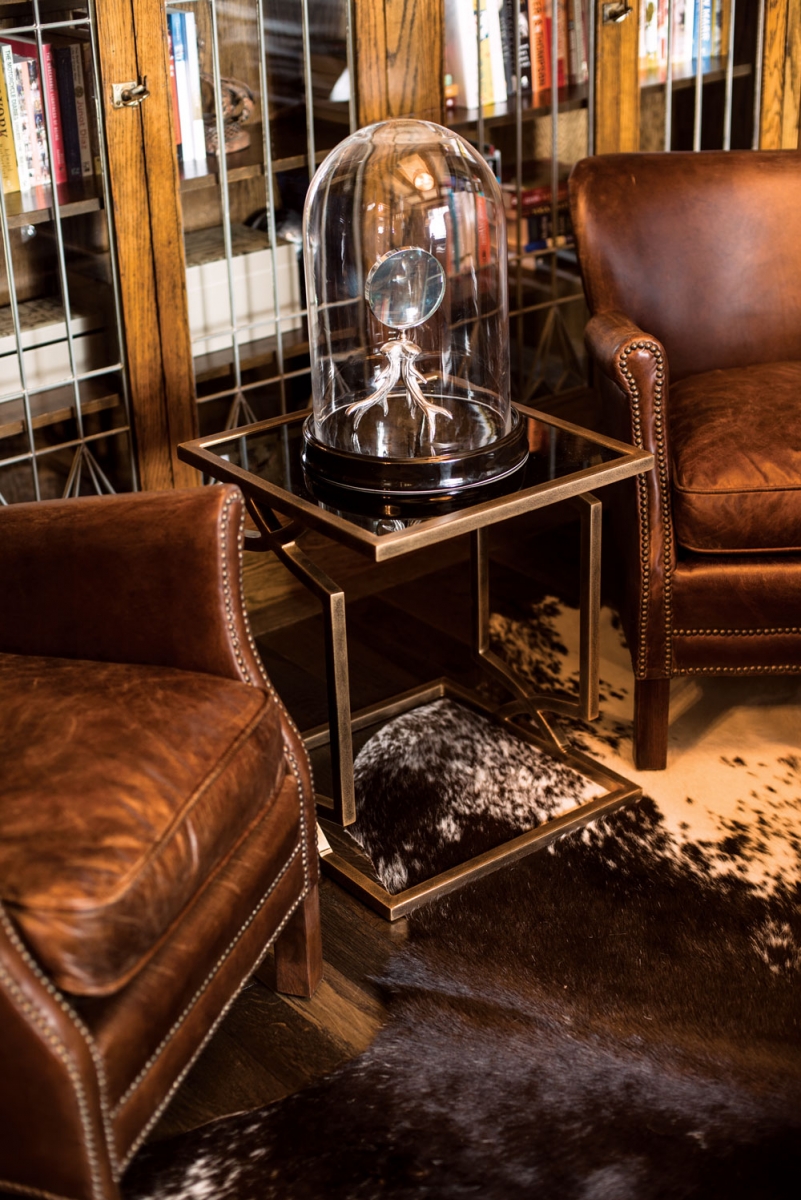 Two leather "professor" chairs sit atop a hide rug in the den.
Designer Jeannie Sturdy set out to provide the busy couple with a calming retreat-like master bedroom. The furniture and paint palette were chosen to be comfortable and soothing. The result is a space that feels like a boutique hotel room yet has all the comfort of home.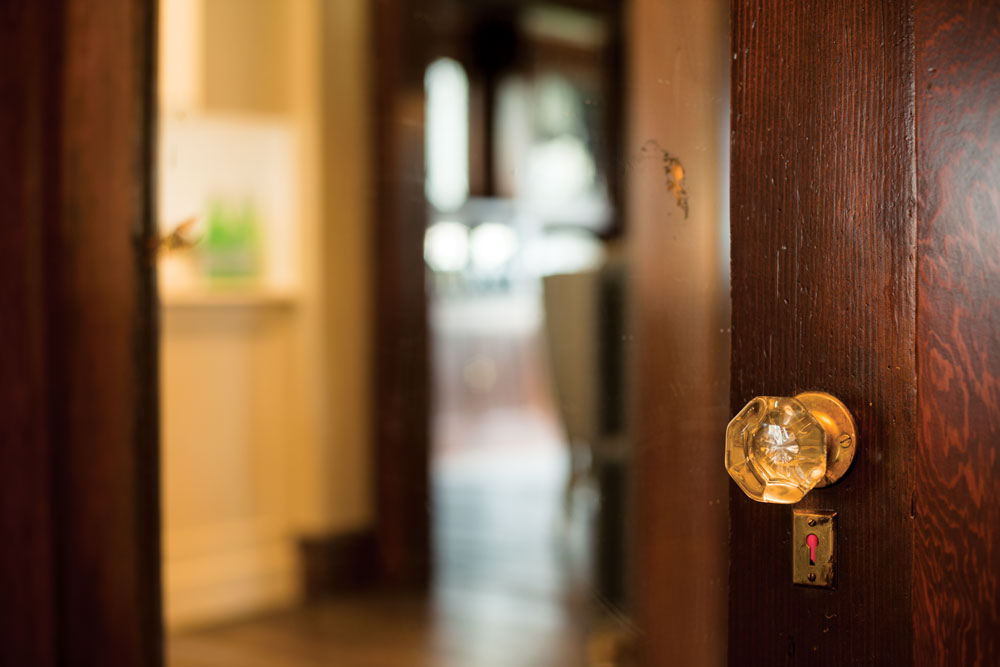 Many original details, like this crystal door handle, remain in the home.
The custom kitchen contains everything a modern cook could want yet retains the home's historical feel with elements like the wire-brushed oak island.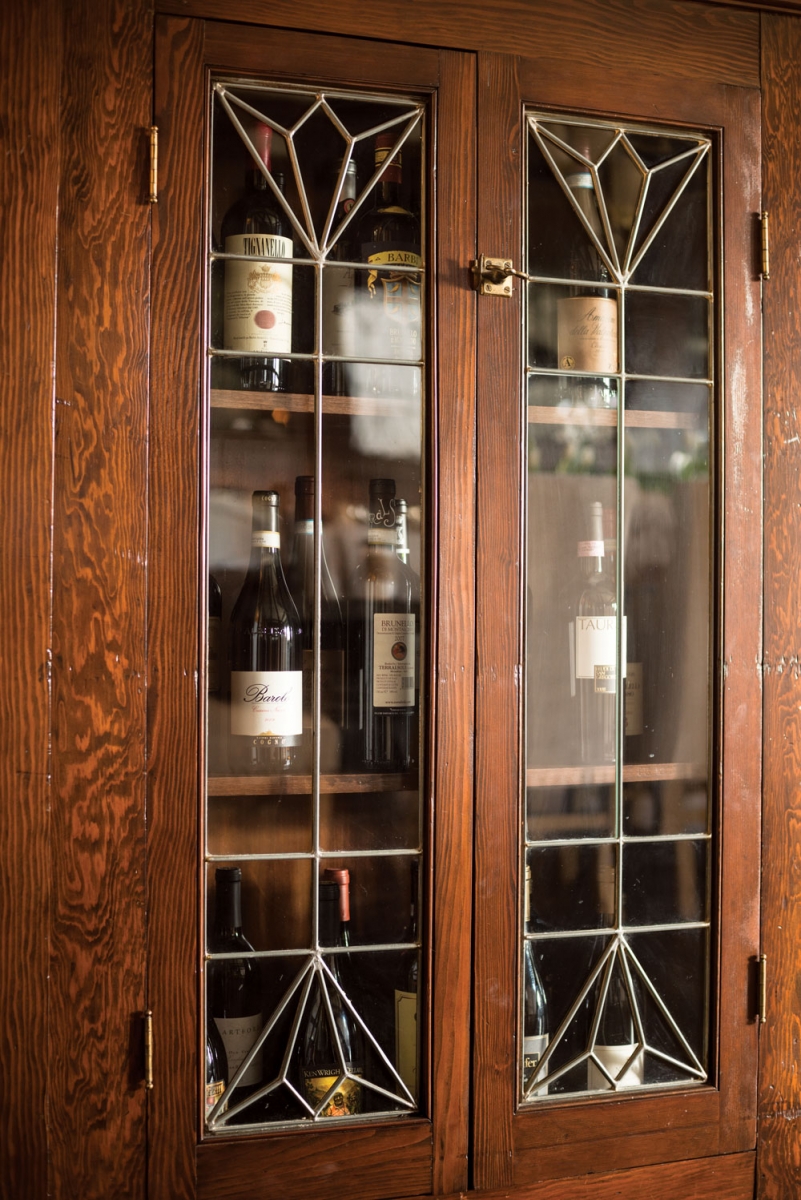 Built-in shelving with the original leaded glass doors can be found in the dining room and living room, where these ones act as a handsome liquor cabinet.
Old-World Charm, New-World Standards
Adding some modern sass and personality to a vintage, century-old home is easy if you have an overall vision. Designer Jeannie Sturdy of Sturdy Design Co.shares some tips on how to make it cohesive.
Have fun with the bathrooms
Spray clawfoot tubs in any colour to add vibrancy and "wow" factor. Finish with hexagon tile flooring and cross-handle faucet taps.
Make sure your house tells your story
Because that is what it is all about.
Don't change too much
Don't change the exterior architecture. Just update the colours and materials.
Keep the interior millwork
Keep millwork like built-in cabinets, sideboards, coffered ceilings, beams and solid wood columns. Just update with new stain or paint and edit if it is too overwhelming.
Refinish the original hardwood
If it isn't salvageable, choose a modern version that emulates old-world charm, like something hand-scraped and wire-brushed with an oil finish.
---
Sources
Kensington leather sofa and balustrade-salvaged wood coffee table in living room, both from Restoration Hardware Southcentre Mall, 403-271-2122, restorationhardware.com
Small pendant light in living room from Troy Lighting troy-lighting.com
Belfort wingback upholstered chair in Belgian linen from Restoration Hardware
Salvaged wood trestle dining table and nailhead upholstered chairs in Belgian linen, both from Restoration Hardware
Ventana two-tier light fixture by Jonathan Adler jonathanadler.com
Vintage Toledo barstools in black enamel in kitchen from Restoration Hardware
Kitchen countertop in Misty Carrera from Caesarstone 14, 49 Aero Dr. N.E., 403-476-9880, caesarstone.ca
Essencia Oval tub in master bedroom from BainUltra bainultra.com
Warner nailhead upholstered bed in Belgian linen, St. James 11-drawer dresser and nightstands and mirror over dresser in master bedroom, all from Restoration Hardware
Framed pictures over bedside tables by James Sturdy, from Sturdy Design Co. sturdyco.com
Matching professors chairs in vintage cigar leather in den from Restoration Hardward
Hide rug in den from Buckskin Fur & Leather Co. buckskinleather.com
Brass side table and hurricane glass vase in den, both from HomeSense various Calgary locations,homesense.ca
Oak tiger eye hardwood floors by Laurentian Hardwood laurentianhardwood.ca
All plumbing by Bekmar Plumbing & Heating bekmar.ca