A good host anticipates the needs of his or her guests. An extra house key and a city guide impart a sense of independence, while a keepsake flask points to festive times ahead. Here are 14 thoughtful items that will have your guests feeling pampered during Stampede or any time this summer.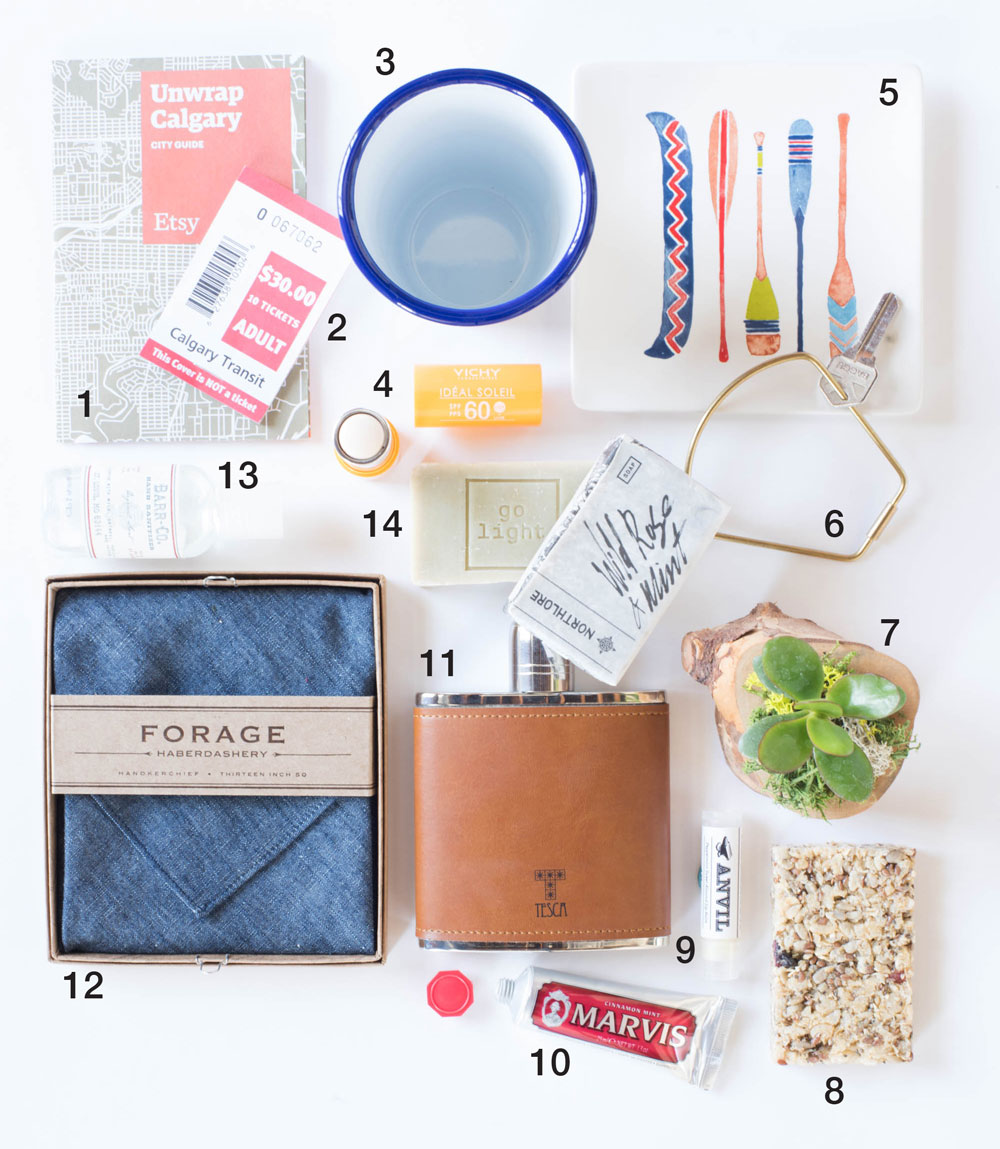 photography by jared sych
1. Etsy Unwrap Calgary City Guide
Free at participating retailers, including Plant, 1335 9 Ave. S.E., 403-585-4226, plantterrariums.ca.
2. Calgary Transit tickets
$30 for a book of 10, from various retailers, calgarytransit.com.
3. Falcon enamel cups
$35 for two, from The Uncommons, 1325 9 Ave. S.E., 587-353-9337, theuncommons.ca.
4. Vichy Idal Soleil SPF 60 ultra-protection stick
$21, from Shoppers Drug Mart, various locations, shoppersdrugmart.ca. 
5. Canoe square plate
$14.50, from Chapters-Indigo, various locations, chapters.indigo.ca.
6. Areaware key ring
$22, from Kit Interior Objects, 725 11 Ave. S.W., 403-508-2533, kitinteriorobjects.com.
7. Toadvine Brand Co. wood holder
$22, and arrangement, prices vary, from Plant.
8. ViaBar Clean Energy bar
$2.59, from Calgary Co-op, various locations, calgarycoop.com. 
9. Anvil lip balm
$5, from The Uncommons.
10. Marvis cinnamon-mint mini-toothpaste
$5.25, from Lukes Drug Mart, 112 4 St. N.E., 403-266-4142, lukesdrugmart.com.
11. Tesca flask
$140, from Kent of Inglewood, 1319 9 Ave. S.E., 403-457-1595, kentofinglewood.com.
12. Forage denim handkerchief
$36, from The Uncommons.
13. Barr-Co. hand sanitizer
$7, from Anthropologie, Chinook Centre, 403-252-7411, anthropologie.com.
14. Northlore Wild Rose & Mint soap
$10, from Lukes Drug Mart.