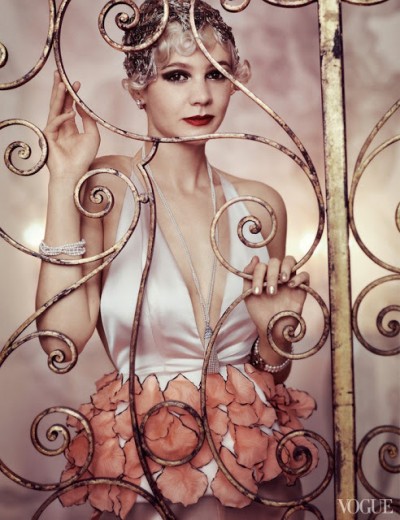 Image courtesy of Vogue
After premiering in North America this month, "The Great Gatsby" raked in an impressive US $51 million. The excitement of the era is dazzling audiences and triggering a Jazz Age craze. This glitz is not lost on the fashion world, as 1920s style revival has jived its way onto the catwalks.
The flapper years were an exciting time for fashion – even revolutionary for women – and have become an iconic and beloved look. There is a challenge, however: with the trends of 1922 lapping at the heels of 2013, how do we emulate the style without looking like we're en route to a costume party?
We've got a few tips for you here, including where to get your wardrobe and how to make it work.
The 1920s look
Hair
This liberating era unlocked more masculine styles for women, including the illustrious "bob" haircut. But if you're not willing to chop off your locks in the name of fashion, there are other ways to get the look. Tucking hair up at the nape of the neck and pinning it can create a faux bob. More simply, adding feathered headbands and clips can add a little bit of retro glitz.
Dress
Largely comprised of drop-waist dresses, the 20s had a lot of straight lines. Hem cuts moved above the knee and sleeveless tops took the stage. Try looking for pieces with dynamic, patterned fabrics, fringe, tiered skirts and sequins.
Accessories
The accessories are all about extravagance. Long necklaces, dangling earrings, pearls and bangles define the flapper look.
Makeup
Not to be timid, the eyes are smoky with dramatic eyeliner while the lips are accented with lip liner to exaggerate the "cupid's bow" curve of the upper lip.
Putting it together
First, be sure that you don't over-do it. Putting everything together at once will garner you stares for all the wrong reasons. Modernize it. Pair the hairstyle with relaxed slacks. Throw a blazer or a jacket over top of a sequined, drop-waist dress. Remember, fashion in the 20s was about pushing boundaries and taking fashion somewhere new, so don't be afraid to make the trend your own.
Where to find vintage clothing in Calgary
205, 1235 17 Ave. S.W.
(403) 640-4090
638 11 Ave. S.W.
(587) 351-7363
A roving marketplace, visit the website to find out where Vintage Bliss will be turning up next
(587) 999-2177