From lighting to countertops, new appliances to completely redesigned kitchen cabinets with all the bells and whistles, the choices are nearly endless. This is the ideal time to call in the experts to get the job done right.
Invest where it counts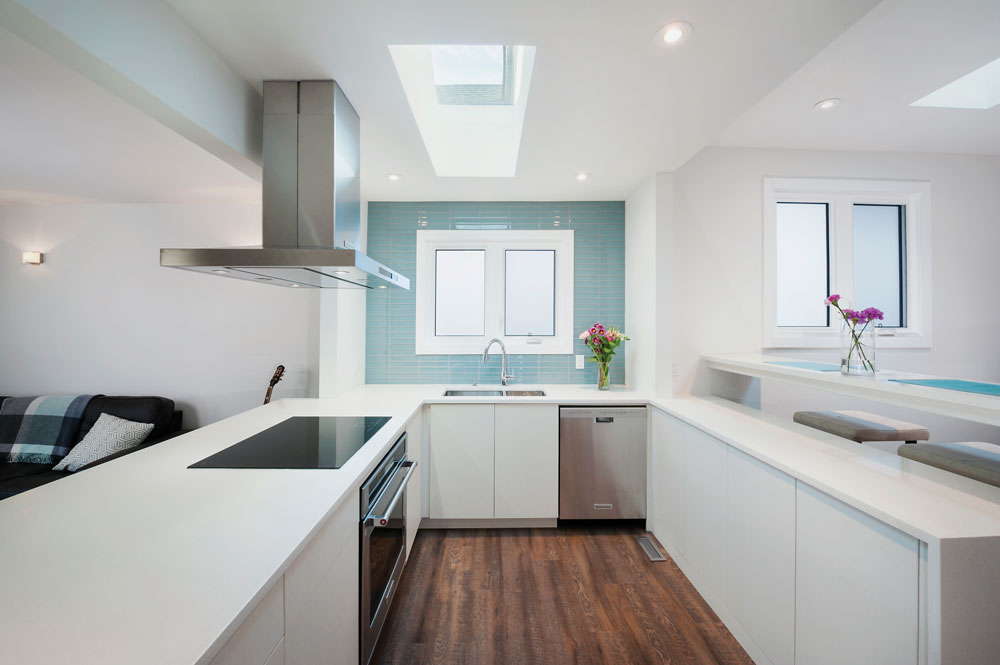 photograph by Marie-Hlne Bilodeau
The clean lines of this kitchen renovation by Alloy Homes belie the planning that went into the update.
In the past few years, Christopher Lemke and Mace Mortimer, partners at Alloy Homes, have noticed an upswing in renovation requests at their business. Lemke says that many homeowners are looking to improve their existing living space rather than build new, a venture he says could pay off in the long run: "[The kitchen] is one of the places you can put money into your home and get the highest return."
Lemke notes that the best way to maximize that return is through good design and thoughtful planning. "The more time you can spend on thinking about how that kitchen needs to work with your lifestyle and working with somebody who really understands how you think, the better that kitchen's going to be," he says.
Know when to renovate
In Matthew Neufeld's experience as a partner at Braemyn Homes, many people have already planned their dream kitchen long before they even purchase their home. "A lot of times clients want to tackle a renovation pretty early on," he says. "They were envisioning a reno and that brought them into the home at the beginning."
Neufeld recommends that people looking to renovate should consider two things that will help get the kitchen they want. "I always ask them to find pictures and concepts that they like and that pop out to them," he says. "It's very easy for us to match a kitchen to a person's concept. The second thing is to pick a budget early on to get a renovation that is exactly in their price point. It has to be an educated budget, and we can help with that."
Choosing a professional
When choosing a professional for a kitchen renovation, Dawn Lavergne, 2016-2017 president of the National Kitchen and Bath Association, prairie provinces chapter, and residential designer at MKL Residential Architecture & Design, recommends that you look for someone who belongs to professional organizations. "People who have taken time to join different organizations and have taken the time to do additional certifications – those are huge things to look for," she says. Lavergne also recommends consulting websites such as nkba.org and houzz.com.
Consider contemporary cabinetry trends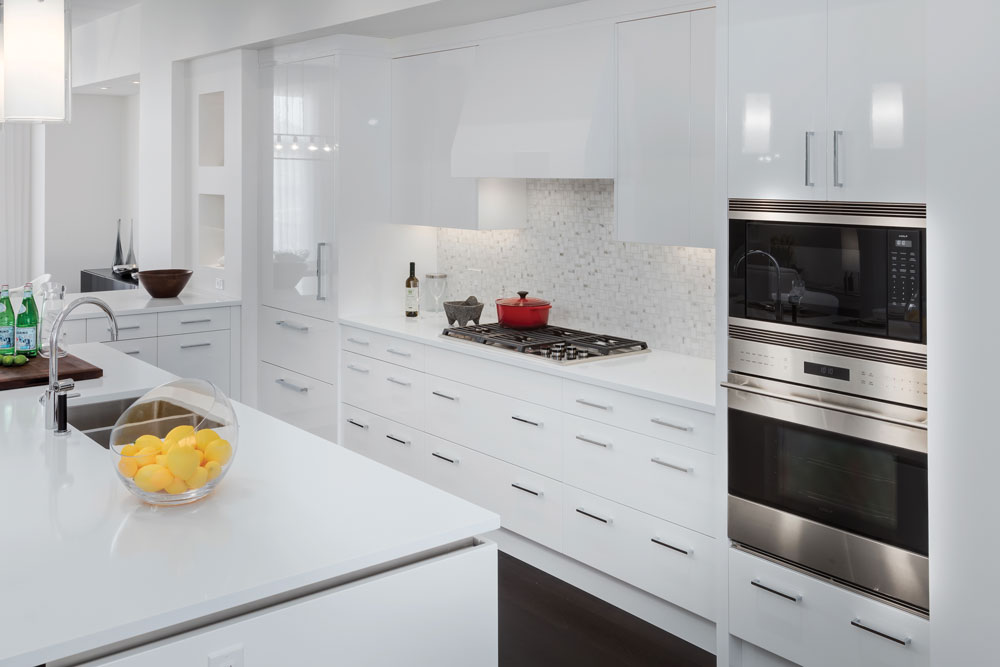 photograph courtesy of Empire Kitchen & Bath
This white lacquer cabinetry by Empire Kitchen & Bath has a fresh, modern look.
Kevin Mullen, president of Empire Kitchen & Bath has noticed a shift away from traditional cabinetry to sleeker, more contemporary looks, with flat-panel doors and finishes such as white lacquer and walnut, or both. "In most of our projects it's a combination of materials – some wood and a solid colour."
The reason for this shift, Mullen notes, is because the kitchen sets the tone for the rest of the home. "If you're choosing a contemporary kitchen, you're setting the trend for the types of furnishings, accessories and lighting to have," he says. "Homeowners don't start working on their laundry room first, they start with their kitchen."
Think about flooring trends
While mosaic and other intricate floor-tile installations are still popular with those looking to renovate their kitchens, Brody Haugrud, director at CDL Carpet & Floor Centre, says that large-format tiles are gaining popularity. "It's a veneer of porcelain instead of a thick slab of tile. Because it's so thin, you can get pieces that are four feet by four feet," he says.
Haugrud adds that large-format tiles make your space feel larger because there are fewer grout lines breaking up the space. He also notes that more and more people are opting for warmer tones for both wood and tile flooring.
Laying the framework with appliances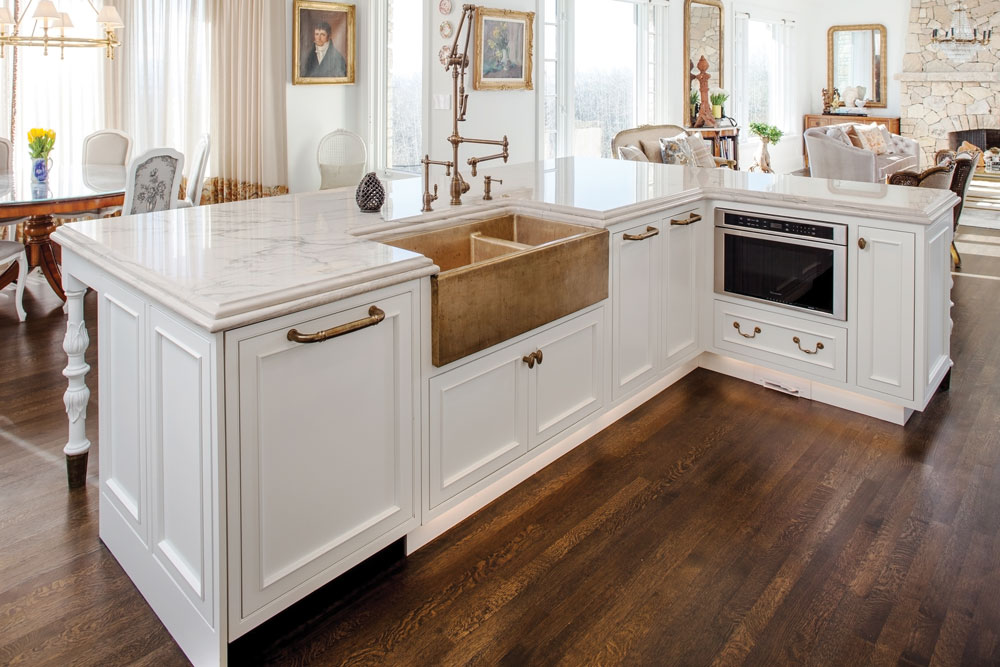 photograph courtesy of Bellasera Kitchen Desgin Studio
Under-counter appliances and in-island plumbing laid the framework of this kitchen by Bellasera Kitchen Design Group.
According to Jennifer Mehalko, senior contract designer at Bellasera Kitchen Design Studio and owner of Found Design Group, appliance selection is the first step in laying the framework of a new kitchen. "We can customize the cabinetry and millwork around your wish list," she says. "But things like a sink, plumbing fixtures and appliances are fixed dimensions. Mehalko says the biggest trends in appliances are steam and speed ovens. "I've seen more clients in the past years moving away from microwaves and instead going with a steam or speed oven," she says.
The other big trend she has noticed is under-counter refrigeration, which she says adds efficiency and productivity. A kitchen with two refrigerators means that parents can be cooking in their own space while kids are prepping snacks in their own space – no traffic jams.
Create an organized space
The key to creating a fully functional space is to consider organization options from the start of your kitchen reno. Susan Pilon, design/sales consultant at Legacy Kitchens, says that in recent years storage options have become more accessible because there is more to choose from in the market.
"The requests we get are typically for hidden storage," she says. Clients are looking to store small appliances such as blenders, juicers and mixers out of sight but within reach for daily use. "Traditionally, these appliances have not been stored to be easily accessible, so we're seeing requests for deeper drawers," she says. "We're seeing less on the counter. Ideally, nothing should be sitting on the counter."
Consider lighting and countertop trends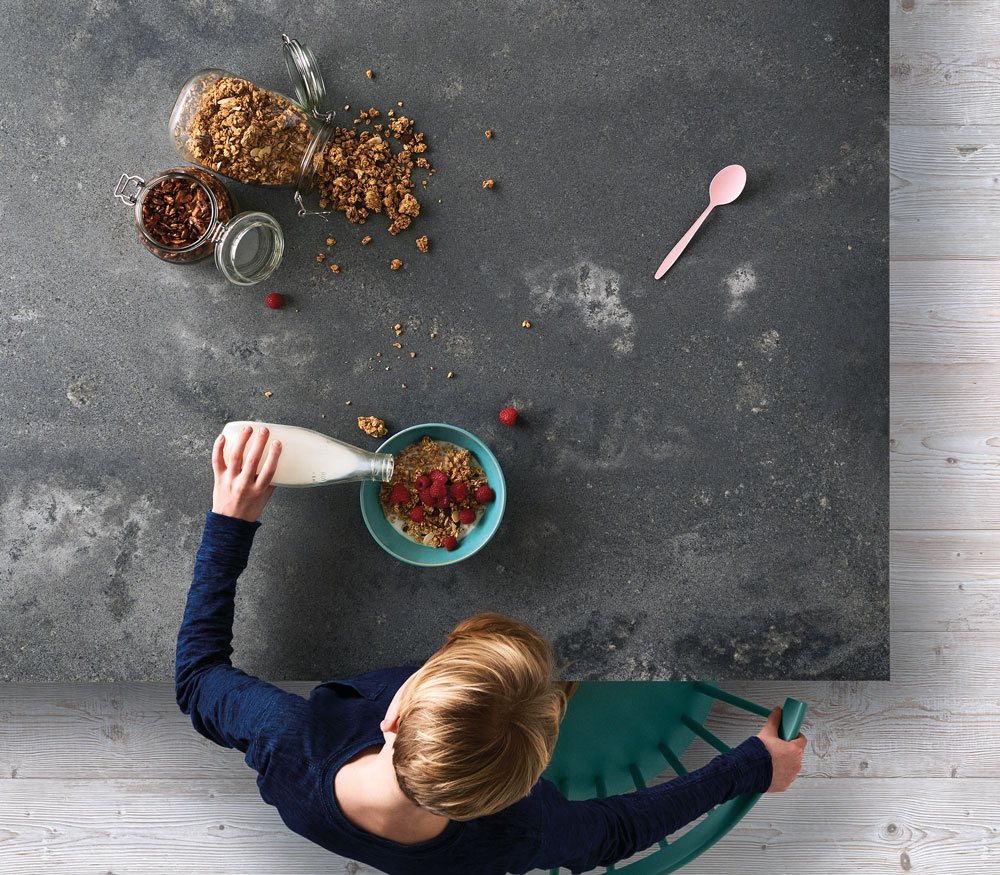 photograph courtesy of Caesarstone
Rugged concrete by Caesarstone provides the look of concrete with the durability of quartz.
According to Dawn Lavergne of the NKBA and MKL Residential Architecture & Design, one of the top trends right now in kitchen lighting is integration. "We've seen it for years now in toe kicks and under-cabinet lighting, but we're starting to see things like backsplashes done in full glass and lit from behind."
For countertops, Lavergne says more people are choosing quartz, which is durable, easy to maintain and available in a variety of options. "Now we're seeing quartz that looks like marble and you can also get it to look like granite, if you really love granite," she says. "Caesarstone has an amazing new concrete-looking quartz coming out, too."