When interior designer Ijmal Haider of Haider Design Group first stepped into the new Hillhurst condo owned by John Eresman and Ali Walker, it felt like the proverbial blank canvas, ready for his paintbrush.
The home encompasses the entire top floor of the building, complete with stunning, nearly 360-degree skyline views. Haider's task was to take the empty space from its builder-grade state and create a home that represented the personalities of the homeowners — two young professionals with a love of art and entertaining.
Although the couple recently moved to Calgary from Vancouver, years ago Eresman had lived just down the road from the condo in a home built in the 1930s, and he loved the neighbourhood. "As sad as it is to see old things go, I think there is a lot of new life being brought to this area through new developments," Eresman says. "I have friends and family all in walking distance. Hillhurst feels like a real neighbourhood where you will run into people walking down the street. That was important to me when choosing where to move."
Eresman and Haider have been friends since childhood, so Eresman and Walker felt comfortable essentially giving the designer carte blanche to help them create the perfect space for their new life in Calgary. "I already had an idea of what John's personal taste was and I was able to draw inspiration from the art pieces and quirky objects that he already owned and loved," says Haider.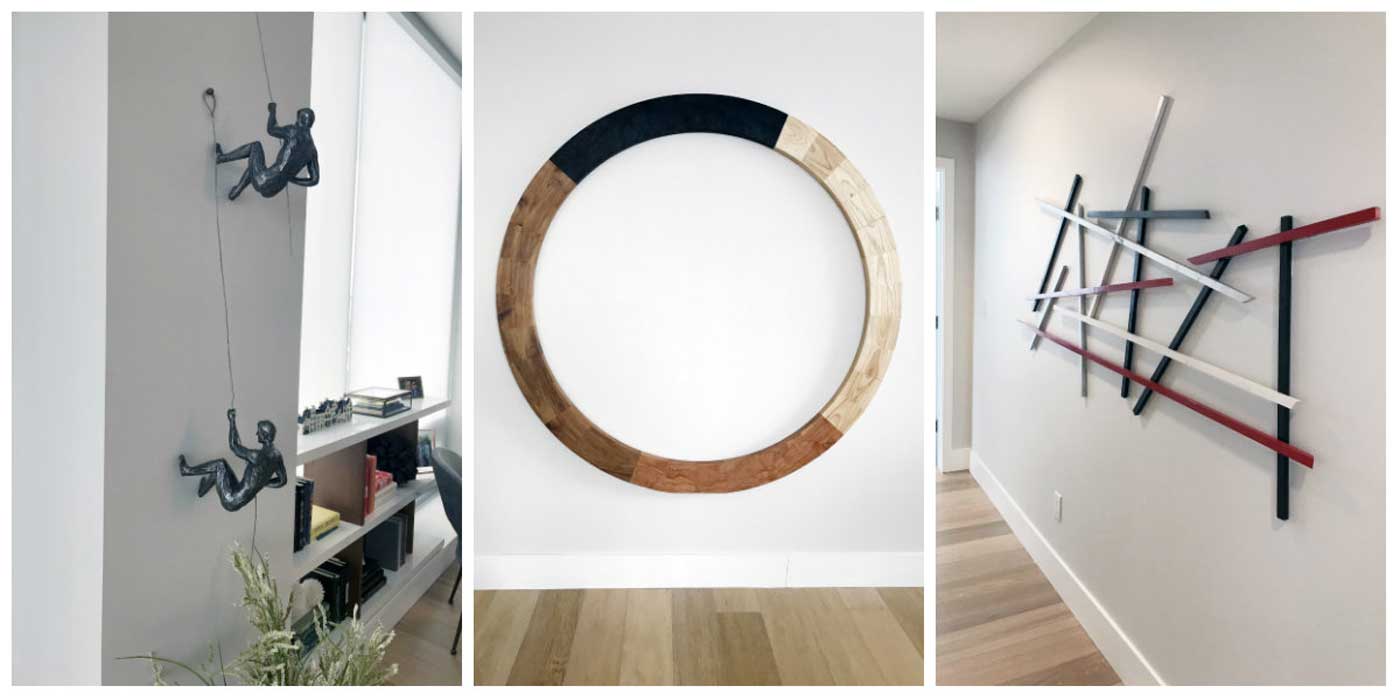 The combined living room and kitchen was Haider's first focus. "The open-concept layout was already ideal for entertaining," he says, "but the challenge was bringing the whole space together in a way that felt warm and cozy, and reflected their playful, fun and youthful personalities." His starting point was the sofa, which faces the fireplace and television. "I wanted to do a traditional tufted sofa to play up the mid-century lounge vibe of the space, contrasting the industrial-modern with the couple's quirky, artistic style," he says. "Since the space is so expansive, we needed furniture that could hold its own amongst the floor-to-ceiling windows. The sofa paired with two large coffee tables sets the stage for a little drama and a lot of opportunity to show off the couple's art objects and coffee-table books. We were going for a luxe-hotel-lobby kind of feeling," Haider says.
While the penthouse has an open and spacious floor plan, Haider has ensured there are plenty of tucked-away, private spaces for the couple as well. "The long, skinny room off the kitchen was originally supposed to be the dining room," he says. "Instead, we turned it into a cozy gaming and media room with a custom arcade cabinet, big-screen TV and cocktail bar. Even with the wall-to-wall windows, we were able to achieve an intimate space with warm textiles and the statement wall treatment created by Interiors to Inspire.
A big focus for the home was showcasing the couple's growing art collection. Every room features at least one piece that Walker and Eresman had previously collected or found during the design process with Haider. "Many of the art pieces we chose for the home include natural materials which give the space a lot of warmth," says Haider. "However, John and Ali are also interested in pop culture and humour, so we brought in touches of that through photography and pieces created or collected by John. As a result, the collection tells a story that is unique to this couple and their home.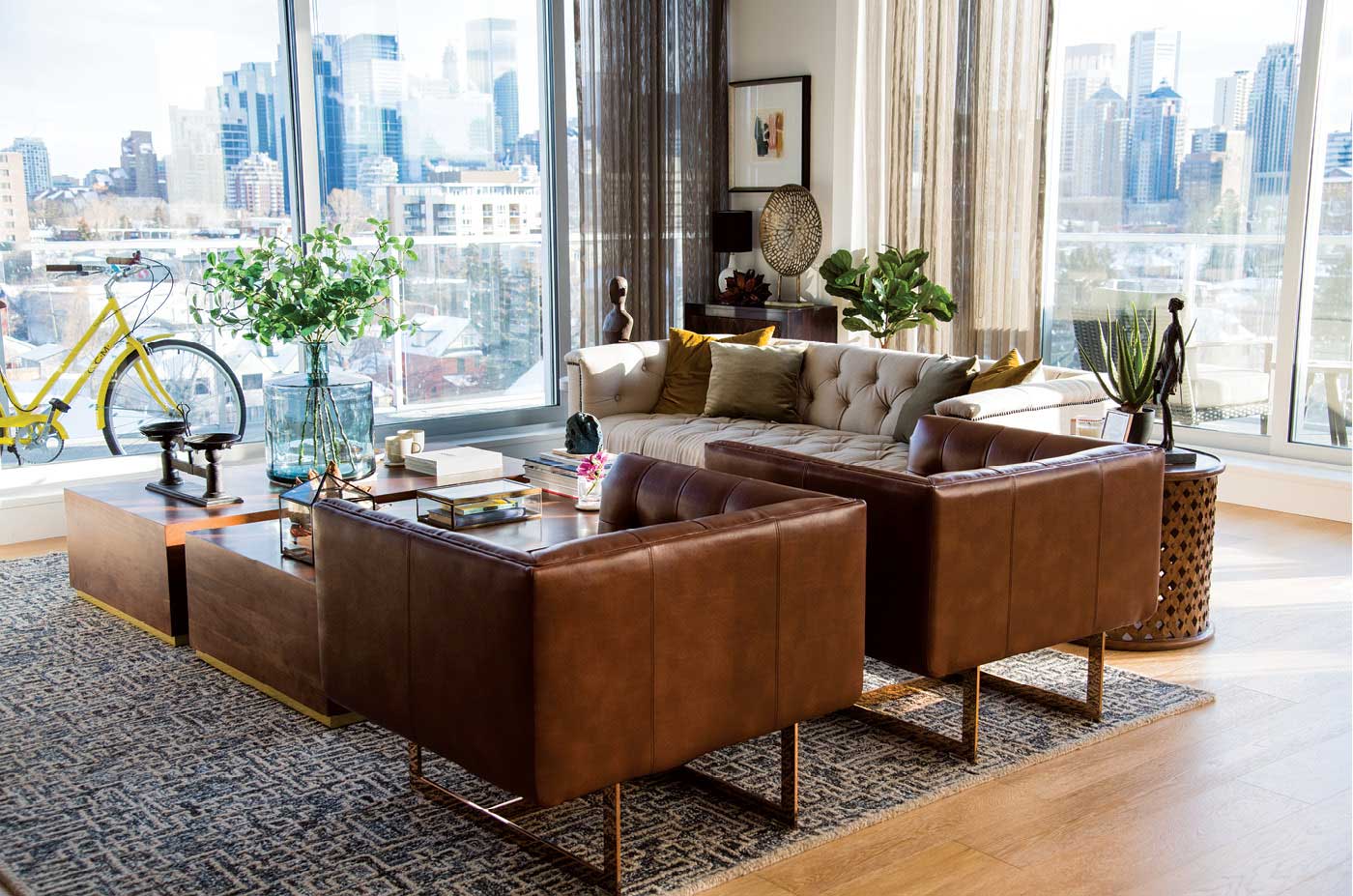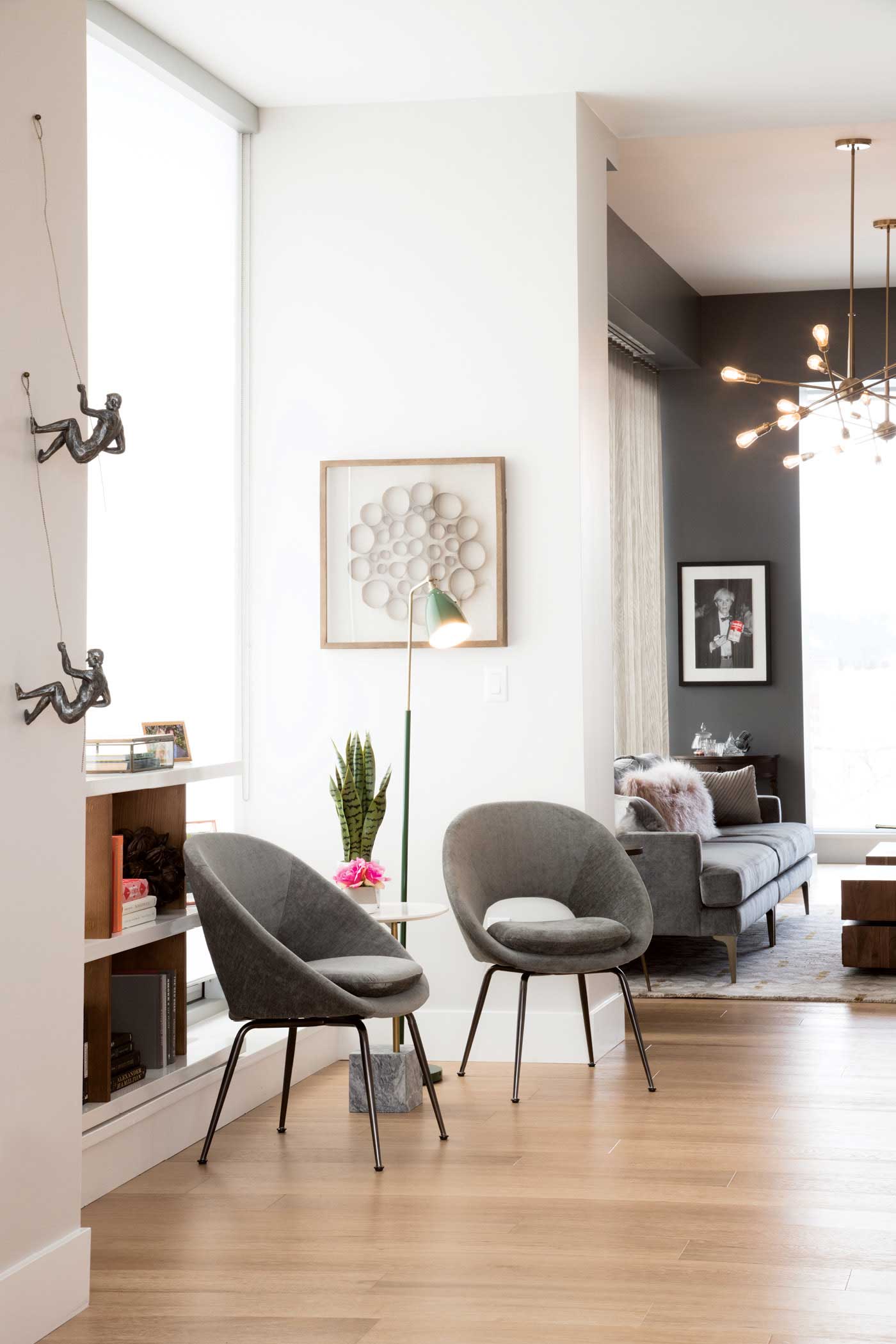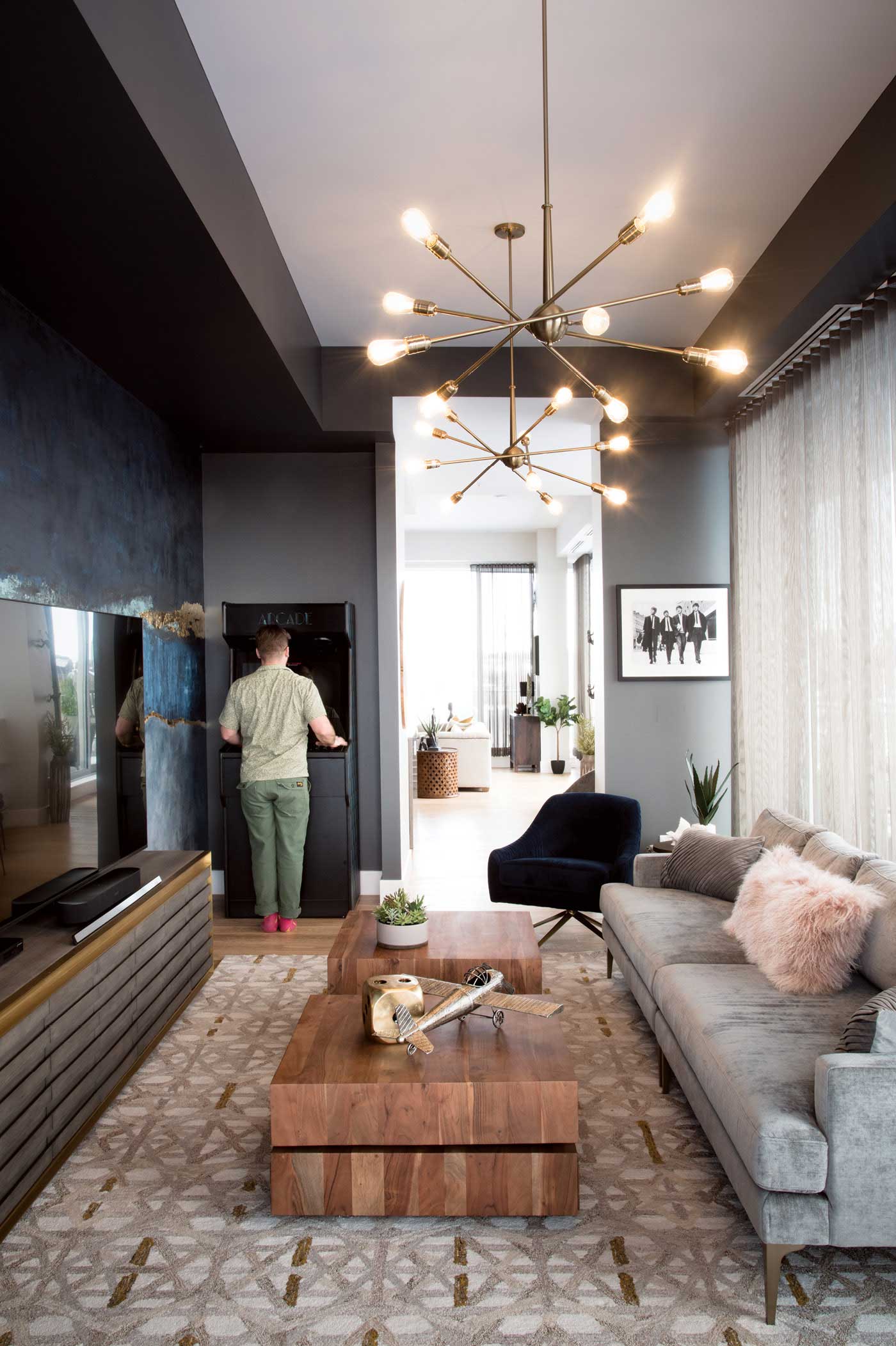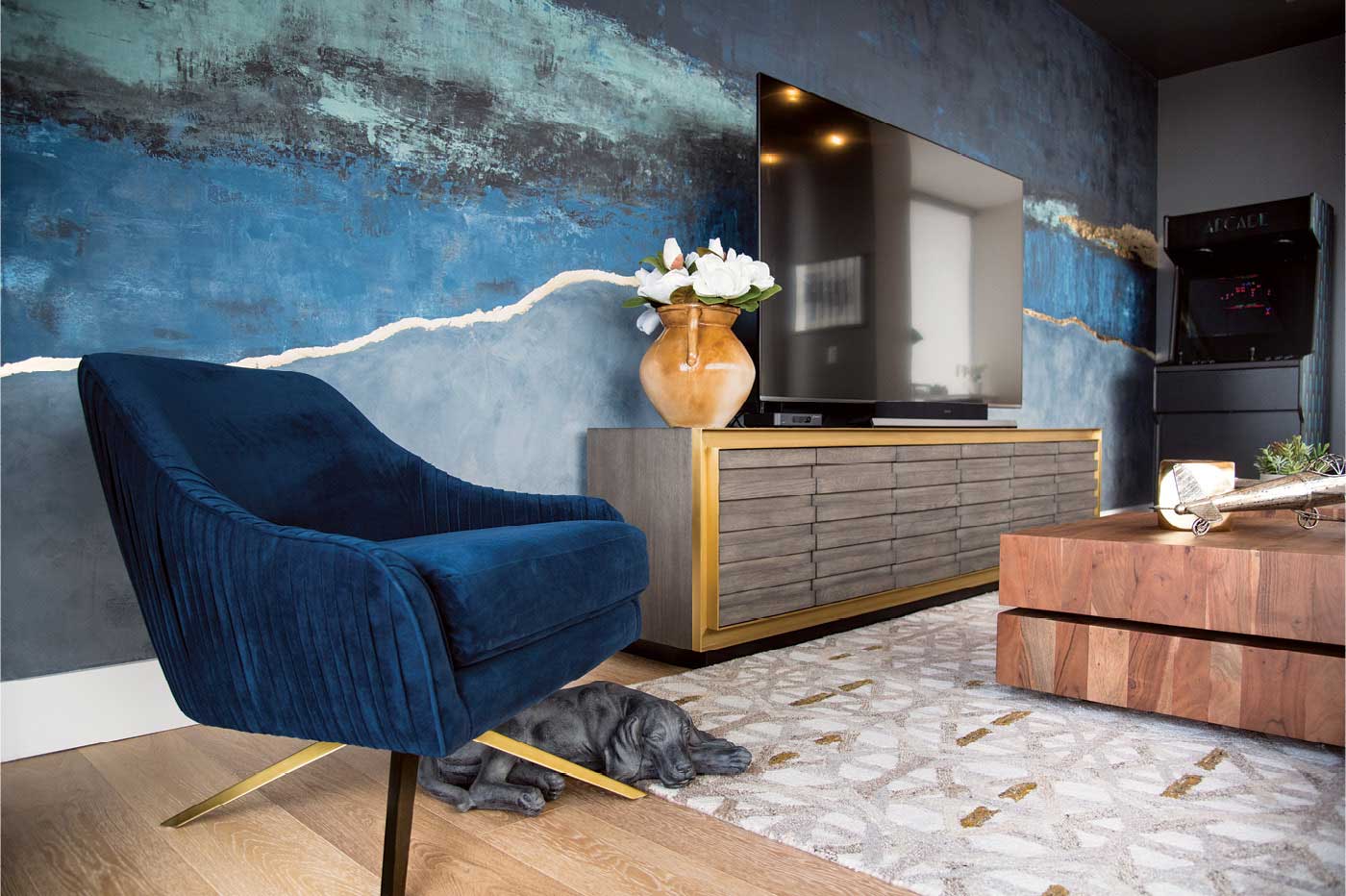 Creating Ambiance With Lighting
Interior designer Ijmal Haider says good lighting is just as important in making your home feel cozy as curating an art collection or building your personal library. Lighting adds personality and character — much like a good pair of shoes, a good light fixture is the finishing touch to the look of the room.
Warm things up using Edison bulbs or fixtures with exposed bulbs. Sometimes just changing the bulbs will give your fixtures a completely different feel.
Don't be afraid to mix metals, or even materials. Your whole house doesn't need to be brushed nickel — try mixing in brass, copper or wood to change things up.
Always keep your ceiling height in mind. The rule of thumb for eight- to nine-foot ceilings is to hang your semi-flush mount fixtures about six to eight inches from the ceiling, but always test it out to make sure you won't hit your head on the fixture.
Experiment with different kinds of fixtures. Your first choice might not work out in the space, so be open to new ideas.
Get dramatic. Lighting should be fun and reflect your personality. Make a statement with a sparkling mid-century-inspired piece or modern-industrial lighting.