Space is a luxury when you have kids, but for Amy Bell and her two young boys Flynn and Sullivan, the not-so-secret secret to keeping their modern Inglewood condo feeling open and spacious is choosing furniture, objects and art they truly love. The space certainly has a minimalist bent, but it is still eclectic, with layers of texture and colour throughout the whole home. With the addition of plenty of plants and greenery, the industrial elements of the condo (concrete, wood and metal) are softened with Bell's personal touch of playful yet chic touch.
What is your design philosophy?
I think with having kids, it's a balance between things that look nice but are durable and that the kids enjoy. I love to include lots of things that are important to them too like pictures they drew and baskets of toys. We learn towards a boho, beachy kind of mid-century modern,
What is your favourite room in your home?
The boys room, for sure. That is where we spend most of our time, hanging out and playing on the floor. I love kids design.
What is your most treasured item, and where is it from?
The Max Wanger photograph hanging in my dining room. It was the first big art piece I ever purchased. I'm from the West Coast, so I just love that it reminds me of the ocean daily.
What is your favourite decor find?
The woven basket in my bedroom that holds my big cactus. It was one of those scores that just had to come home with me.
Where do you seek out inspiration?
I'm always reading blogs and checking out photography. We wander around the inner city a lot, the East Village and 17th Avenue S.W.; the coffee shops and restaurants totally inspire me.
What is your favourite thing about living in your home?
The accessibility to downtown. We bike lots and have a bike path right behind our home. We hop on are in the East Village and downtown in no time.
Where do you like to shop for decor locally?
I shop at Kit Interior Objects, Guildhall Home and HomeSense the most.
Did you encounter any decor challenges?
We went from living in a 3,000-square-foot home and I had never lived in a condo before. Paring down was originally very challenging, but ended up being such a great exercise in only keeping the things that I loved and that were functional. Now, I don't think that I would go back to living in a house. I love only having the things that matter.
What is your favourite view from your home?
Definitely our view of the river. All year round it is so beautiful with the change in seasons.
What would you want your next home to be?
Definitely a beach home somewhere. I'd love for it to be Scandinavian in style, with black cedar, big windows and super minimalistic.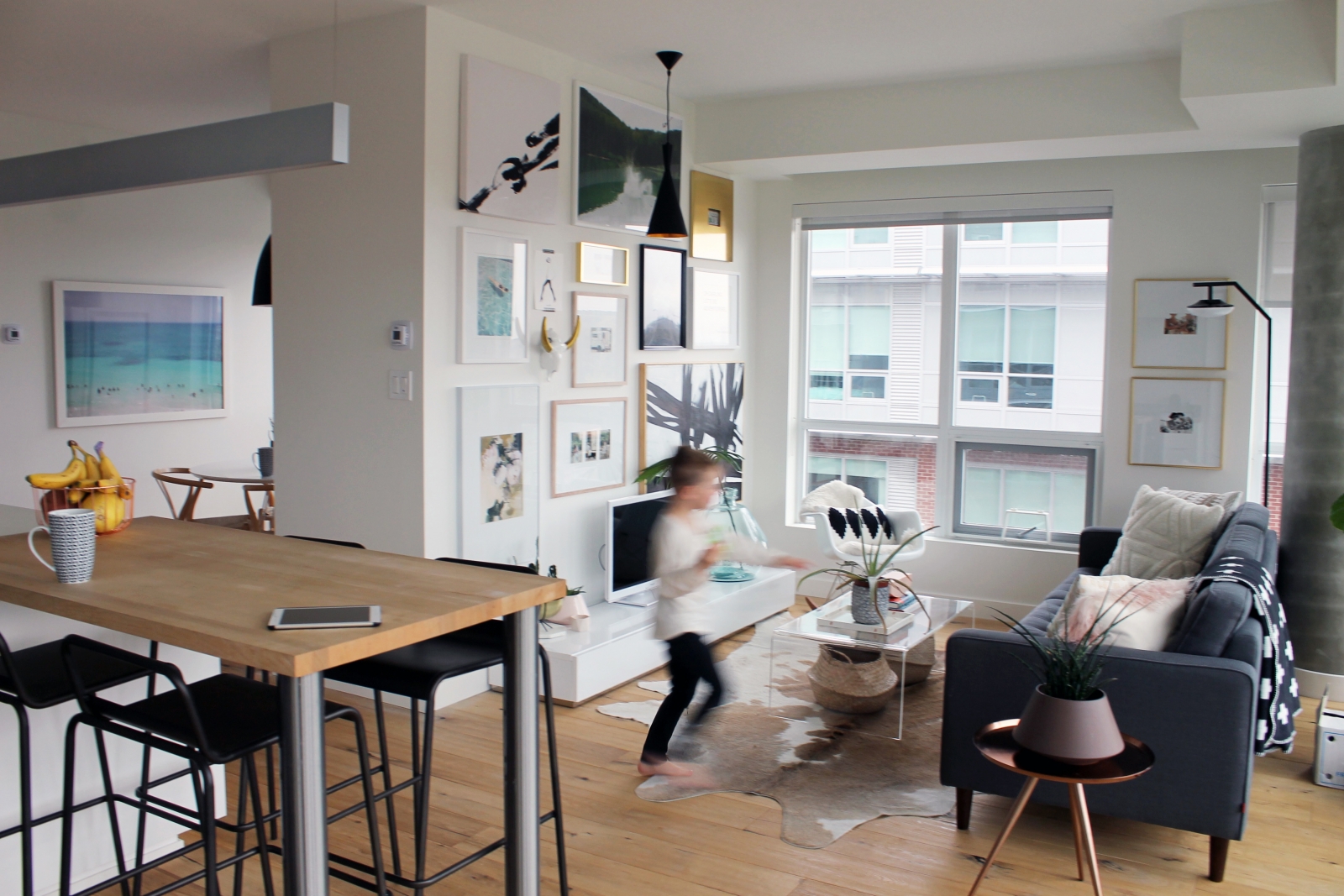 The open-concept layout of the space allows for lots of movement throughout the living room, while the kitchen offers a great breakfast bar with seating for four.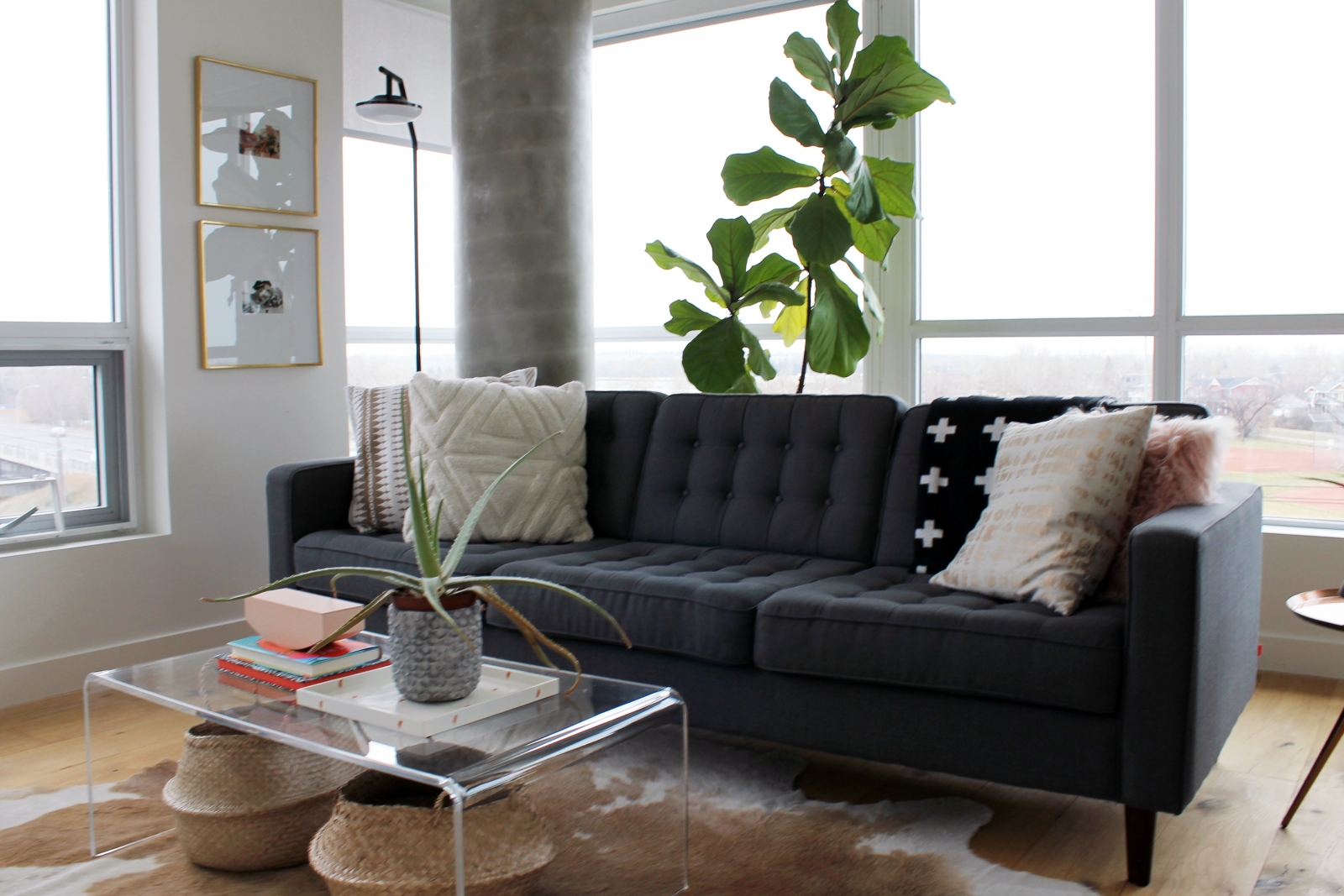 Wall-to-wall windows give great views of the Bow River and Inglewood, while simultaneously letting in lots of beautiful, natural light.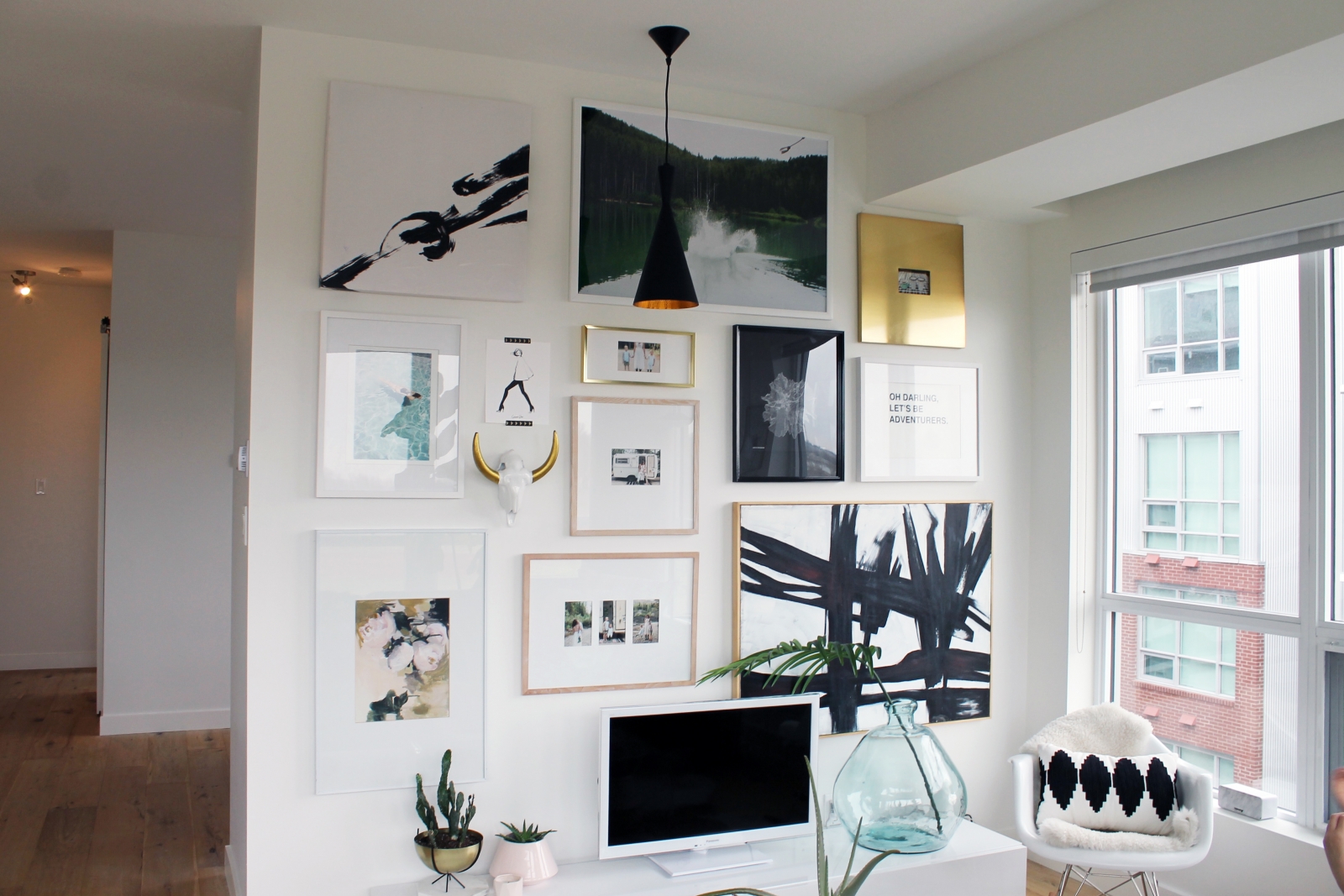 Bell's gallery wall is an eclectic mix of photographs, abstracts art and graphic prints.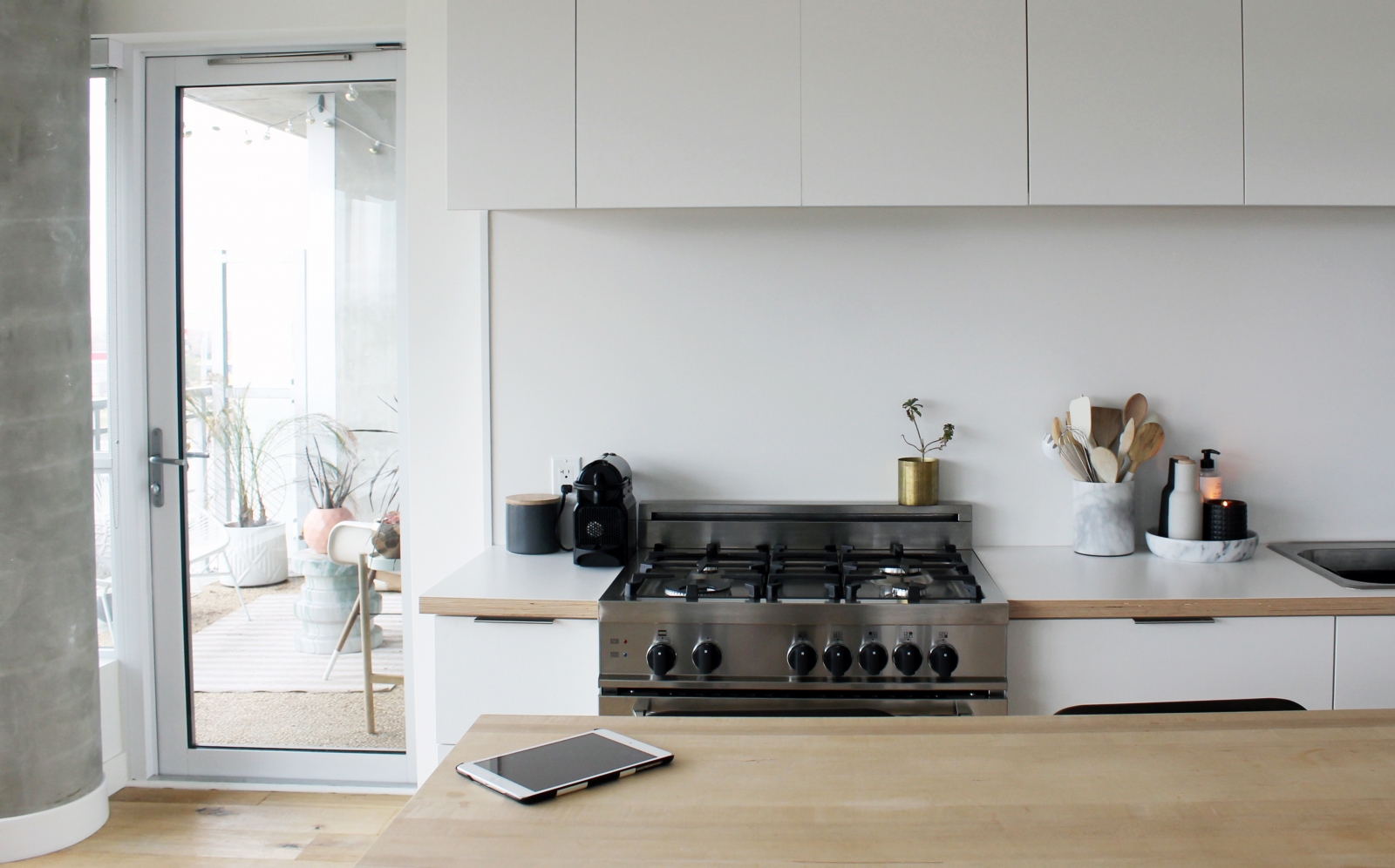 The kitchen counters are kept sparse and are accented by various materials such as brass, marble and wood.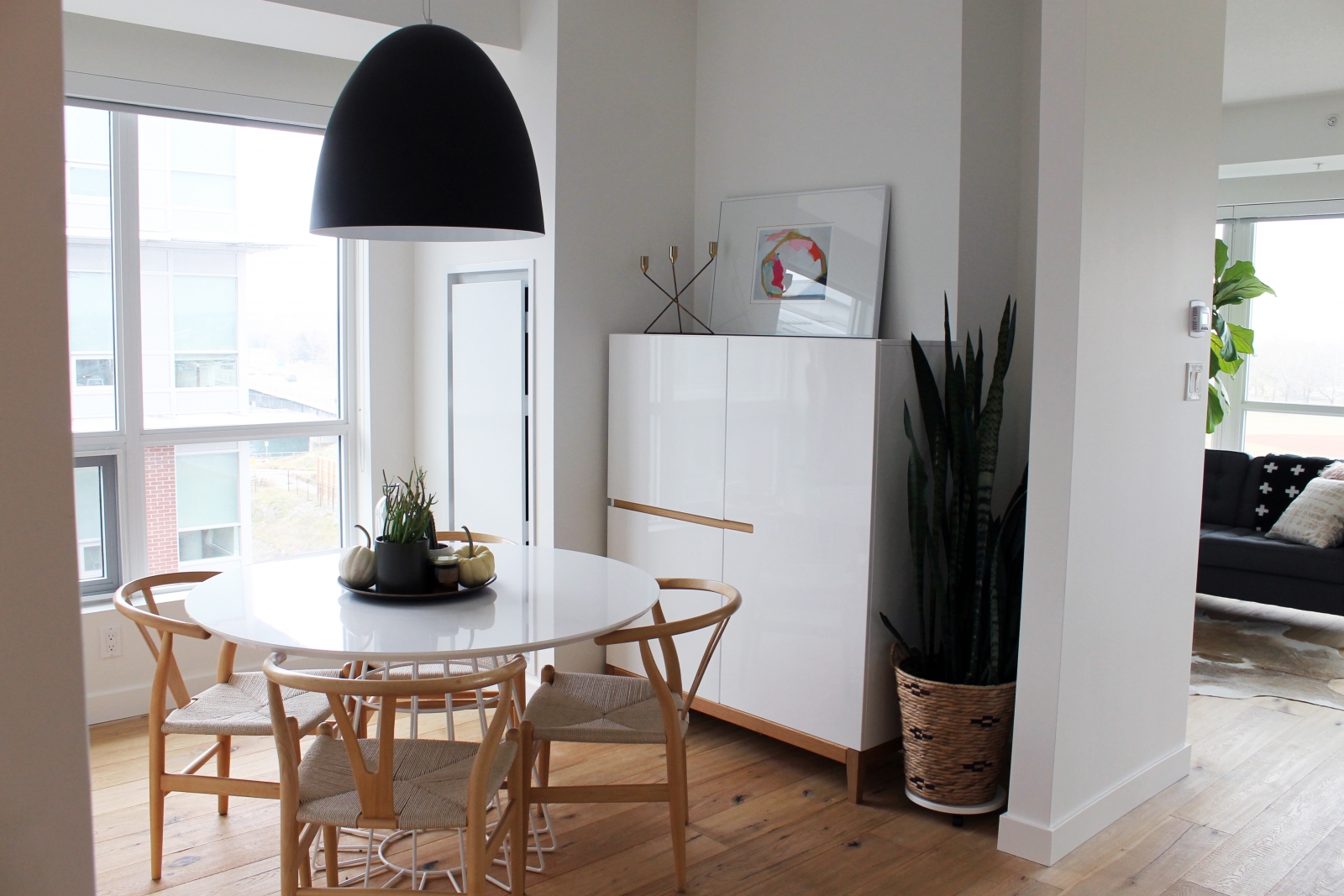 It is rare to find a condo with a dedicated dining area; Bell lucked out with this great dining room with fantastic natural light and enough room for entertaining guests.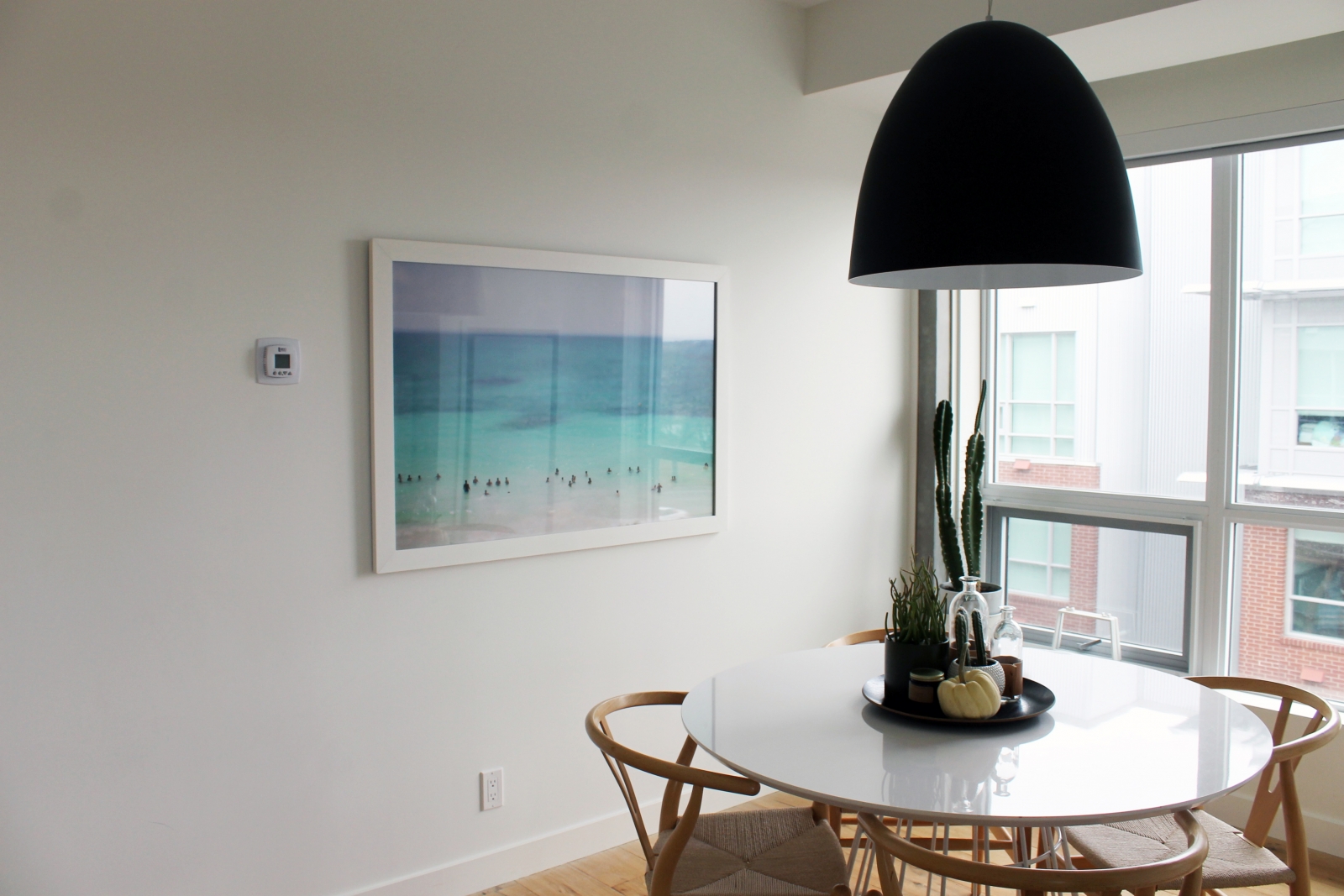 Bell's most treasured item is this Max Wanger photograph that hangs in her dining-room nook.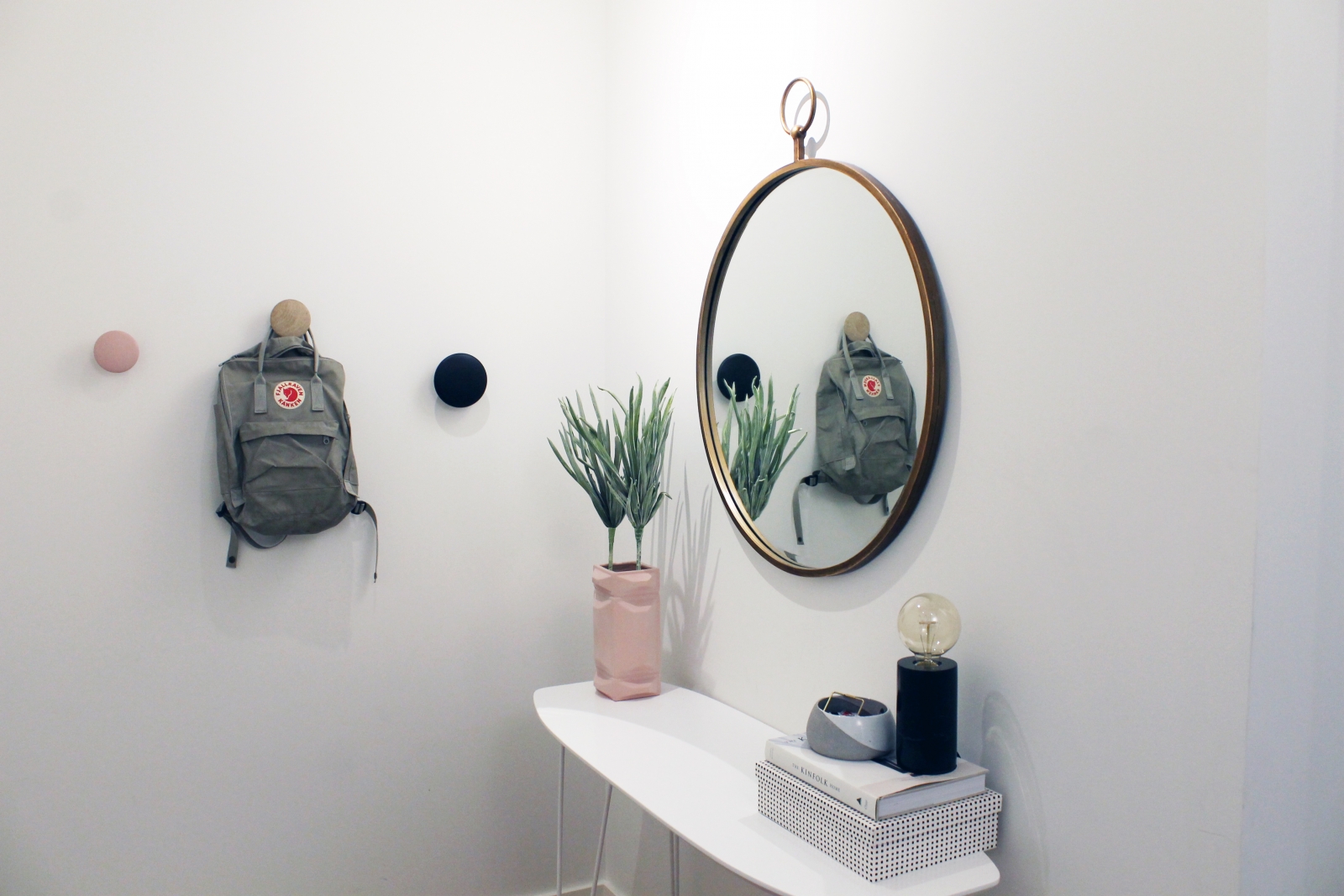 Bell keeps all her busy family's essentials in reach in the entrance way.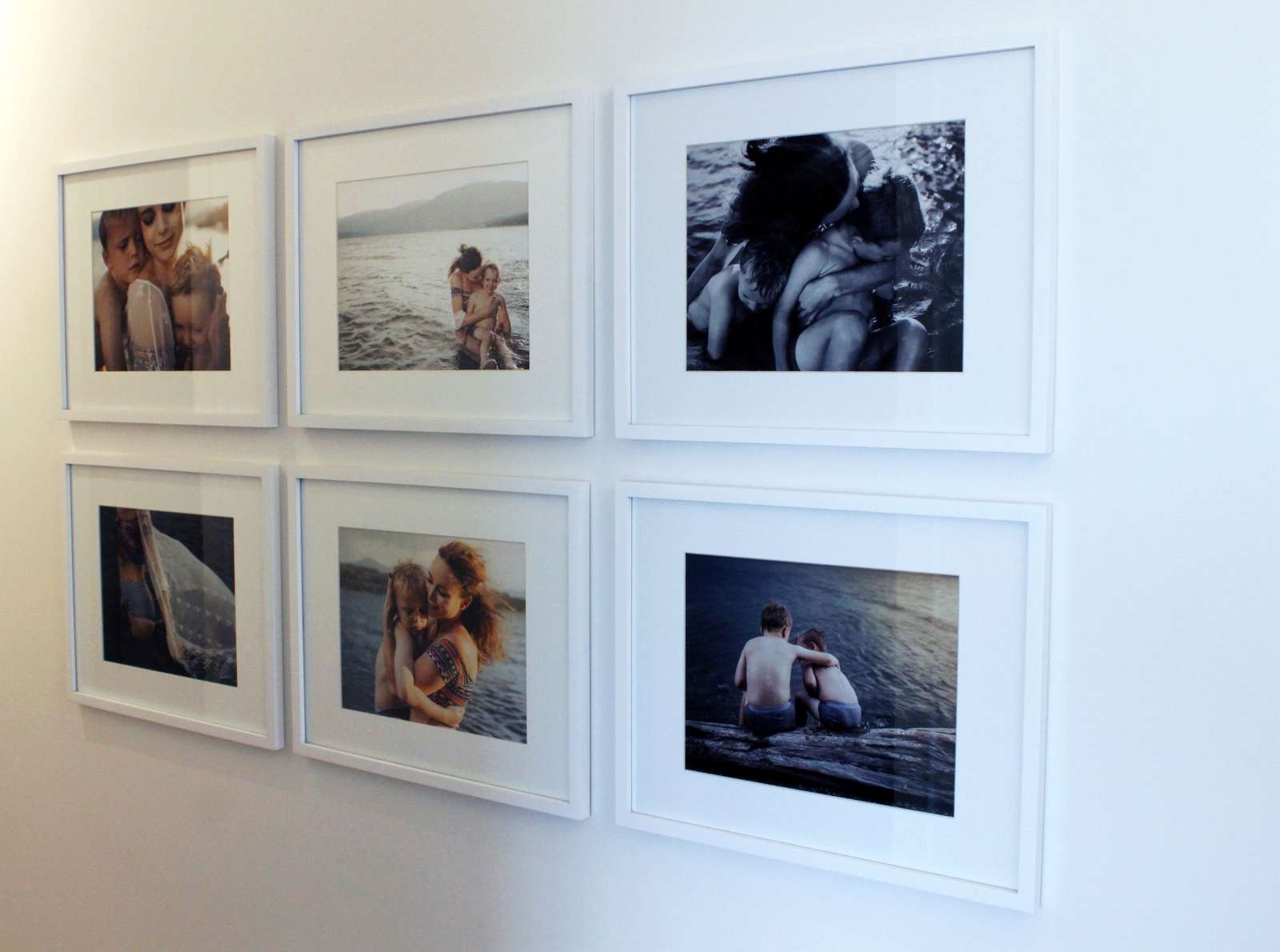 A collection of family vacation photos is featured in the front hallway.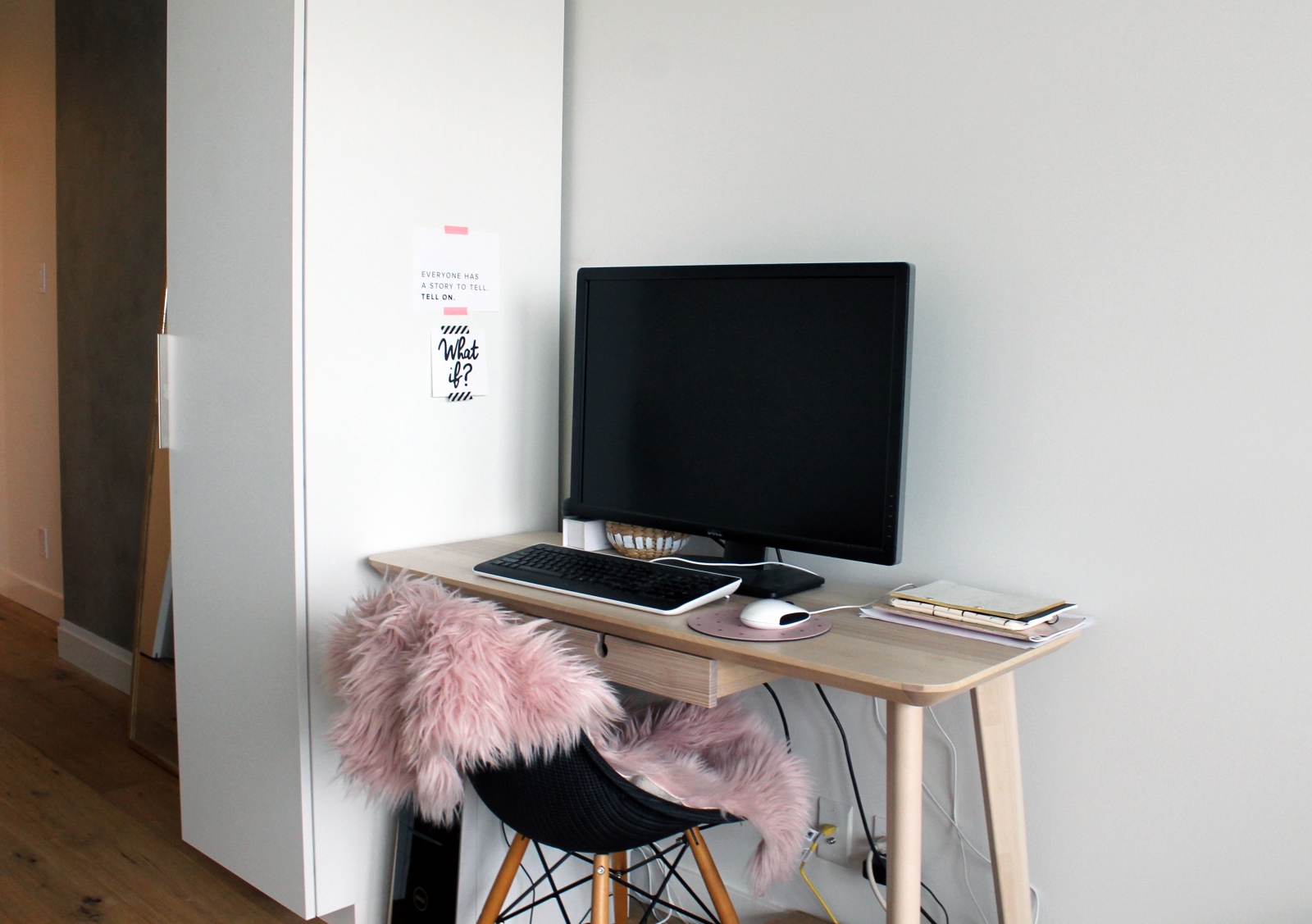 As a lifestyle and family photographer, Bell spends long hours at her computer editing photos. Her home-office set-up is simple yet comfortable and inspiring.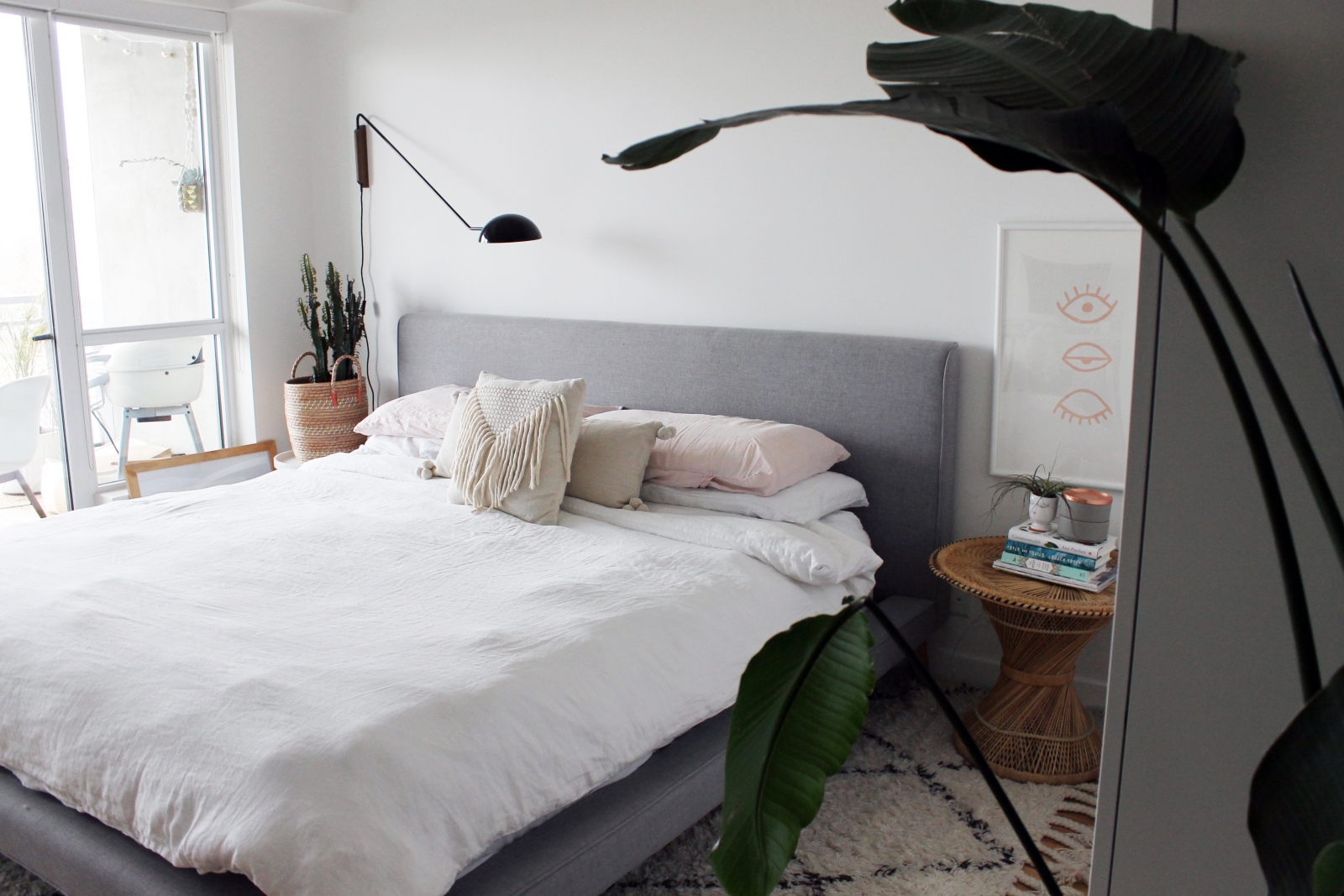 The master bedroom is feminine without being overly frilly, with touches of blush and plenty of greenery.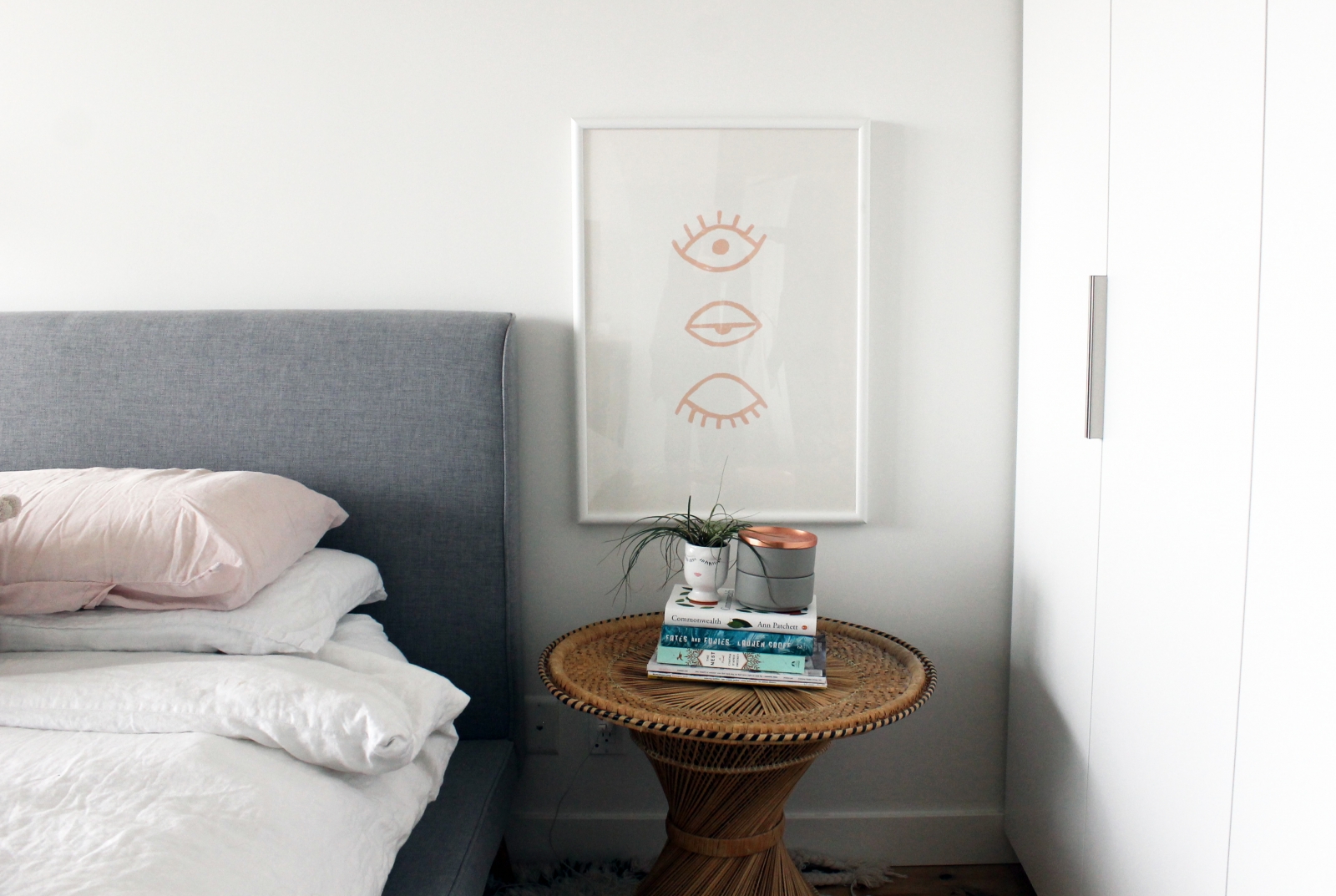 Soft grey, blush and white linen keeps the bed looking fresh (and ready for monkeys jumping on it) while the bedside has adorable artistic elements like the graphic eye print and ceramic planter.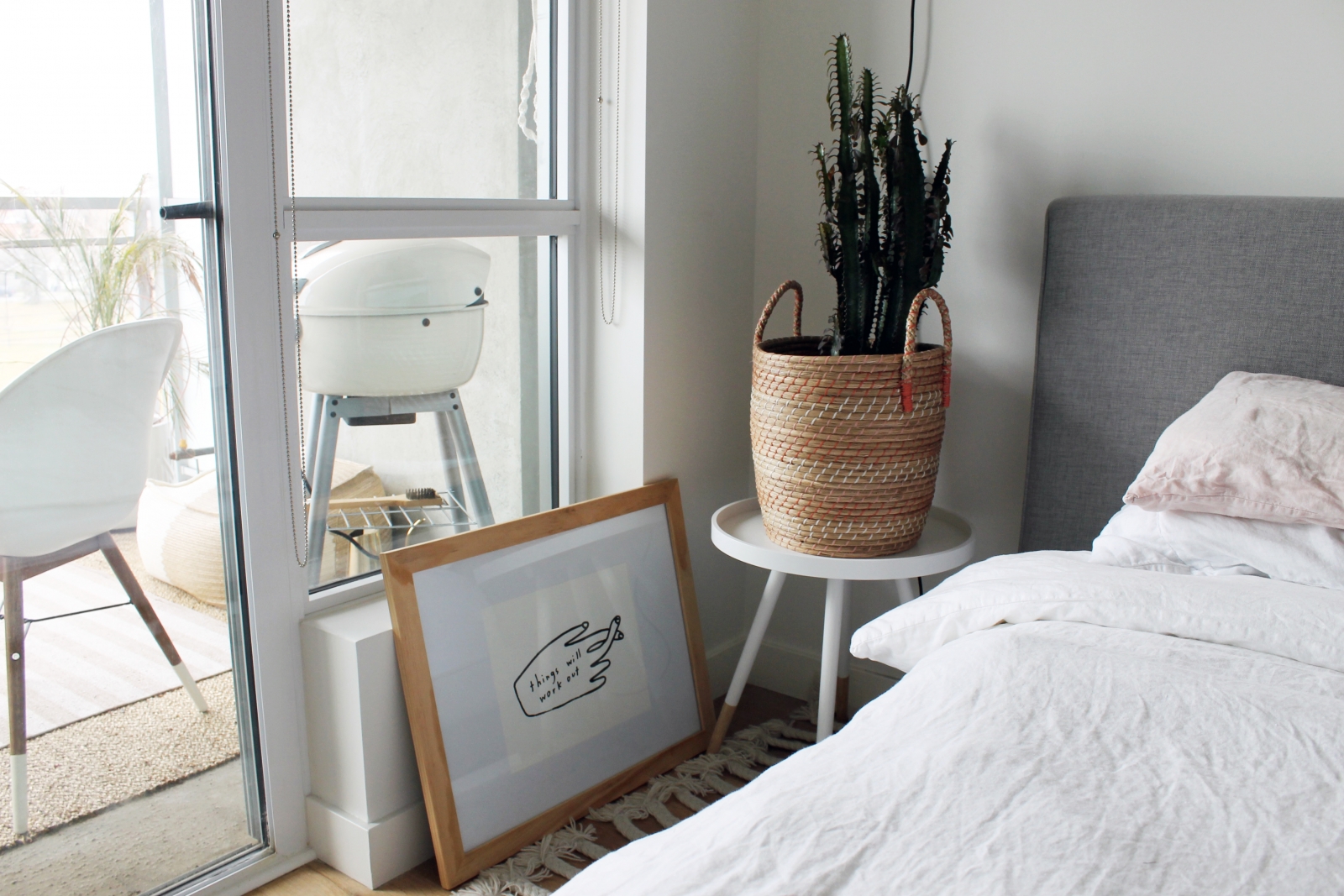 Bell's favourite decor find is this beautiful wicker basket that holds a big cactus on her bedside table.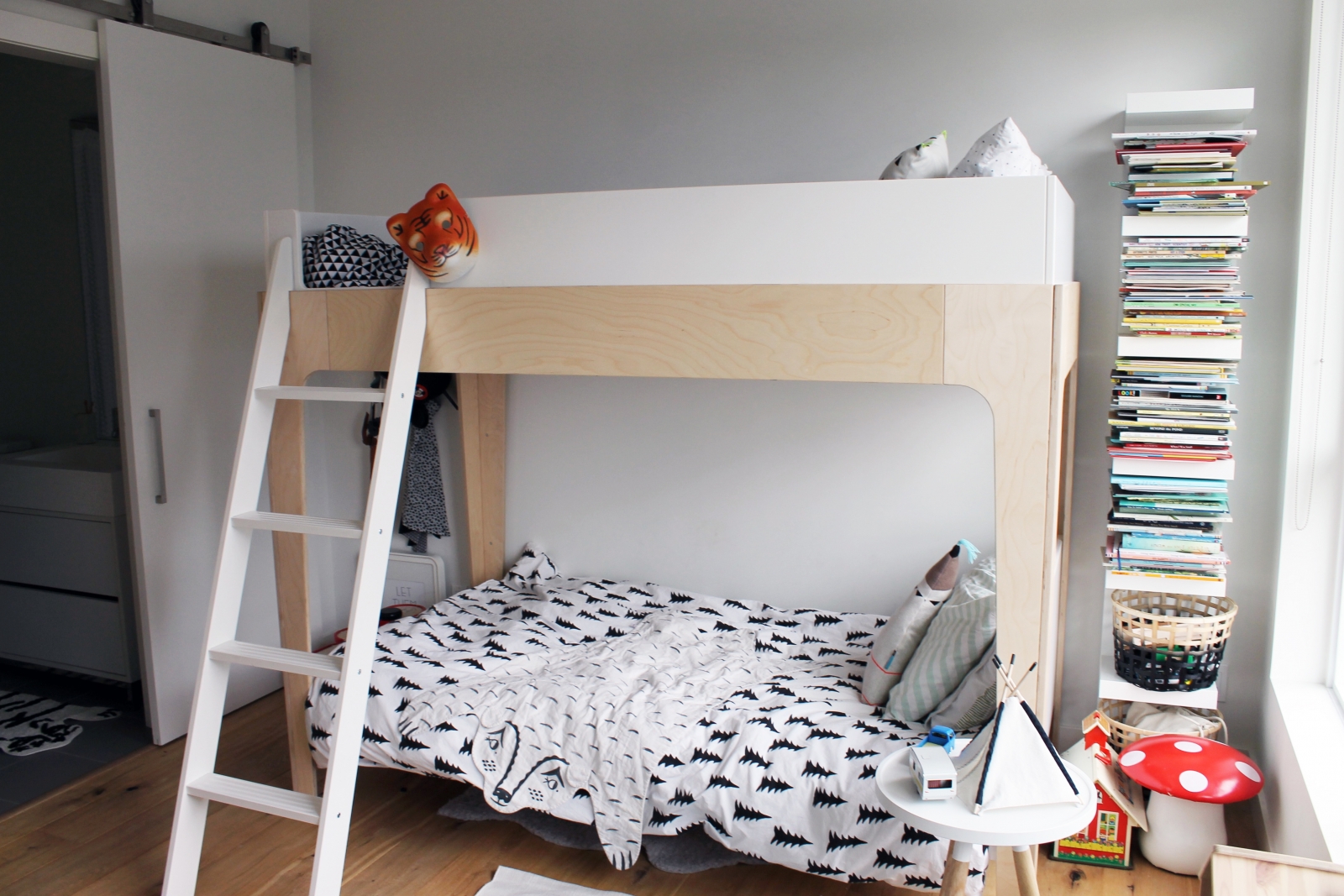 Finn and Sullivan's shared room is complete with Scandinavian-inspired bunk beds, whimsical monochromatic bed linens and all sorts of fun toys and books to keep the imaginative play going for hours.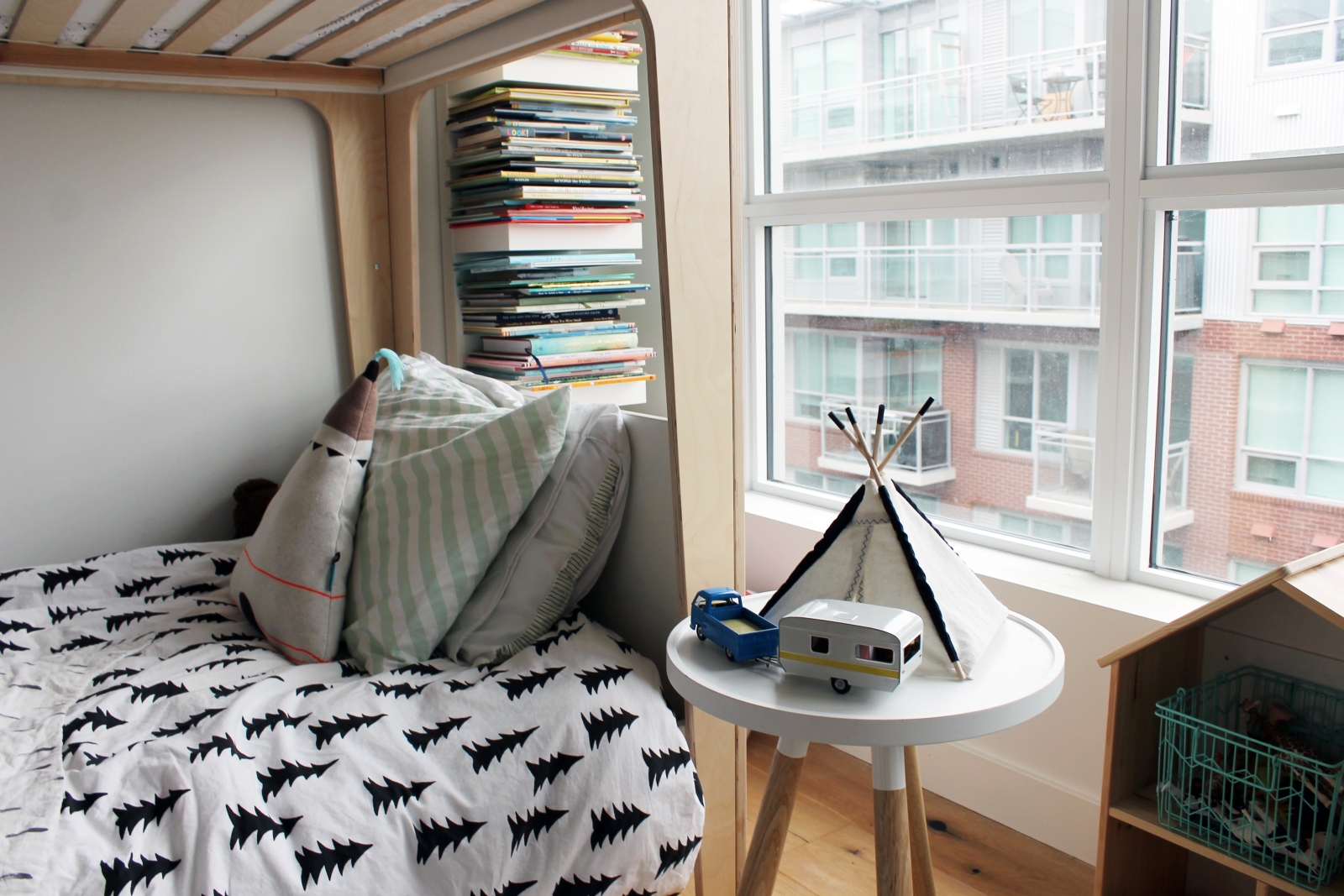 This little family loves to spend time in the outdoors and their objects and decor on display reflects it.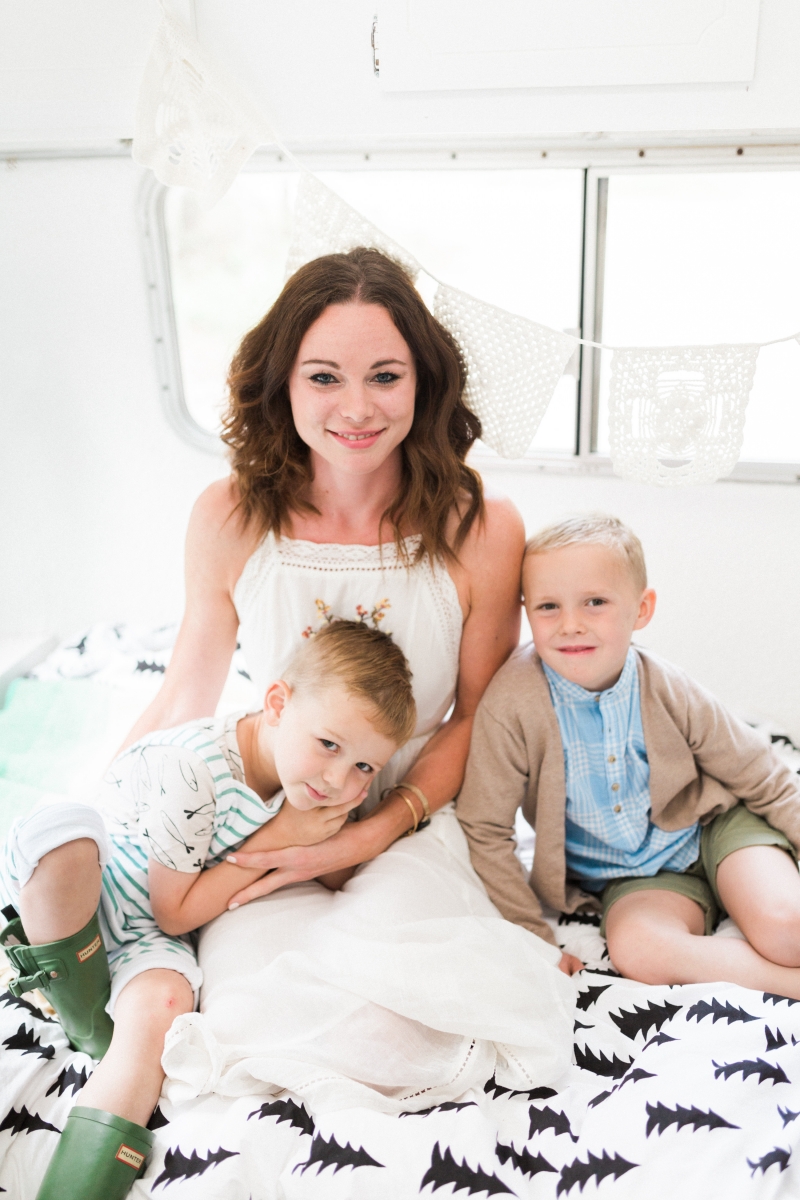 Amy Bell and her two sons, Flynn and Sullivan.