The heart of her home, Angela Cheung's dining area contrasts metals with warm woods and cool marble while still maintaining a bold, minimal aesthetic.
After living in a succession of builder-grade residences, Angela Cheung decided to build her dream home, which she wanted to be a bright and welcoming space that featured natural elements. One part of her plan was simple: to fill the home with everything she loves – art, fine design and plenty of space to entertain. The other part was just old-fashioned elbow grease.
Cheung, her husband and their seven-year-old daughter, Taylor, moved into their new home in September 2015, but the road to occupancy began after they found the perfect lot in the community of Springbank Hill. Not afraid to get her hands dirty, Cheung began to oversee the design process of the more than 6,000-square-foot house. With no prior project-management experience, she came out on the other end somewhat of an expert and would gladly do it again.
"It was definitely a journey," says Cheung. "The house took about two years from the drawings to completion. I had no idea it would become a full-time job in itself. It could also be that I am such a perfectionist and detail-oriented, but I didn't want to overlook things I might regret later. It was a long process, but at the same time it really allowed me to gear up my creativity."
The home is a haven for creativity. Cheung, a photographer specializing in boudoir and lifestyle photos, and the blogger behind Moet on Mondays, now has a home office and photo studio – two features that were high on her priority list for professional and personal reasons. Working from home has allowed her to expand her business while still being able to spend lots of time with her daughter.
Setting the Stone
The notion of open-concept design is taken to the limit in Cheung's 960-square-foot living room, eating nook and kitchen. The expansive bright-white room, which is flanked on each end by floor-to-ceiling marble tiles, is pared back and refined, but the simplicity sets the stage for its core function.
"When I designed this room, I was definitely going for a very minimalist look; however, I still wanted something that was elegant and contemporary at the same time. I knew it was going to be all white, have a lot of wood, big windows and definitely have marble as a feature," says Cheung. "We love to cook and entertain, so I wanted an open-concept space that allowed people to flow from the sitting area to the dining table to the kitchen."
Guests aren't limited to indoor socializing. Floor-to-ceiling sliding glass doors look out onto a bank of picturesque birch trees and allow for seamless indoor-outdoor living on an expansive back patio.
North Meets West
Inspired by the bright white interiors of homes commonly found in places like Copenhagen and Stockholm, Cheung brought to her own home the clean lines and functionality the region is known for.
"In Nordic countries, they just really understand how to create a beautiful space with simple natural elements. I think that is why I am drawn to their design aesthetic; I love the organic feel of wooden floors and cabinets," says Cheung. "Building a home in a community that has architectural controls was tricky because I couldn't really have an entire home that is Nordic-inspired. I incorporated as much as I could without overdoing it. It still feels like a Canadian home but has those natural elements like wood, quartz and marble that bring forth that Scandinavian minimalist vibe."
Cheung also drew inspiration from the West Coast to infuse the home a laid-back vibe – a contrast that works well with the Scandinavian bones. To do this, she filled the whole house with terrariums and bold-leafed plants. Other natural elements are found in the most unexpected spaces. The main-floor bathroom features a wall-to-wall, custom-built concrete well sink from 2Stone, a Calgary company, that brings a bit of texture into an otherwise minimalist room.
Drift Away
Downtime is essential for the two busy parents, so Cheung designed the master ensuite to be an escape from the hustle and bustle of daily life. To do this, she made sure the couple had plenty of space to enjoy the ensuite's amenities, including a centrepiece stand-alone Kohler bathtub, which Cheung laughingly admits her daughter uses more than the adults.
And, while this mini-oasis does have a decidedly more opulent feel than the rest of the home, it works with the rest of the design. "I wanted to make sure that all of the concepts of the house flowed seamlessly. So, again, I wrapped the entire ensuite with the same marble tile that I used in the kitchen and living room," says Cheung.
Like any true escape from the outside should do, the ensuite indulges Cheung's wish list. A tiled hallway leads to a custom-built closet and dressing room where the self-proclaimed "organizing nerd" has her wardrobe-sorting down to a science.
"I wanted to create my ultimate closet, where everything would have a place; I love being able to tuck everything behind the doors and keep it organized," she says. "I am inspired to get dressed every day when I come in here."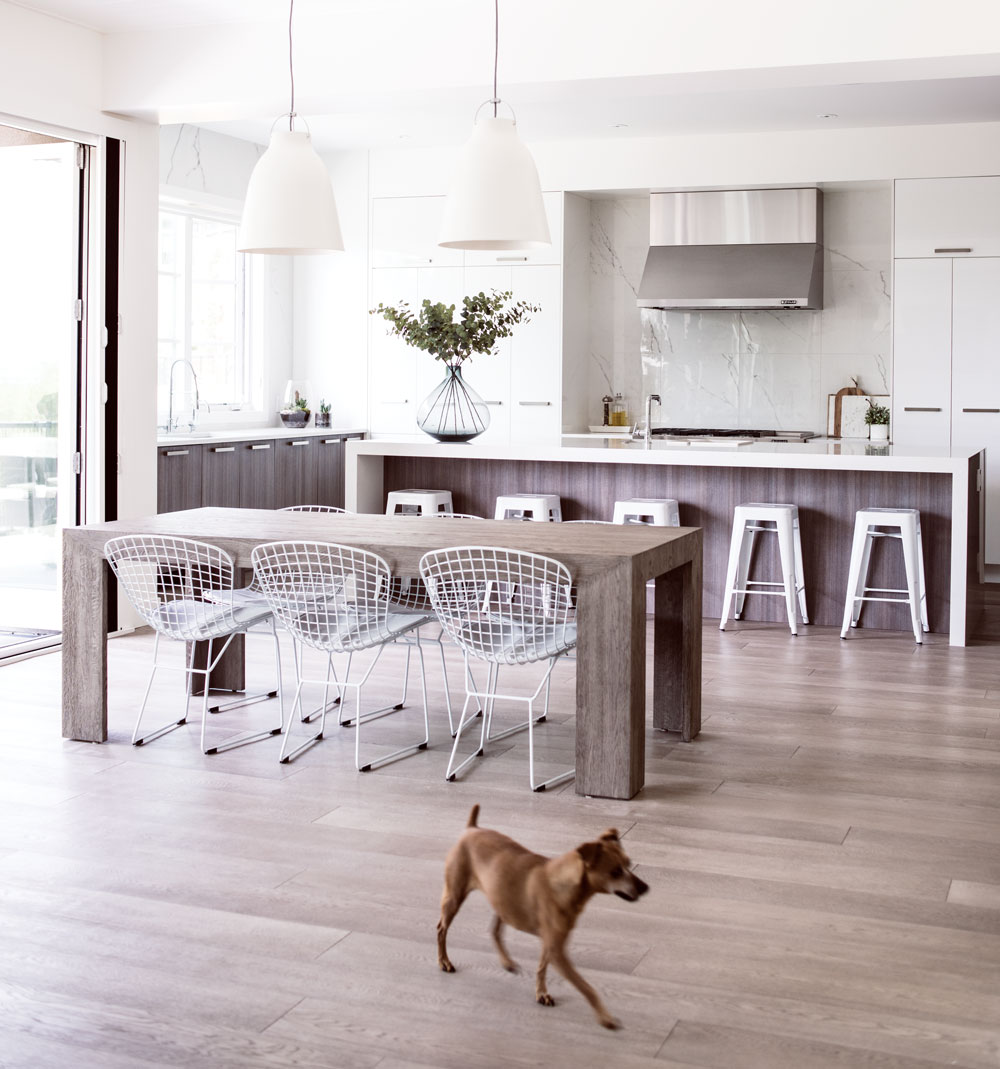 The kitchen was designed with the family's love of cooking together in mind and features plenty of space and multiple work areas for maximum function.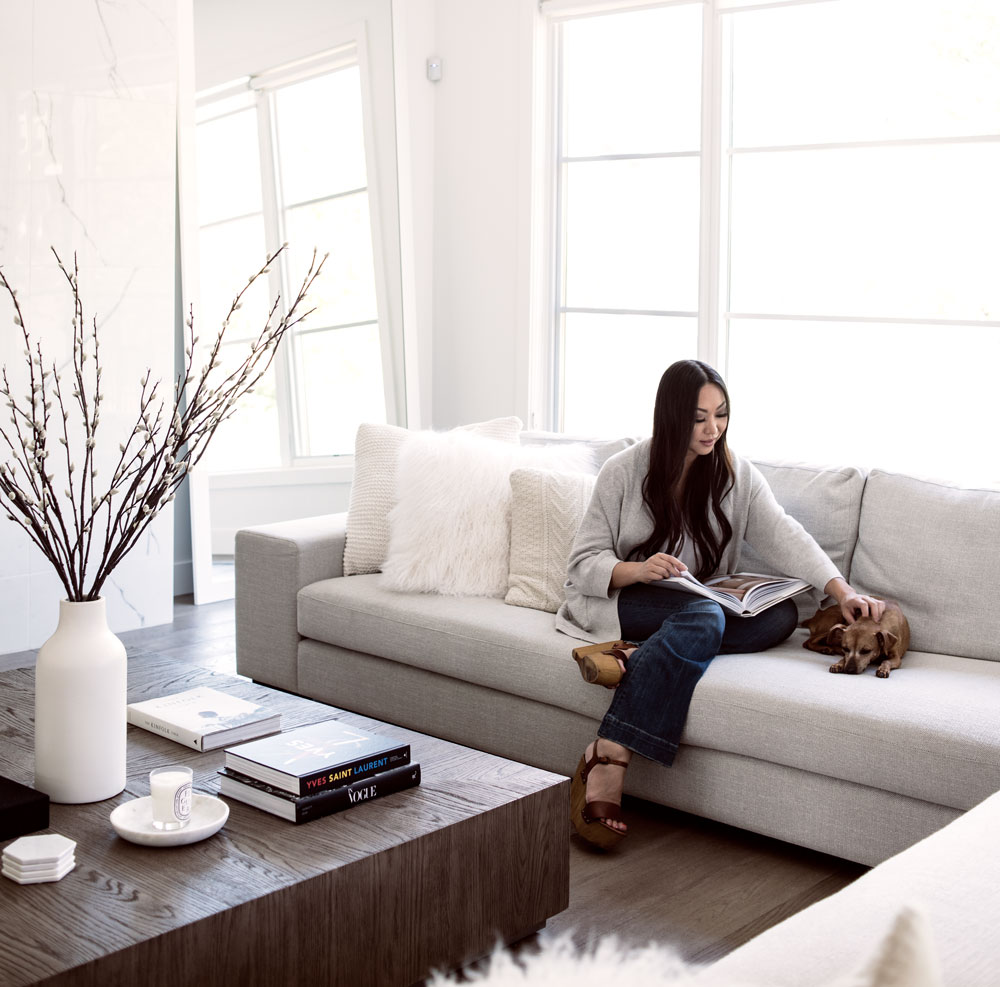 Perfect for both entertaining and relaxing with the family, Cheung's spacious living room has a bright and happy West Coast vibe.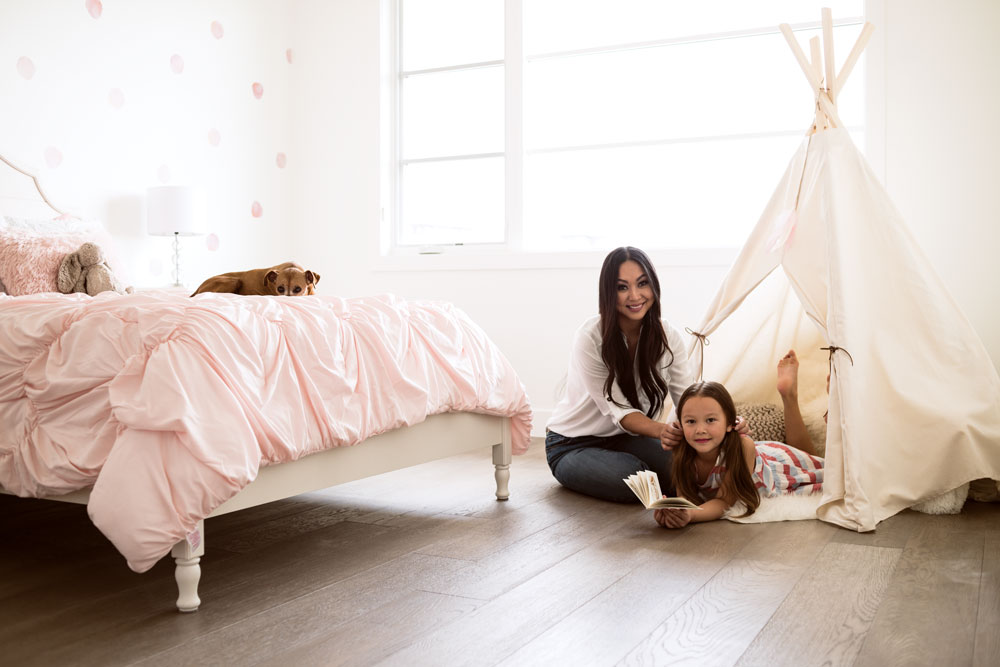 Cheung and daughter Taylor enjoy spending time in her whimsical light-filled bedroom.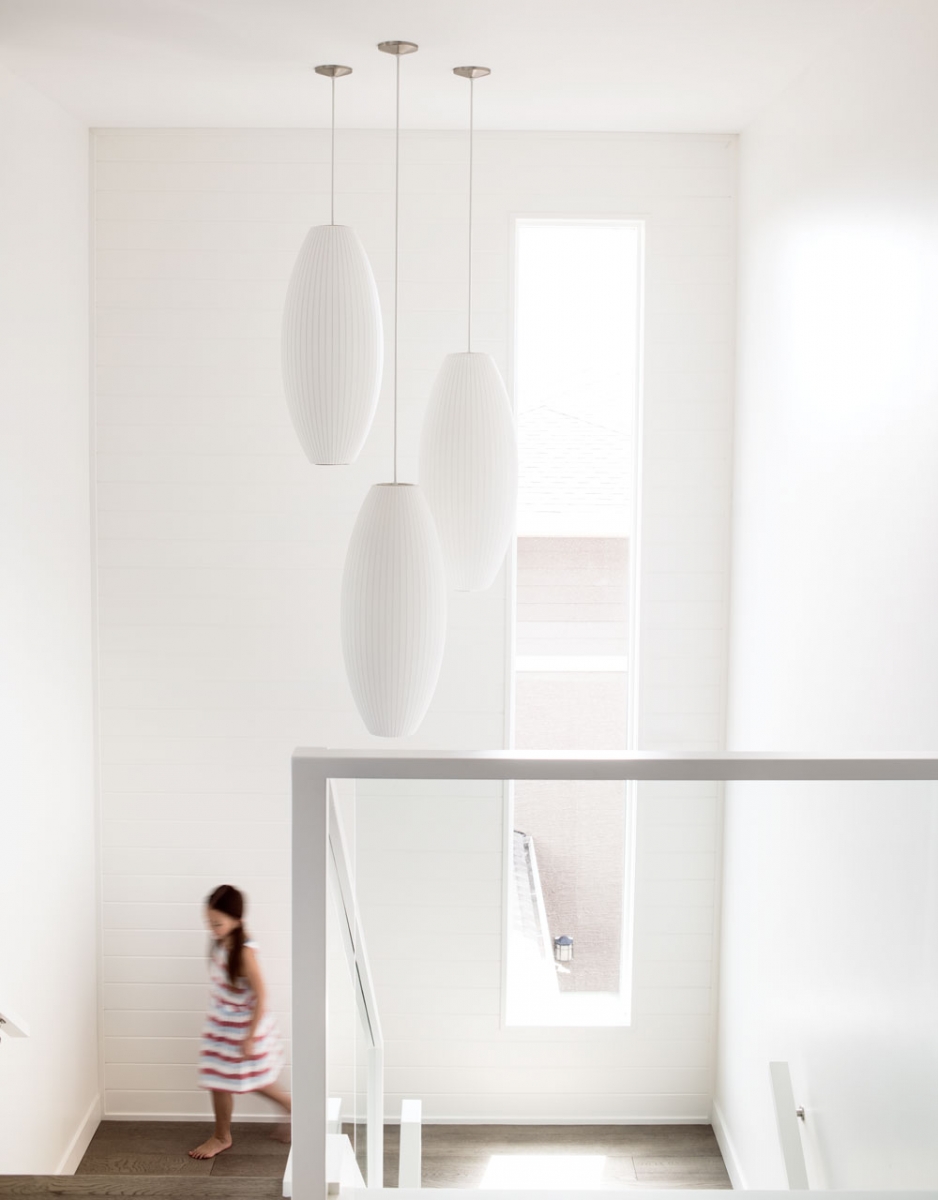 Opting for something out of the ordinary, Cheung designed an off-centre window on the landing and accented it with three pendant lamps.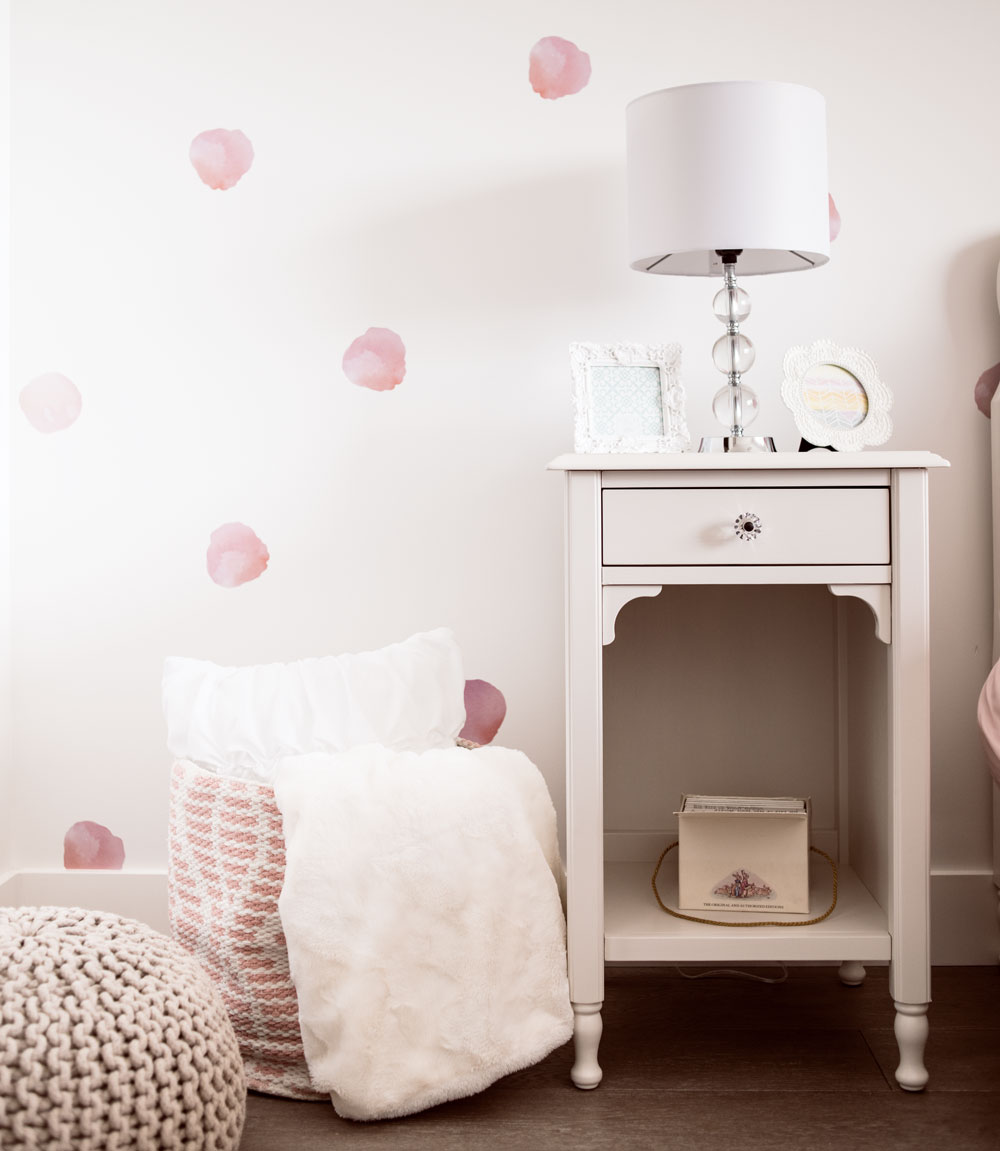 Taylor's girly yet modern bedroom is complete with blush pink watercolour polka dots from Urban Walls.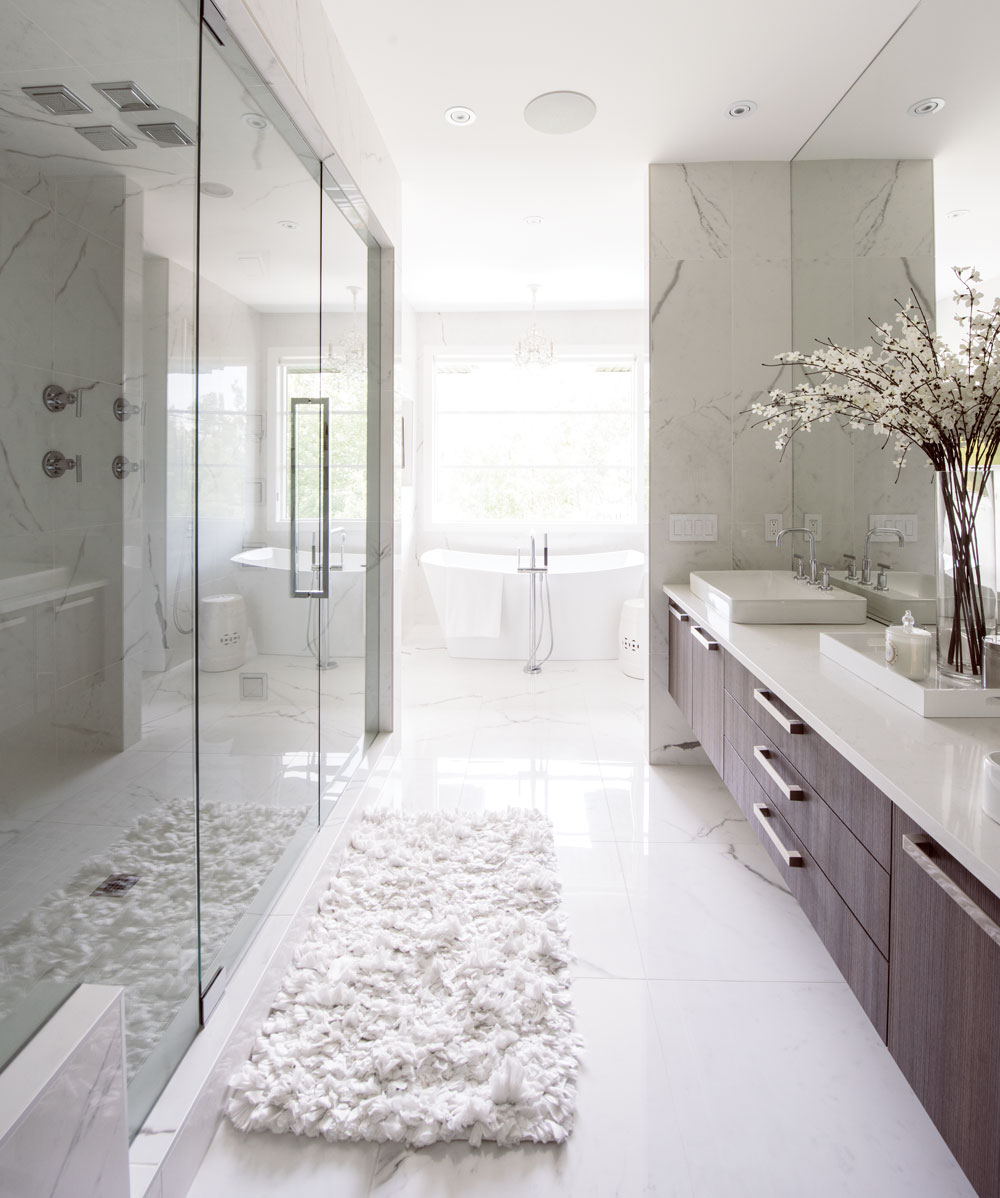 The master ensuite is outfitted in Kohler fixtures and wall-to-wall marble.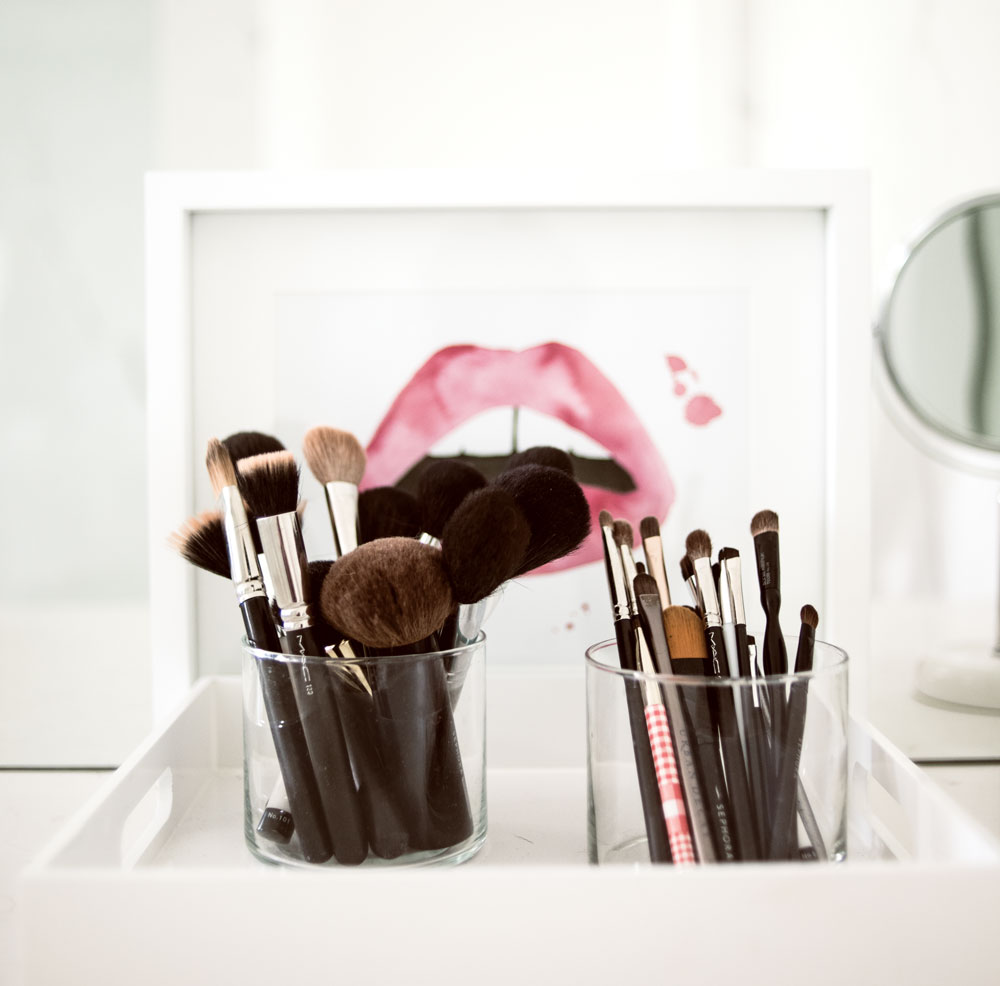 Cheung adds a touch of glamour with a piece of artwork to the ensuite's beauty counter.
---
Angela Cheung's 5 tips for designing your dream home
1. Hone your style
Find inspirational images and make vision boards for every room to ensure your dream home has a cohesive look throughout.
2. Splurge wisely
It'll be easy to want everything in your dream home, so invest money on main features and areas that really bring value to your family.
3. Plan well into your future
If this is your forever home, you'll want it to stand the test of time. Pay attention to things like closet space and ample storage to ensure your home grows with your family.
4. Take your time
Building your dream home is a big commitment in time and money. Think through all decisions and make important ones in advance – not as you go along.
5. Source locally
Don't make the mistake of ordering everything online. Seeing the product and material up front will ensure you get what you want and aren't stuck with something you don't love.