Architect Ryan Schmidt knew he had stepped into an exceptional house in Bridgeland even before he found out a Stanley Cup champion had lived in it.
"It was immaculate," says Schmidt, owner of Ryan Schmidt Architecture Studio and Ironwood Building Corp. "It was built really well with very high-quality lumber."
Long-time Bridgelanders call it the "Sweeney Schriner House."
"My dad knew [the house] right away," says Schmidt, who is in the fourth generation of his family to call Bridgeland home.
David "Sweeney" Schriner was one of hundreds of German-Russian immigrants who grew up in the inner-city neighbourhood, just like Schmidt's own great grandfather. Schriner was a left-winger for the Toronto Maple Leafs and Hockey Hall of Famer and owned the one-and-a-half storey property back in the 1930s. The home changed hands only once before Schmidt took ownership.
Schmidt credits the second owners of the home for leaving the original art deco window casings, brass door hinges, crystal doorknobs, light fixtures and hardwood floor in mint condition. "There's no gapping in the original one-inch oak hardwood – it's remarkable," says Schmidt of the floor, which was preserved in part by decades of being covered with carpet.
"We didn't have to modify a lot to make it beautiful," he says. "We just cleaned it all up and brought it back to life."
That cleanup involved a year of gutting, updating and expanding the 900-square-foot space to 1,700-square-feet by converting the attic into the main bedroom suite. But even though Schmidt has lots of experience with renovations, this one, like many, came with some pricey surprises.
"You prepare for the worst-case scenario," says Schmidt. "In a reno, you're uncovering unknowns right down to the electrical, the mechanical and the services."
To start, a remediation crew removed asbestos from the house. Schmidt also had the electrical updated to replace the original hazardous knob-and-tube wiring. And he replaced the old gravity furnace with new ducts and a high-efficiency furnace. After Schmidt discovered there was no insulation behind the old plaster, he decided to rip out all the exterior walls. But because he wanted to preserve all of the original fir wood trim around doors, windows and floors, everything had to be very carefully dismantled and then equally fastidiously refinished and reinstalled.
Schmidt says he couldn't have done this project without his wife Meghan Drennan's artistic eye and his father Lyle Schmidt's sweat equity.
"[My dad] took on an epic amount of work," says Schmidt who practically grew up on construction sites thanks to his father.
"I was there every day," says Lyle Schmidt who was in the commercial and residential construction industry for more than 40 years. [Lyle was the founder of Ironwood Building Systems, which is now run by his son under the name Ironwood Building Corp.] "It's just a passion. I love the business, and Ryan's the same way. We have a passion for what we do."
That passion is evident in the care the Schmidts put into restoring historic details and the thoughtful inclusion of modern amenities and services throughout the home. An original brass thermostat is juxtaposed next to a 21st century digital model. Original scalloped brass door hinges, skeleton keys and heat vents live among the modern conveniences of a Vacuflo system and speakers built-in flush to the ceiling. Reclaimed fir planks from the attic clad a new wall between the kitchen and dining area that incorporates a pantry.
The Schmidts replaced the home's ornate wallpaper and busy drapery with white walls and sleek blinds, exposing the rich caramel fir trim around windows and doors. The beauty of the art deco wall sconces and pendants also came into sharp focus after being cleaned and retrofitted with new wires and LED bulbs.
"When you get rid of the clutter and just focus on these key pieces, all of a sudden the old is gorgeous again," says Schmidt. "That's what kept me ticking; I didn't want to erase that history."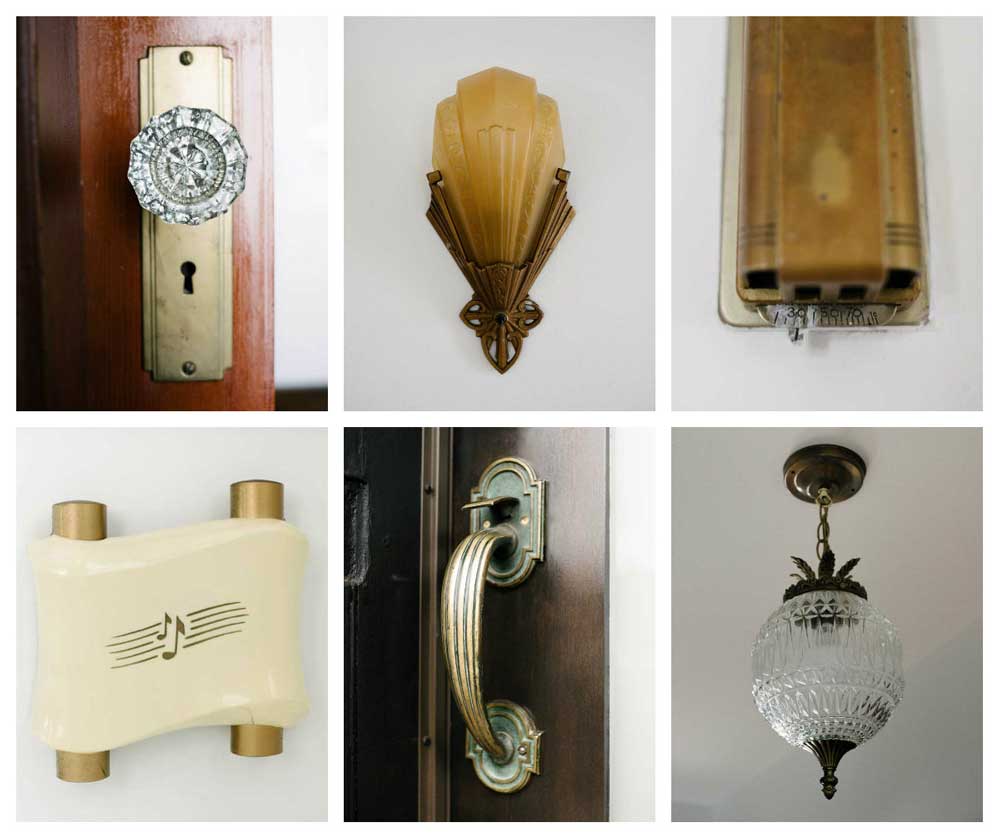 5 Restoration Tips from Ryan Schmidt
1. Keep in mind what's out of sight. "It's really the unromantic part of the project," says architect and builder Ryan Schmidt, "but check services like water, sewer, gas and electrical lines, because if that stuff is out of date, it is huge money [to fix]."
2. Check for hazardous materials. "If a house has asbestos, you have to remediate it or cover it and not do anything with it. Knowing the era of the home is so important."
3. Be realistic about what to keep and what to give up. "We wanted to keep the fireplace but couldn't because it fell apart," says Schmidt. "I wanted to reconstruct it
but it was too tedious."
4. Find experienced trades. "The right carpenter for a house like this was critical. Do your homework and find someone who is patient. Our finishing carpenter was a miracle worker," says Schmidt.
5. Expect the unexpected. "If you're going in with a mindset that you're going to have to gut [the place] and you know what that means, then that's okay," says Schmidt. "But if you think you're just going to touch up, that's where the budget goes out the window."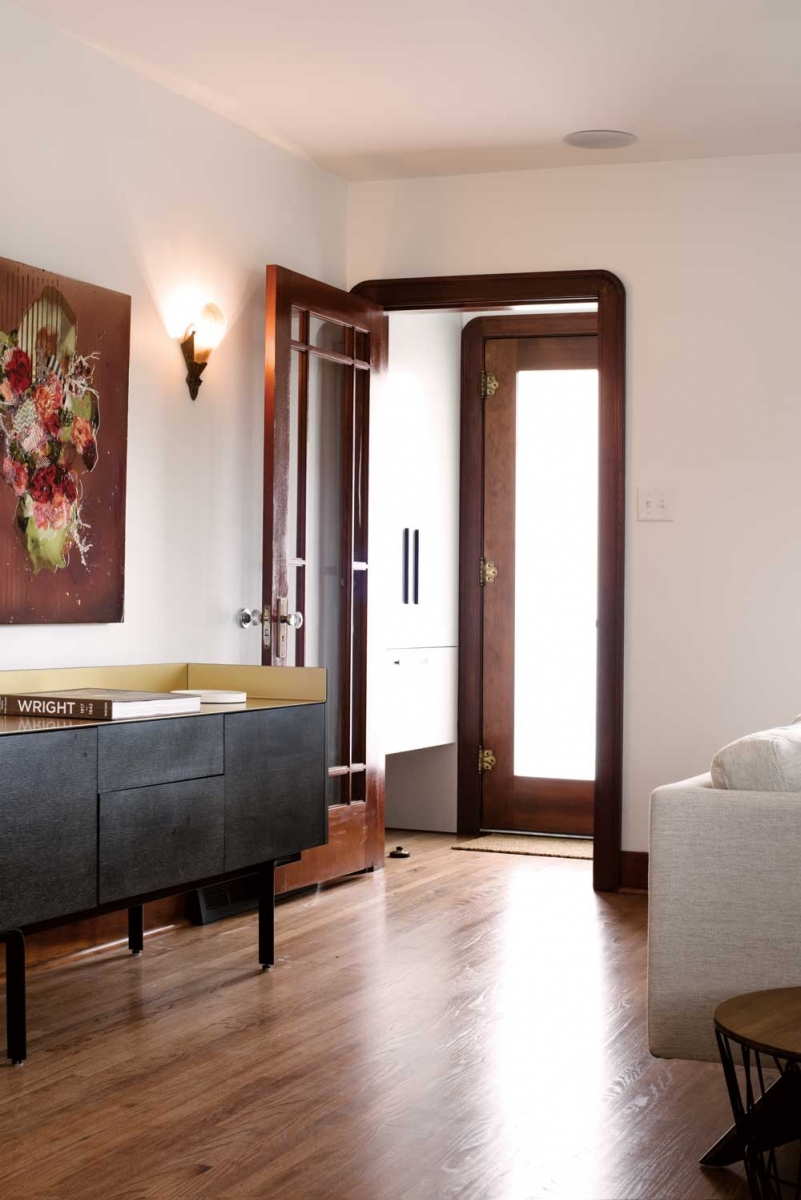 Interior fir trims refinished by Foothills Woodworks; Vertical-grain rift-cut maple millwork on main and upper floors by D & D Contracting Calgary, 403-230-4570; Credenza from Pomp and Circumstance; painting above credenza by Samantha Walrod from Newzones Gallery of Contemporary Art
The original fir trim around the windows and doors was one of many details the homeowners chose to preserve.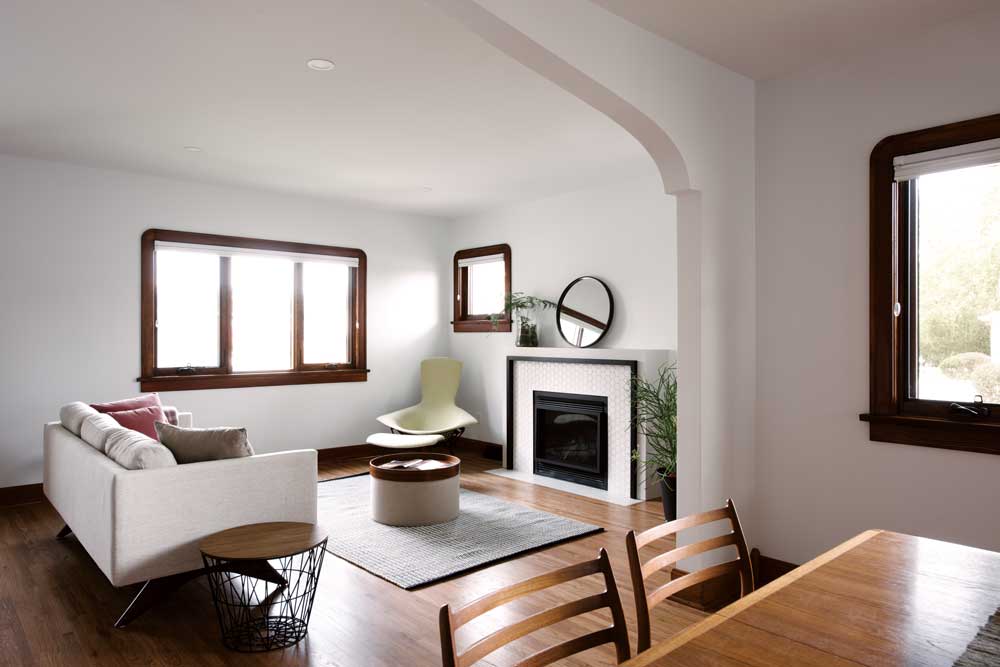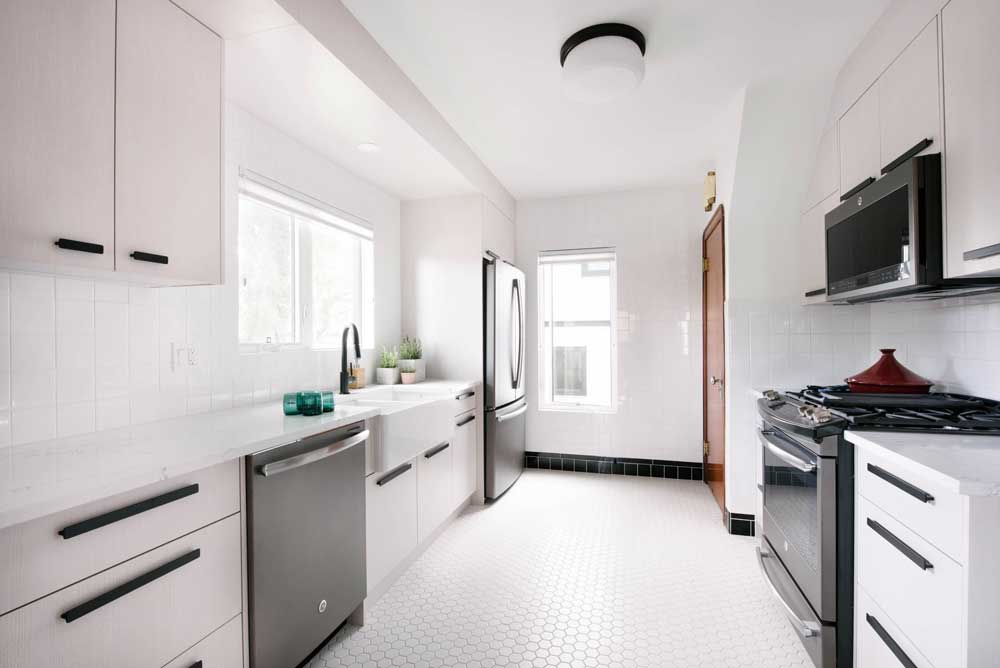 Wall and floor ceramic tile in kitchen and bath from Daltile; installed by Red Earth Contracting; Caesarstone counters by D & D Contracting Calgary, 403-230-4570; Tagine on kitchen stove from The Cookbook Co. Cooks; Succulent plants and ceramic pots from Plant
Although the kitchen is brand new, its whitewashed rift-cut oak cabinets and farmhouse sink are consistent with the home's heritage aesthetic.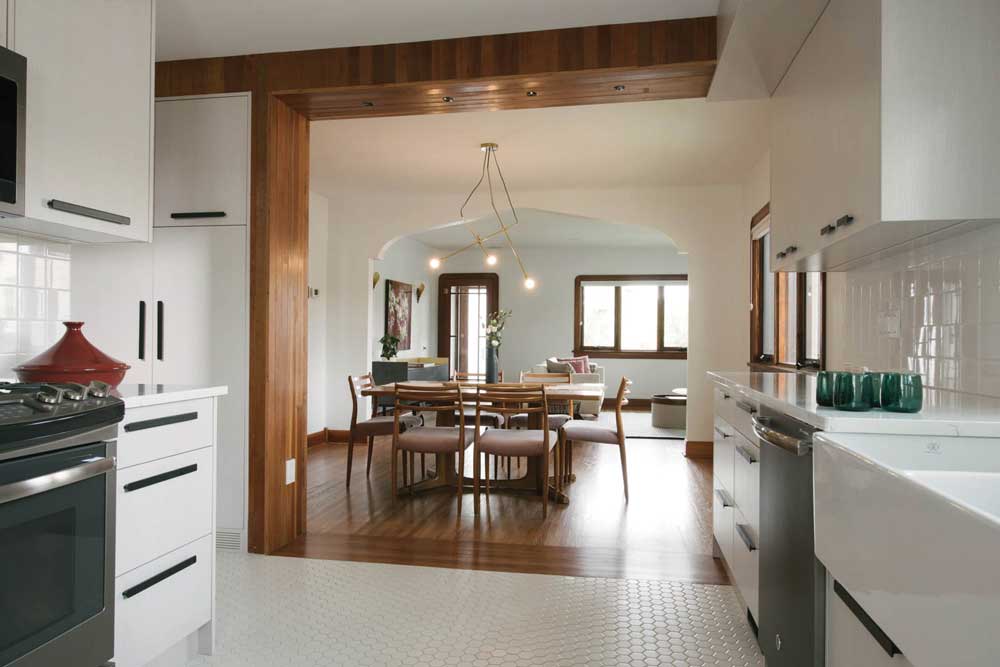 Hardwood on bulkhead at kitchen/dining room by Foothills Woodworks and Final Touch Decorating; DINING-TABLE VASE AND GREEN GLASSWARE IN KITCHEN FROM EQ3
You can see into the dining and living rooms from the kitchen.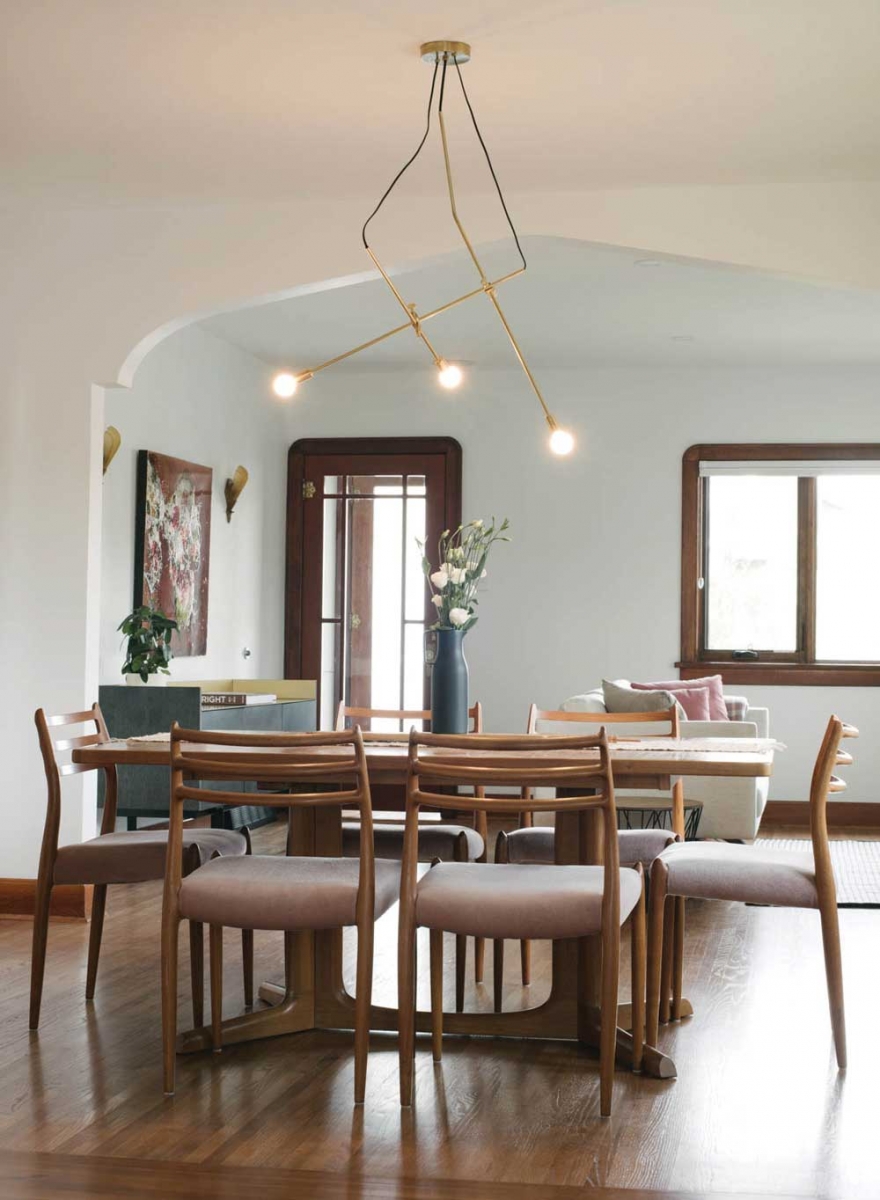 Dining-room light fixture by Lambert & Fils from LightForm; Dining-room table and chairs Niels Mller originals from Mid-Century Dweller; Custom Indian paper tapestry table runner from Ten Thousand Villages; Dining-room custom trivet by Ryan Schmidt Architecture Studio; Dining-table vase and green glassware in kitchen from EQ3
The dining room has a Niels Otto Mller table and chairs and a light fixture by Lambert & Fils of Montreal.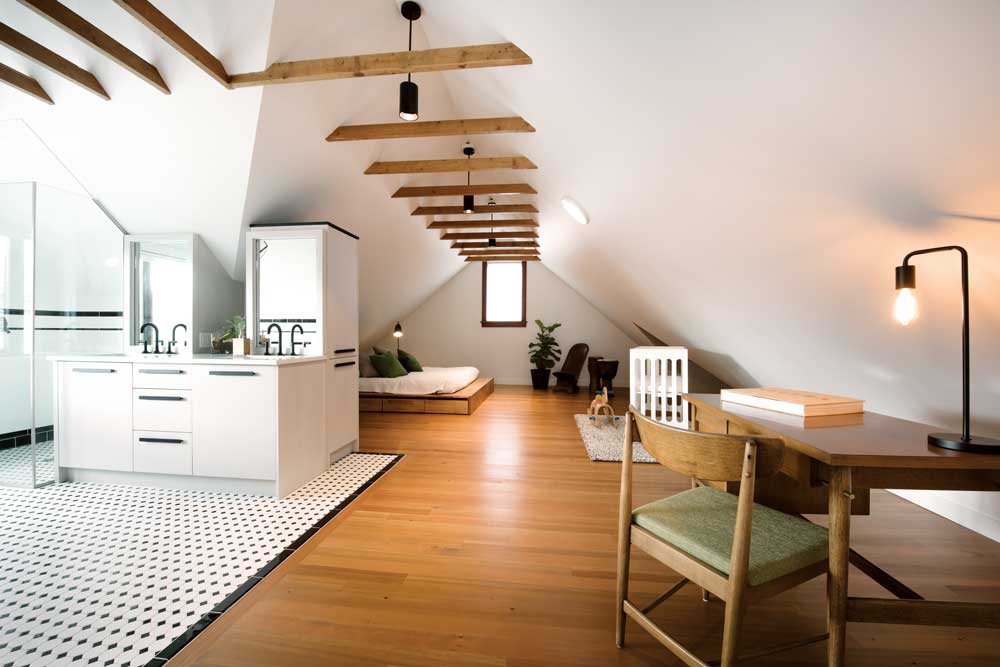 Fir flooring in attic supplied by RBM Lumber; installed by Hason Hardwood, 403-605-8977; VERTICAL-GRAIN RIFT-CUT MAPLE MILLWORK ON MAIN AND UPPER FLOORS BY D & D CONTRACTING CALGARY, 403-230-4570; Teak desk and chair in attic suite from Mid-Century Dweller; Desk lamp from EQ3
The formerly non-functional attic space was gutted and transformed into an 800-square-foot bedroom suite with a view of downtown Calgary, complete with walk-in-closet, ensuite and washer and dryer. To expose the beams of first-cut fir the drywall had to be cut, mudded, taped and sanded around each beam – a job that architect and builder Ryan Schmidt described as "rigourous," though the result is "the one detail that captivates everyone." Schmidt also scoured the continent to source fir flooring that would match what was original to the home. He found it at a family-owned mill near Kalispell, Montana, that specializes in niche wood products.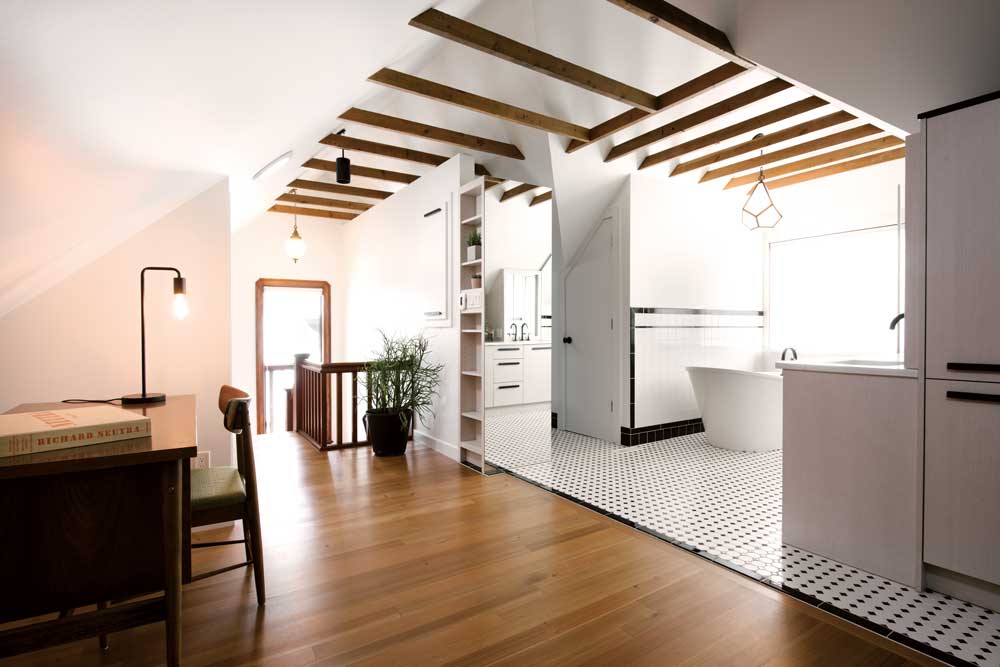 The exposed beams continue into the bathroom.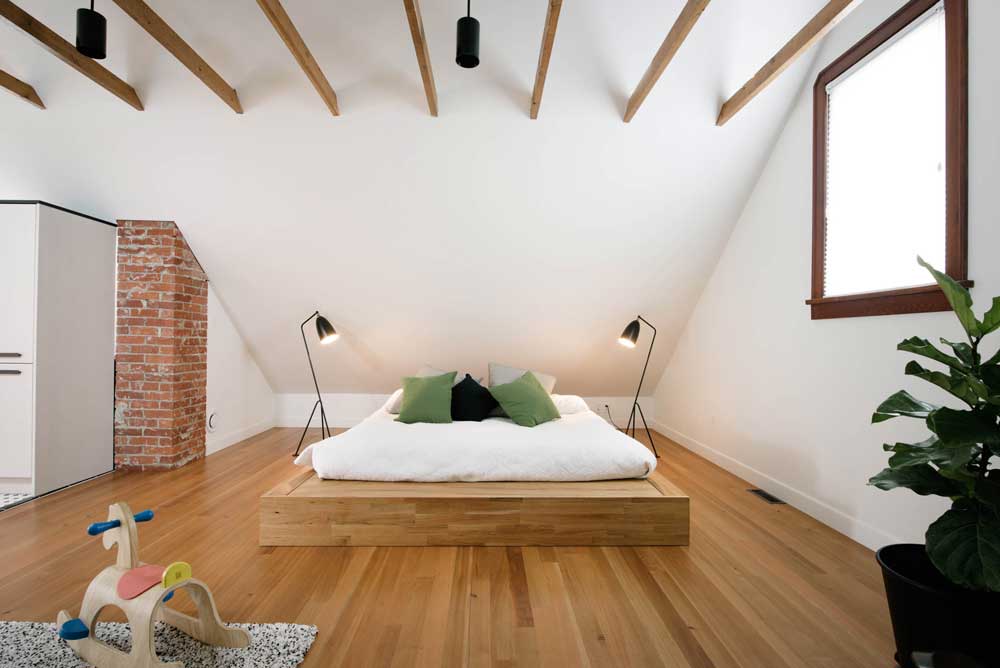 Another view of the attic bedroom suite.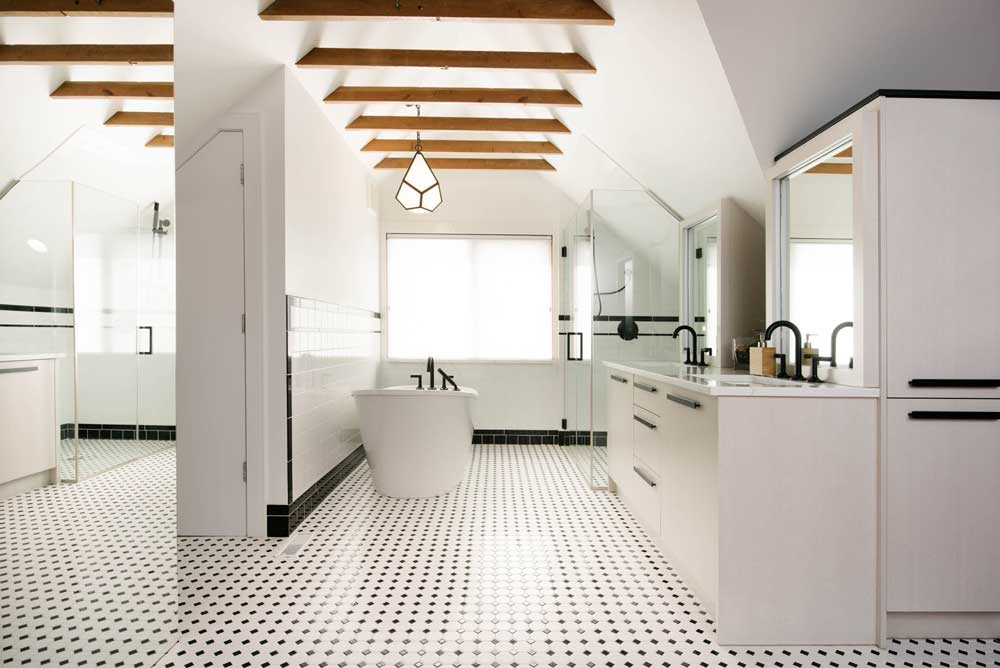 Wall and floor ceramic tile in kitchen and bath from Daltile; installed by Red Earth Contracting; Glass shower enclosures and mirrors by Great Choice Glass
PHOTOGRAPH BY JARED SYCH
A look inside the attic bedroom suite's bathroom, which also has a walk-in-closet.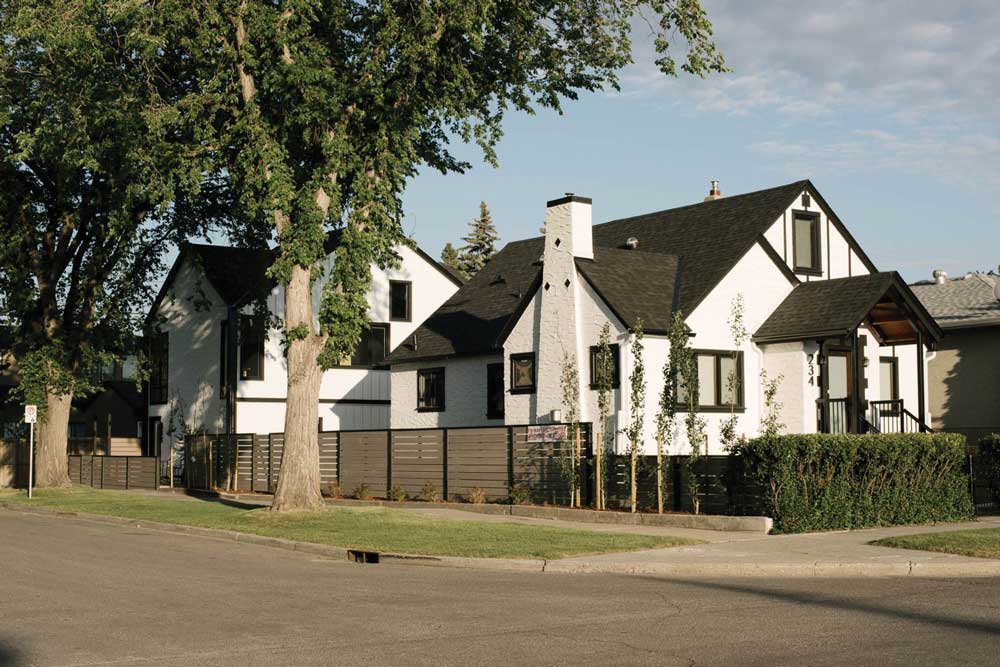 Exterior stucco by Final Touch Decorating; Exterior window and door trims by Red Earth Contracting; Address letters from Banbury Lane Design Centre; Asphalt shingles, aluminum gutters and downs by Meerkat Roofing & Exteriors; Front porch by Ironwood Building Corp and Red Earth Contracting; Wood and vinyl windows and aluminum-clad exteriors by Lux Windows and Glass
The exterior of the home also received renovations with work done on the stucco and exterior window and door trims.