The oldest bike shop in Calgary has an impressive new space to call home.
Calgary Cycle originally opened in downtown Calgary in 1931, before moving over to the Centre Street area in 1940. Over the years, the company expanded its presence in the community and currently has three additional locations in Canyon Meadows, Bragg Creek and an outlet location in the northeast. According to owner Derek Lee, Calgary Cycle is "one of the largest full suspension mountain bike dealers in Canada."
This year, the original store on Centre Street underwent a big change when it moved and opened in a new location in the Westgate neighbourhood along Bow Trail S.W. on October 31. At 11,000-square-feet, the new store is more than five times the size of it's previous location. Calgary Cycle worked with local company 54blue to design the new store, which marries a clean, bright aesthetic with a spacious, functional retail space.
The new store carries an impressive selection of bikes ranging from mountain to road to children's, as well as bike apparel, accessories and gear. But that's not all you'll find here – there's also a service shop, a public cafe called The Hub and a community fitness space where both Calgary Cycle and local trainers/coaches can hold classes.
"We want this to be … a hub for both the cycling community and just the community," says Lee.
4623 Bow Tr. S.W., 403-277-3430, calgarycycle.com
Here's what you'll see inside Calgary Cycle's New Store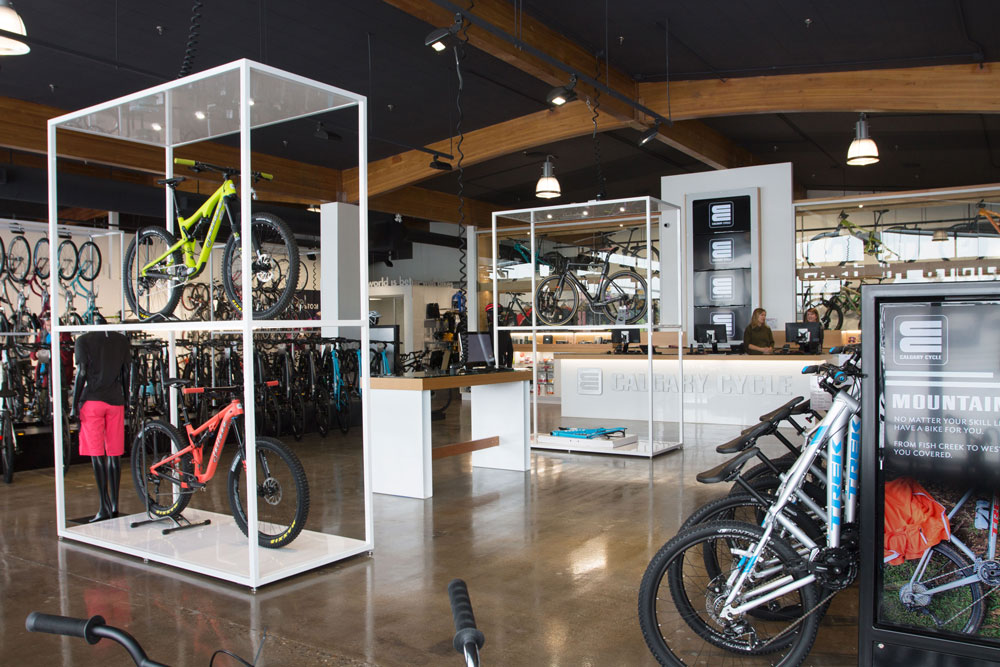 Before it moved, Calgary Cycle's Centre Street store only carried high-end, full suspension mountain bikes (although you could get other kinds of bikes and bike products at a range of prices at the Canyon Meadows store). The new location now carries a large range of bikes including mountain, road, e-bikes, city bikes, hybrid and children's bikes. Notable bike brands carried here include Trek, Yeti, Santa Cruz, Devinci and Argon 18.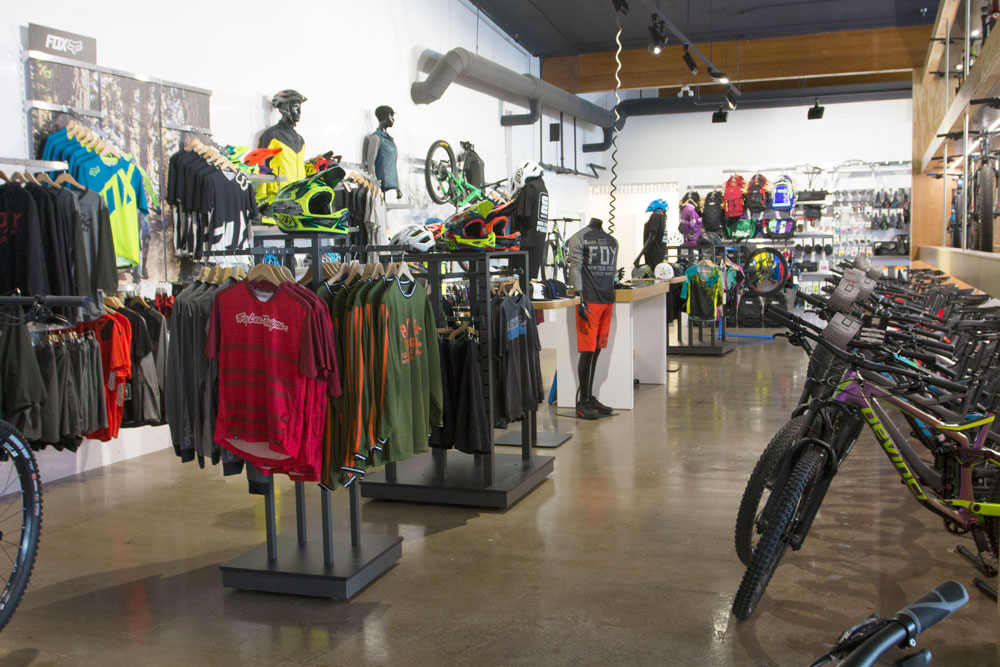 The new store has a significantly larger selection of bike apparel and accessories, with notable brands such as Fox, Troy Lee, Giordana and Assos. There's also an entire wall of gear that includes bike pedals, pumps, locks, seats and more.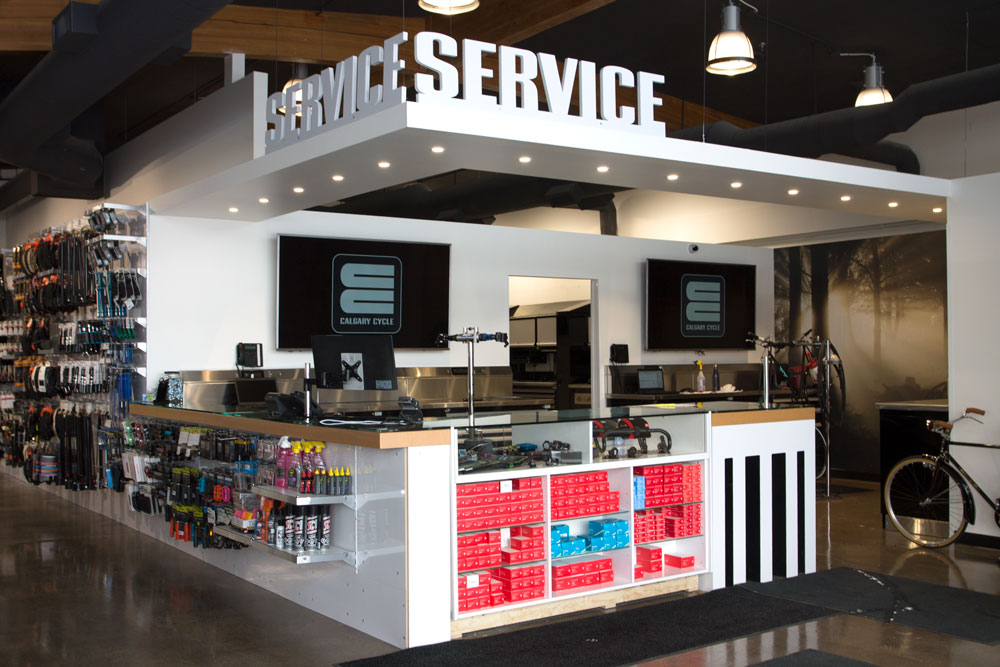 The new store also has a service area. Calgary Cycle bike customers get a lifetime service guarantee as long as they're the original owner of the bike.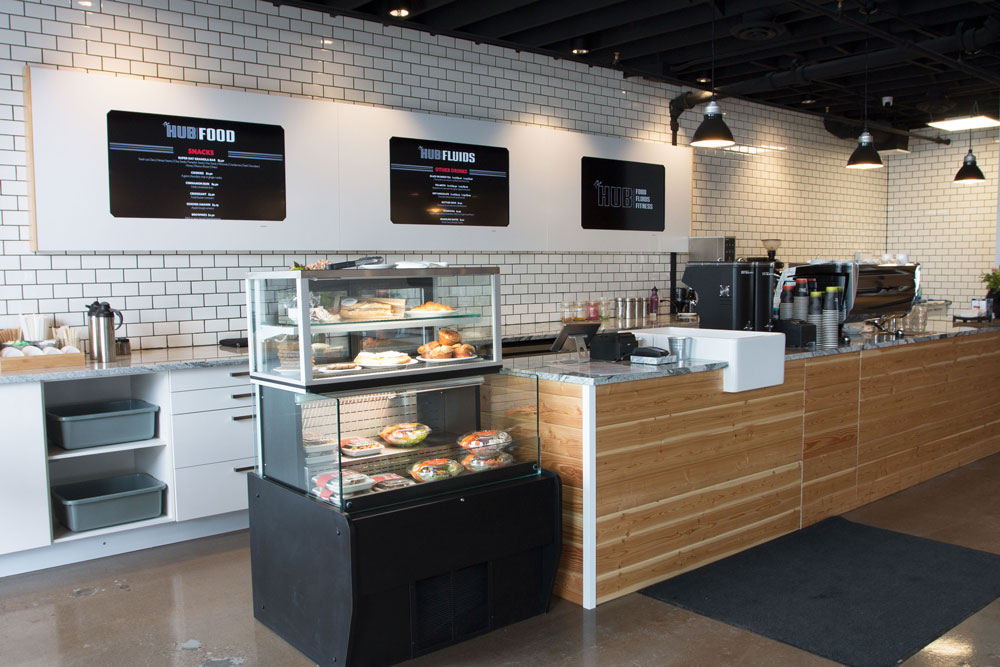 One of the coolest new features is The Hub, a cafe within the store that seats around 26 people. In addition to Phil & Sebastian coffee, guests can snack on baked goods from Corbeaux Bakery and larger meals from Made Foods. While The Hub is a great spot for cyclists to grab a bite or drink while purchasing a bike or bike product, anyone from the community is welcome to pop in to grab something to go or sit down and eat. The cafe opens earlier and stays open later than the retail store area.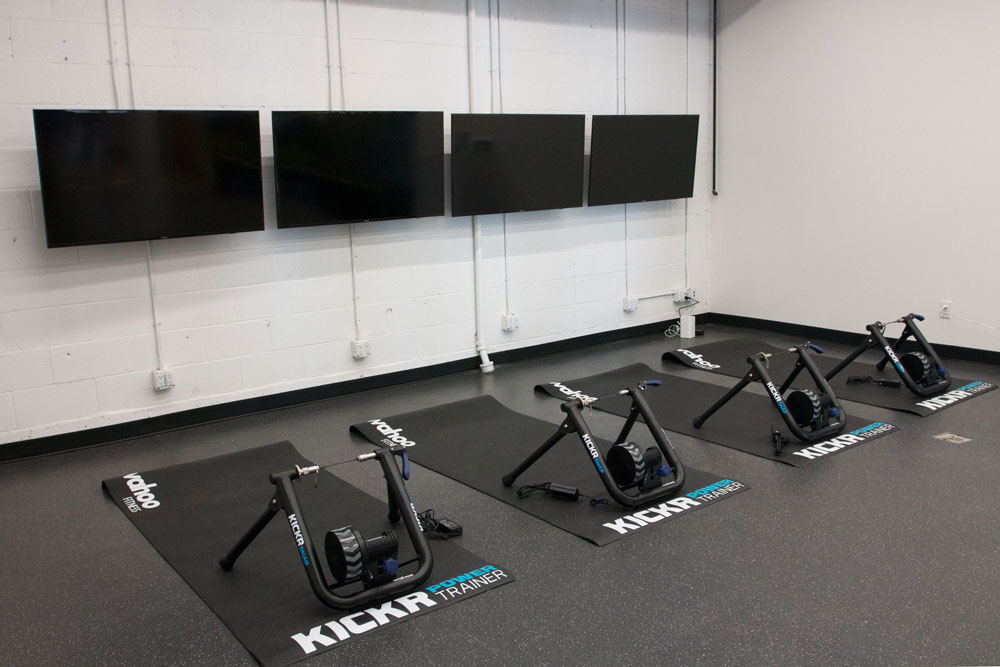 The new store also has a community fitness space (complete with showers and washrooms) opening in December. Calgary Cycle will be holding eight-person Wahoo Fitness classes here, wherein riders attach their own bike to a trainer and participate in a resistance and wattage training class led by a coach. When it's not being used for the Wahoo Fitness classes, local trainers and members of the community can book the space to hold their own small classes for activities such as yoga, martial arts and more.