Erin Nolan's one-bedroom apartment at The Anderson Estates nods to more than just the era it was built in (1908) as she brings in elements of the 1920s, mid-century modern design and Scandinavian design. Full of art, music and treasures that she has found all over the world, her stylish and eclectic abode is perched high above 17th Avenue SW, perfect for watching the busy street all year round.
What is your design philosophy?
I try not to over-think it or take it too seriously. I like to take influences from different eras without being married to one. A good mix of new and old and simply being surrounded by the things I love is my sweet spot.
What is your favourite room in your home?
The living room, definitely. My Saturday-morning ritual is curling up on the couch with a cup of coffee and listening to tunes. It truly feels like home, and I love the morning light.
What is your favourite decor find?
The big red "N." It's an antique sign letter picked off the exterior of a building in California. I found it in Los Angeles several years ago. I wasn't sure how I was going to get it home, but the owner of the antique shop I bought it at [Rehab Vintage Interiors] crafted a perfect box for me to carry it on the plane in. Turns out he spent years working in large galleries packaging and transporting paintings by likes of Picasso. Interesting guy to talk to, and I like having items in my home that I associate memories with.
The 1920's Navajo Saddle Blanket, found in town at Iron Crow, is another favourite of mine.
What is your most treasured item and where is it from?
If I could only pick one thing to save from a burning building – knock on wood! – it would be my record collection. It's taken years to build, consists of lots of rare releases I wouldn't be able to replace, and means a lot to me.
Where do you seek out inspiration?
Art is a big influence for me. I grew up skateboarding and I'm still find that many of my favourite artists are somehow tied to that. I specifically picked out the area rug in my living room because it reminded me of the geometric patterns prominent in Barry McGee's art. The gallery wall behind my couch features several of my favourites: Steve ESPO Powers, John Antoski, David Shrigley, Basquiat, and Matisse.
What is your favourite thing about living in your home?
The Anderson was built in 1908, and has so much history. It's cool to imagine all the people who have lived here over the last 109 years. I love the old-school elevator, and how the building looks from the outside. I feel very lucky to have scored a top floor unit with great views. It's my little oasis; I get a good feeling every time I come home.
Where do you like to shop for decor locally?
Inside Avenue Antiques, Uniquities, Iron Crow, Kit Interior Objects, and Pomp and Circumstance.
Did you encounter any decor challenges?
Living in a historical building has its challenges, for example: Where to store a vacuum! Storage is a huge issue that I've yet to really solve. I'm learning to be more of a minimalist and am conscientious of anything new I bring home. I'd also love to redo the floors and update things like the kitchen and the light fixtures.
What is your favourite view from your home?
Being able to see the city skyline and Calgary Tower from my bed is pretty dreamy.
What would you want your next home to be?
If I could take this apartment with me to a different city, I would be happy.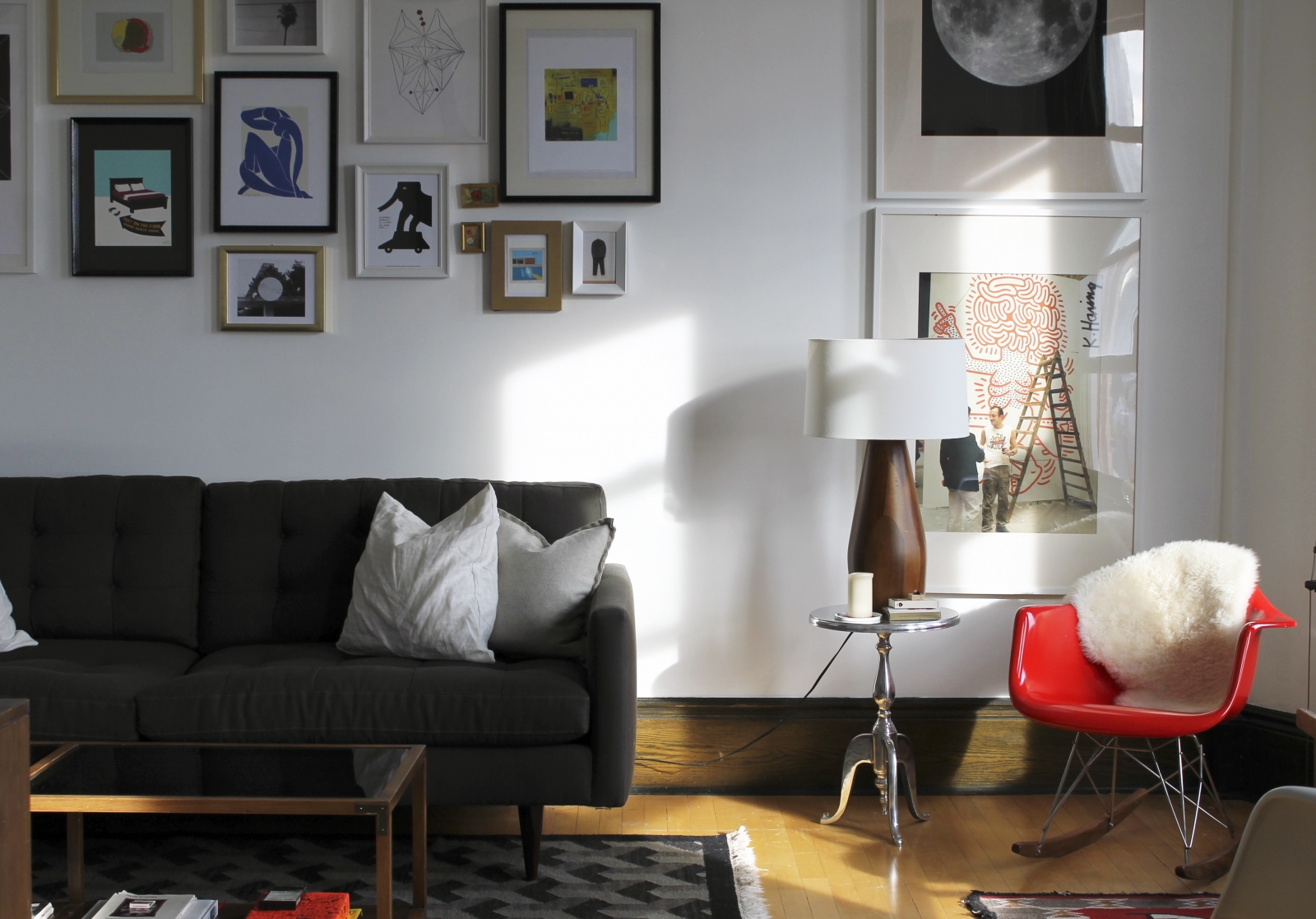 Nolan's diverse art collection featured in this gallery wall is a reflection of her love of art, photography and graphic design.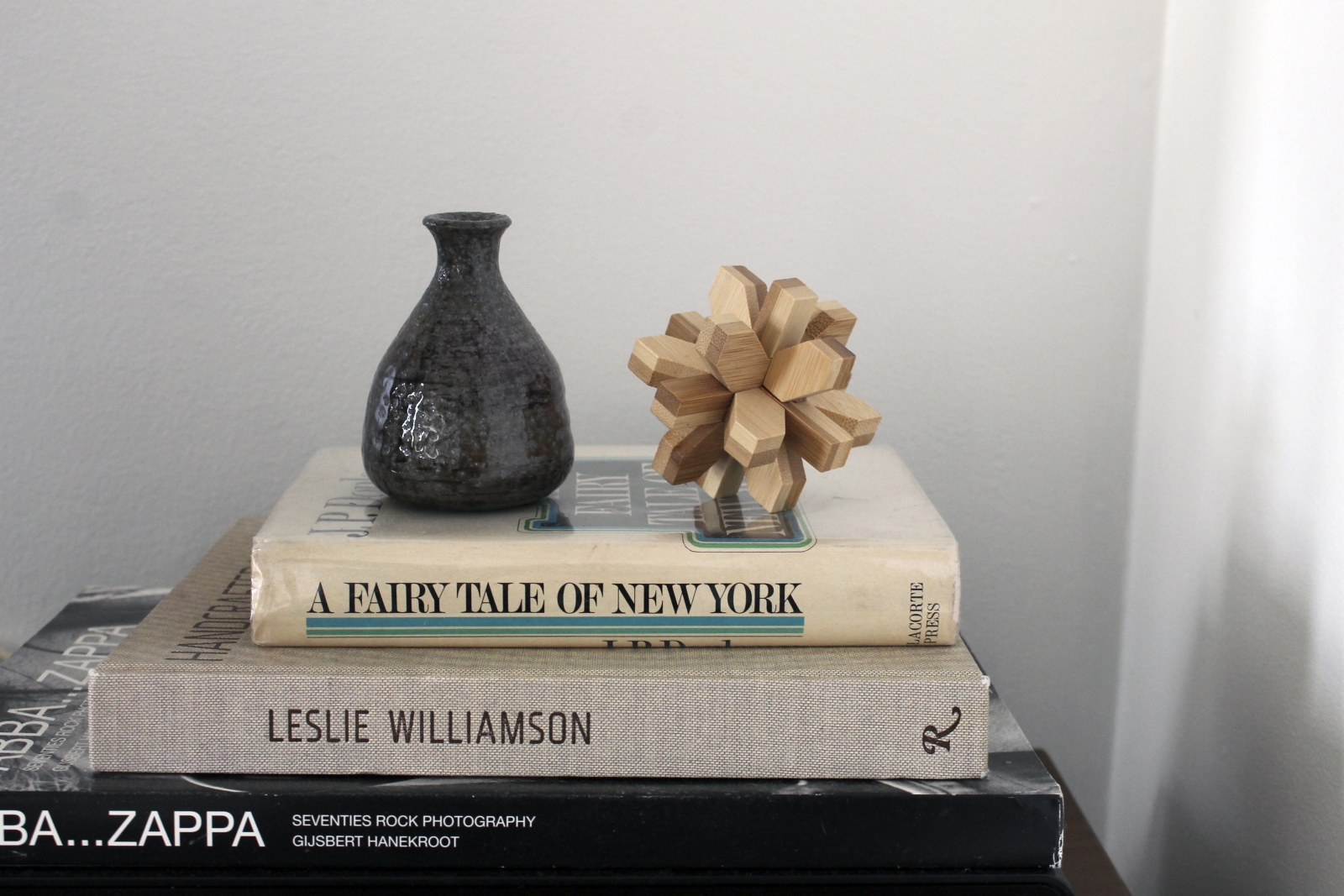 A stack of vintage books topped with interesting small objects adds character and charm to Nolan's living room credenza.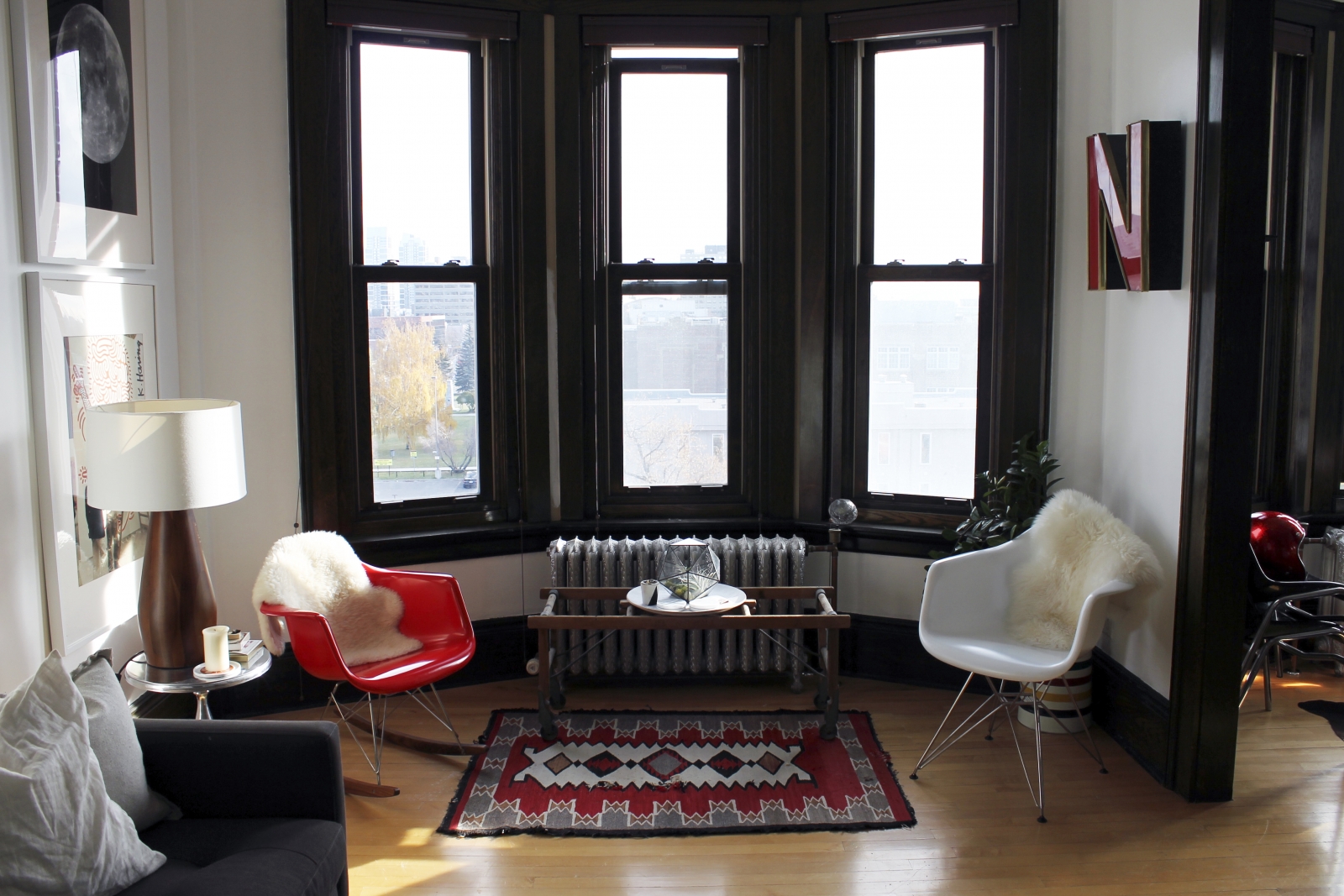 Natural light fills Nolan's surprisingly spacious living room, while accents of white, red and grey bring interest and texture to the space.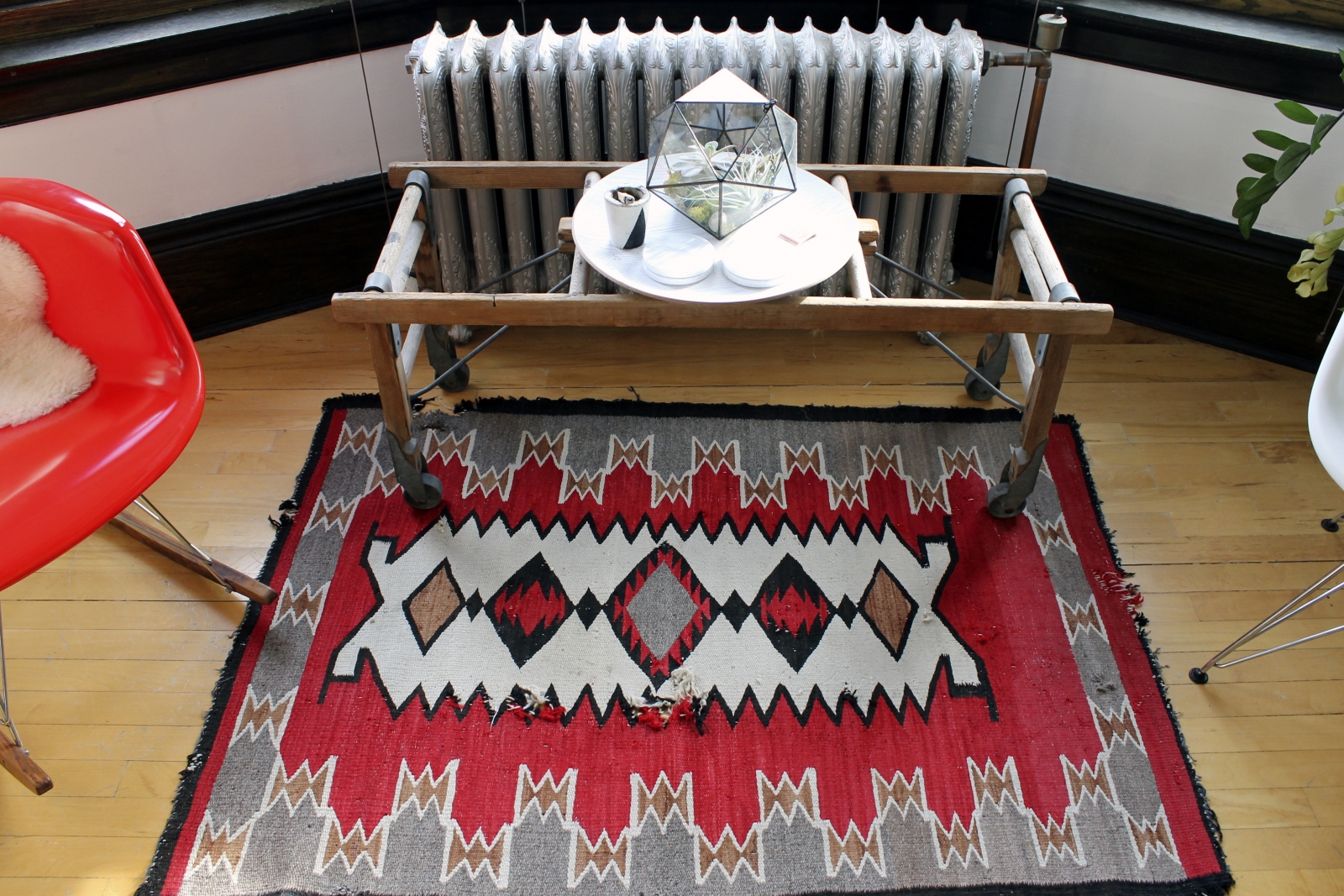 With a passion for hunting out amazing antique finds, Nolan recently found this 1920s Navajo saddle blanket at Iron Crow in Calgary.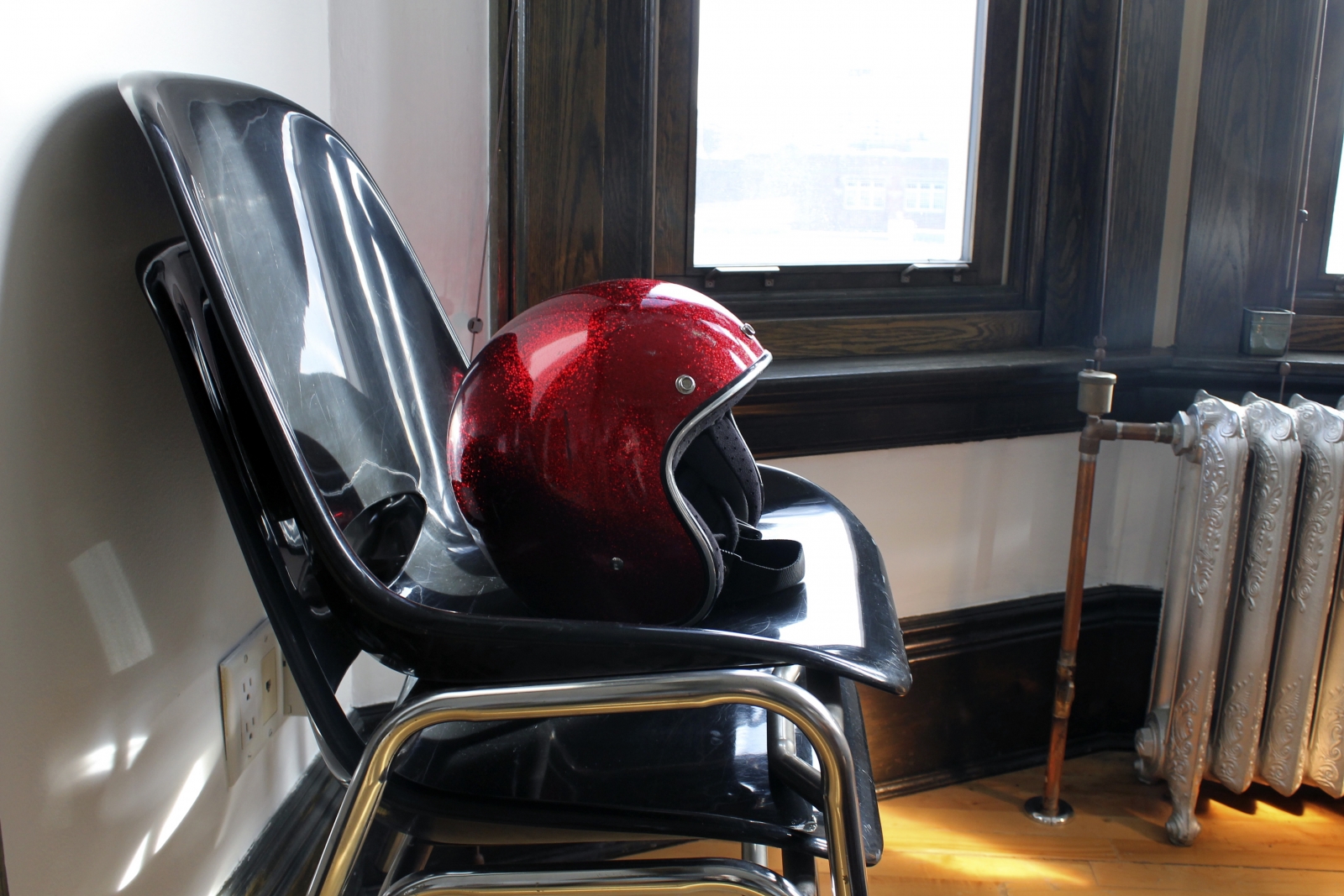 Nolan keeps a couple extra mid-century modern chairs on hand for extra guests; for now they are home to her cherry red glitter motorcycle helmet.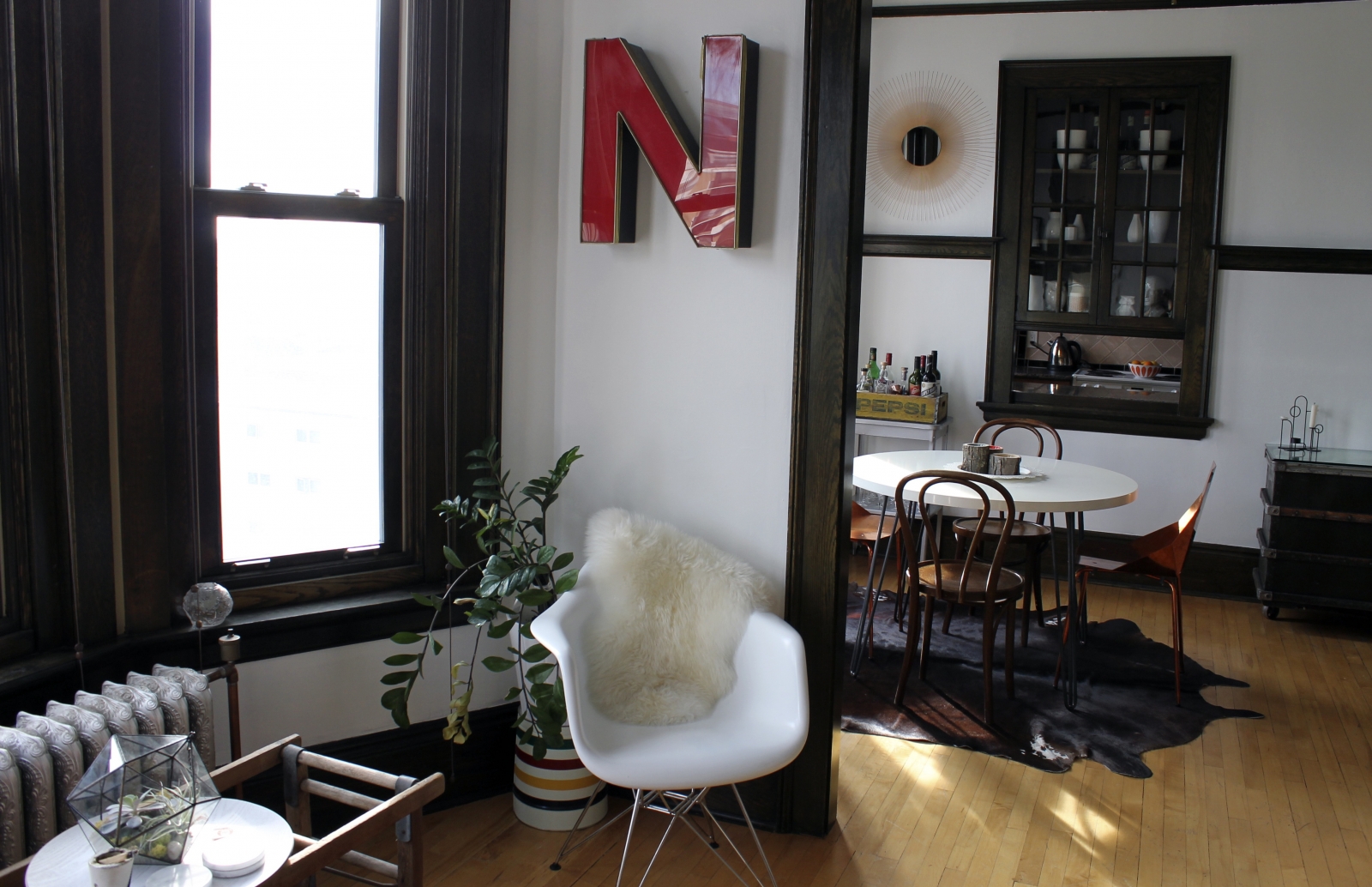 The big graphic and red "N" in Nolan's living room, which she found while travelling through California, is her favourite decor piece.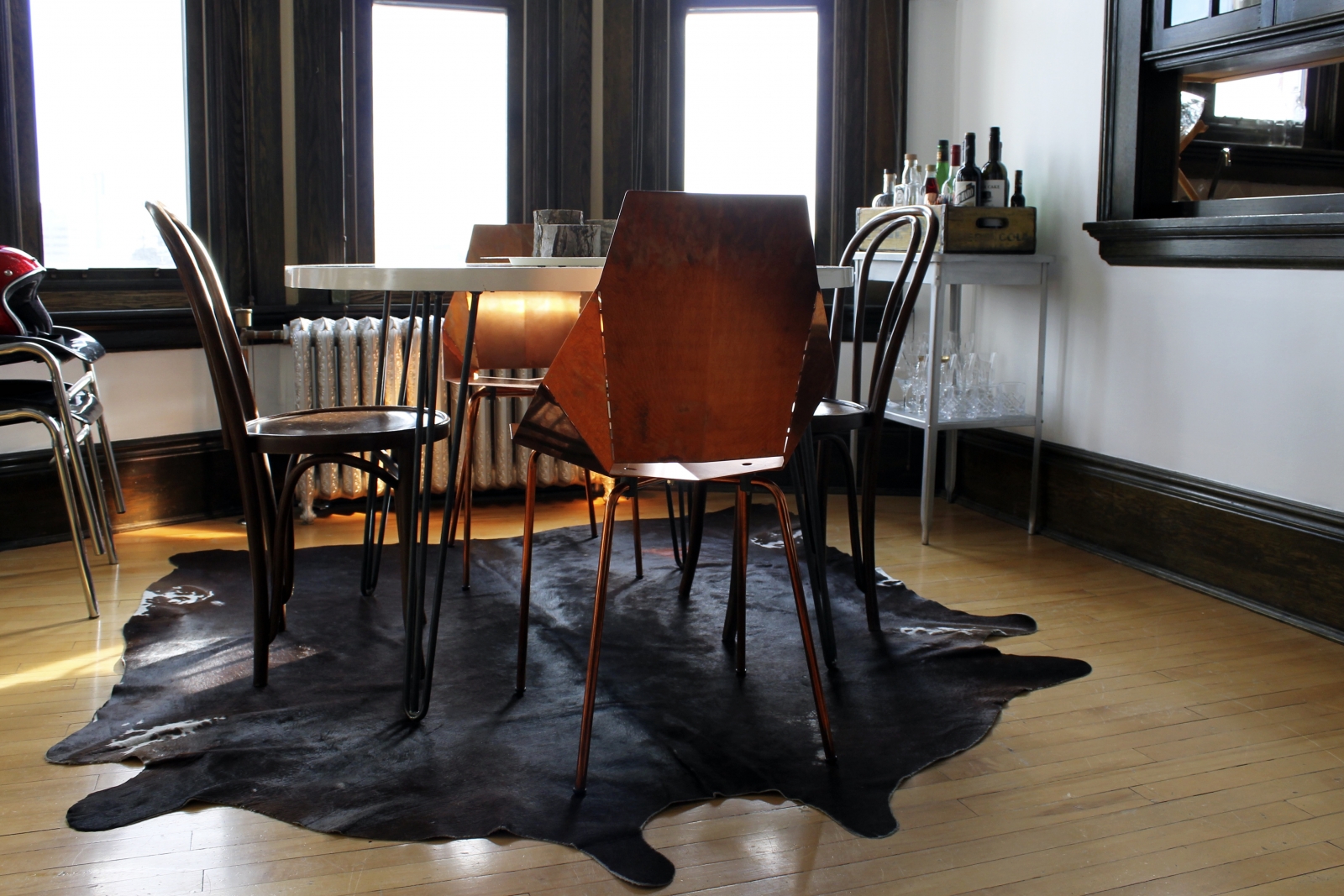 Nolan's bent copper chairs from Kit Interior Objects add a warm glint to the living room and are surprisingly very comfortable.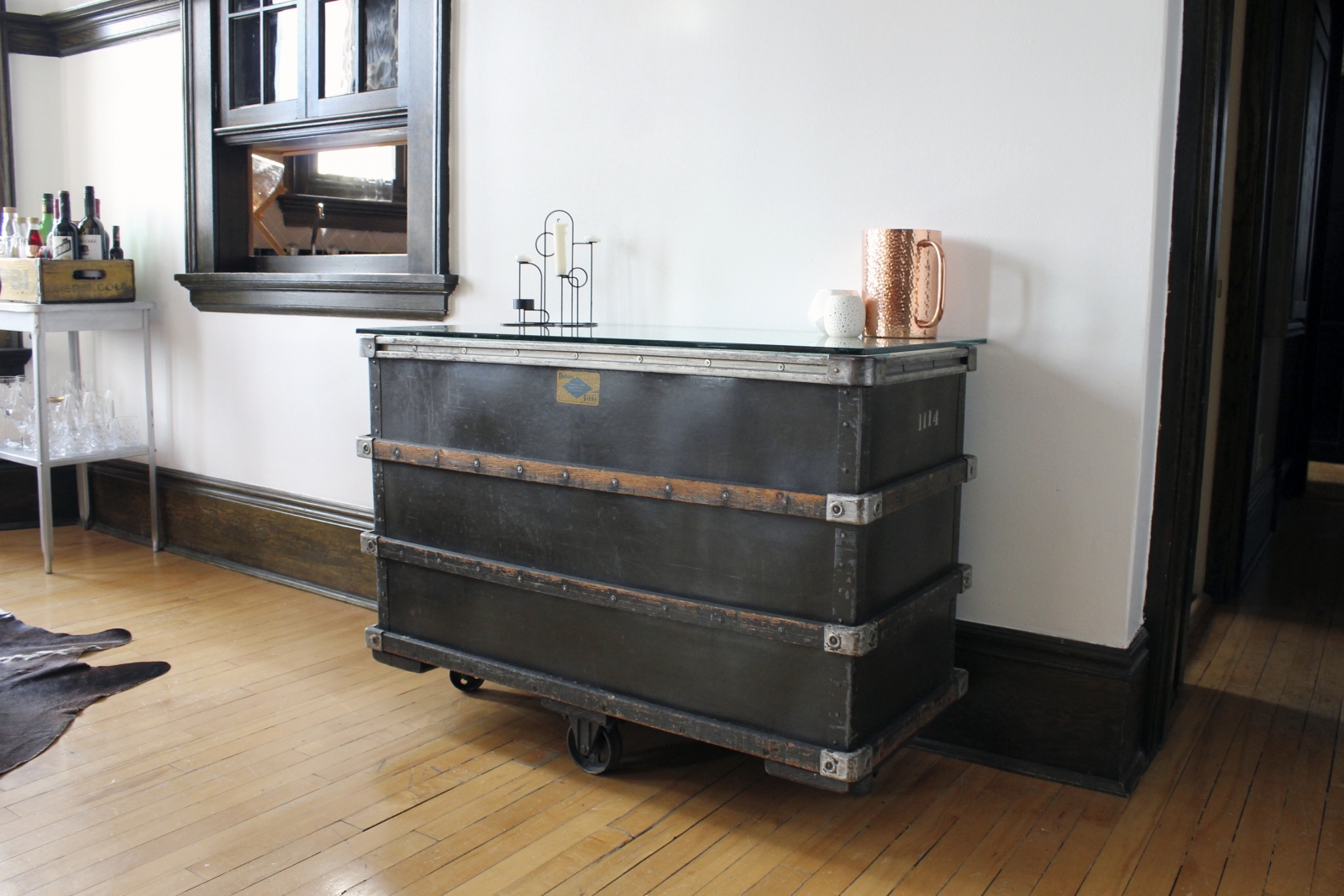 Always on the hunt for new storage solutions, Nolan re-purposed this old cart into a hideaway for extra blankets and linens. It also acts as a functional sideboard in her dining room.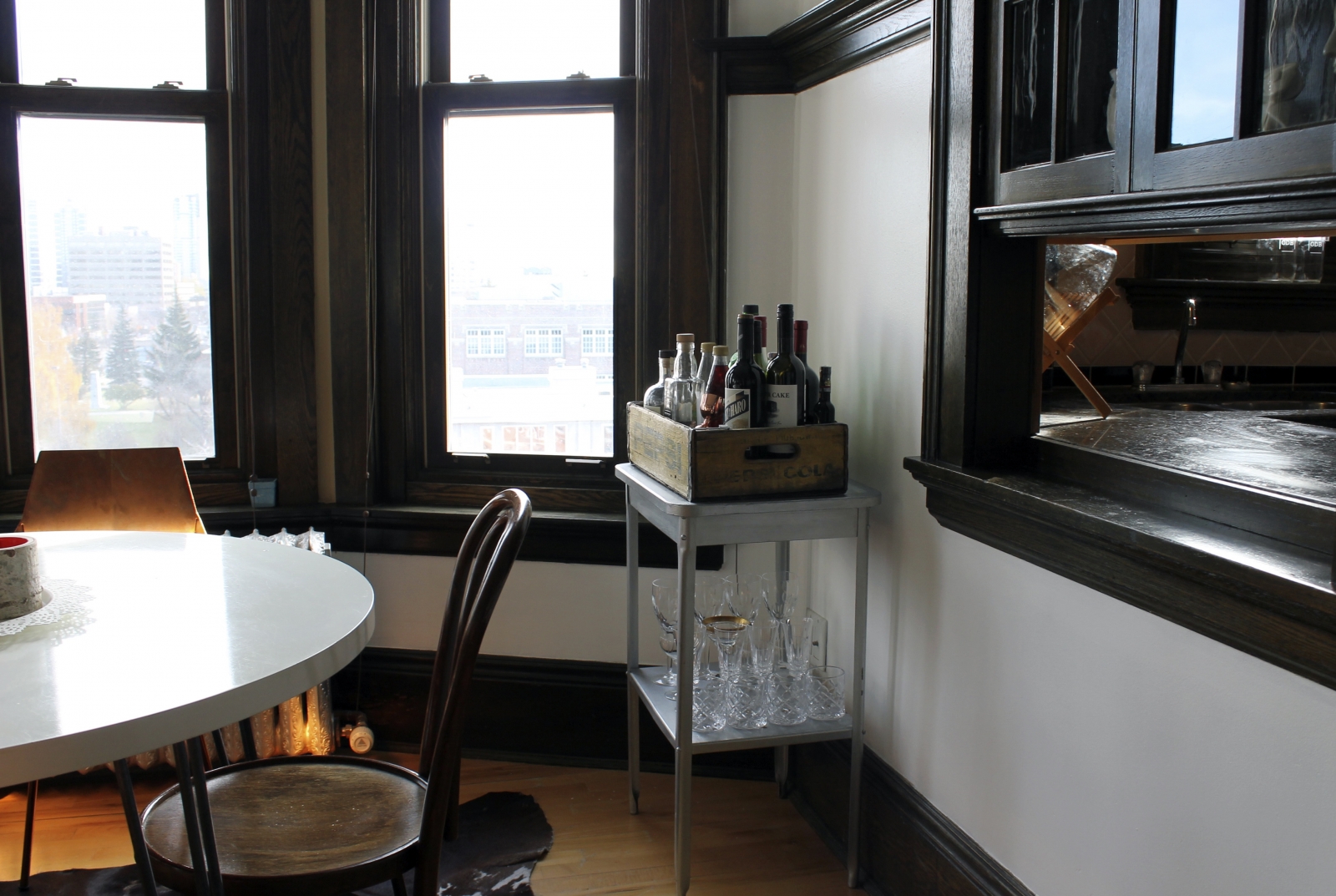 Nolan's eclectic mix of dining room furniture compliments the apartment's original wooden mouldings. The stocked bar cart – complete with vintage glass and stemware – is the icing on the cake.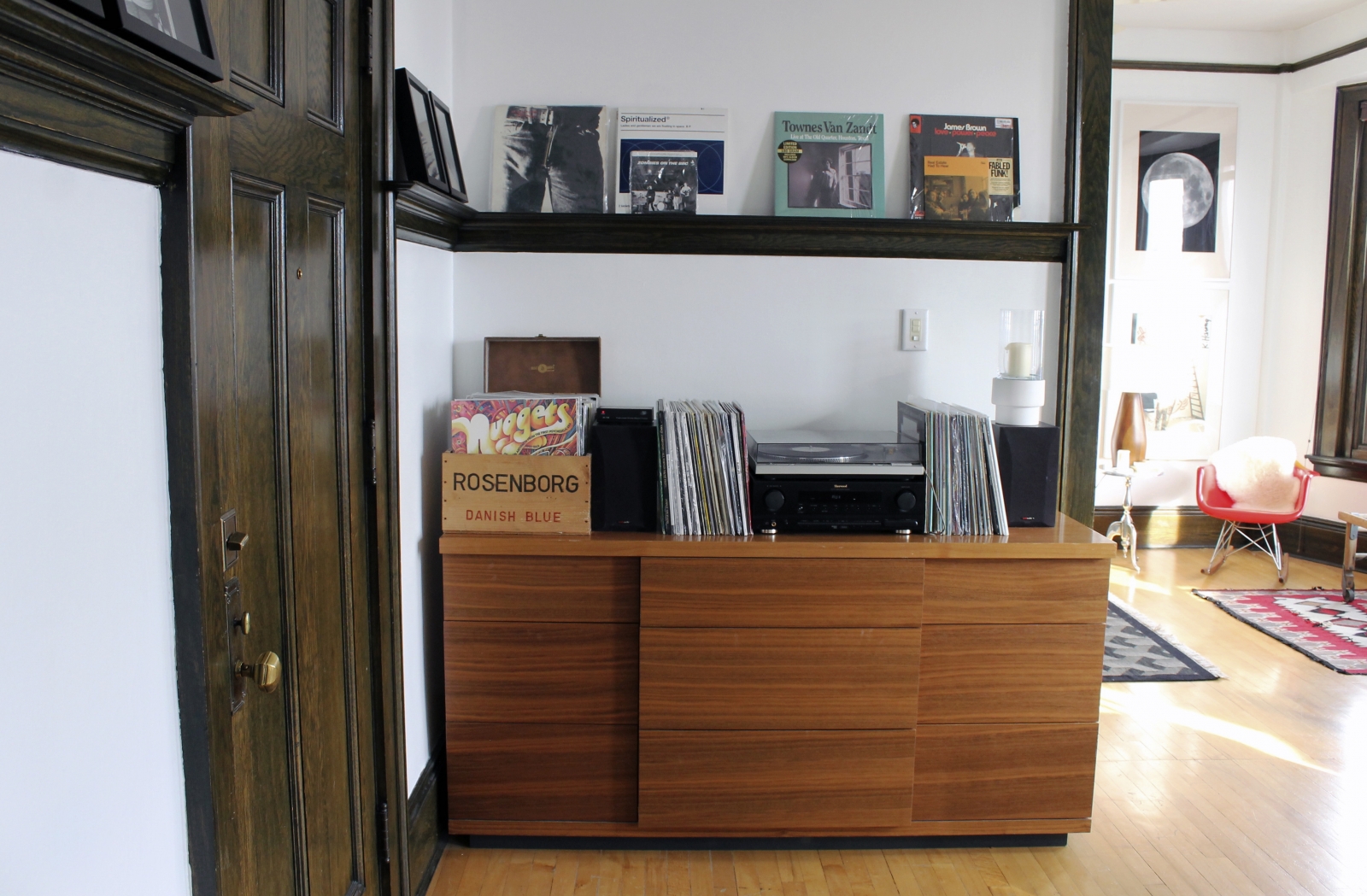 Nolan's vinyl collection is as expansive as it is diverse.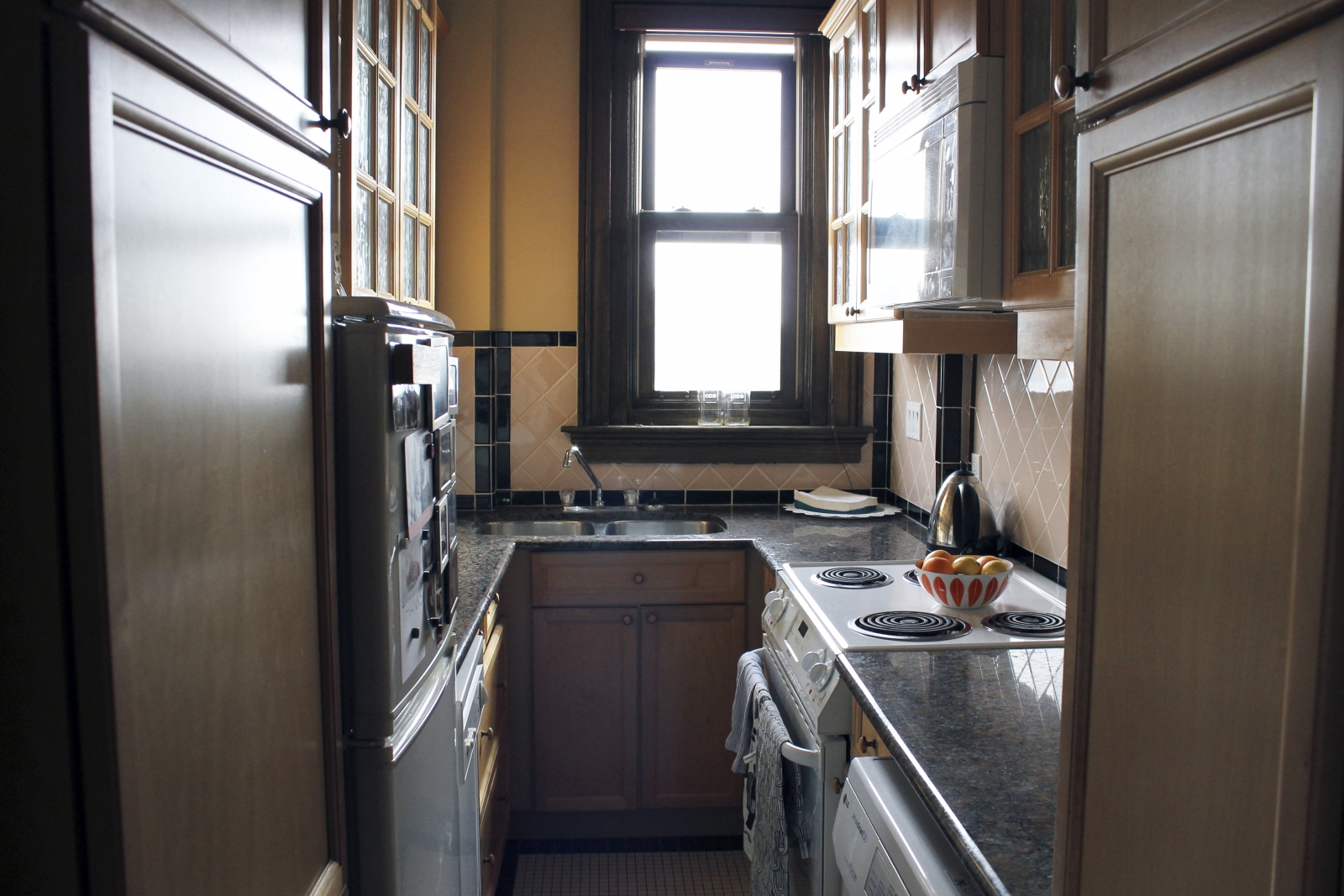 The Anderson Estates is known for the narrow but well-appointment galley kitchens, and Nolan's is no exception. It has all of the modern conveniences she needs, including a dishwasher and microwave.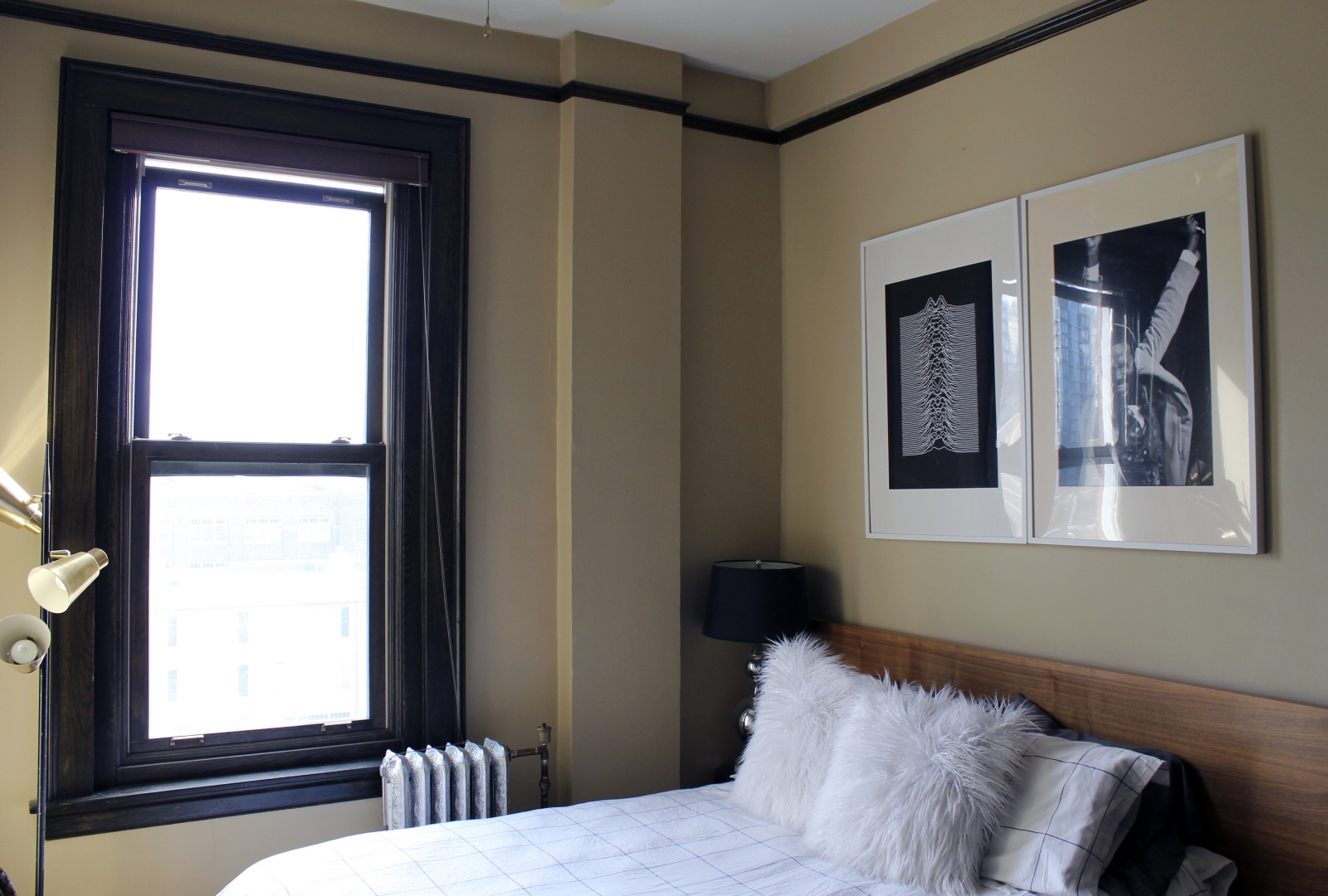 While the footprint of the bedroom might be on the smaller side, it more than makes up for it with a beautiful view of the Calgary skyline and Calgary Tower.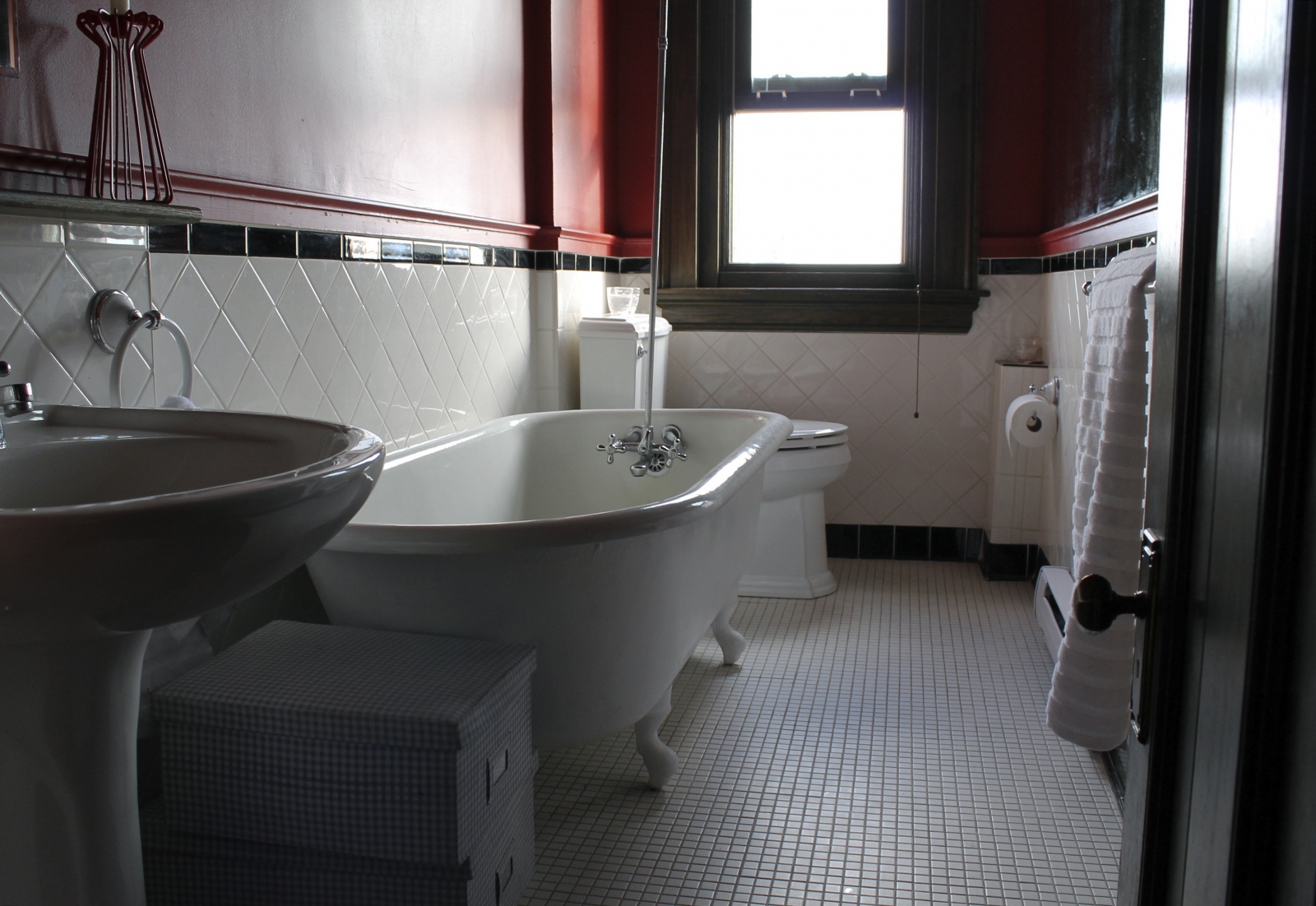 Nolan's bathroom, with its original clawfoot tub and tiled floor, is throwback to the building's history.