Homeowner Jill Carlsen in her kitchen, which has a backsplash wall of handmade subway tiles and Hudson Valley Pelham pendant lights with plenty of shine.
Jill Carlsen was more than ready when she began the process of building her new home two years ago. She had spent hours up to that point scrolling through interior-design Instagram accounts and had a stack of dog-eared magazines creating a list of what she had to have and what she wanted to avoid. By building new, Carlsen says, "I knew that we would be able to get everything we wanted."
For the two-storey home in a mature neighbourhood near Confederation Park, Carlsen enlisted architect Suzanne Devonshire Baker with Devonshire Baker Architectural Design, contractor Chris Hone of Manor House Crafted Homes and interior designers Reena Sotropa and Alanna Dunn of Reena Sotropa In House Design Group.
It was important to Carlsen that she, her husband Chris and their three young children, Sasha, Tate and Vivian, have a home that was beautiful but also built to handle the life of a busy family of five. "We're a fun family," says Carlsen. "I don't want a house that looks like kids don't live in it."
Despite the gilding of metallic accents and reflective wallpaper, the house takes its cues overall from a function-first design principle. This is exemplified in the stylish and well-used mud room. Bold patterned tile on the floor helps camouflage tracked-in mud and dust. Grey-stained oak lockers, one for each family member, provide ample storage space, while mesh shelving underneath allows wet boots and gear to dry quickly.
The kitchen is another space that balances function with design. Carlsen chose bevelled, handmade subway tile for the kitchen walls, adding a touch of luxury to a classic and durable wall treatment.
At each stage of the build, Carlsen worked with the design team to flesh out what would be functional and grow with her young, energetic family. The dining nook in the kitchen is a high-traffic area that is often overtaken with kids' craft supplies and toys (Carlsen refers to it as "Lego central"). The nook's large window seat was designed from the outset to withstand heavy usage, and features a cushion upholstered in a fabric that was deliberately selected to work with potential scuffs and spills.
As a partner in the-upside.ca, an online luxury consignment clothing reseller based in Calgary, Carlsen's work life involves timeless designer fashion pieces. Similarly, she designed her home to have high-end details that won't easily go out of style. "We always wanted the house to be timeless," says Carlsen. "I didn't want my house to be something that would look dated in 10 years."
That said, Carlsen was unafraid to commit to wallpaper, which shows up in the dining room, guest bath and kids' bedrooms. Interior designer Sotropa says the trick with wallpaper is to avoid competing patterns and ensure that there is neutral space between papered areas. "It makes those rooms even more special," Sotropa says.
The inspiration for Carlsen's choice of colour palette came while she was out shopping with Sotropa for the perfect living-room rug. Carlsen was adamant that the rug be ethically sourced and ethically manufactured. She found what she was looking for in a Creative Matters carpet on display at HPR Gallery.
"I walked in and saw this rug hanging and thought, 'that's awesome,'" Carlsen says. Throughout the home, neutral whites, blacks and metallics serve as a backdrop for pops of colour drawn from the rug. "I didn't want to commit to the whole house looking too industrial," says Carlsen, "We have two girls and one boy, so I wanted that feminine-masculine balance."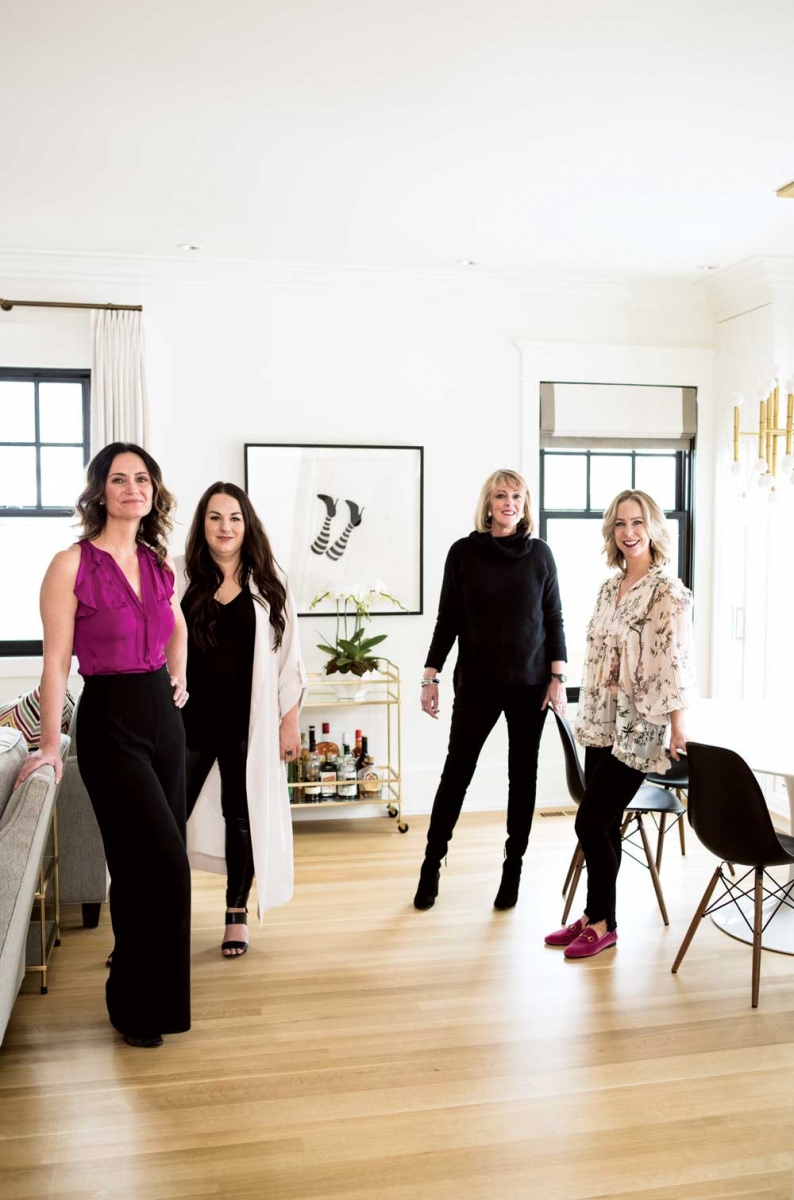 Interior designers Reena Sotropa and Alanna Dunn of Reena Sotropa In House Design Group, architect Suzanne Devonshire Baker with Devonshire Baker Architectural Design and homeowner Jill Carlsen.
Interior Designer Reena Sotropa's tips for achieving timeless design
1. Use more than one metal for accents "I always like to mix metals," says Sotropa, principal designer at Reena Sotropa In House Design Group. "We like to sprinkle
different metals around the house so it looks like [the decor] evolved over time."
2. Select building materials that will age well "Anything that we knew would be interacting with the family we tried to make a reasonable surface with patina that would look better and better as time went on."
3. Avoid bold colours for more-permanent features "For things that are hard to change, we tended not to do colour, so that there was no big commitment to any particular colour."
4. Mix up cabinet finishes "We kept mixing and matching the [cabinet finishes] throughout the house, dependent on what the requirement was or what we needed to achieve," says designer Alanna Dunn, who works alongside Sotropa. "It helps if something goes out of style, then you're not locked in."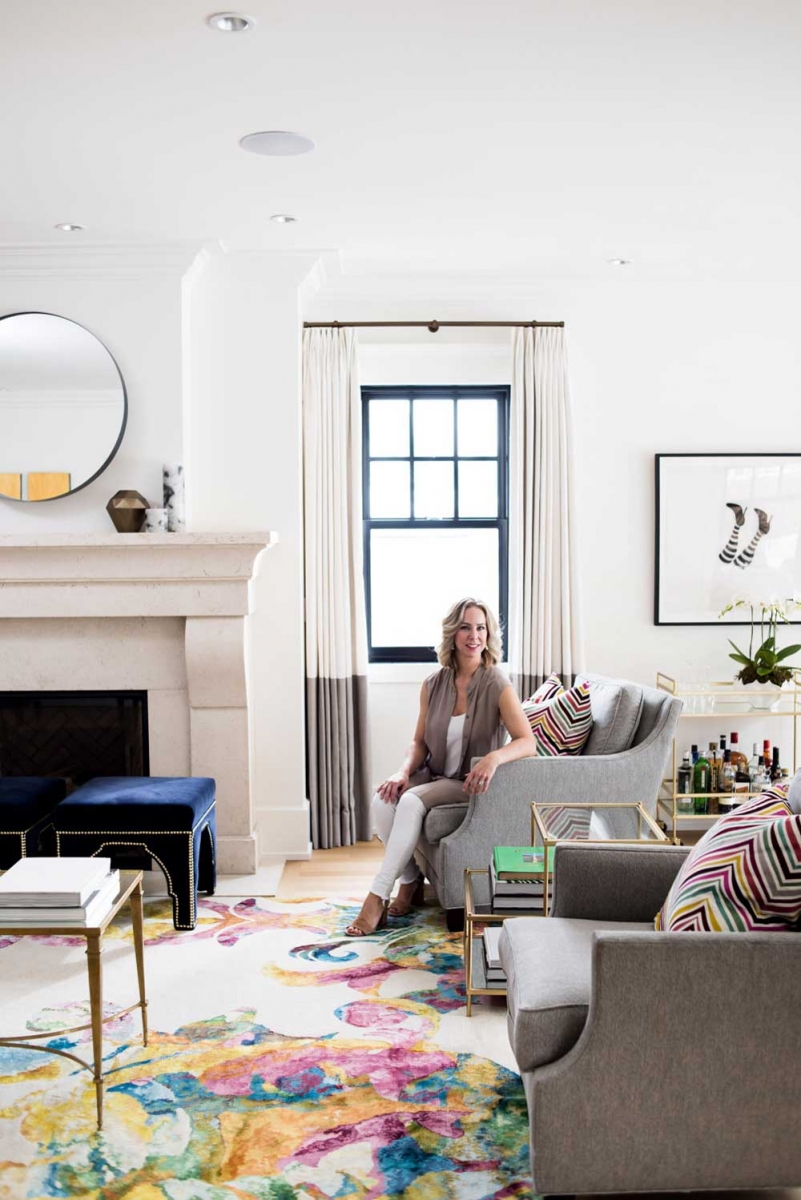 Homeowner Jill Carlsen in the living room.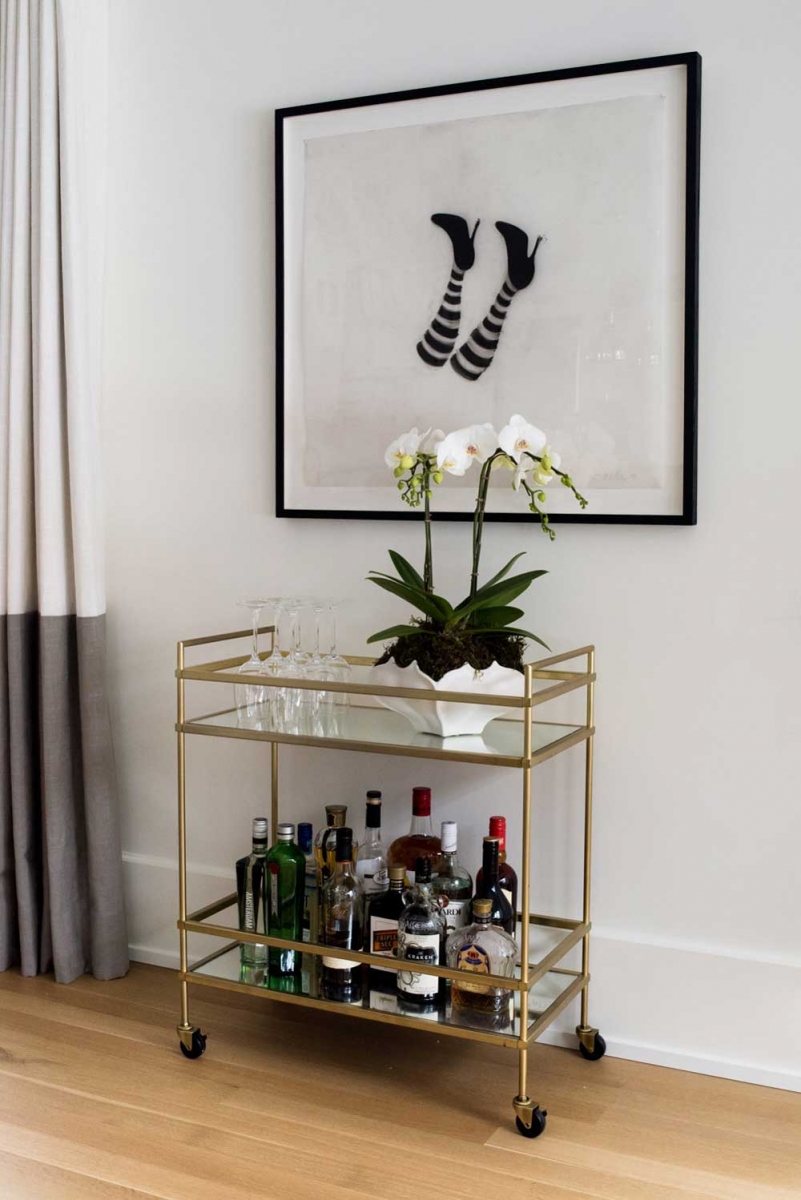 A bar cart and artwork by Cathy Daley add even more personality to the living room area.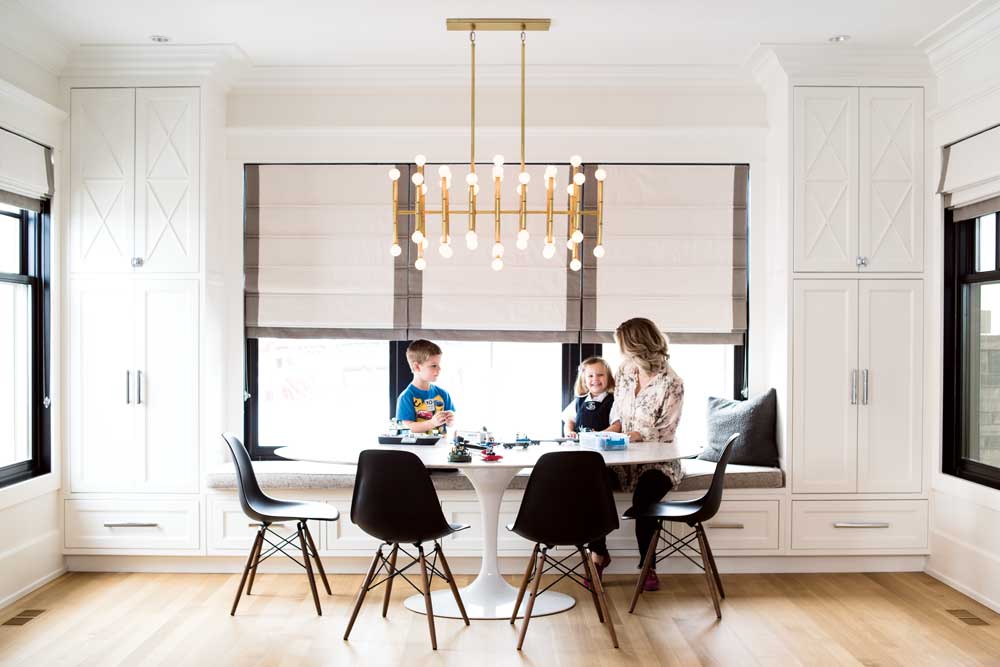 The dining nook balances style and function with a window seat designed for durability and a configuration of Knoll Saarinen table and Knoll Eames chairs.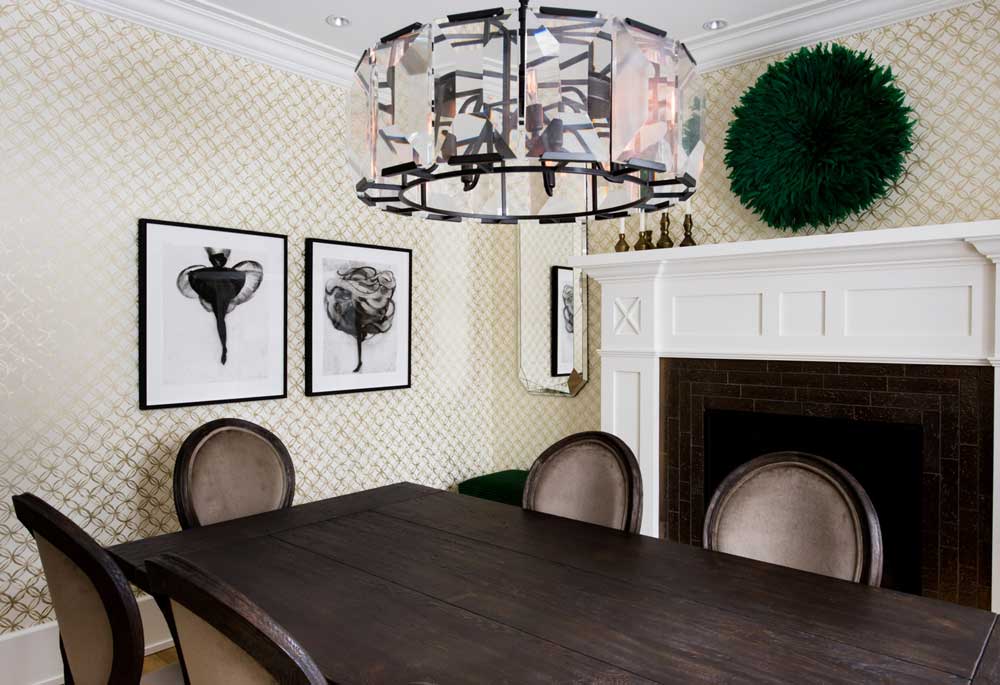 The family's formal dining room also features black and white artwork by Cathy Daley, as well as a piece of artwork bought off Etsy over the fireplace.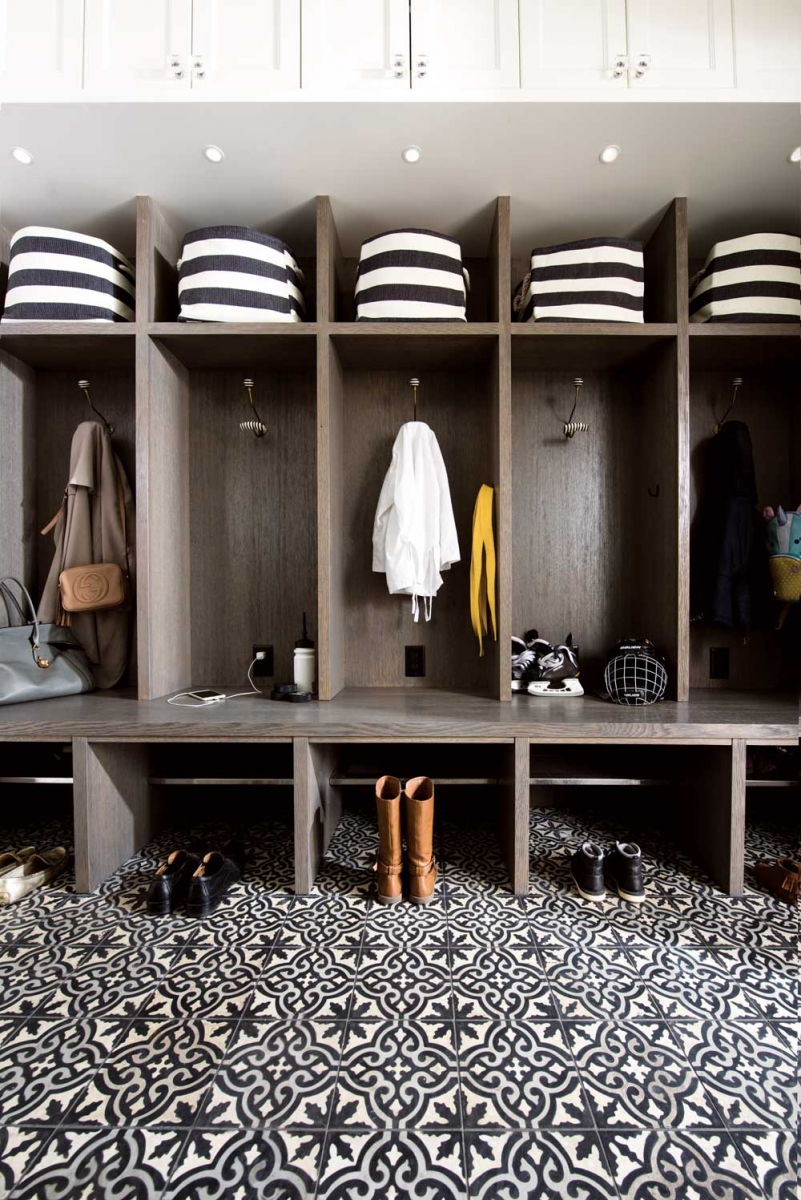 The mud room has custom-built lockers for each family member and bold-patterned tile chosen for the demands of a high-use area.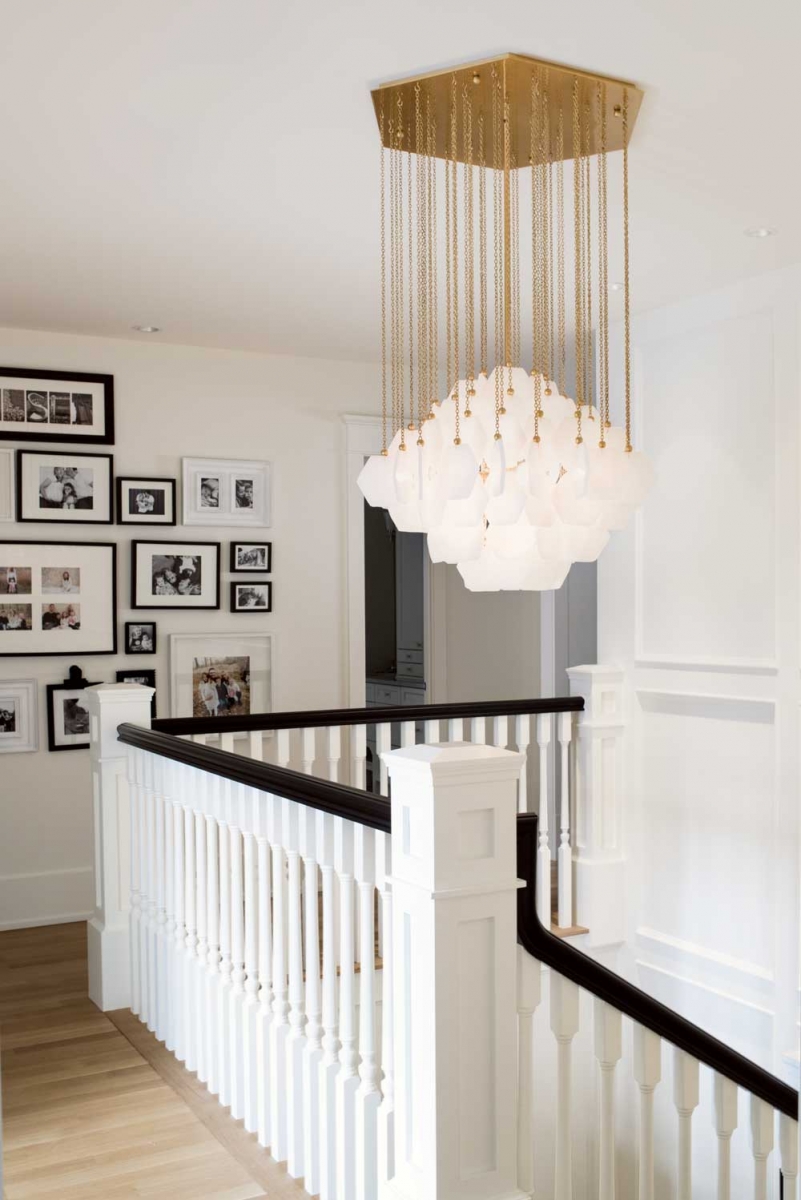 An eye-catching Jonathan Adler chandelier hung above the main staircase adds a touch of glamour to the upper hallway area.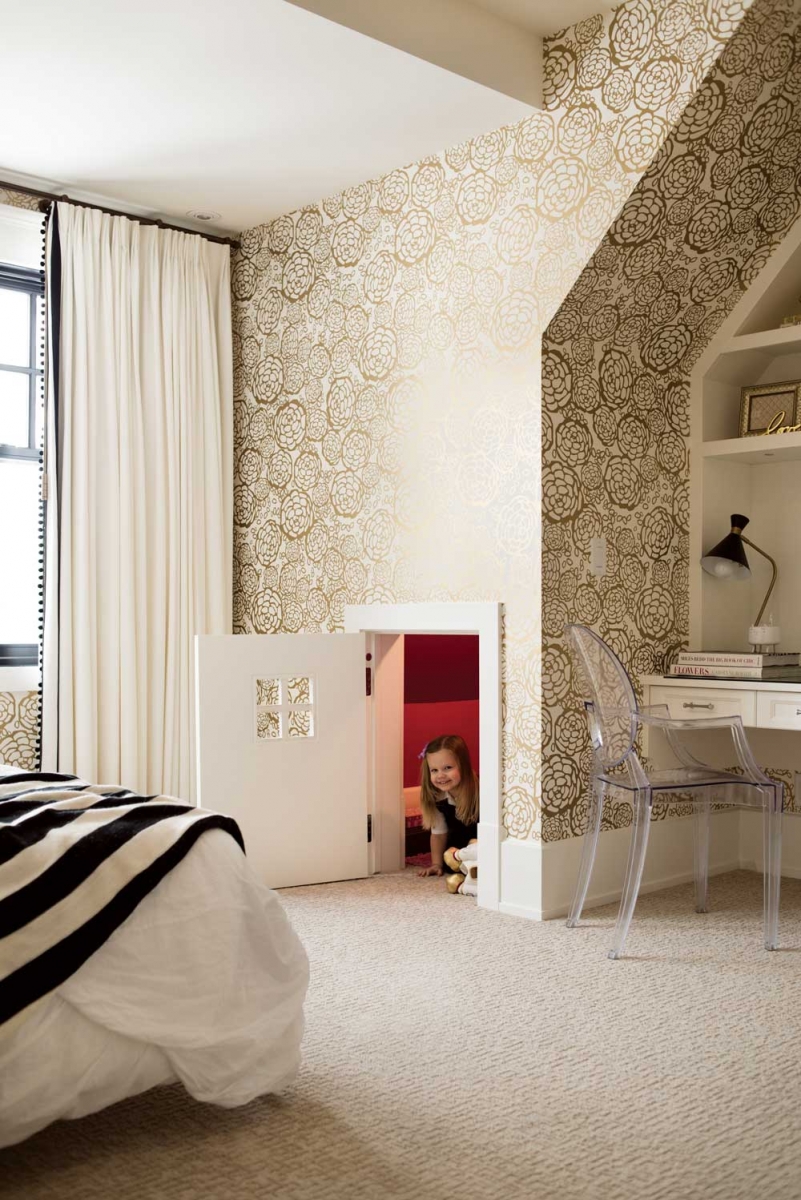 "Petal Pusher" patterned wallpaper by Hygge & West adds visual pop to Carlsen's daughter's bedroom.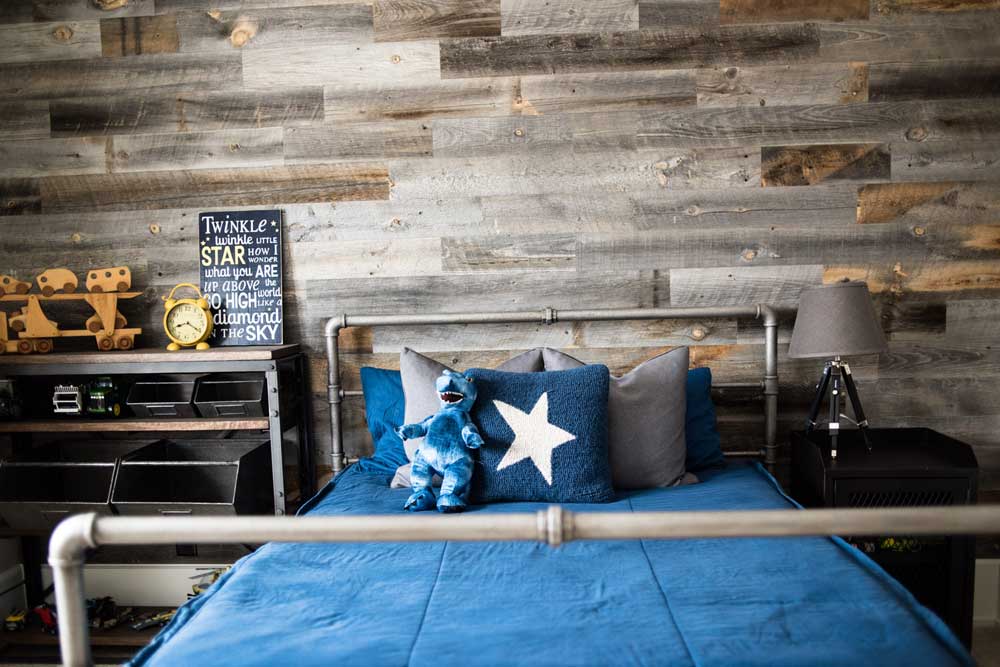 A look inside Carlsen's son's bedroom.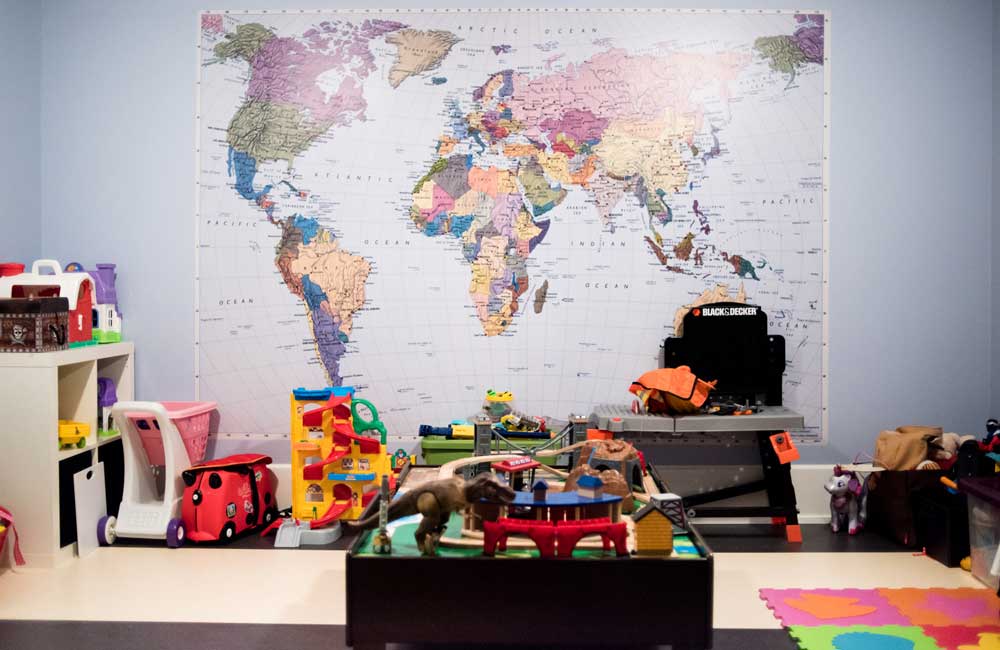 In the basement, the wall colour of the children's playroom was purposefully chosen to match the colour of the ocean on the map.