Homeowners Raman and Laurie Minhas tried out three different dining-room tables before turning to designer Jeannie Sturdy, who created an intimate feel with a light-grey washed-oak table and hutch. The room's built-in window bench provides an element of softness and is a perfect afternoon-reading nook for the family.
Instafamily
When Raman and Laurie Minhas decided to get married, they set out to create a home that would allow their two worlds to blend seamlessly. Laurie, a busy dental hygienist and president of the Perio Laser Institute, had recently refurbished a home in Acadia where she lived with her two daughters, Ella, 11, and Ava, 10. Raman, on the other hand, had been living in typical bachelor style at his Elbow Park home. "It was really Raman that had to do most of the adjusting – he just got this instant family," says Laurie.
Raman's busy career as a dentist with his own practice as well as his work with The Alex Dental Health Bus (a non-profit organization that provides free dental care to low-income children and youth) kept him from taking the time to make his house a "home," despite its spectacular views of the Elbow River and design possibilities.
The couple decided to sell Laurie's place in Acadia and keep the Elbow Park home, as it was close to both their practices and Laurie's girls were already attending schools nearby. Plus, as Laurie and Raman are both avid cyclists, the Elbow Park home's proximity to the city's pathways couldn't be beat.
West Coast Meets Old World
Before Laurie and her children could move in, however, the home had to undergo major renovations. "It was a bachelor pad with one gigantic master bedroom," says Laurie. "We kept asking ourselves: 'How do you fit an instant family into a one-bedroom home?'"
To help them with the transition, and to make the house more family-, kid- and dog-friendly, Laurie and Raman hired William Blake Homes to rejig the floor plan.
The renovation began in November 2015 and involved adding a guest bedroom and playroom to the lower level. Upstairs, the ensuite was up-dated to provide added storage and more of a warm and welcoming feel with the addition of an authentic brick feature wall, sliding barn doors and an old-fashioned claw-foot tub. Three bedrooms and a four-piece bathroom were carved out of an open loft space and hardwood flooring replaced the white shag carpet.
The master suite quickly became Raman's favourite place to unwind. "With work, it's go, go, go, and with the kids, it's go, go, go. I really wanted a place where I could take 30 minutes and sit down and do some meditation," he says. "Now the room just feels like home. A lot of times we will all be in there, hanging out – the kids, Laurie and me. It's really nice."
As the family grows into the space, the home continues to evolve. The attached double car garage was recently converted into a home gym complete with ballet barre. "We've put lots of time, effort and love into this home. We plan to be here for a long time," says Raman.
Dressing It Up
When it came to decorating their home, Laurie and Raman chose to chart new territory. She loves West Coast style – lots of white and grey with generous use of antique pieces – whereas his style is heavier, more old-world and masculine, with dark, earthy colours.
"It is a modern home and neither one of us really likes modern [decor]. We had all of these styles in the house – my single-mom furniture and Raman's bachelor furniture – and nothing went together," says Laurie.
Initially, the couple chose finishes and furnishings on their own and painted the home a dark taupe. But nothing looked right. "It just wasn't coming together. We spent all of this money on new furniture and once we got it into the house, it was the wrong size or it just looked all wrong," says Laurie.
That's when they made the call to designer Jeannie Sturdy of Sturdy Design Co. "We'd been through three dining-room tables and that was enough for us to hand this [home] over to a designer," says Laurie.
Sturdy stepped into the project in August 2016 with a fresh approach. "We really wanted the home to tell the family's story," she says. The taupe walls were repainted in white and groupings of art were peppered throughout.
Partway through the renovation, Laurie and Raman found themselves expecting a baby (son Zane), and Sturdy accounted for this when planning one of the gallery walls. "The family-portrait wall was really important to them, so we did this collage of photos and left a few empty because we knew the baby was coming," Sturdy recalls.
Classic furniture pieces from Restoration Hardware proved an excellent fit for the family's diverse tastes. "It was a good mix for them, with the light greys and fresh colours and washed-out oaks," says Sturdy, who worked diligently to suss out Laurie and Raman's likes, dislikes and create a "must-haves" list.
For Raman, that included cultural pieces, especially a Persian rug that made a strong statement. "We like stuff with history, pieces that are meaningful, things from our travels and art that friends have created," he says. For Laurie, it meant practical items like couches with removable covers and a laundry room with two washers and two dryers.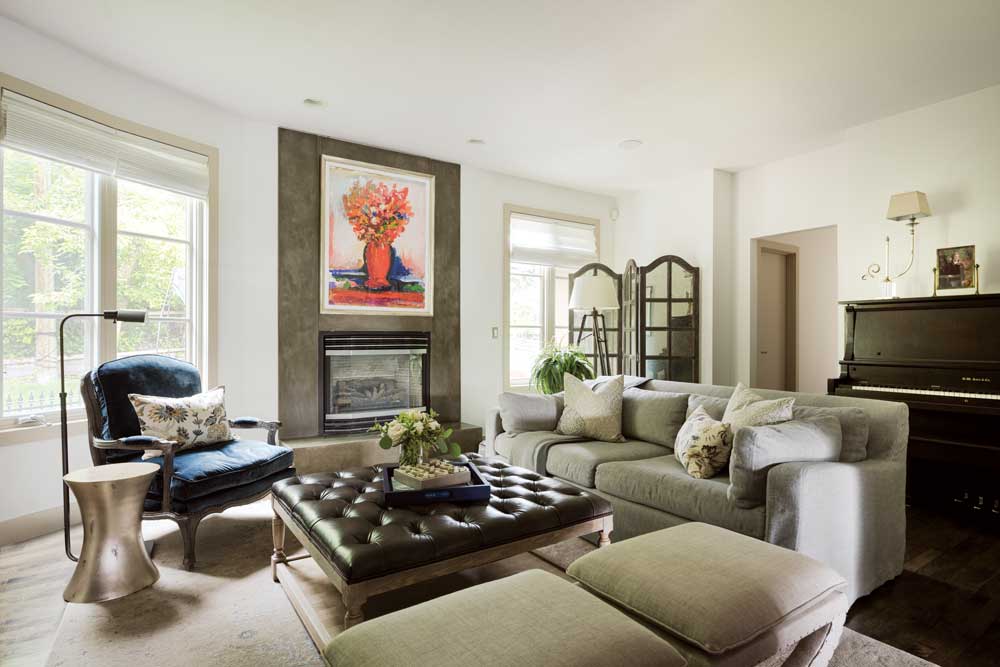 The living room blends eclectic pieces such as a blue velvet wingback chair with practical items such as the Restoration Hardware sofa with removable slipcovers.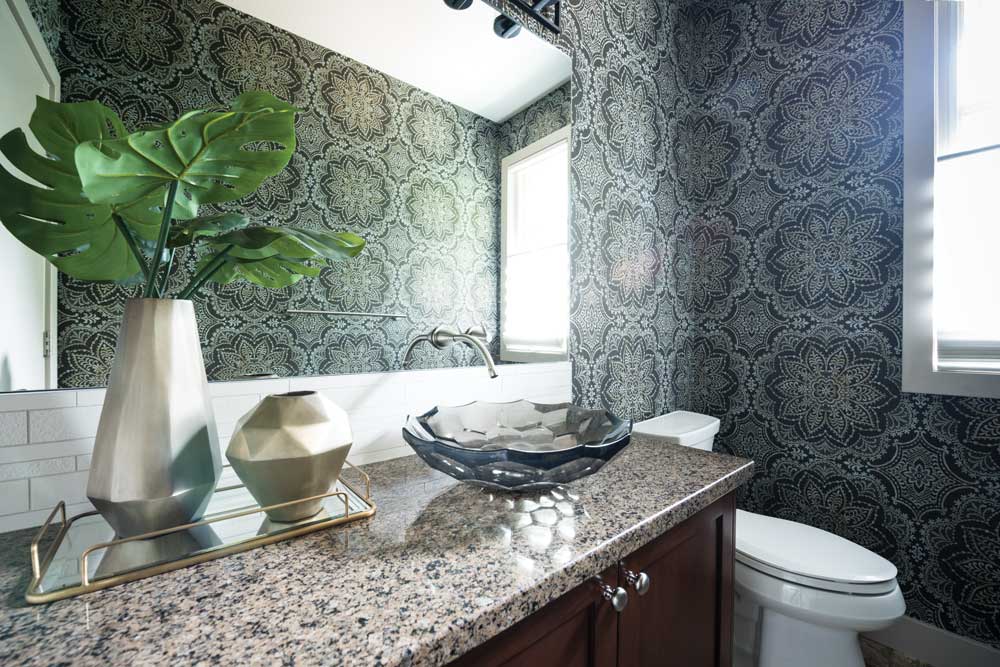 Patterned silk wallpaper in dark hues provides a dramatic backdrop for the artistic fixtures in the powder room.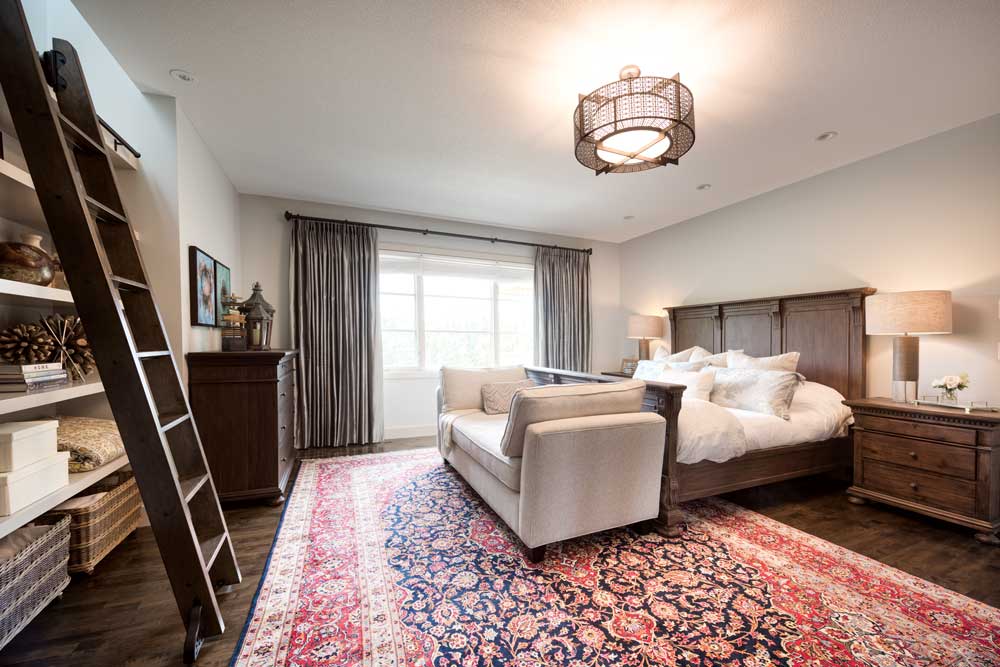 The master bedroom is a cozy retreat, grounded by a 50-year-old Persian rug (an item that Raman Minhas put on his must-have list).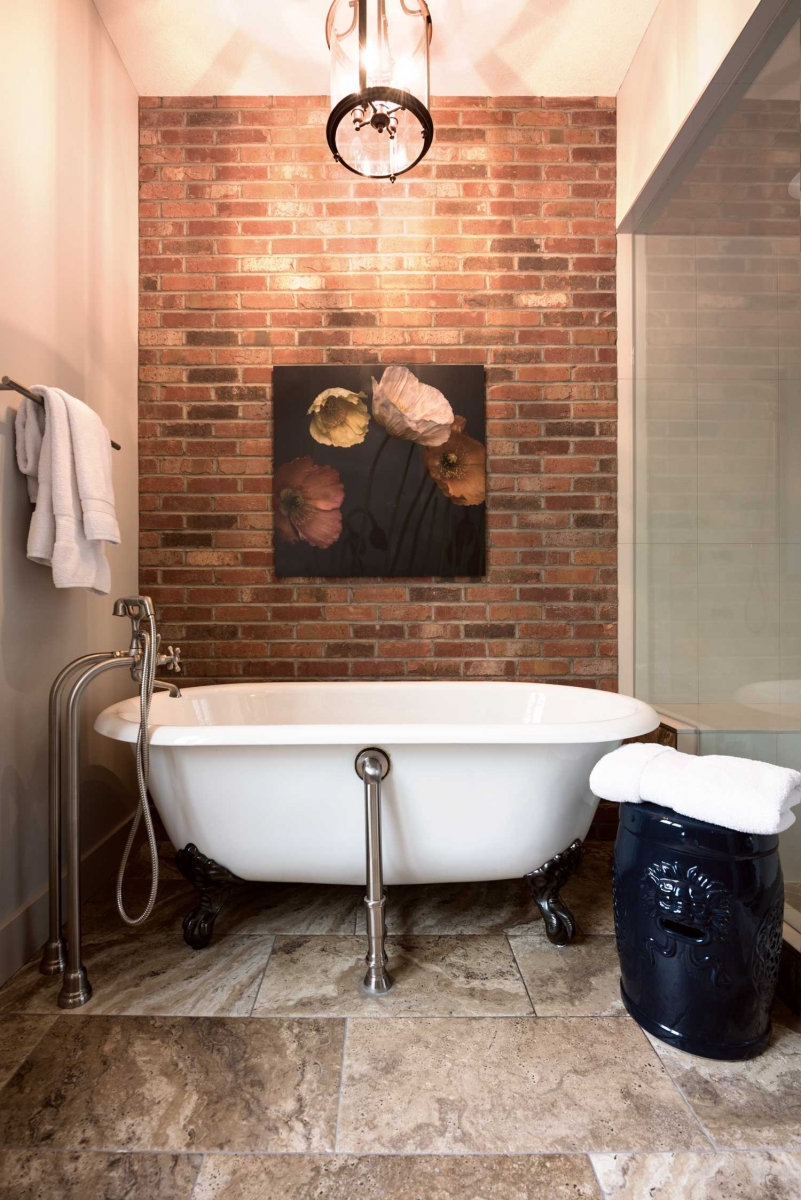 Laurie Minhas had a strong vision for the master ensuite, aiming for antique-style ambiance with features such as the red-brick wall and claw-foot tub.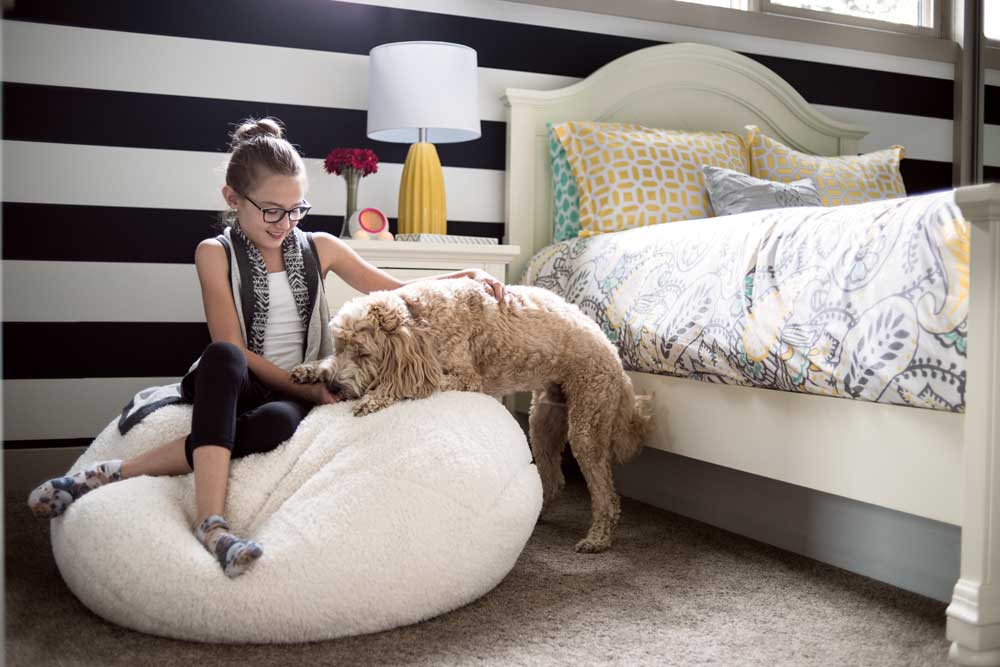 Bold blue-and-white-striped wallpaper was a cheerful choice for 10-year-old Ava's room.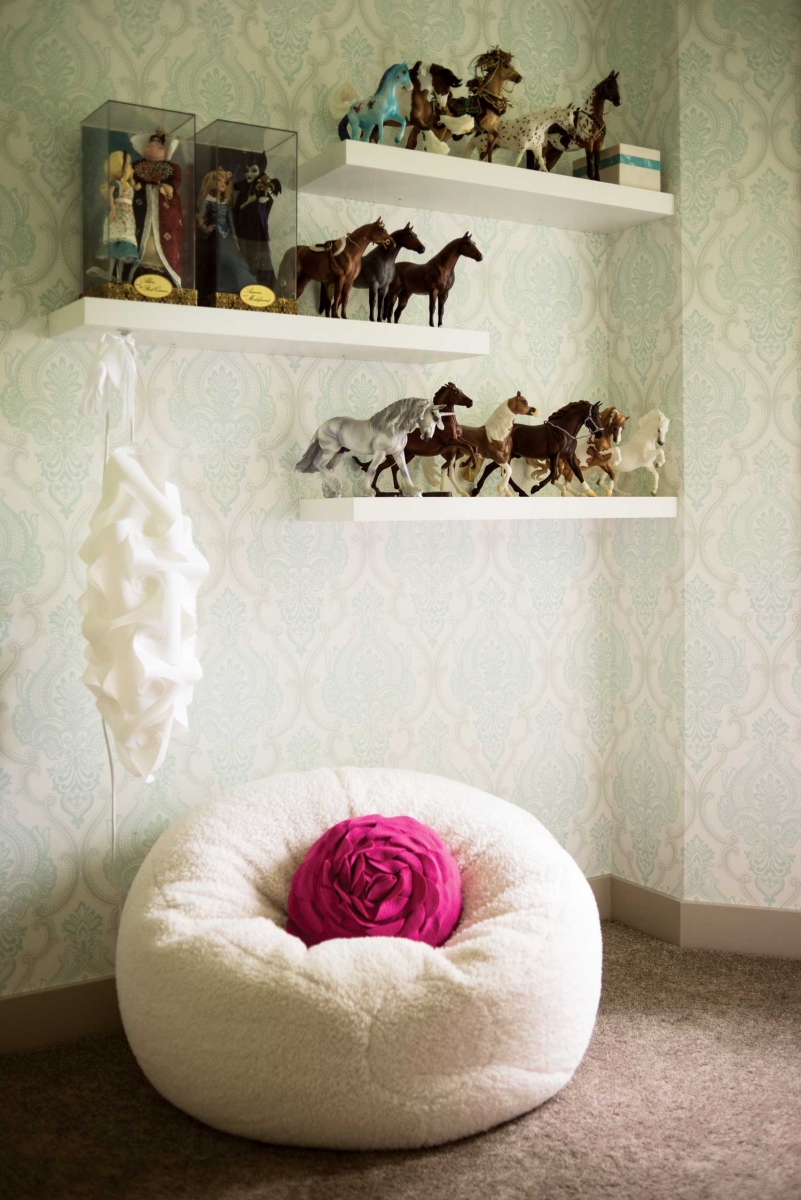 Eleven-year-old Ella's bedroom overlooks the backyard and features shelves for her collection of horse carvings – not surprising  for a competitive equestrian rider.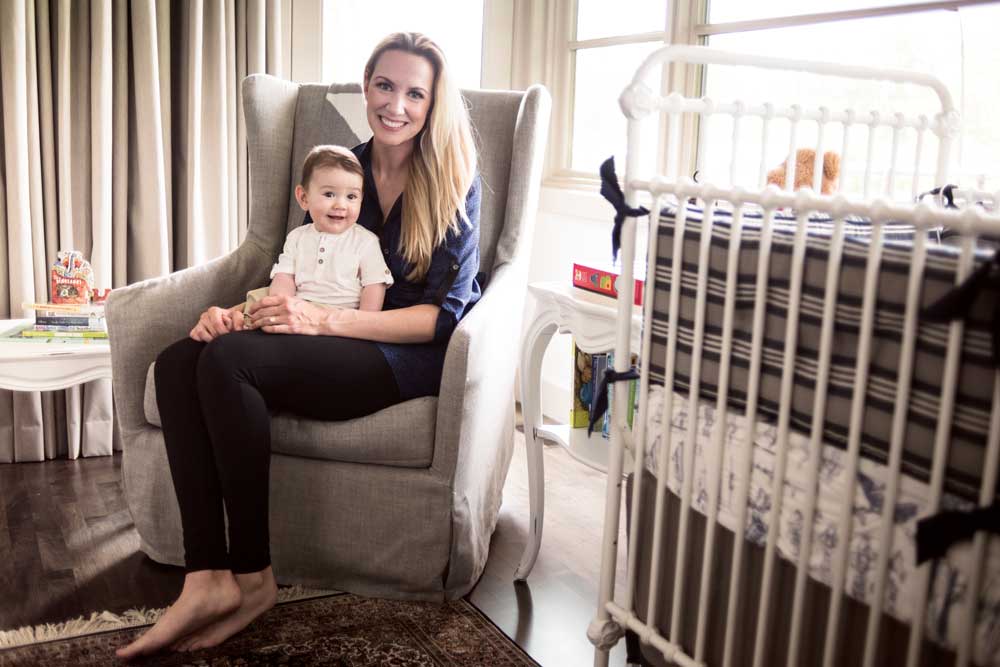 When Laurie Minhas found out she was expecting son Zane midway through the renovation project, designer Jeannie Sturdy converted a second-floor office into a nursery.
Tips for Blending Styles
Jeannie Sturdy of Sturdy Design Co. offers her advice on how to compromise on decor without losing out.
1. Chat It Up
"Get to the heart of what each family member loves. What are their favourite rooms? How does the family move through the house? Where does everyone interact together? Where do they like to hang out alone?"
2. Don't Get Hung Up on Style Labels
"Design categories such as 'traditional' or 'contemporary' often ring hollow and are meaningless because they're overused. Use visuals from magazines, Pinterest or houzz.com to determine what you like."
3. Stay Minimal
"A neutral backdrop will set the stage for a variety of diverse pieces. Keep walls and large furniture items in a minimalist palette, allowing for pops of interest in accessories and displays."
4. Mind the Scale
"Keep the scale of the pieces similar and group items by colour, size and texture. And remember that less is more – fewer pieces create a better impact. Once completed, consider editing; it makes a huge difference."
5. Match the Mood
"Maintain consistency throughout a space. If a room is used for casual hanging out, don't add in fussy, formal pieces."