From the minute you cross the threshold, one thing is clear: Lindsay Wilder is a designer. The owner of her interior design company, Lindsay O. Creative, has filled each room with light, colour and an array of decor finds that are just right. Just after renovating their 1950s bungalow in Fairview, Lindsay and her husband Dave brought a life-changing addition into the home: their daughter, Archer. With an eye for detail and functional finishes, she weaved a few crafty touches into their beautiful new design to make way for the family's next chapter.
What's your design philosophy?
"For me, design has to be functional, and I think good design incorporates function with aesthetics. Design is almost a problem that needs a solution – and I love problem solving. It's about figuring out what the problem is and coming up with a solution that allows the space to function and still look great. I'm into those small details that really make a space."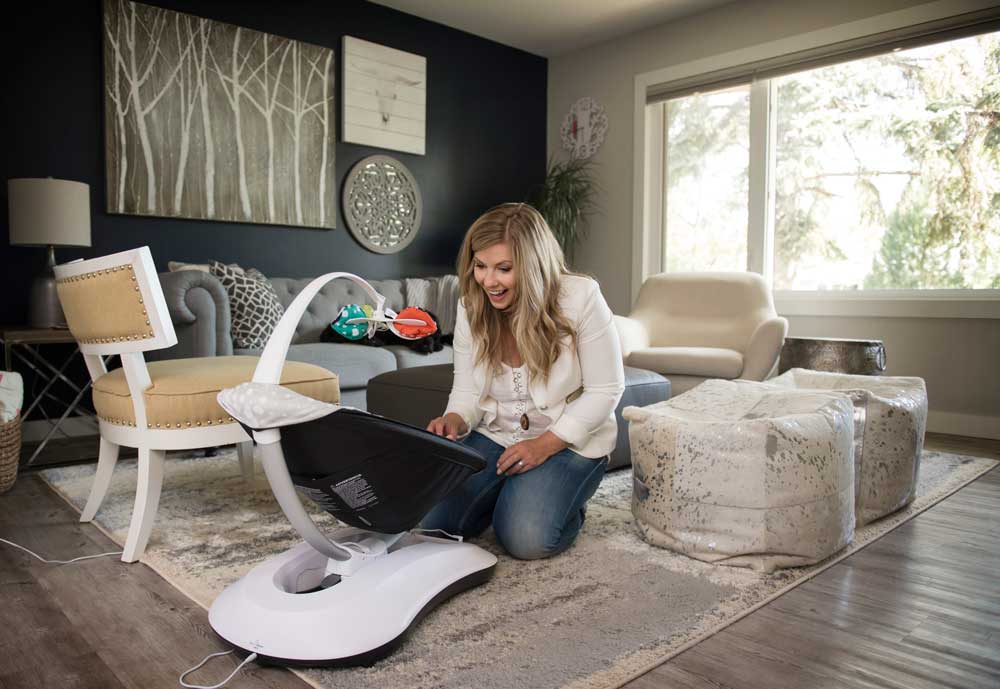 Wilder likes to incorporate her daughter's furniture with her own to keep everything accessible. She also takes splurge-and-save approach. Her living room features cost-effective pieces, like a rug from Costco, and pairs it with the more expensive poufs to add extra seating.
What are a few of those details in your home that stand out to you?
"It's the little things, like having the desk space tucked in behind the feature wall or having lockers at the back door. That's one of those elements where I thought, 'OK, we have a shoe problem, how are we going to solve that?' My husband and I both like shoes equally, so we came up with a cool idea that puts it to rest and looks interesting."
What is your favourite room in your home?
"It has to be the master bedroom. It's elegant, it's grand, it's polished and yet it has a really cozy vibe to it. It's my retreat."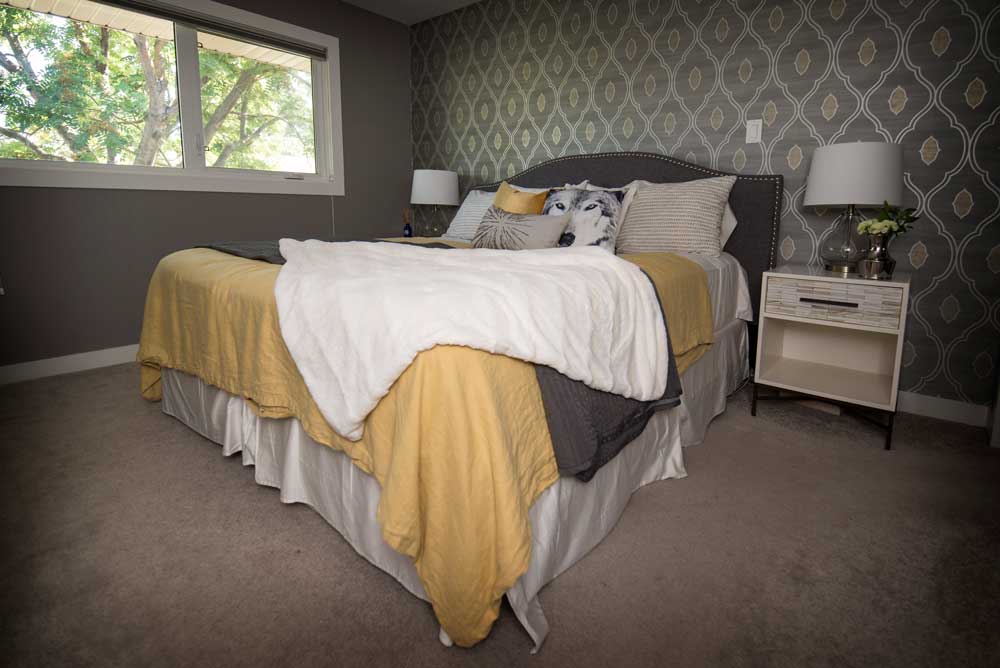 "I love the wallpaper because it has subtle gold undertones that I really enjoy, pulling at it with the marigold duvet and little accents all around," says Wilder.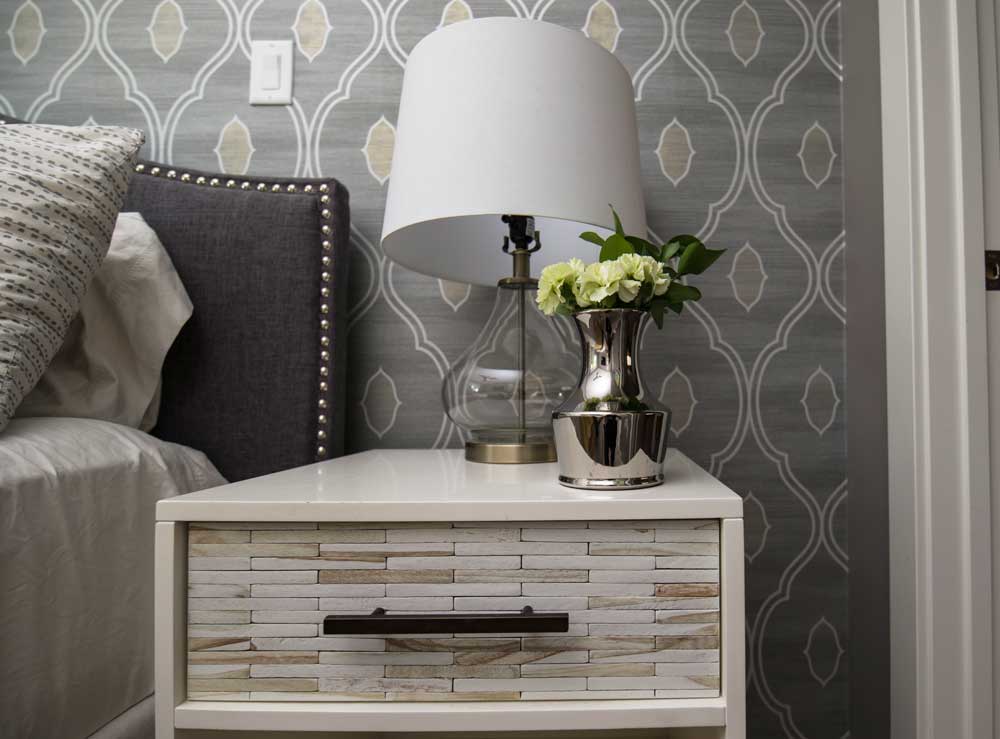 Wilder eyed this bedroom set from West Elm for two years before finally buying it. "It's just so interesting," she says. "It has this mosaic wood front, which gives it a rustic vibe so it's not too formal." 
What's your favourite decor find?
"I lucked out by finding the skull painting on my living room feature wall. I love going to the ACAD Show + Sale to pick up some original art. You can build your collection without spending a fortune. We believe in the Shamanism-side of things so there's a little bit of an animal presence that we like to have around. I also like the colour composition and the mixed media aspect – it's just so interesting."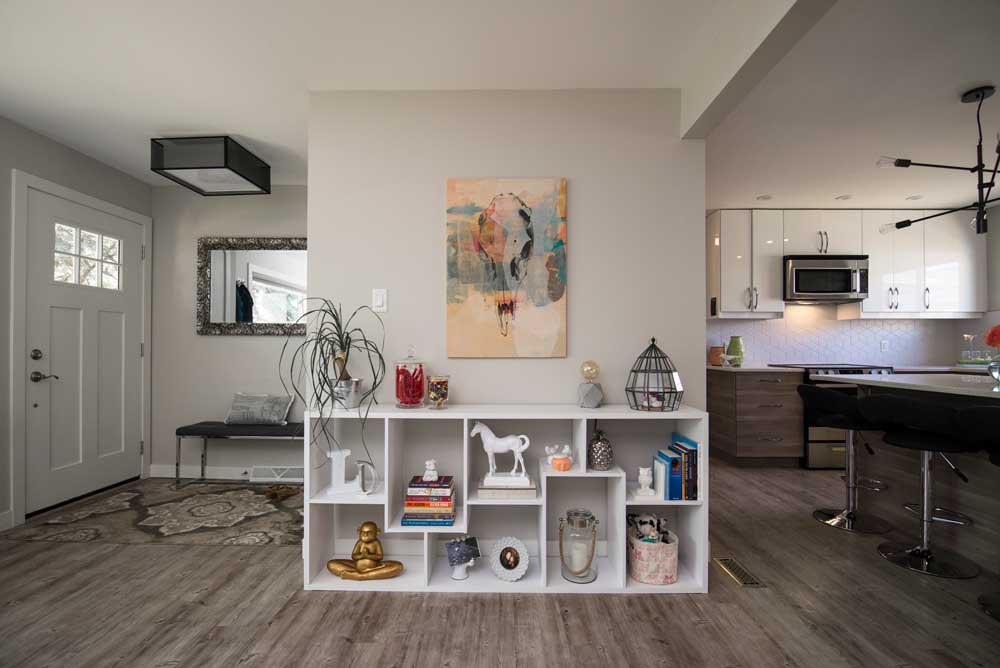 Artwork purchased at the ACAD Show + Sale is on a feature wall in the living room. Candy on the shelf adds a pop of colour. A basket on the shelf is dedicated to baby toys. And, hidden around the corner in the kitchen, Wilder found room for a small office space.
Where do you find inspiration for decor?
"I'm surrounded by design all the time, so whether I'm browsing Houzz or reading interior design magazines or looking through furniture websites online, it's like I'm constantly researching. You almost start getting a little bit of a library in the back of your head like, 'Oh, OK, I'm going to remember that.' It starts from one piece and builds from there."
Where do you like to shop for home decor locally?
"I try to do a save-and-splurge approach with my design. I love West Elm, of course – that's a big one. If you take a snapshot of my living room, we have a couch from Urban Barn and a chair from HomeSense, but these fur poofs were such a good splurge at $200 apiece. The rug is from Costco and came at a great price. Area rugs can be hard to find for a reasonable price, and Costco has an excellent ones."
What is your favourite thing about living in your home?
"It's so bright and open. I love sitting in the living room in the morning, reading a book and letting the light splash in. I like that it's compact. It's not going to suit us forever, after our family grows, but it's nice having everything on one level for the most part, especially with Archer being so young."
Did you encounter a decor challenge in your home?
"We debated about having a dining room table or not for a long time. We opted for an island instead, and I still say sometimes that I wish I left space for a dining room table. But, having a big space on the deck has solved that problem for us – especially in the warmer months – because we can still host larger groups. We also put a patio heater out there to extend the lifetime of patio dining."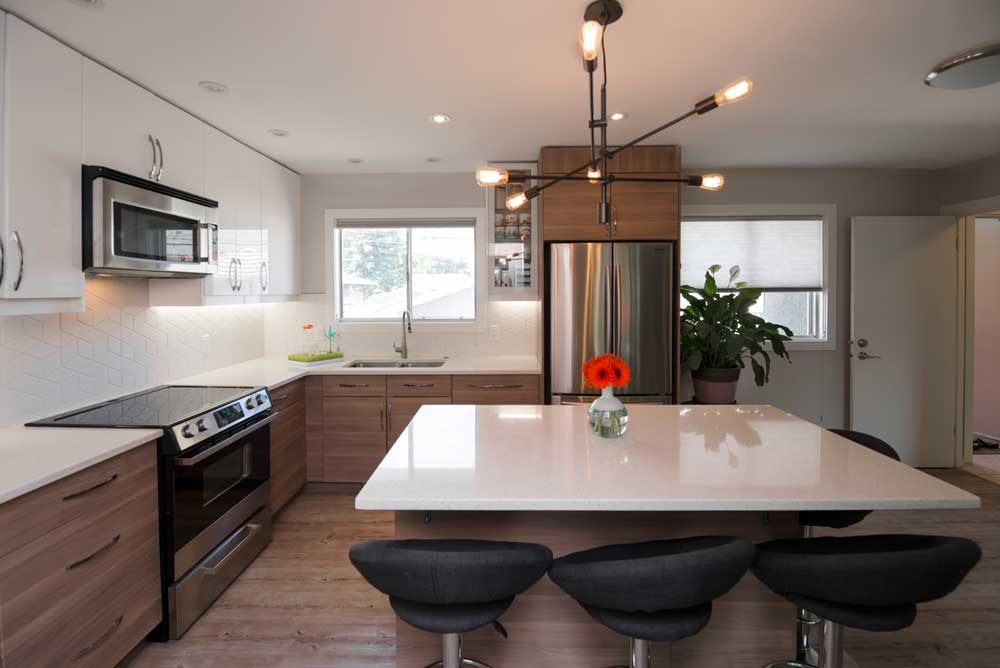 The kitchen island is also the main dining area.
Did you start looking out for decor pieces more once you were pregnant with Archer?
"Once I got pregnant, it was a push to finish up the last few things on the to-do list. We were renovating the basement and we got to start fresh with the living room space. In the back of my mind I was thinking, 'Is this going to be child friendly? Is this going to look terrible when it's stained and dirty?'"
Do you have any design tips for new parents?
"I think it's important to consider soft surfaces and really durable finishes. That way you're not going to be upset when your baby spits up on your chair or your couch, because that's going to happen. Having easily accessible storage is important as well. We have a little basket of her toys in amongst our decorative shelf, and a shelf dedicated to her in the kitchen with her washcloths and bottles. It's about finding ways to incorporate Archer's things with our furniture."
How did you go about designing the nursery?
"And as a designer, you don't want too much of that typical, pink bubble-gum "girl" look. It was difficult because it's hard to find girl items that aren't super girly and frilly, but I still wanted the space to feel feminine. I went with gold accents and theme of forests and animals. There's not a lot that matches, but there's something about it that works. It has a vintage feel to it that I think with grow up with Archer.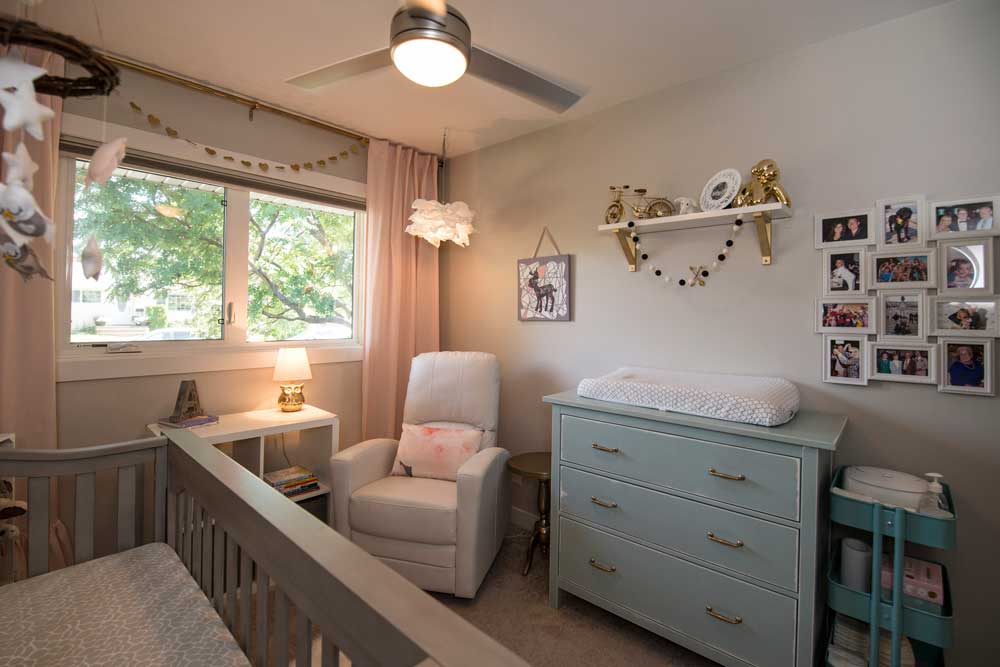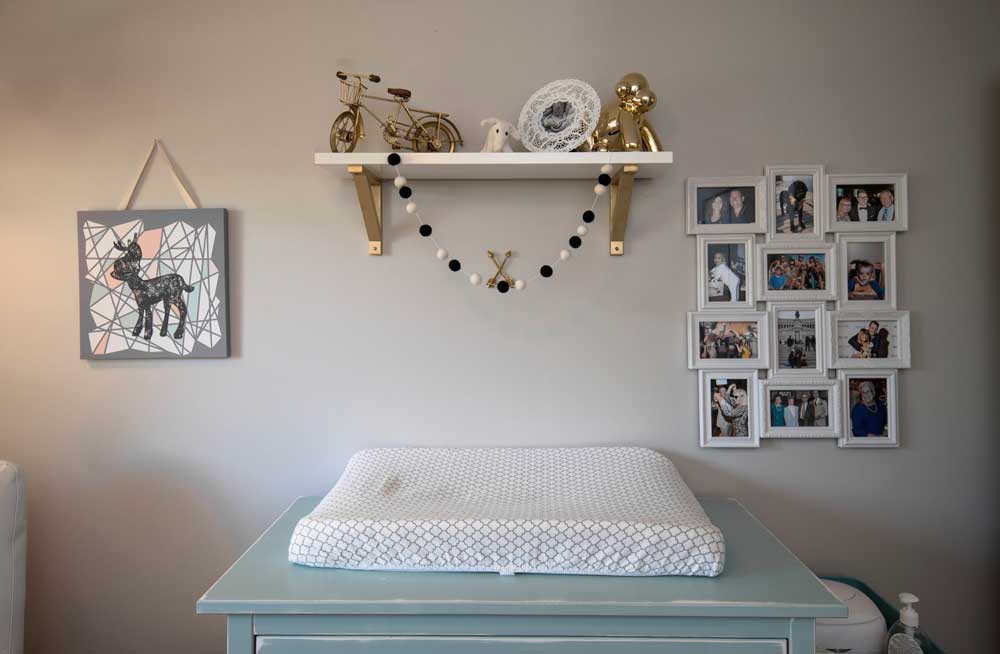 What do you want your next home to be?
"We'd do another renovation for sure. We realized that we like a character home. We like big, old trees and an older neighbourhood. A home from the 1970s would be perfect, because that would mean that we could really put our mark on it without paying into someone else's renovation. It's a great way to really personalize a space to your family."