There is something undeniably magical about Fieldstudy Shop owner Sarah Knorr's taste in art and decor. Her dedication to finding interesting and beautiful handmade items is apparent through her curated shop, but her personal style comes out even more when peeking into her century old heritage home in Marda Loop. Sharing the 1910 home with her husband Hayden and their French bulldog Gus, the couple has taken their love of travel and infused it into every room.
Knorr's design philosophy
"We try to only bring things into our home that we love and that we bought together for our home. We believe in investing in art, wall hangings and larger pieces of furniture that you might not have gone out and purchased in your twenties. It feels really good to create a home with things that have been made with love and care. Both of us are creative types who love to travel so we are always looking for inspiration wherever we go. We are heavily influenced by the West Coast, namely California. A lot of the design we look to is California-based; Big Sur, Venice Beach and Joshua Tree. The artisans that live in these towns really inspire us."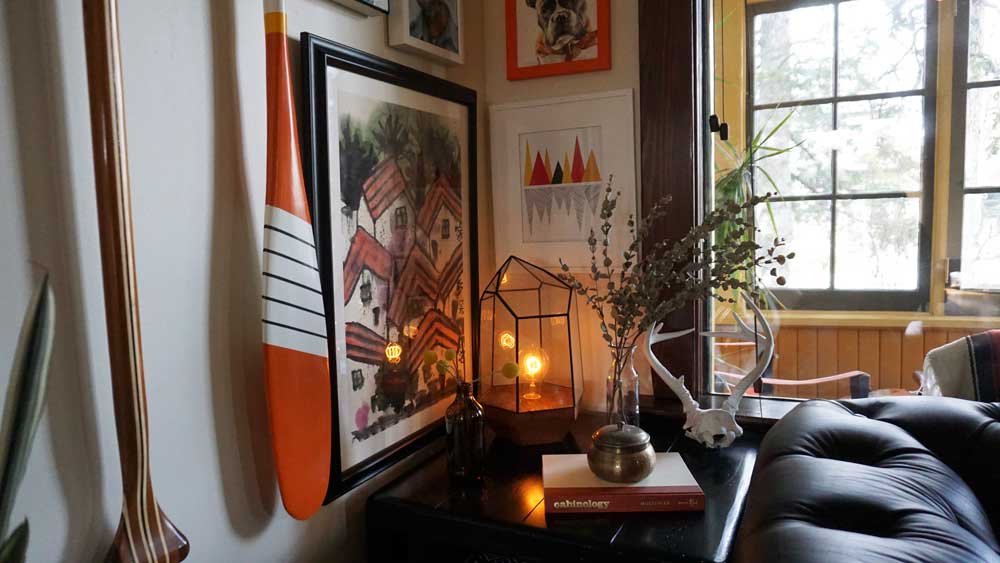 This corner in the living room features some of the couple's favourite pieces of art that they've collected together over the years.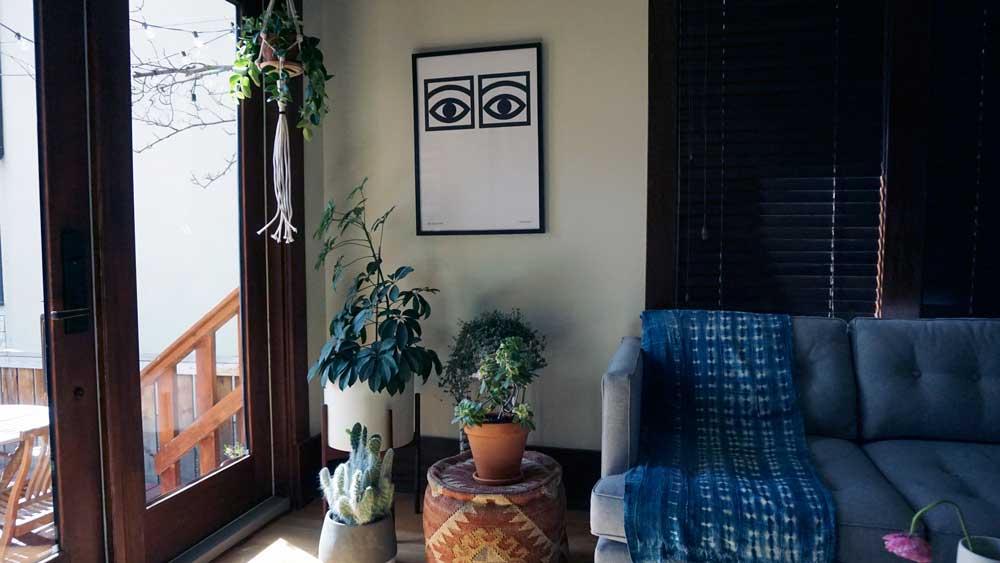 A cozy corner in the living room, leading out to the spacious outdoor deck and backyard. The room gets a lot of natural light, which is perfect for Knorr's obsession with plants.
Inspiration comes from…
"Travelling for sure. Flipping through Kinfolk and Cereal magazines. Visiting other general stores around the world. I got really really inspired by the general stores in Tokyo and Seoul."
Favourite room
"It depends on the season. In the summer my front deck with the window open hanging out with my dog looking out at the world is my favourite. In the winter, I really love the dining nook off the kitchen. It is very cozy. It is where we spend most of our time with friends playing crib."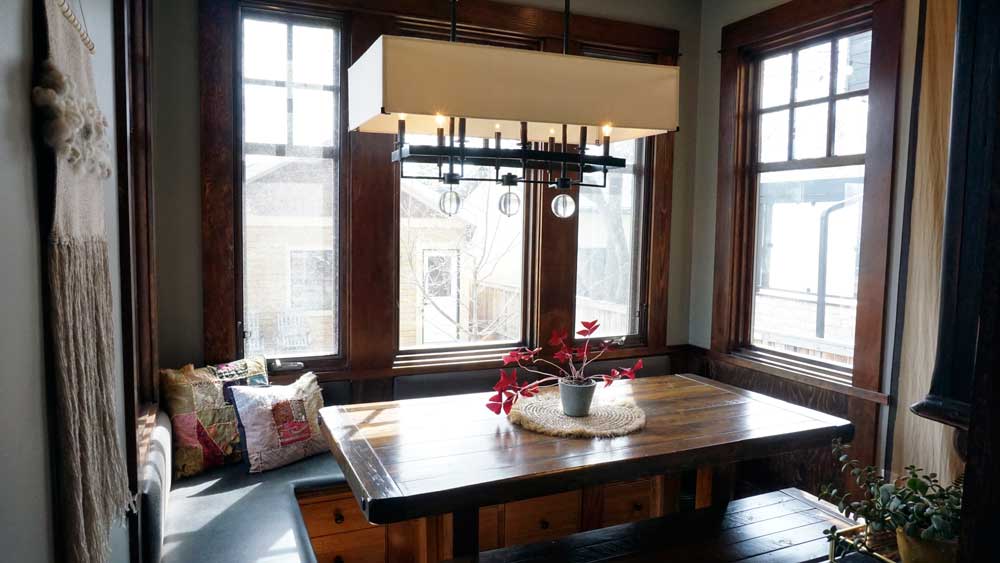 The dining nook is a cozy room tucked off the kitchen with calming views of the backyard trees.
Most treasured item
"My vintage Morroccan rug. I also love our vintage credenza from Blackwood Studio."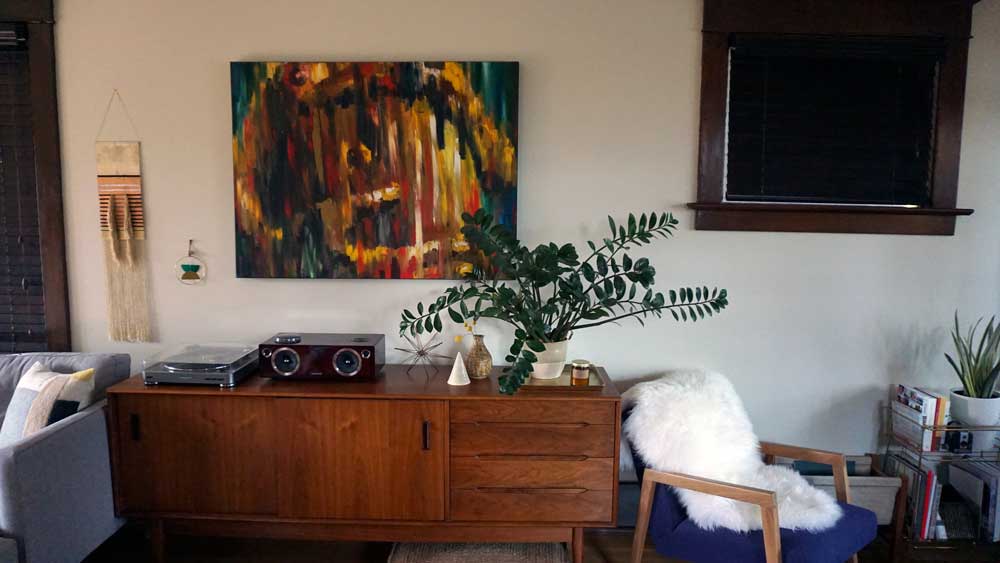 The couple loves music and spends most weekends hunting for new records to add to their record collection. This spot is well-loved when they sit back to listen to their new purchases over cocktails.
Favourite decor find
"The wall hanging that my husband purchased for me as a gift. I also love my giant lamp in my living room. When I ordered it I had no idea that it was going to be so big and tacky but I kind of love it."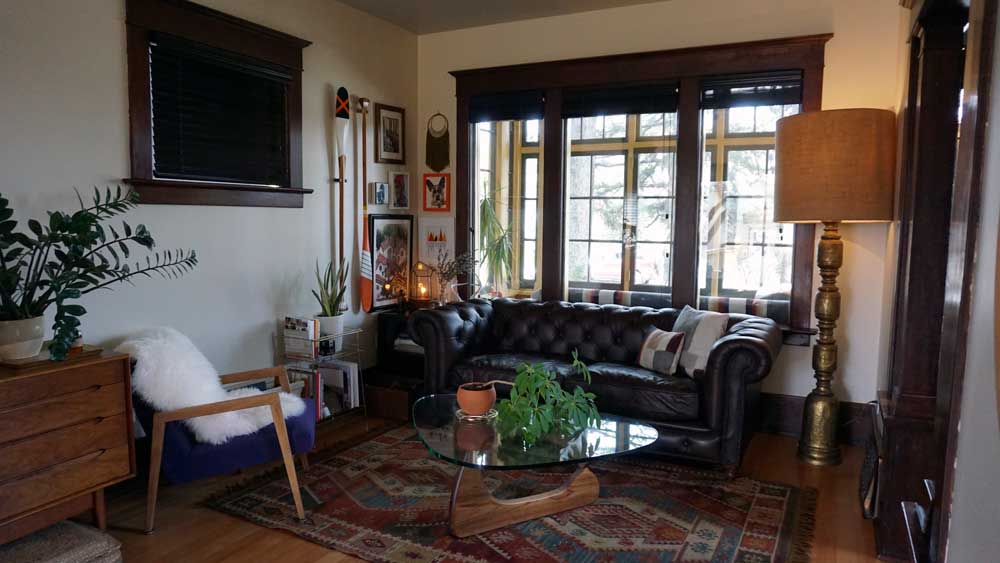 The oversized lamp next to the leather sofa wasn't exactly what Knorr expected, but it is one of her favourite decor finds.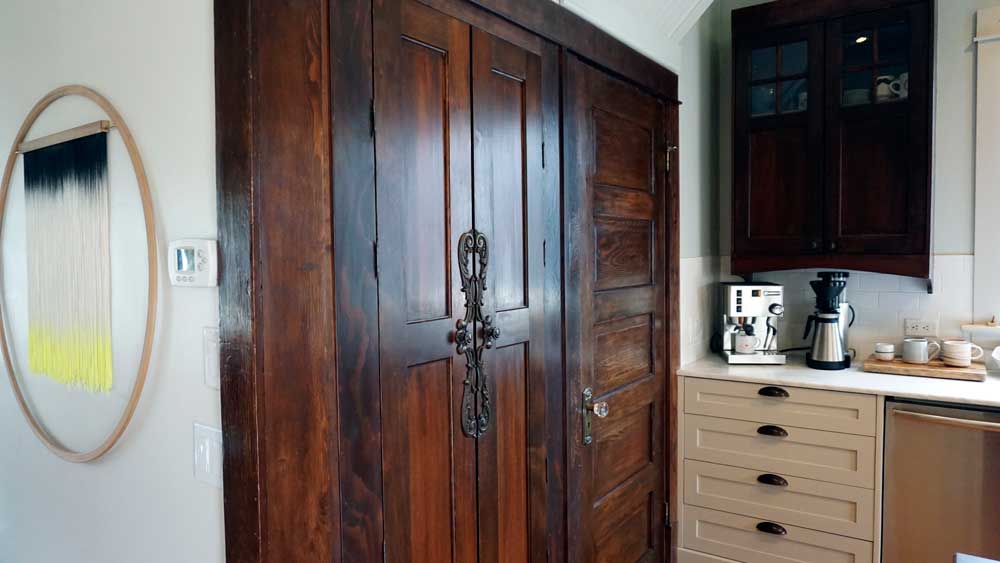 One of the home's original built-in's, this pantry cupboard is a statement piece in the otherwise neutral kitchen. The original character of the home is something that Knorr and her husband are adamant about keeping intact. Around the corner is the wall hanging that was a gift from Knorr's husband and is now her most treasured item. The couple believes that investing in art is a worthwhile activity and seek out new artists and artisans.
Favourite decor shops
"Blackwood Studios and Mid-Century Dweller for mid-century finds. I really love Guildhall Home and Plant in Inglewood. And of course, our store Fieldstudy."
Decor challenges
"Definitely space and storage. In a century home there are no space luxuries like broom closets or multiple bathrooms. We moved from a large apartment into this house so it was also an adjustment tailoring our belongings to a smaller home. We've lived here for three years now and it really feels like home now."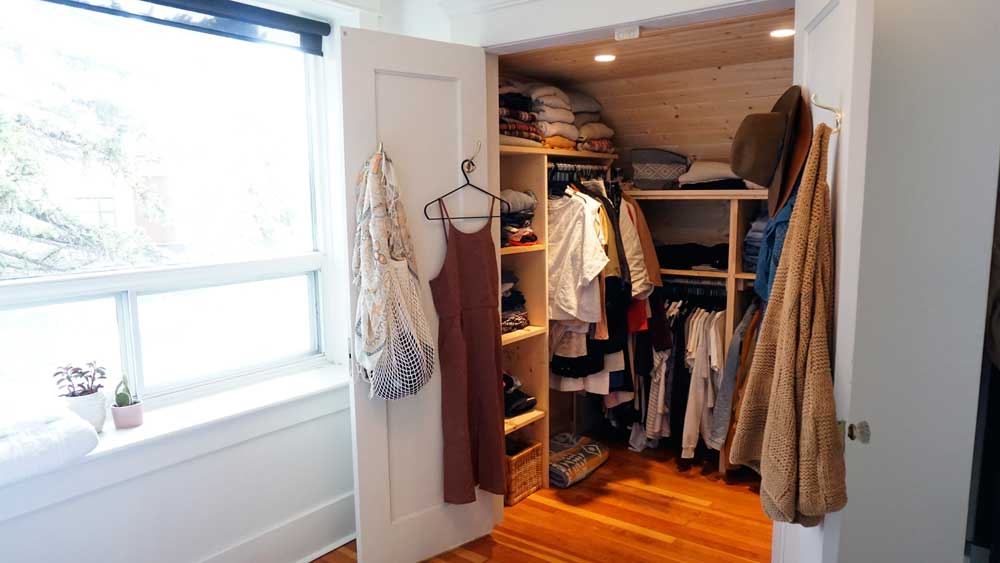 A big supporter of sustainably and ethically made clothing, Knorr is constantly curating her wardrobe and seeking out new brands to support.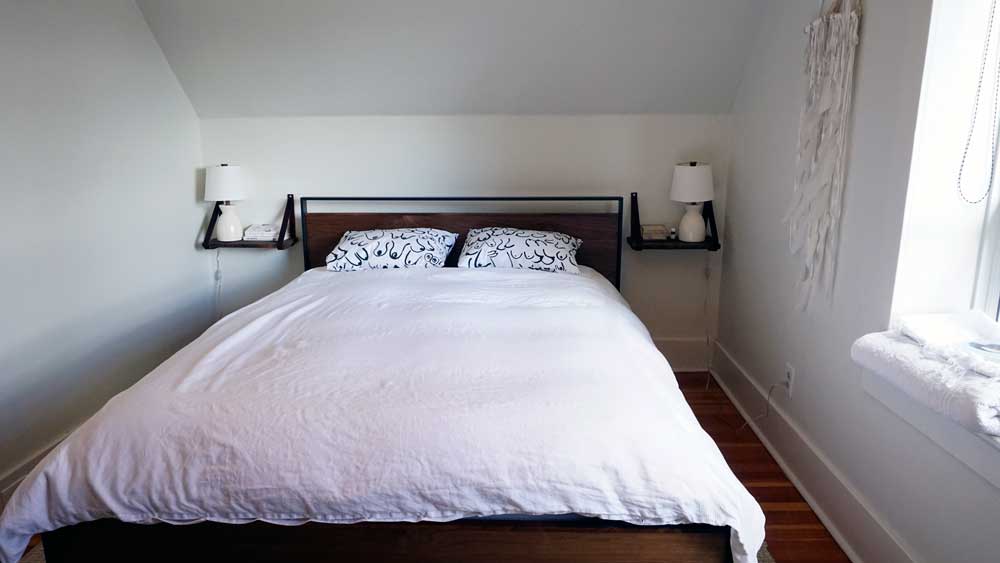 The couple keeps their master bedroom simple with a few cheeky touches like the Gravel and Gold pillowcases that are available from Fieldstudy.
The bathroom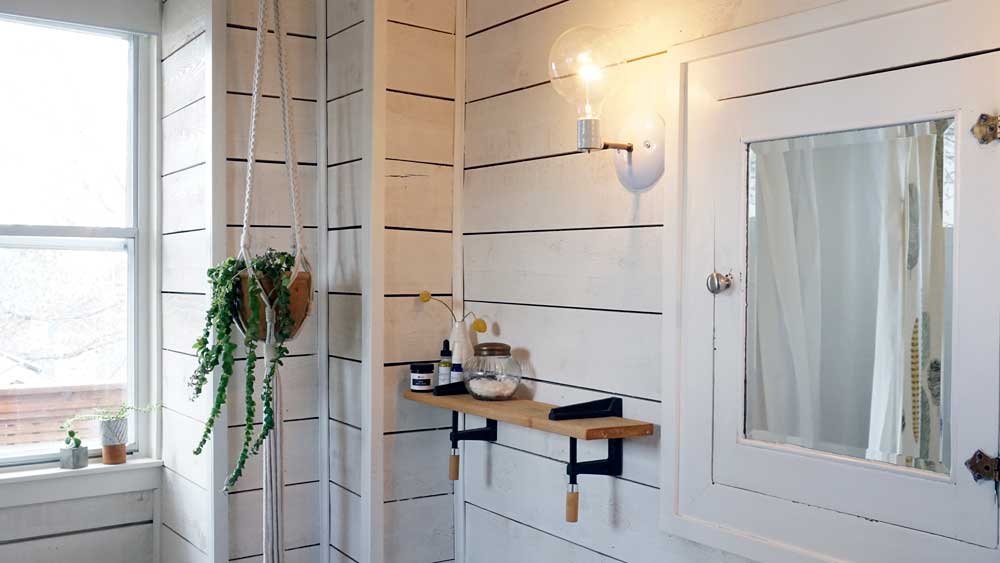 The white-washed shiplap walls of the bathroom give the room a ton of character while also making it feel spacious and airy. Knorr has added small ceramics that she has found throughout her travels.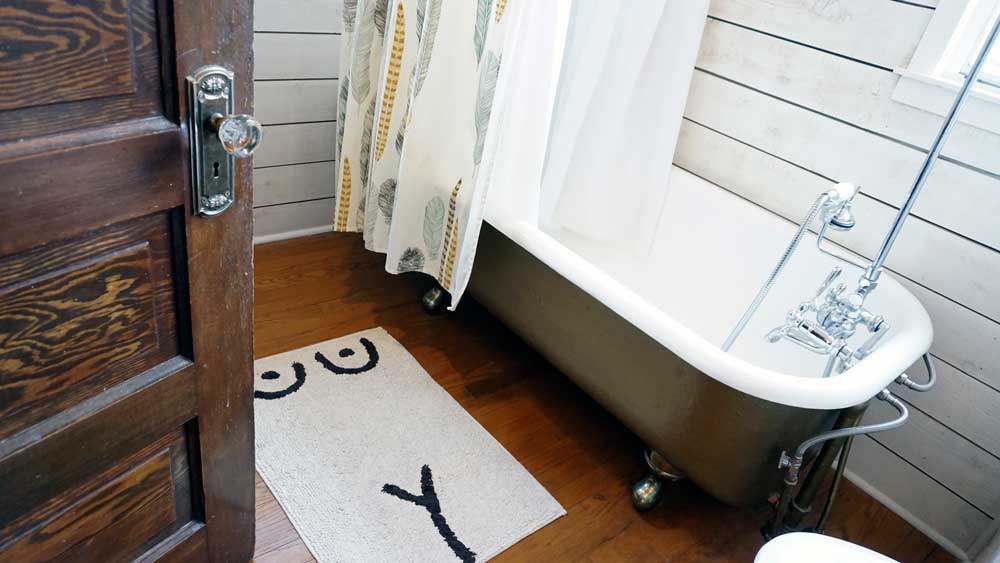 The bathroom would not be complete without the fabulous clawfoot tub and cheeky rug that is available through Fieldstudy.
Favourite view
"Definitely the front deck looking out over the street. I also love sitting on the upstairs patio. It feels like you are sitting in a treehouse, listening to the birds chirp and the leaves rustling."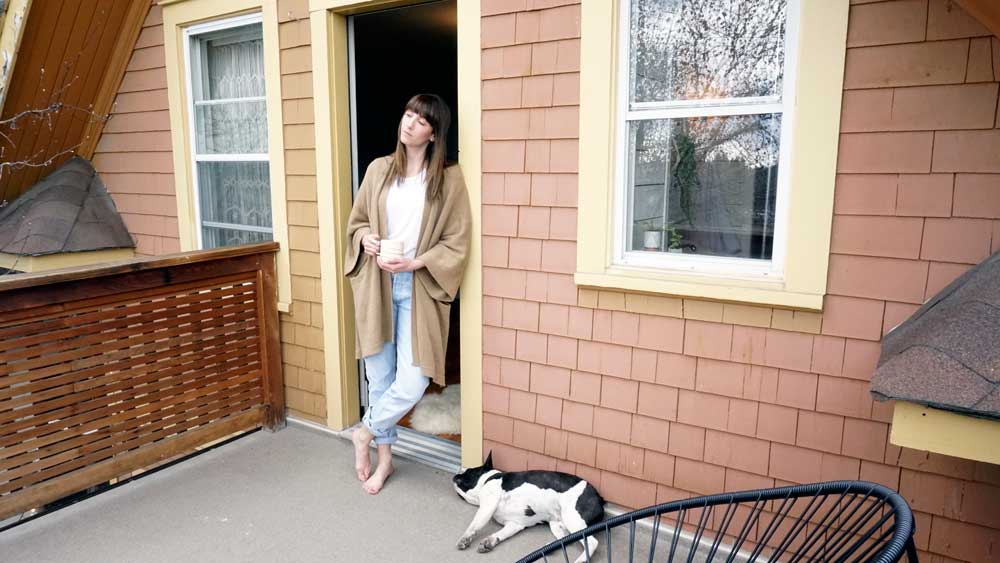 Knorr and Gus on the upstairs patio.
The studio room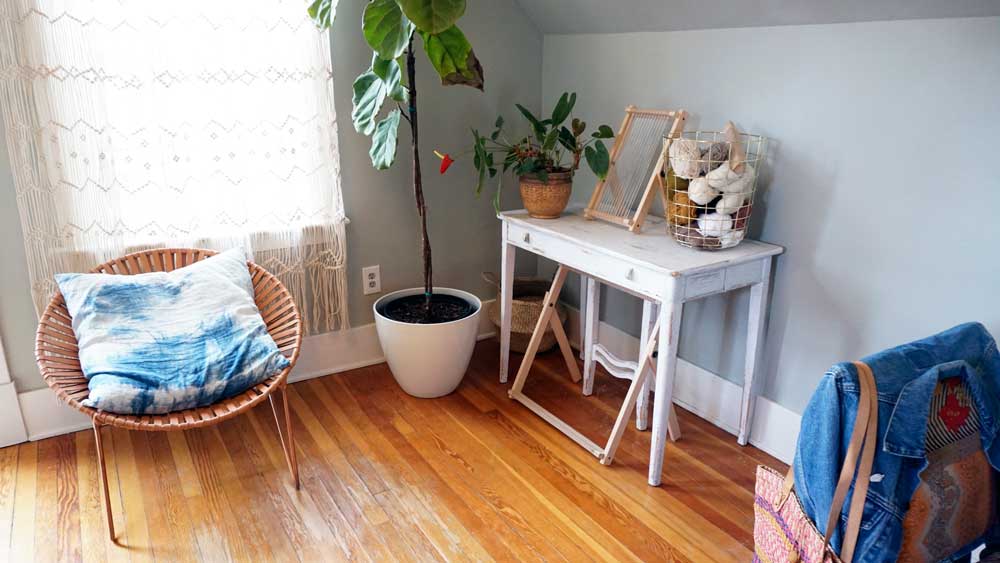 The studio room is where Knorr spends most of her time while not at the shop. She enjoys her hobbies like weaving or reading and enjoying the natural light that comes in through the back deck windows.
Favourite thing about living in her home
"The location. I love living in Marda Loop. I can walk to Phil & Sebastian in about three minutes. And we frequent the Belmont Diner for Sunday breakfasts. We live so close the dog park. We really couldn't ask for a better location."
Her next home will be…
"A project home. Something that is really personal to us. My husband and I would really love to build an A-frame cabin with a greenhouse for all of my cacti – somewhere in the woods near some water. I also would love to build a treehouse one day."