Much like their home, husband and wife, Stephanie Marlow Penner and James Penner have loads of personality. The couple recently launched their joint blog called Wildly Us, where they chronicle their life together. The entrepreneurial pair have also run a custom carpentry company together since their marriage.
After the Penners sold their previous home in Altadore, they were on the hunt for a piece of land to build their dream home on. Coming up empty-handed, the duo found this 1962 home for sale in Wildwood and fell in love with it. Five years later, they have put their mid-century bohemian stampe on the home.
The Penner's design philosophy
Steph: "I feel pretty strongly about your space being an extension of who you are, just like fashion is. I try really hard to curate what's in our home. We actually make a lot of things for our home or hire people we know to make pieces for us. It makes it really special to have that kind of love and energy attached to a piece of furniture. We want people to walk in and feel welcomed."
James: "I don't really have a design philosophy. I just like clean, straight lines and an easy to clean kind of space."
Favourite thing about living in their home
James: "I love the kitchen. I love cooking. I love food. I've cooked in many different places and there is something about this kitchen that is really great. It is set up very well and you can't beat cooking with gas."
Steph: "The flow of the space works really well for us. It is really great for entertaining, both indoors and outdoors. We also really love the location."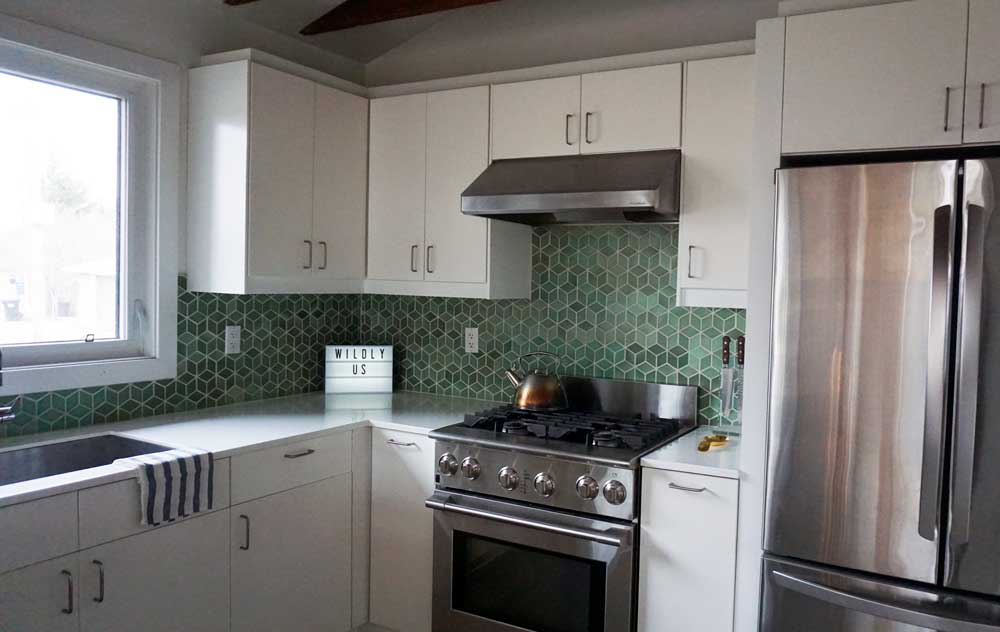 When the Penner's purchased the home, the kitchen had already been renovated and was beautifully refinished with modern touches.
Favourite room
Steph: "The dining room. We had our dining table made a few years ago and it has seen so many hours of good conversation, wine, food and friends. We love to entertain so this is definitely where we spend most of our time."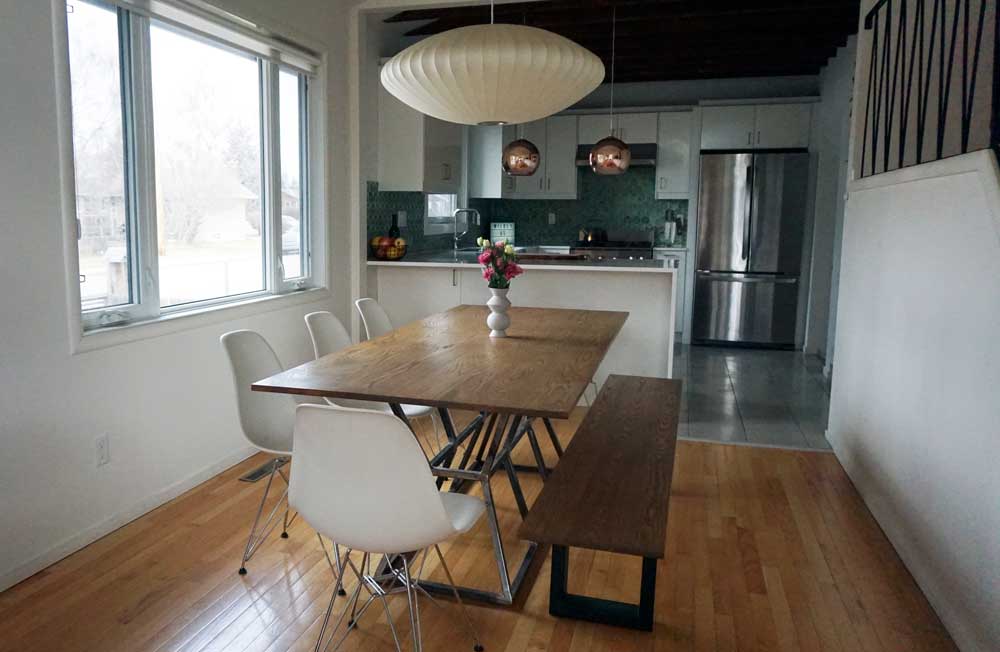 The dining room and open concept kitchen allow dinner guests to mix and mingle throughout the space.
Favourite decor find
James: "I really love the big cactus in our living room. We trucked it all the way from Vancouver with us. I had to rig the back of my truck to fit it in. We had the seats pushed fully forward all of the way back to Calgary."
Steph: "I really love all of the personal photography we have. I try to fill our home with good memories and photos of people we love."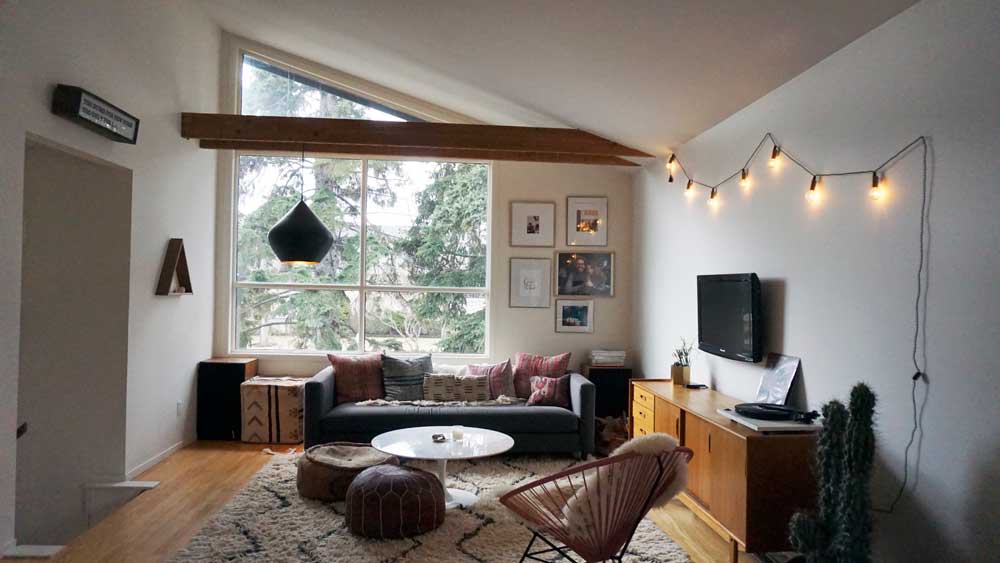 The mid-century angles and wood beams in the living room give the space a lot of charm and character, while the couple's framed personal photography makes a statement on the walls.

James' favourite decor item, this prickly cactus was purchased in Vancouver and accompanied the pair on a road trip through the Rocky Mountains. The couple has picked up textiles and pillows throughout their travels.
Most treasured item
Steph: "The credenza is my favourite piece. We do a lot of Kijiji shopping. We purchased the credenza from a sweet old lady who owned it since it was brand new. She was so sweet and chatty and we ended up talking to her for while which made bringing it home that much more special. I love having a story behind every item in our home."
James: "The record player that Steph bought me for my birthday is my most treasured item. I love collecting records and just relaxing with a stack on the weekend."
Favourite decor shops
Steph: "We love hunting on Kijiji. We love Kit Interior Objects, West Elm and Louche Milieu. Mid Century Dweller is another great spot."
James: "We do a lot of shopping when we travel, particularly in Vancouver since it is so close."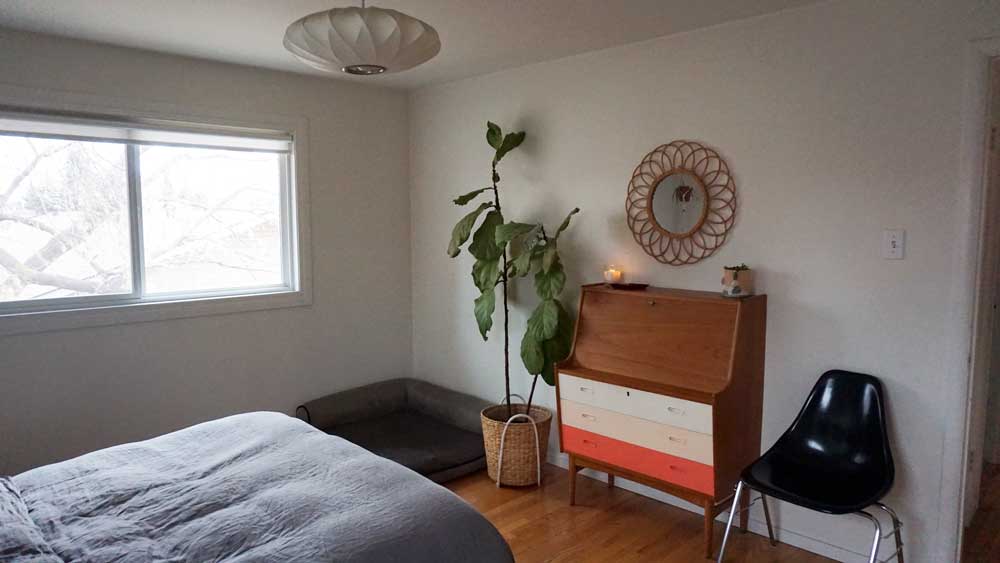 Steph turned this mid-century desk into a vanity and updated it with ombre paint.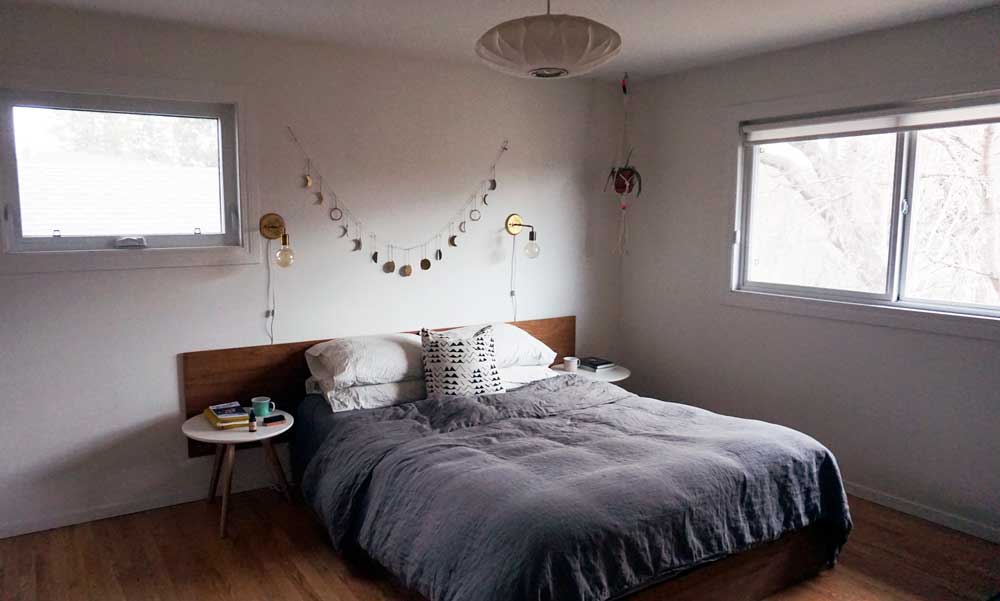 The master bedroom is a minimalist sanctuary for the busy couple with views of their backyard trees out the windows.
Inspiration comes from…
Steph: "I get inspired by being around other creatives that are passionate about what they do. I am very inspired by that confidence and sense of self."
James: "I feel very inspired when the sun is out and I've got some projects on the go. Productivity definitely keeps me inspired. We also get very inspired when we are road tripping together, stepping away from the everyday and seeing something new. We have our best discussions on the drive home."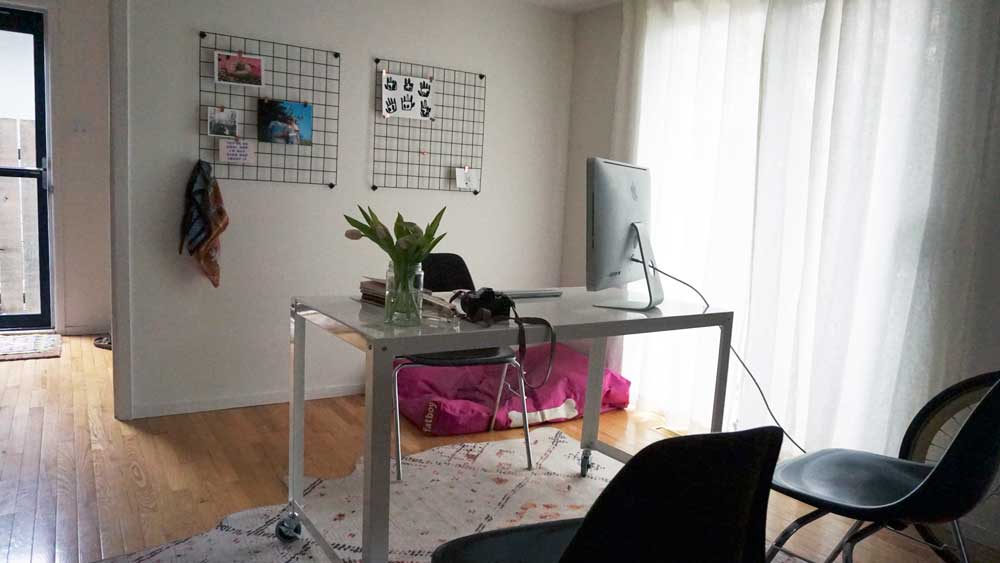 The office space on the lower level is the headquarters for creativity. This is where the couple plans out and writes their blog posts for their site, Wildy Us.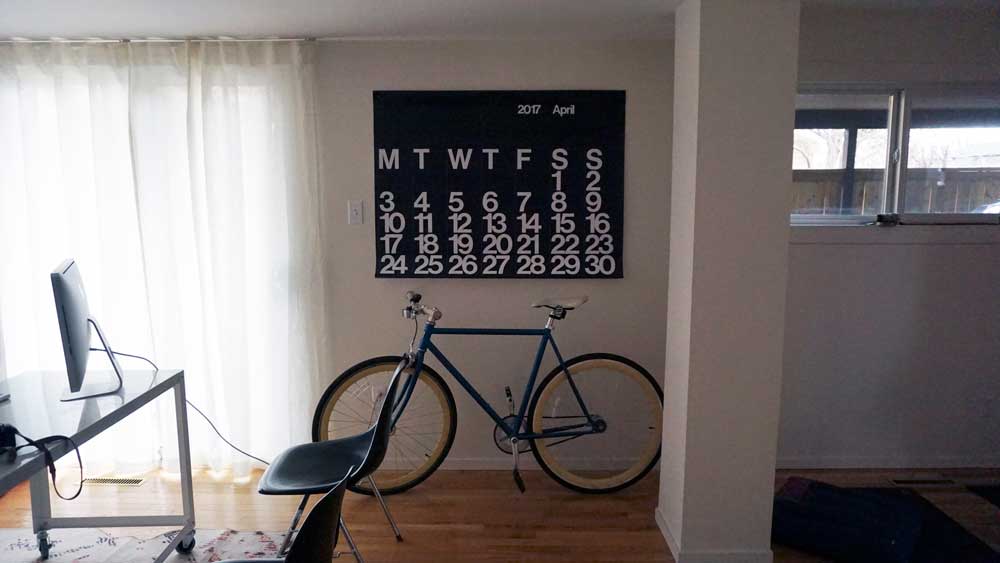 The lower split level of the home also has room for bike storage and a yoga practice area
Their next home will be…
Steph: "Our dream is to move to the Okanagan and buy a big property to create a space where other creative people could live and run their businesses from. It would be a very simple design with elements like concrete and wood."
James: "I make jokes about building this exact same house on a different property. I just really love the layout of it. I also really love the modular, pre-fab home concept. Lots of floor-to-ceiling windows and sliding doors. It is really ideal for that Okanagan lifestyle."