Meg and Guido Van Rosendaal's Home Designed Specifically for Inglewood
A front stoop, front garden and kitchen window facing the sidewalk are just a few neighbour-friendly features of this custom house by Marc Boutin.
By Ricky Zayshley
Photography by Bruce Edward
A

Neighbourhood

Gem

Meg Van Rosendaal takes great pride in her garden, but you'll have to excuse her if it is a bit overgrown from time to time. It's a victim of its own success.

When Meg and her husband, Guido, asked architect Marc Boutin to design their Inglewood home, high on their wish list was to find ways to integrate the home into the established community. "One of the things we said we wanted was a front stoop because we wanted to be able to sit on the front step and talk to the neighbours, and it's like that to a fault," says Meg. "I try and do any gardening out front and so many people stop by to chat that I have to kind of just give up."

Meg's connection to the neighbourhood continues inside the home, too. "The kitchen faces the street, so as I'm in the kitchen, people walking down the street wave at me," says Meg. "I know people just from them walking past my house."

Creating such a connection isn't an easy feat, especially when designing a contemporary house in an older neighbourhood such as Inglewood. But the Van Rosendaals worked very closely with Boutin and builder Phil Salgado of Westcastle Developments to respect the streetscape. The Inglewood Community Association has guidelines for materials and fenestrations it would like to see used in new buildings, and Boutin found creative ways to make both his clients and the community happy.

"It's a really important thing for an architect to spend that time – not just with us, but with the community we're coming into," says Meg. To help the Van Rosendaals envision their new home, Boutin created illustrations showing every home on the street in relation to their own design. This gave them an excellent understanding of the scale and look of the home in order to ensure it was in keeping with its surroundings.

"The street that Guido and Meg are on is a great street in the sense that the traffic is calm, and people use it to walk to connect to the river and the lawn bowling facility," says Boutin. "So to connect to it means that you're a participant in animating that street for your neighbours."
What's New is Old
When their new house was finished and they moved in, Meg and Guido Van Rosendaal had a distinct sense of dj vu. "It feels planted," says Meg. "It feels like it kind of grew here, and it isn't just perched here."
Boutin says the sense of familiarity achieved in the home is a result of the Van Rosendaals' close involvement with the design and building process. Meg and Guido had built homes in the past and came to the table with a clearly articulated set of needs.
"We didn't hand over to Marc and say, 'Design us a house.' We didn't go off and travel around the world for a few months and come home to find our house. It was daily, hands-on," says Meg. Boutin also points to the advantages of that hands-on approach. "If you go through that custom-design process and you listen well to the client, you ultimately find yourself crafting a series of spaces that are tuned to the way they live," he says. "So, although the house is new, the way in which the house embraces and celebrates their way of life makes it instantly familiar to them."
One space Meg instantly felt right at home in was the kitchen, a light-filled, compact room she worked closely with Boutin to create. "The sun streams into the kitchen, and Marc was great about letting me have a say on the layout of the cabinets that would suit me best," says Meg. "So the kitchen feels like it was tailor-made for me."
Good food and entertaining is a priority at the Van Rosendaal residence – the couple's daughter, Julie Van Rosendaal, is a noted Calgary-based food writer and Avenue contributor – and the kitchen and dining area, with its large, round table, is a welcoming place for everyone. "All our family is in town, and, when we're all together, there are 14 of us," says Meg. "And when my grandsons have sleepovers, there's five of them, and so it was intended to be a house that could be full of people and dogs and kids and whatever."
Boutin says it was important to determine how the house would meet the couple's needs today and tomorrow, as the extended family evolves. "When the kids are young they either want to be next to you, or you want to see them," he says.
He designed the main floor to be open while still maintaining a sense of room separation. It allows younger children to play and do what they want while still having a level of supervision. Older kids can interact with the family while still finding their own level of privacy.
A Light-Filled Home
One of the first things architect Marc Boutin asks clients to do before designing their home is to create a wish list – one that's objective and quantifiable and one that's qualitative, focusing on things that are harder to define, like quality of space or quality of light. For Meg and Guido Van Rosendaal, high up on their qualitative list was the desire to live in a light-filled home. They wanted a house where the light would shine through from one side to the other.
And that's exactly what they got. The expert use of light helps create some of the most memorable spaces within the home. Leading up to the second floor, the generously sized landing doubles as a laundry area, with closets cleverly hiding the washer and dryer, hanging racks and ironing board, and benefits from the light-drenched south exposure. It's one of Meg's favourite spaces in the house. "Whoever said that they have a great place to iron, but, man, it's a great place to do laundry," she says, laughing.
Further up the stairs takes you to another one of Meg's favourite spaces, the bathroom. "We have the best bathtub on the planet and sun pouring into the bathroom," says Meg. "It's not a very big bathroom, but it's completely divine."
Achieving this successful interplay between space and light started with basic design principles. Boutin created a simple infill form that could be built efficiently and then strategically cut spaces out of it to make it site-specific and tailored to the Van Rosendaals' needs. For instance, the front of the house is south-facing and gets lots of light throughout the day, while the back faces onto the backyard and, beyond it, a pathway and the Bow River. Taking advantage of the views and the light was paramount.
On the second storey, Boutin cut away from the basic box-like form to create a balcony adjacent to the office. It's a space that beautifully illustrates a successful relationship between the interior and exterior of the home, and it's an area Meg uses often. "You design a house and then you find yourself driving by to take a look at how they're doing, and interestingly Meg and Guido are often on the deck," say Boutin. "And it's south-facing, so it brings light deep into the plan, which is always a challenge with infill houses."
---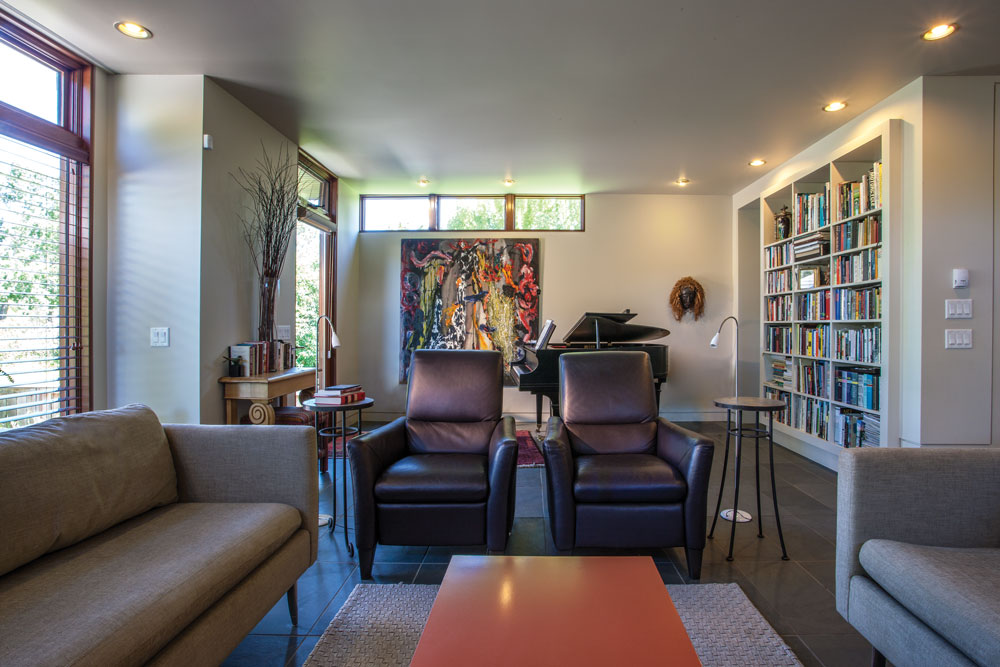 Incorporating their personal art and book collections into their Inglewood home was a must-have for Meg and Guido Van Rosendaal.
Family time spent in the kitchen is important to the Van Rosendaal clan. The room is located at the front of the house, giving its occupants a view of the street life outside.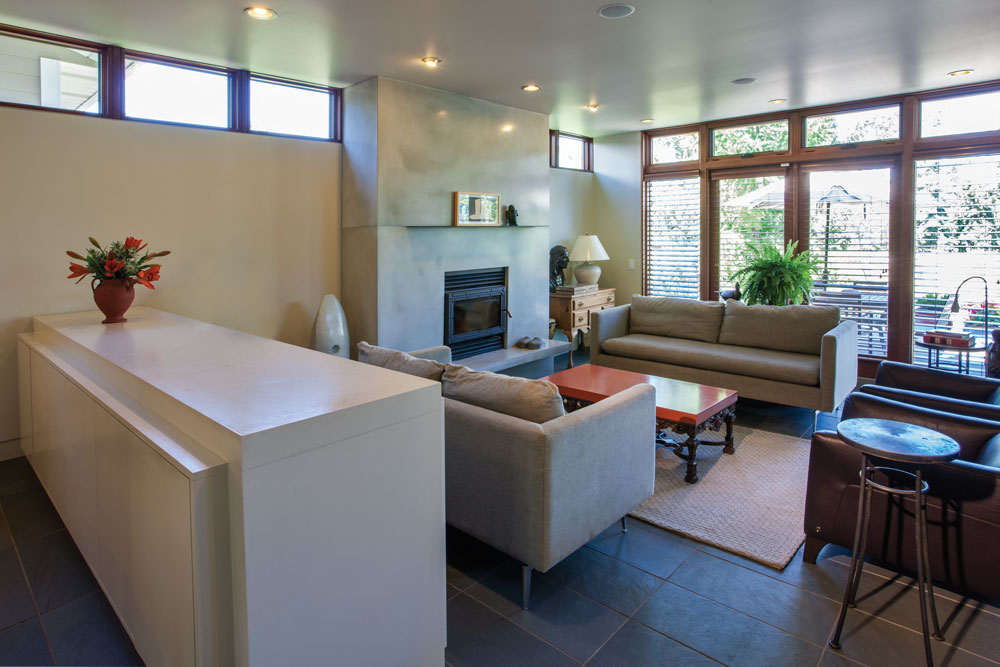 The family room flows from the kitchen, allowing excellent sightlines for entertaining and keeping an eye on little ones.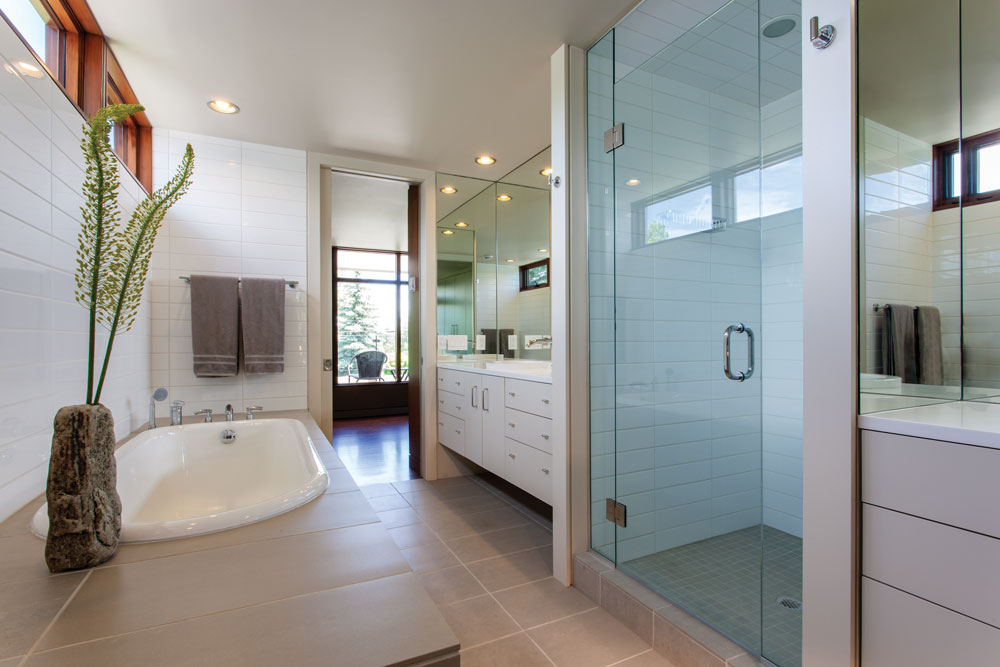 The light-filled bathroom is one of Meg Van Rosendaal's favourite spaces in the home.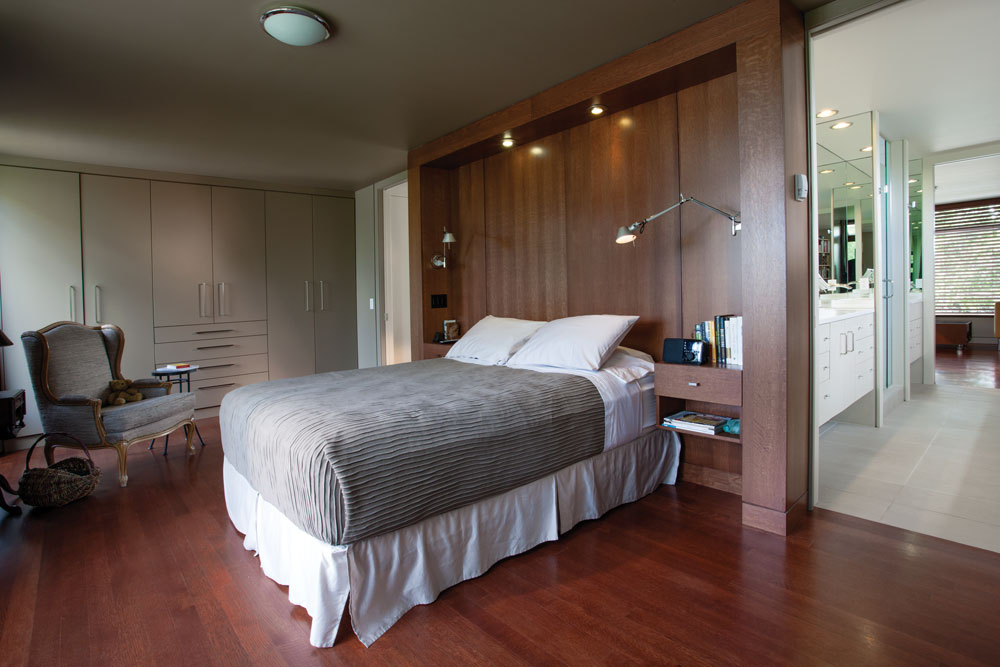 The dramatic headboard in the main bedroom was inspired by a design magazine and custom made for the Van Rosendaals.