When Sarah Geddes and her husband, Steve, started their search for a new house in 2011, they knew it needed to tick a number of boxes.
Office space for Sarah, who sometimes works from home running her media and PR company, Press + Post, was a key consideration, and, because the couple loves to entertain, a contemporary open-concept kitchen and living area was also on their wish list. And, with a toddler and a friendly golden retriever at home and a new baby on the way, they wanted their house to feel like a home.
A 1912-vintage house in Elbow Park caught Sarah's eye while she was driving in the neighbourhood, and, although the interior didn't match the couple's vision for a contemporary family home, she knew instantly there was something special about the historic property. "It felt like our house," she says.
A Family Lives Here
The couple brought in Shane Rennie, founder of Calgary-based luxury home renovation company Rectangle Design, to see whether it was possible to make their wish list a reality. Six months later, the dated interior was transformed into a contemporary, open space for a growing family to enjoy together.
"I have young toddlers," says Sarah, whose sons are now four and three. "I work very busy hours, I want to be around my kids when I'm making dinner."
The house, explains Sarah, has always been a family home, and it is important to her that the space feels warm and inviting. Durable furniture, reclaimed wood flooring and an open-concept kitchen and living area on the main floor blend function with the couple's "contemporary-eclectic" style.
About a year after the home was remodelled, the couple called upon interior designer James McIntyre of Calgary-based McIntyre Bills to further transform the decor and help select the furniture. He worked with Sarah to create a family-friendly space that supports the family's lifestyle.
"It's a place where we can kick our heels up and relax, instead of stressing about stains on the couch or scratches on the floor because the dog's running to the door and she's excited to see you," Sarah says. "A family lives here."
A Century of Heritage
When Sarah Geddes and her husband, Steve, fell in love with the 103-year-old Elbow Park house, they wanted to create a modern space for their young family while honouring its history.
Pre-renovation in early 2012, the house was divided into distinct and separate spaces that didn't suit the Geddes's contemporary lifestyle.
"We wanted to respect the heritage of the neighbourhood," Sarah says. "But we made the interior a little bit more reflective of what we were looking for in a space."
A dramatic renovation by Rectangle Designs knocked out several walls on the main floor, creating a large, open kitchen and living area, with several new windows to let in the light.
Upstairs, Rectangle built innovative storage solutions into the home's unique sloped ceilings. "They took advantage of every single nook and cranny," says Sarah.
The couple wanted to stay true to the heritage aesthetic of the home and the community, and, with the help of McIntyre Bills designer James McIntyre and the team at Rectangle Design, their reimagined space features several nods to the house's past. French doors that formerly separated the living room from the main foyer have been given a new lease on life in Sarah's basement office, and the wood floor in the living and kitchen areas was reclaimed from a British Columbia cannery that also dates back to the early 20th century.
The floor, says Sarah, is one of the best things about her renovated space. "On any given night … a four-year-old and a three-year-old are pushing trucks and running, and a dog is chasing them, and this floor just looks better and better and better," she says.
A Sense of Community
The Geddes's thought their renovation days were behind them after they moved into their updated Elbow Park home in August 2012. But the June 2013 flood destroyed the basement of their 1912-vintage home, including the office where Sarah often worked from home.
The flood affected everyone on the Geddes's street, and, as they worked together to clean out and rebuild their homes in the months that followed, it became the catalyst for lifelong friendships. "Everybody kind of pitched in to help each other, and you got to know your neighbours in a really personal way that I think brought the community together," Sarah says. "As much as the flood was a really traumatic event, it really brought the neighbourhood together. I've never experienced this type of community anywhere else."
Sarah says people often ask her whether or not her family has considered moving away from Elbow Park in the event of another flood, but she and Steve have decided to stay put.
"You don't walk away from history because of discomfort," she explains. "It just wouldn't feel like home anywhere else."
---
Honouring Your Home's History
Homeowner Sarah Geddes and designer James McIntyre of McIntyre Bills share their tips for renovating a home with history.
Context is Key
"When you walk through the door of an arts-and-crafts home, you don't want to feel like you're in a spaceship," says Sarah. Choosing finishes that honour the history of the house will put contemporary renovations in context.
Don't Fight the House
McIntyre urges homeowners to stop fighting their house's past. "What I tell people is to embrace the heritage of the house," he says. "Work with the bones of the house."
Stay True to Yourself
Sarah says she and her husband, Steve, "can see ourselves" in every corner of their Elbow Park home. The two, adds McIntyre, "are not afraid to be themselves" when it comes to design. "I think, psychologically, it feels happy [in their home]," he says. "It's well-suited to who they are."
---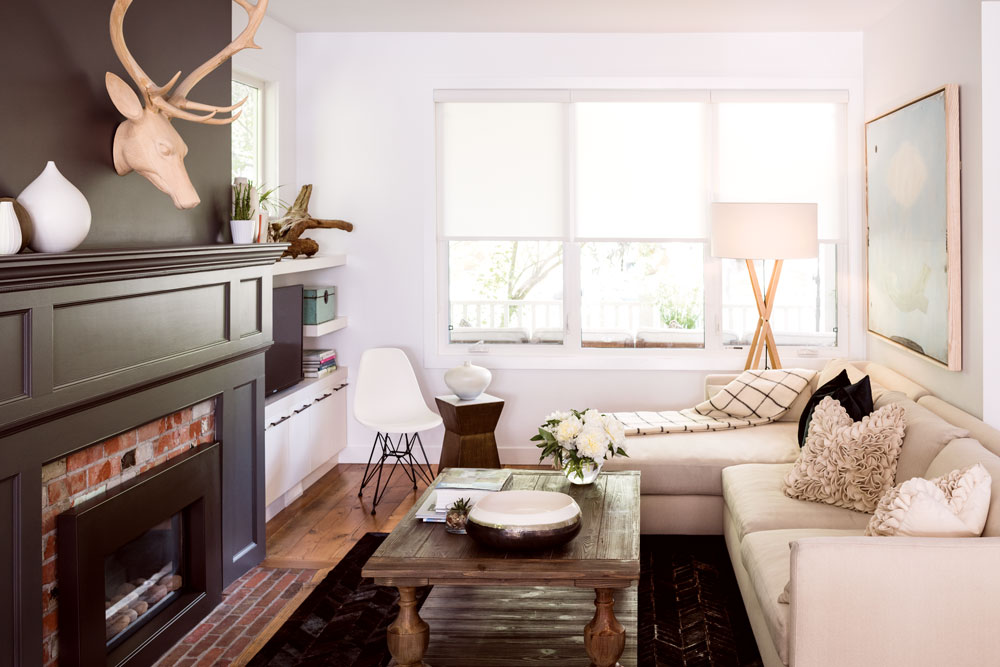 Reclaimed wood floors from a cannery in British Columbia are installed throughout the main floor.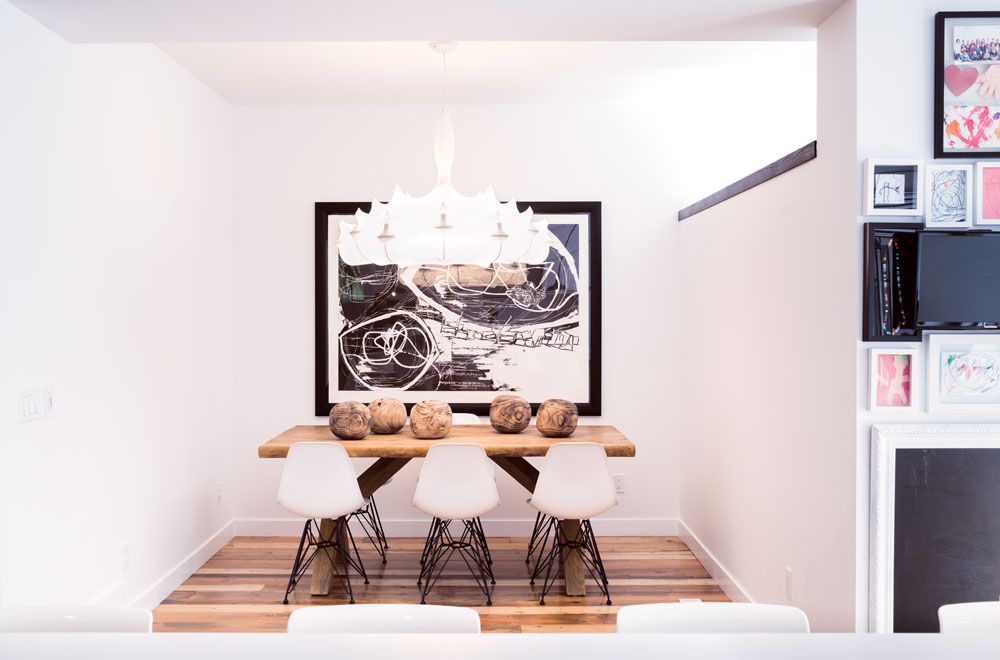 Modern touches from a Moooi light fixture and white Eames chairs blend harmoniously with the rustic wood floors and dining table.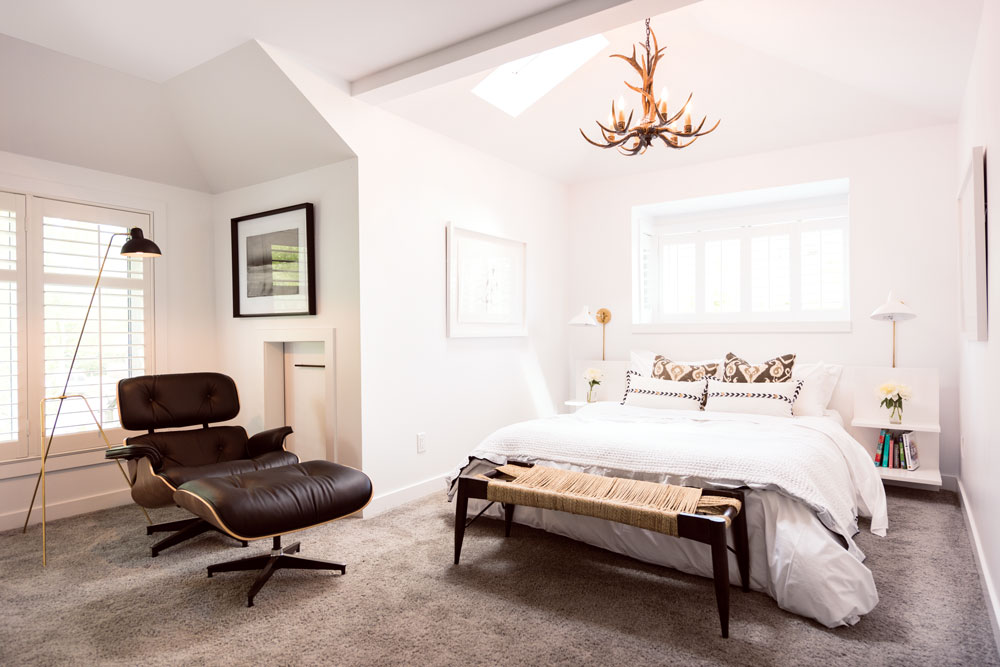 A comfy Eames lounge chair in the owners' bedroom suite provides the perfect place to relax in the busy family home.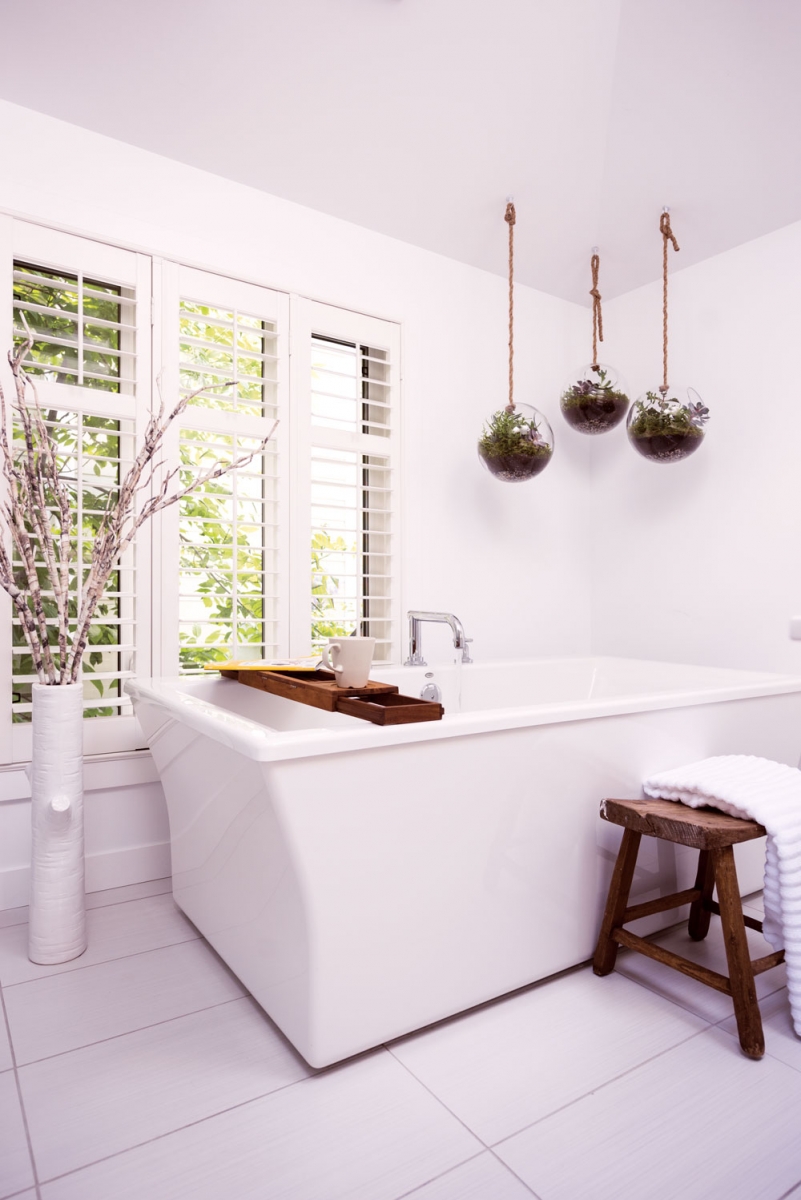 The ensuite, awash in light, features an oversized tub and a collection of three hanging terrariums.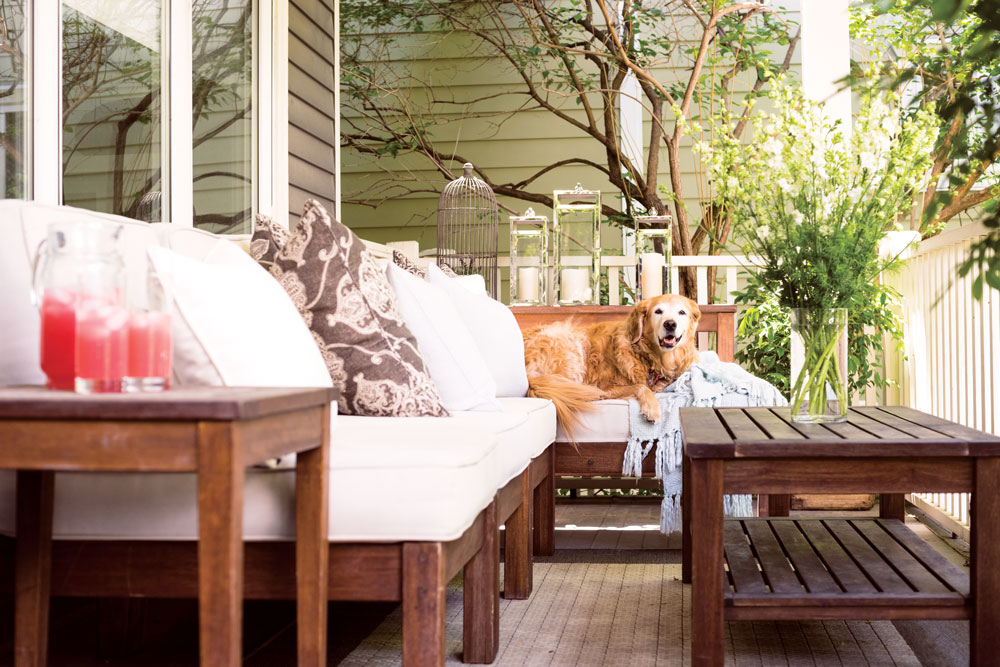 The family, which includes their friendly golden retriever, Sammy, takes advantage of the gracious front veranda facing the picturesque tree-lined street.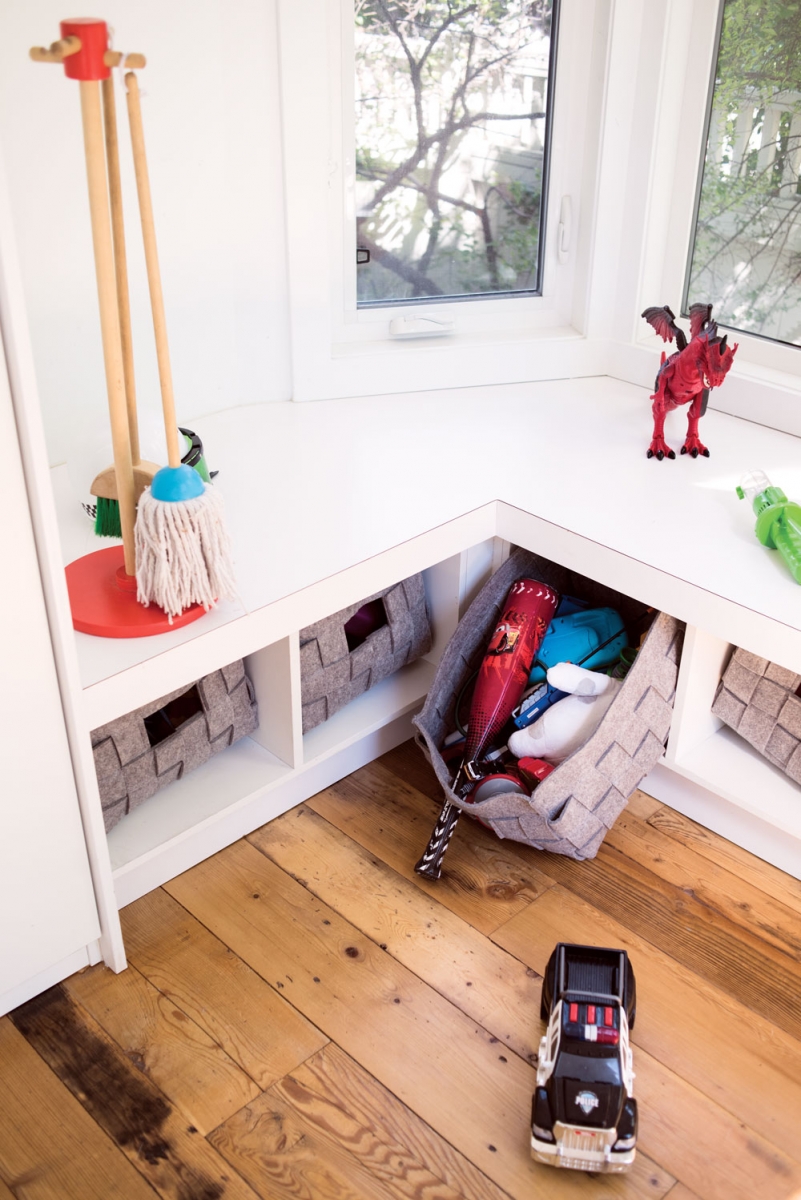 Despite the house's sophisticated decor and design, it's primarily a family home with toys often taking centre stage.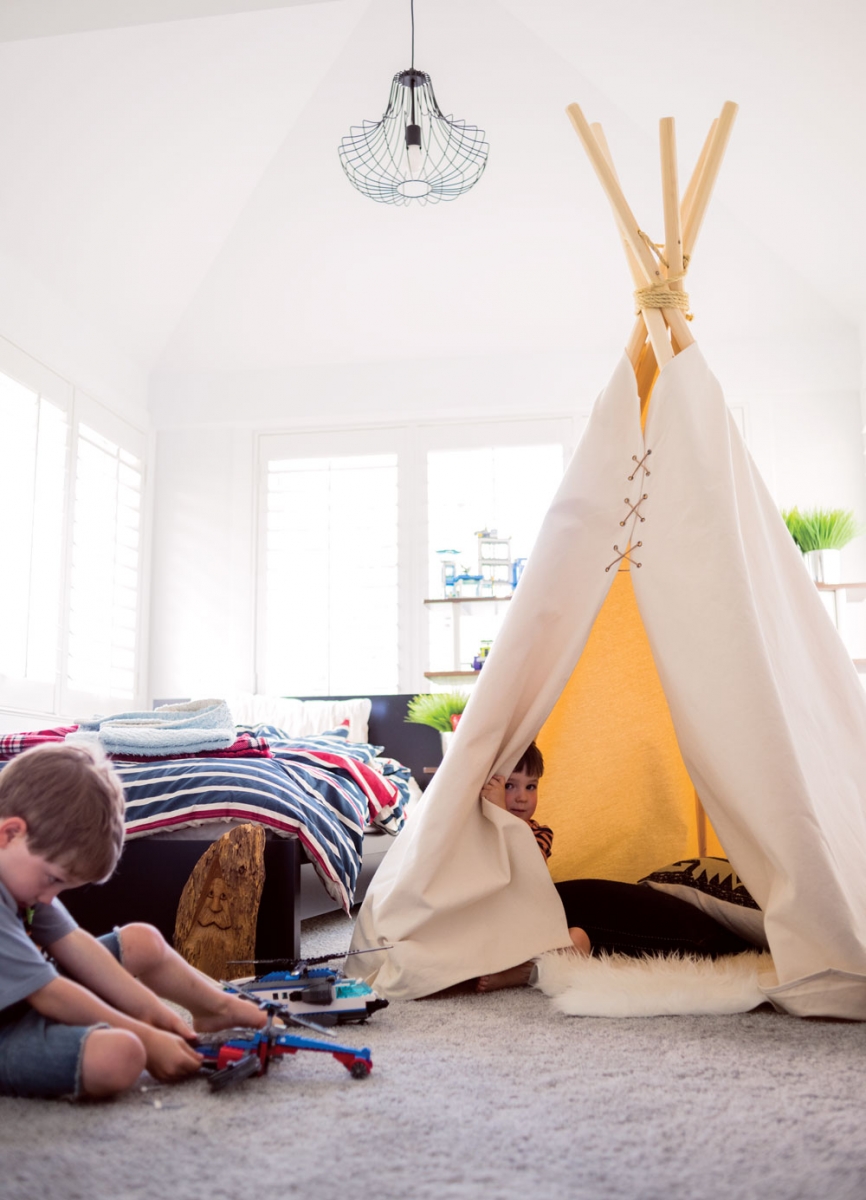 Mick, three, plays in a teepee Sarah purchased on Etsy, while his brother, Hayes, four, tinkers with his Lego helicopter collection.