Since it opened in 2008, Rewind Consignment Clothing has gained a loyal local following at its quaint shop located on the corner or Macleod Trail and 10th Avenue S.E.
Owner Krista Duckworth-Hopfauf's love of fashion is evident at the boutique, as is her commitment to supporting the recycling movement and providing quality clothing for a fraction of the price of traditional retail stores. "It's like shopping the closets of your friends or women whose style you might admire on the street. It's a way for people to gain quality garments for a fraction of the cost while supporting the recycling movement," she says.
When did you open Rewind? What inspired you to start your own business?
Rewind opened in 2008. A business like this is something I felt was a great fit for me – unpretentious, unique and fashion oriented.
What do you think sets your store apart from other consignment shops in Calgary?
The shop has a unique selection, reflective of some of Calgary's most stylish women. It's like shopping the closets of your friends or women whose style you might admire on the street.
Our mandate with our jewellery and some of our accessories is to support local, so everything is handmade by local or independent designers. The response has been positive with our customers and we continue to showcase local talent, including local art adorning our walls.
The space itself is also has heritage charm with an exposed brick wall and tin roof.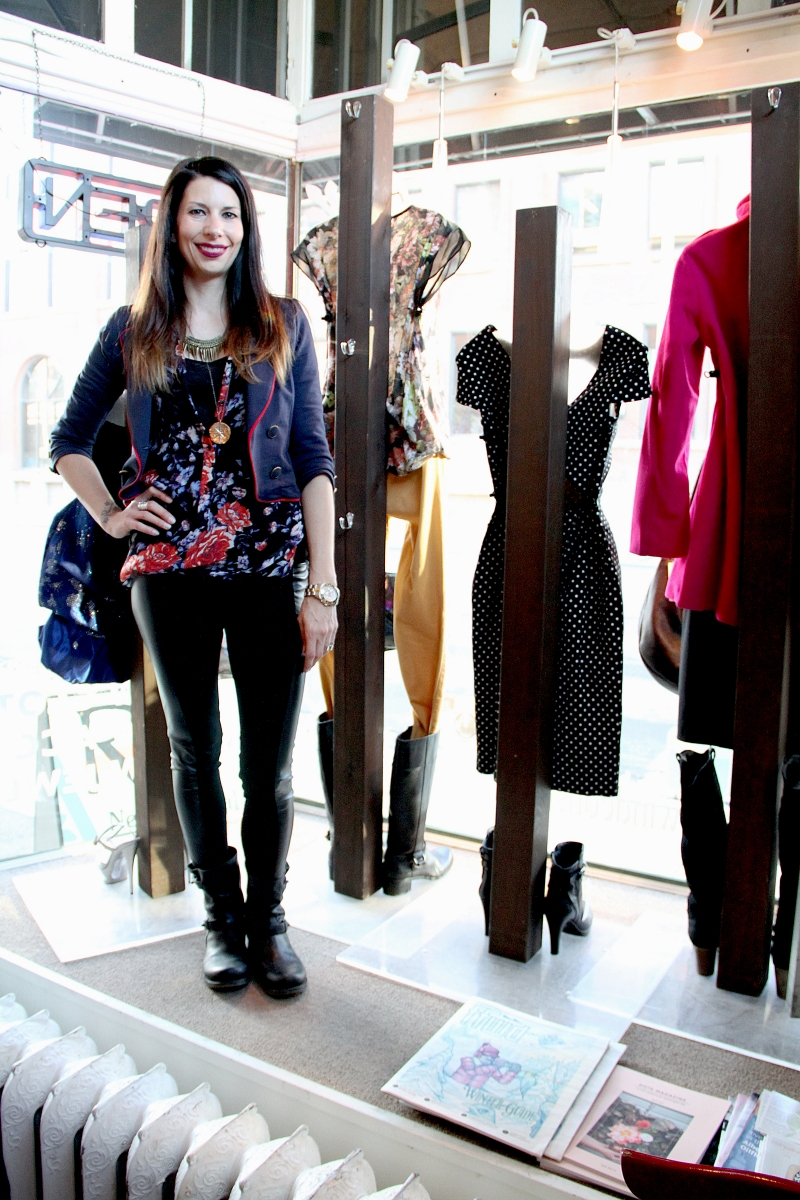 Rewind Consignment Clothing owner Krista Duckworth Hopfauf poses in her charming boutique.
How do is running a consignment store is different from other retailers?
Running a consignment shop is a lot different than regular retail because we are constantly taking in items, as opposed to buying new items from merchandise suppliers seasonally. So consignment is quite a lot more work and you just never know what's going to come through the door.
Some of the best things about being in this business is that you actually feel a connection to your community and the local economy.
Being an independent retailer off the beaten track you don't have the exposure and traffic that malls or box stores have, but we have a boutique environment that's relaxed and unique, and a lot of people gravitate toward this.
Do you carry new items as well as consignment?
We showcase local jewellery and accessory designers and artists, as well as unique, new boutiques lines like Pink Martini, Lovely Girl & C'est Moi. In our consignment collection we carry a variety of clothing from trendy street wear, cocktail dresses and quality professional pieces for the office, as well shoes, boots, handbags and belts.
What fall/winter jewellery and fashion trends are you personally the most excited about and why?
I'm most excited about leather and fur still being in the mix this season, as well as bold statement jewelry like chunky rings and necklaces. This time of year it's all about layering and incorporating colour and fun accessories that express a person's individual style.
What three pieces do you have in store right now that you're really excited about and why?
I love so many things in the store right now. From expensive footwear like a pair of over the knee Louboutin heeled boots, beautiful coats from labels like Stella McCartney and Mackage, beautiful cocktail dresses for the Christmas season and loads of unique, cool jewelry.
Do you have any tips or tricks for anyone who's reluctant to shop consignment?
If someone is shopping consignment for the first time, I'd suggest being open-minded. Look for things that are "you" or labels you love, as opposed to a specific type of item. Take the time to try things on and don't be afraid to ask questions. Ask for help looking for things, putting things together and even about prices and brands you find in the store. As the retailer we want to stay open minded too, so we appreciate feedback and different perspectives on fashion.
Rewind Consignment Clothing, 1002 Maceod Tr. S.E., 403-263-6669, rewindconsignment.com
This story was part of Avenue's free weekly Style Newsletter. Sign up now and get home decor and fashion information and advice in your inbox every week.