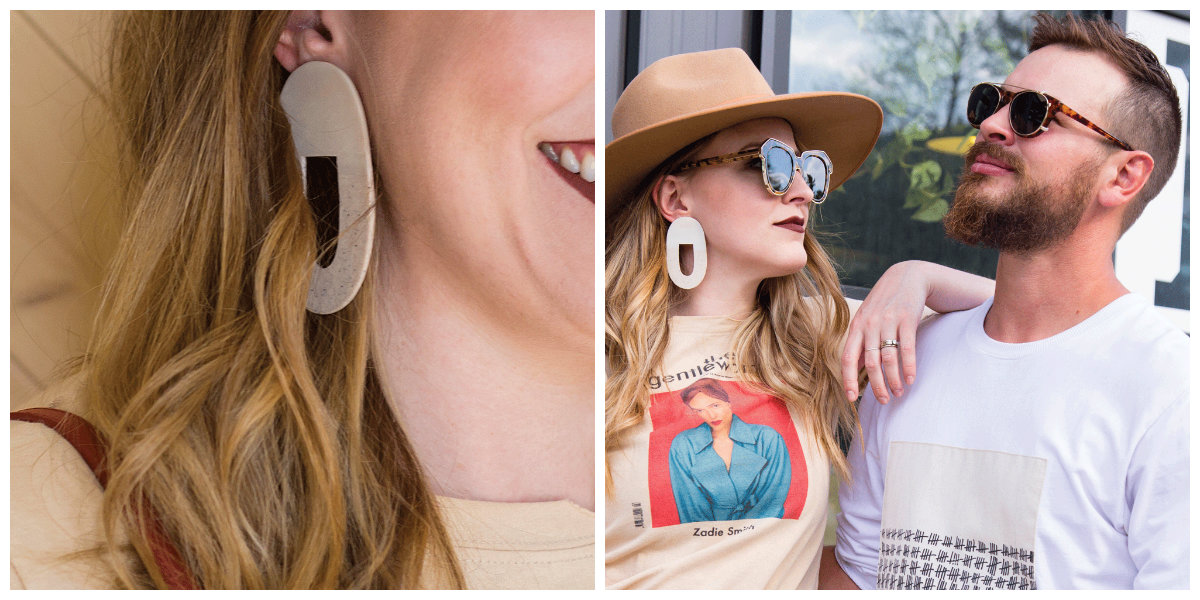 James Penner | Carpenter and owner of James Frames Building & Construction
Stephanie Marlow Penner | Blogger, stylist, florist and sometime-model
Describe this outfit and why you love it.
Stephanie Marlow Penner: I've been wearing these pants with everything! I don't like outfits to be fussy, so pairing my fave pants with a T and some good earrings makes me feel sexy, confident and me.
James Penner: This top has a story, it's my "blessings" shirt. Each of the tallies in the graphic on the front represent a blessing. That was the maker's story; I just loved it and adopted it.
Describe your everyday style.
S.M.P. I wear a lot of variations of cropped white Ts, a good high-waisted denim and a wide-brimmed hat.
J.P. I'm all about quality, good fit, function, interesting fabric or pattern, versatility and timelessness. I can pick anything out of my closet and go from hanging out at home, to going for a bike ride, to going for beer and then out to a nice dinner party and everything looks and feels great across the board.
What or who is your style inspiration?
S.M.P. I feel really inspired by people who are super confident and sure of who they are. It doesn't really matter what they're wearing or who they are, if they are owning it and rocking it, I admire that. I'm also for-ever inspired by Iris Apfel.
J.P. Honestly, just doing me is pretty important.
Favourite local clothing stores?
S.M.P. Fieldstudy. Honestly, I'd kind of like to take everything home with me.
J.P. Modern Menswear was forever my go-to. NAQP is a new favourite. And Less 17 [for accessories].