While taking a year off from her job at an engineering company, longtime vegan Crystal Brown realized that she and her friends had a similar problem: they had a hard time finding vegan products in Calgary, and shopping for them online was difficult since you couldn't try things on in advance.
Brown decided to solve that problem by opening the city's first vegan boutique, The Grinning Goat, at the beginning of September. All the products in the 900-square-foot store are ethically made, cruelty-free and vegan. The store is also PETA-approved.
The Grinning Goat's name comes from Brown's time volunteering at The Alice Sanctuary, a local sanctuary for rescued farm animals. She named the first goat to live at the sanctuary Arwyn (which means "friend of the people"), and that's who the store is named after. You can check out the goat's picture on the desk when you pay.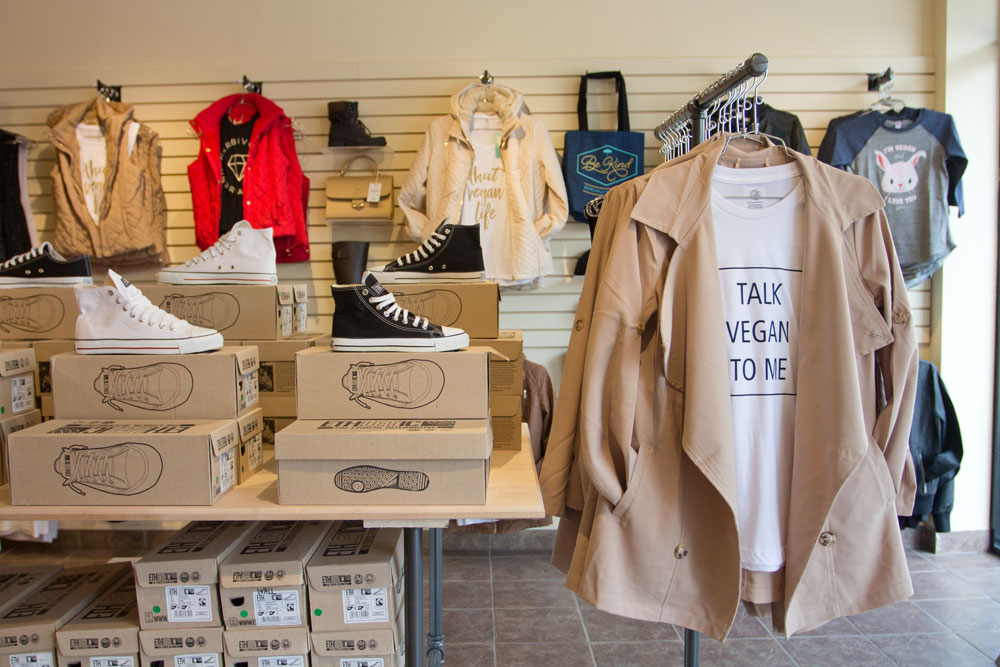 photograph by alana willerton
The Grinning Goat offers a selection of vegan (and vegan-themed) outerwear and apparel, including T-shirts from Calgary's Talk Vegan to Me brand that feature fun sayings like "Guac It Like It's Hot" and "Talk Vegan to Me." You can also shop for items from The Herbivore Clothing Company and Wully Outerwear.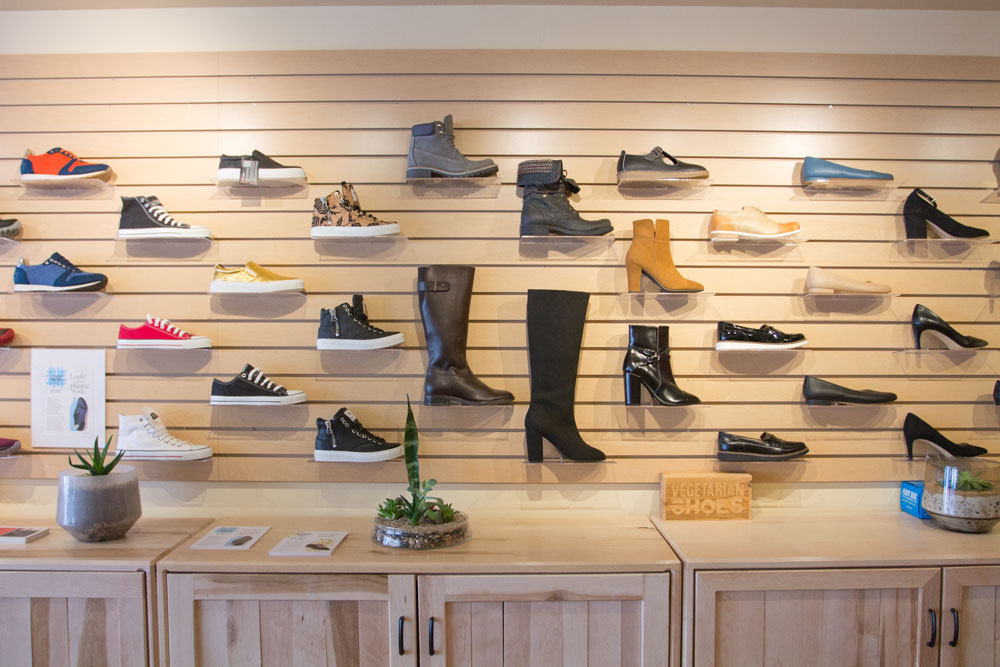 photograph by alana willerton
The store's main focus is on vegan shoes for men and women. While most people know that shoe materials like leather can come from animals, Brown says many people aren't aware that the glue in most non-vegan shoes is also made from animal products. At The Grinning Goat, you won't find that. The store's selection of vegan shoes are made out of everything from cork to organic cotton to pineapple leather, which is a textile made out of pineapple leaves.
The shop carries a selection of heels, boots, flats and sneakers from brands such as Ethletic (basically a vegan version of Converse), Nae, Will's Vegan Shoes and more. Even babies can get in on the vegan action thanks to a selection of baby shoes from Scooter Booties.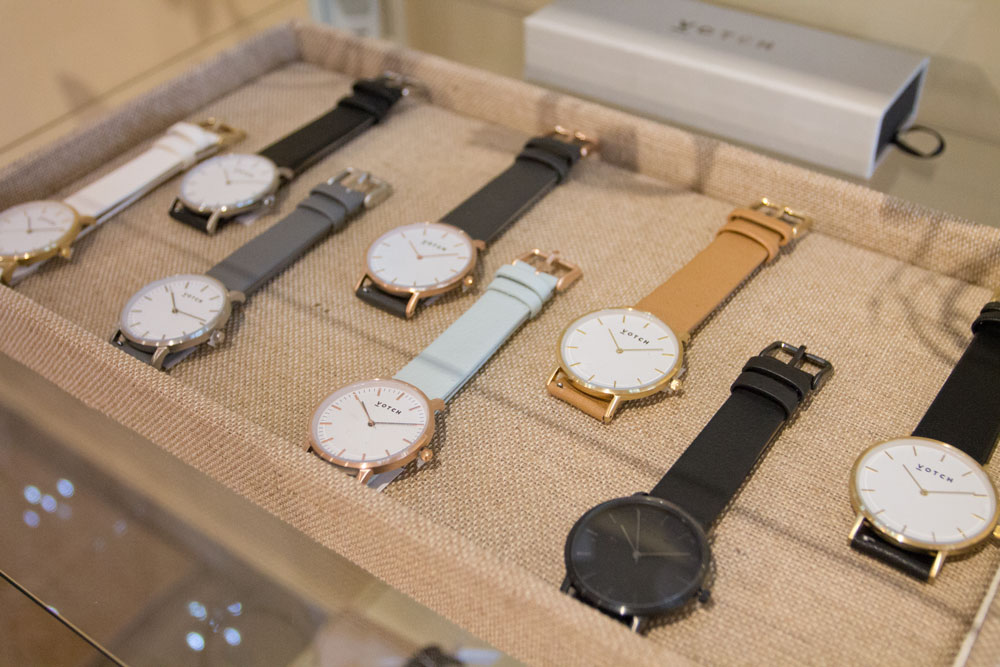 photograph by alana willerton
There's also a great selection of vegan accessories. Check out delicate jewellery from Toronto's Jewels by SJB, luxury vegan handbags from New York's Gunas and vegan leather watches from London-based Votch.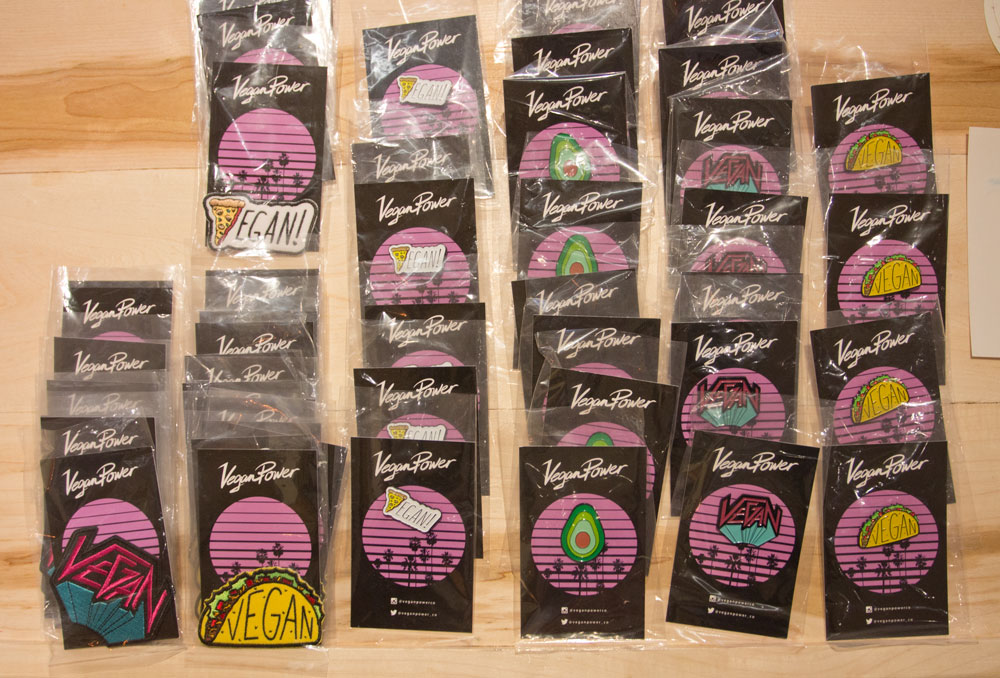 Photograph by Alana Willerton
Plus, there's these pins and patches from California's Vegan Power that are just begging to be added to the lapel or front of a denim jacket.
101, 323 17 Ave. S.W., 587-350-4628, grinninggoat.ca, @thegrinninggoatyyc