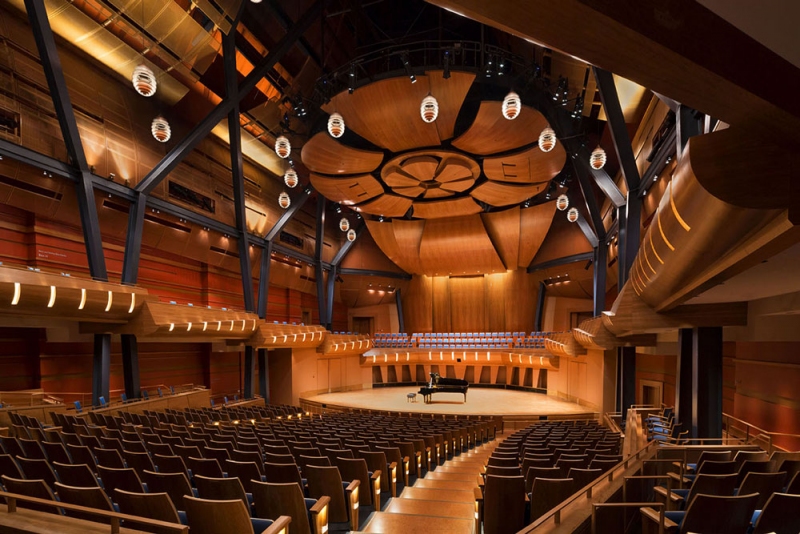 Currie Barracks has been a key area in Calgary for more than 100 years. It was originally designed for military use and formal manoeuvers were staged here leading up to the First World War. Now the third major southwest Calgary project by Canada Lands Company, Currie Barracks will remain an important part of Calgary. It is about to become a new urban village.
When it's completed, Currie will be home to more than 12,000 people living in apartments, condos and single-family homes. There will be numerous businesses located here, over 23 acres of sports and recreation fields, dog parks and playgrounds, and a network of trails and pathways for walkability. It's just seven minutes from downtown and next to Marda Loop, Garrison Woods, The Westmount Corporate Campus and Mount Royal University.
Here are 10 things to do in the area.
The Bella Concert Hall officially opened in fall 2015. With just over 780 seats, its interior structure is designed like a barn to make the acoustics at the hundreds of performances that take place there each year some of the best. Coming up, New York duo Igudeman & Joo are scheduled to perform their combination of comedy and classical music. If you would rather create than listen, the Bella is part of the Taylor Centre for Performing Arts at Mount Royal University. The centre has classrooms and studios where it offers classes that include adult singing and Suzuki workshops for kids.
Mount Royal University, 4825 Mount Royal Gate S.W., mtroyal.ca
Once a month, the Garrison Curling Club offers curling lessons for Calgarians who have never tried the sport before. You'll work with a certified instructor alongside other interested curlers who have dropped into the venue. The one-hour lesson costs $10 and all the equipment you need is included. The next upcoming lessons are on March 6 and April 10 – there's no need to reserve your spot.
Garrison Curling Club, 2288 47 Ave. S.W., 403-242-8191, garrisoncurling.com 
The Wild Rose Brewery Taproom is in AF23, an old building left over from Currie Barracks' time as a military base. Tour the brewery Wednesday nights at 7 p.m. for $29 or stop by for drinks and a meal. The taproom has most of its beers on tap as well as a menu of beer blends like the Pink Velvet which is half Wraspberry Ale, half Velvet Fog and 100 per cent delicious. The beers pair with a menu that includes bangers and mash, mac and cheese and pulled pork tacos. Kids are allowed into the taproom during the day.
AF23, 2, 4580 Quesnay Wood Dr. S.W., 403-727-5451, wildrosebrewery.com
Pips Board Game Caf, which opened in late 2015 in Marda Loop, is the first board game caf to open in Calgary. Here, you're encouraged to play while you eat. For $5, you can play as many board games as you like – the space is licensed with a full service restaurant. The menu includes burgers, mac and cheese, grilled cheese sandwiches and more.
Pips Board Game Caf, 2015 33 Ave. S.W., 587-349-0047, pipscafe.com 
The Military Museums highlights wars fought by Canada's navy, army and air force. Teach the kids about the past or brush up on your history. Here, you can experience what it would have been like to walk through a trench on the front line while fighting in the First World War, learn about the importance of the enigma machine and visit a World Trade Center artifact. Currently, there is also an exhibit on the Cold War.
The Military Museums, 4520 Crowchild Tr. S.W., 403-410-2340, themilitarymuseums.ca 
You'll want to stop by Glamorgan Bakery for all your carbohydrates. If you're looking for something that's going to please everyone, opt for the cheese buns. They're hearty, they're cheesy and you can choose either white or brown bread buns. And while you're there, you might as well stock up on banana loaf and danishes too.
Glamorgan Bakery, 19, 3919 Richmond Rd. S.W., 403-242-2800, glamorganbakery.com
If you're already an experienced outdoorsman, know that Norseman Outdoor sells all the gear you could possibly need for activities such as snowshoeing, cross-country skiing, hiking and ice climbing. If you're not exactly outdoorsy, register for one of the cross-country ski lessons offered through the shop. Every weekend, Norseman Outdoor has either snowshoeing or cross-country skiing lessons suitable for beginners or families.
Norseman Outdoor, 4655 37 St. S.W., 403-249-5451, norsemanoutdoorspecialist.com
Garrison Woods' Anew Table has a constantly changing menu based on the available seasonal ingredients, but diners can always expect fixed price three- or five-course menus. Your dinner will be a surprise, but a pleasant one. Add wine pairings to your dinner for an additional $25 or $35.
Anew Table, 3574 Garrison Gate S.W., 403-727-1277, anewtable.ca 
Mountain View Bowling is an old-fashioned bowling alley, complete with 1950s-style diner booths you can have dinner at after your game. Invite friends for a game of five-pin or 10-pin bowling here – come on a Thursday to experience '50s date night. For something a little more neon, opt for a glow-in-the-dark game on the weekend instead. And if you're a little more serious when it comes to bowling, Mountain View Bowling also has leagues. (Registration opens in the fall.)
Mountain View Bowling, 3919 Richmond Rd. S.W., 403-249-0858, mountainviewbowling.com 
This Marda Loop restaurant comes from Jody Barned of JoJo's BBQ food truck and Margie Hope from the Blamwich food truck. Meet a friend at this casual and cozy restaurant and share the popular Ploughman's Lunch. For $19.50 you'll get a range of meats, cheese, breads, pickles and fresh fruit.
The Farmer's House, 2138 33 Ave. S.W., 403-727-1188, farmershouse.ca 
This content was produced in partnership with the advertiser by RedPoint Media for commercial purposes.