There's more to dining in Las Vegas than the all-you-can-eat buffets. Whether you're looking to dine right on the Strip, go downtown or get out of the heart of it all for an evening meal, there's something to suit every taste and every budget.
Beer braised short ribs from Searsucker
Searsucker is a laid-back restaurant where celebrity chef Brian Malarkey puts a contemporary spin on classic American dishes. While it's hard to go wrong with a 36-ounce tomahawk steak, try the beer braised short ribs instead. It's one of Searsucker's signature dishes and the ribs are paired with horseradish potatoes and crispy onions.
Caesars Palace, 3570 S. Las Vegas Blvd., 702-866-1800, searsucker.com
BLTA stack from Café 6
Located on the sixth floor of Palms Place, you'll get breathtaking views of the city without actually being part of the buzzing energy on the Strip. Café 6 is all about traditional American food, but with a slight twist. Opt for the BLTA stack. It's got all the usual ingredients you'd find in a BLT sandwich, as well as avocado. To mix things up even more, this sandwich comes as a hoagie.
Palms Place, 4381 W. Flamingo Rd., 702-944-3292, palm.com
Anchor Bar's first location was in Buffalo, New York. And it was Teressa Bellisimo who created the Buffalo wing that we all know and love, back in 1964. Now you can find those well-loved wings on the Las Vegas Strip. Order the wings the restaurant's known for: the perfectly golden, crispy chicken wings tossed in Buffalo sauce.
Grand Canal Shoppes at The Venetian, 3377 S. Las Vegas Blvd., 702-545-0050, anchorbar.com 
This quirky, Asian-style burger bar has three locations in Las Vegas and is for travellers looking to try something a little different. Opt for the Kalbi burger, one of the joint's specialty menu items. It's a Korean-inspired burger with a ground beef and pork patty and kimchee. There's a spicy mayo on the burger too, so be sure to pair your meal with an Asian beer or sake.
470 E. Windmill Ln., 9410 W Sahara Ave. and 6825 W Russell Rd, bachiburger.com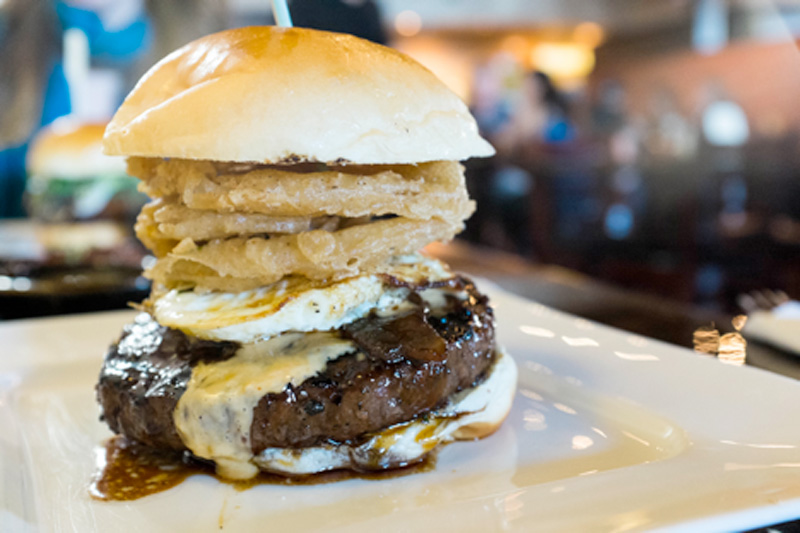 Of all the Asian-influenced dishes on the menu here, opt for the five-spice garlic lobster. The lobster has a light tempura coating and is served with long beans and jalapeño, making it more than a little different from the usual butter-poached lobster. Andrea's combines a restaurant and nightclub experience, so order your lobster late at night when the people-watching is at its best.
Wynn, Las Vegas, 3131 S. Las Vegas Blvd., 702-770-5340, wynnlasvegas.com
This restaurant from chef Kerry Simon is an American gastro pub that is all about sharing. Start by sharing the bacon jam on baked brie with a baguette. It's delicious. The drink menu is just as big as the food menu, so wash your brie down with a shaken or stirred cocktail. And, enjoy it all on the rooftop patio.
100, 124 S. 6th St., 702-473-9523, carsonkitchen.com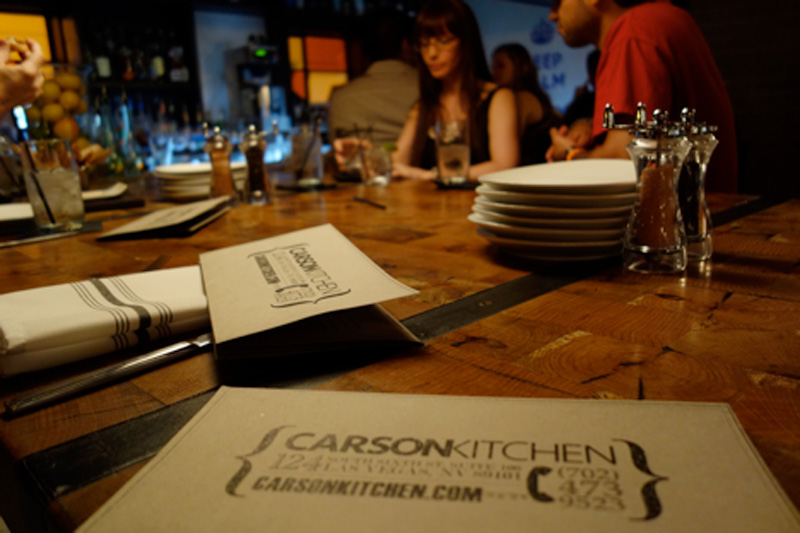 Put French cuisine on your must-eat list while in Las Vegas. L'Atelier de Joël Robuchon is an upscale-casual French restaurant from Joël Robuchon, who is France's Chef of the Century according to the respected French restaurant guide Gault & Millau. There is a range of French tapas-style dishes on this menu, but be sure that at least of the dishes you order is the traditional poached chilled duck foie gras.
MGM Grand, 3799 S. Las Vegas Blvd., 702-891-7358, mgmgrand.com
This restaurant is a throwback to the days of Bugsy Siegel, who invested in the El Cortez Hotel & Casino in 1940s. The restaurant is upscale. It's casual. And, it's open 24 hours. The steak frites are on the all-day menu as well as the overnight menu. For $19.41, you get sliced sirloin with a secret sauce, french fried potatoes, a bread board and a green salad.
El Cortez Hotel & Casino, 600 E. Fremont St., 702-385-5200, elcortezhotelcasino.com
A Parisian brasserie in central Las Vegas practically requires that you eat pastries for brunch. Here, the eggs Benedict are house-made croissants topped with poached eggs, sautéed kale, bearnaise and your choice of ham, beef short ribs, smoked salmon or lobster.
Aria, 3730 S. Las Vegas Blvd., 1-877-230-2742, aria.com
For a real taste of Italy while in Las Vegas, leave the Strip and head to the suburb of Green Valley in Henderson. Order the pizza named after the restaurant itself. The Settebello is a meaty pizza with pancetta and wood oven sausage, with mushrooms and pine nuts for some balance.
140 Green Valley Pkwy., 702-222-3556, settebello.net