The Calgary Zoo's Prehistoric Park has re-opened better than ever, with the notable addition of the Dinosaurs Alive exhibit. The new beasts, along with the existing Prehistoric Park regulars, add up to 26 life-sized models of dinosaurs, half of which move and vocalize. It's safe to say the city has another excellent spring activity. Interacting with massive animatronic creatures in a refurbished Cretaceous landscape can be hungry work, though. Make a day of it with five possible dinosaur-related dining options in or near the Calgary Zoo.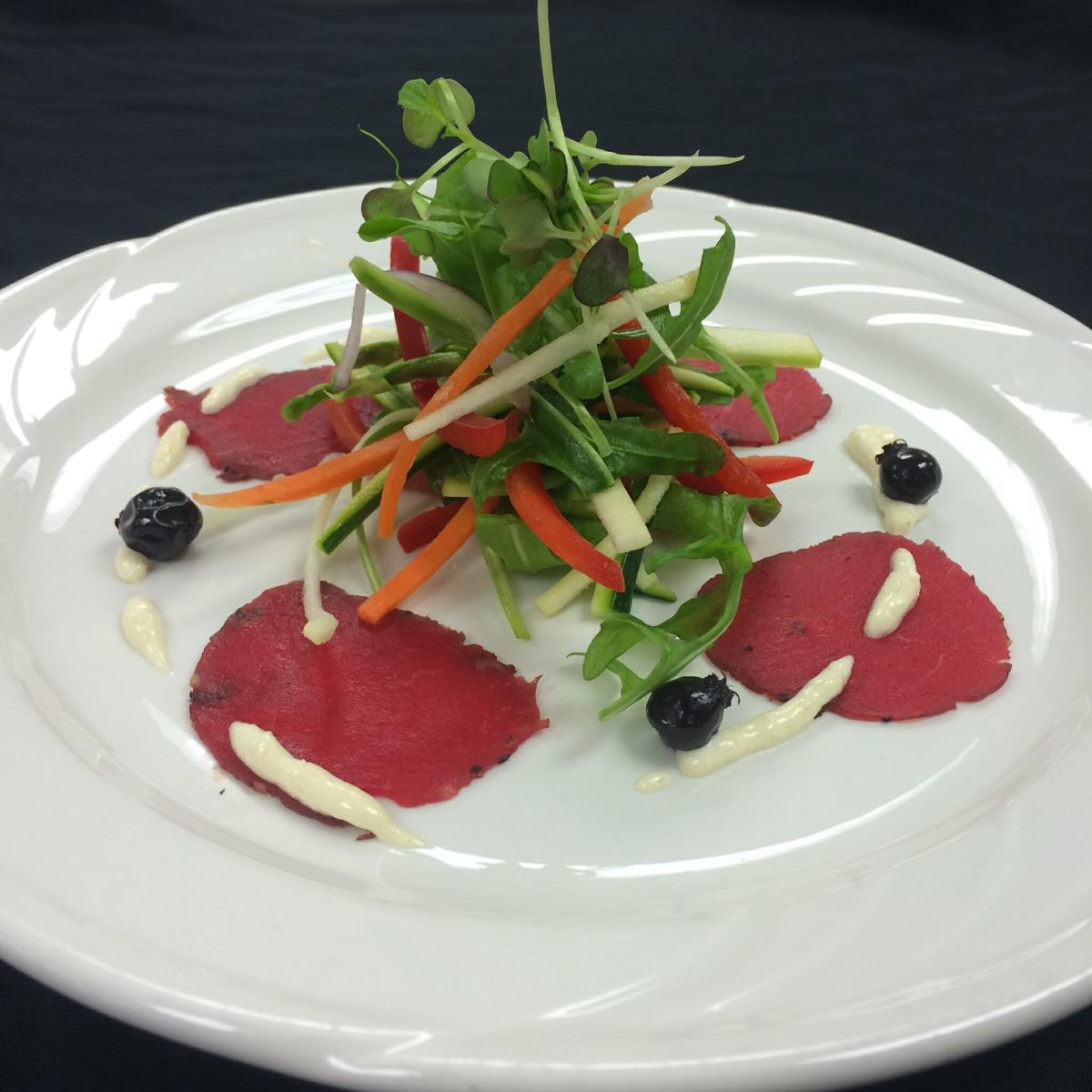 1. Stay on-site
These days, the Calgary Zoo's culinary offerings go well beyond soft-serve cones and hotdogs (although those items are delicious, and still available). The soon-to-reopen Grazers restaurant welcomes zoo visitors for summer lunches with items like espresso-encrusted beef carpaccio and Zoo Brew. Even better, Grazers is committed to sustainability, growing its own greens and herbs and supporting initiatives like the Oceanwise sustainable seafood program. Or, you can visit the always-popular Kitamba Caf for kid-delighting items like a dino chicken nugget meal, and a Dinosaurs Alive souvenir cup or popcorn bucket.
2. Velociraptor-approved
A Calgary institution within walking distance of the Calgary Zoo's West Lot (which reopens April 1), Spolumbo's Deli has been serving sausages and Italian sandwiches in Inglewood for years. Tear into the Spolumbo's Special, a sandwich with mortadella, Genoa salami, capicollo and prosciutto, or attack one of the deli's better-kept secrets like the Cutlet Parmigiana. There are mini-subs available for smaller carnivores.
Spolumbo's Fine Foods & Deli, 1308 – 9 Ave. S.E., spolumbos.com
3. Hungry hungry herbivore
Of course, not all dinosaurs were bloodthirsty – many were more interested in leafy greens, as are many people. Go herbivorous, Omeisaurus-style, at Tazza Middle Eastern Deli in Bridgeland, where you can dine on classics like baba ghannouj and grape leaves, and try a pita sandwich with falafel, tablouleh or halloum cheese. Order a veggie platter to share with your herd and finish the meal with cashew baklava.
Tazza Deli and Grill, 1105 – 1 Ave. N.E., tazzafresh.com
4. Oviraptor wake-up
Agile egg-seekers may need to fill up before they hit the zoo. Get an early start at Oeb Breakfast Co., a gourmet breakfast spot on Edmonton Trail whose signature "Soul in a Bowl" dish combines eggs, cheese curds, bacon and Hollandaise. All potatoes are cooked in duck fat (in true omnivore fashion), and the restaurant raises its own laying hens. Oeb starts serving at 7 a.m., leaving you a couple of hours to dine and digest before the zoo opens at 9 a.m.
Oeb Breakfast Co., 824 Edmonton Tr. N.E., eatoeb.com
5. Go Paleo
It may not be a woolly mammoth, but the wild game meat selections on the Open Range menu recall a much earlier age. The steakhouse in Calgary's Renfrew community serves elk, duck, bison and wild boar, as well as fish options that should satisfy the Mosasaur set. These dishes, served in a relaxed southwestern style, are a great way to pooh-pooh simple carbs and embrace a protein-rich, dino-approved diet. After all, T-Rex's arms were way too short to knead bread.
Open Range, 1124 Edmonton Tr. N.E., open-range.ca
Plan your trip to Dinosaurs Alive at the Calgary Zoo.
This content was supplied by the advertiser for commercial purposes. It is not written by and does not necessarily reflect the views of Avenue staff.