The Calgary Zoo has reopened its Prehistoric Park this month – with some new surprises. In addition to refurbishing the area, the Zoo has brought back Dinosaurs Alive, an exhibit of 32 life-sized models of dinosaurs – half of which are animatronic. Experiential, fun and just the right amount of uncanny, Dinosaurs Alive is the rare attraction that can accurately declare itself "fun for the whole family." Here's why you should go.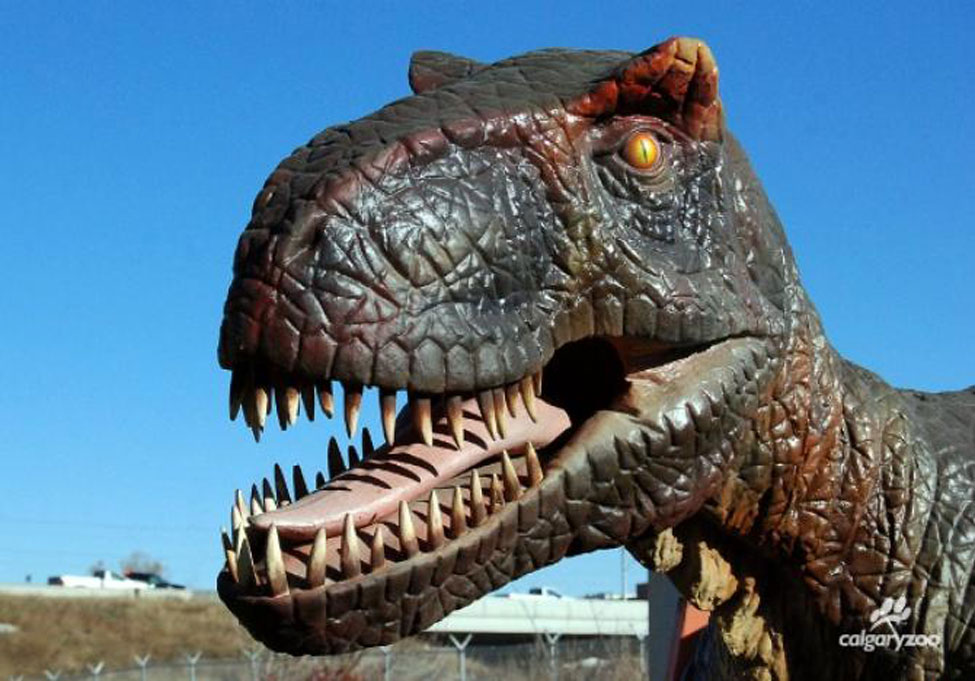 1. The dinosaurs move
The Dinosaurs Alive exhibit is designed to be interactive, with realistic animatronic models that mimic dinosaur behaviour. The models vocalize and move, some in response to buttons pressed by visitors. Calgary Zoo regulars will remember that the zoo hosted a previous version of Dinosaurs Alive back in 2010. The popularity of that exhibit prompted the zoo to bring them back, better than ever.
2. It's outside
The Calgary Zoo is one of very few places in the city where you can soak up Vitamin D, get a little exercise and learn how to pronounce Yangchuanosaurus all in one day. Unlike your living room, it's also a place where roaring dinosaurs (and tots) seem charming and awe-inspiring. If the weather turns chilly suddenly, as it sometimes does in Calgary, you're only a short walk from the warmth of the TransAlta Rainforest.
3. New facilities and programs
When Dinosaurs Alive opens, so do new interpretive centres and programs like Dino Dinner Time and Diving into the Past. Not only does this make for a great day out, it's also an opportunity to absorb information so that when Jurassic World hits theatres this June, you and yours can have informed conversations about the feeding habits, physical characteristics and intelligence of the movie's genetically re-engineered (and entirely imagined) Indominus Rex.
4. Fun photo opps
Social media is part of the fun these days, and the Calgary Zoo has included a few shareable photo opportunities. Not only can you snap yourself in the company of no fewer than 26 different dinosaur species, you have the option of posing with dinosaur eggs… or even atop a pile of prehistoric poo.
5. There's an app for that
The Calgary Zoo app lets you view 3-D versions of the dinosaurs. No matter how nostalgic you may feel for the static charms of Dinny the Dinosaur, it's hard to resist augmented reality. The app will be available to download on the May long weekend.
Dinosaurs Alive is now open at the Calgary Zoo Prehistoric Park. Find out more at calgaryzoo.com.
This content was supplied by the advertiser for commercial purposes. It is not written by and does not necessarily reflect the views of Avenue staff.