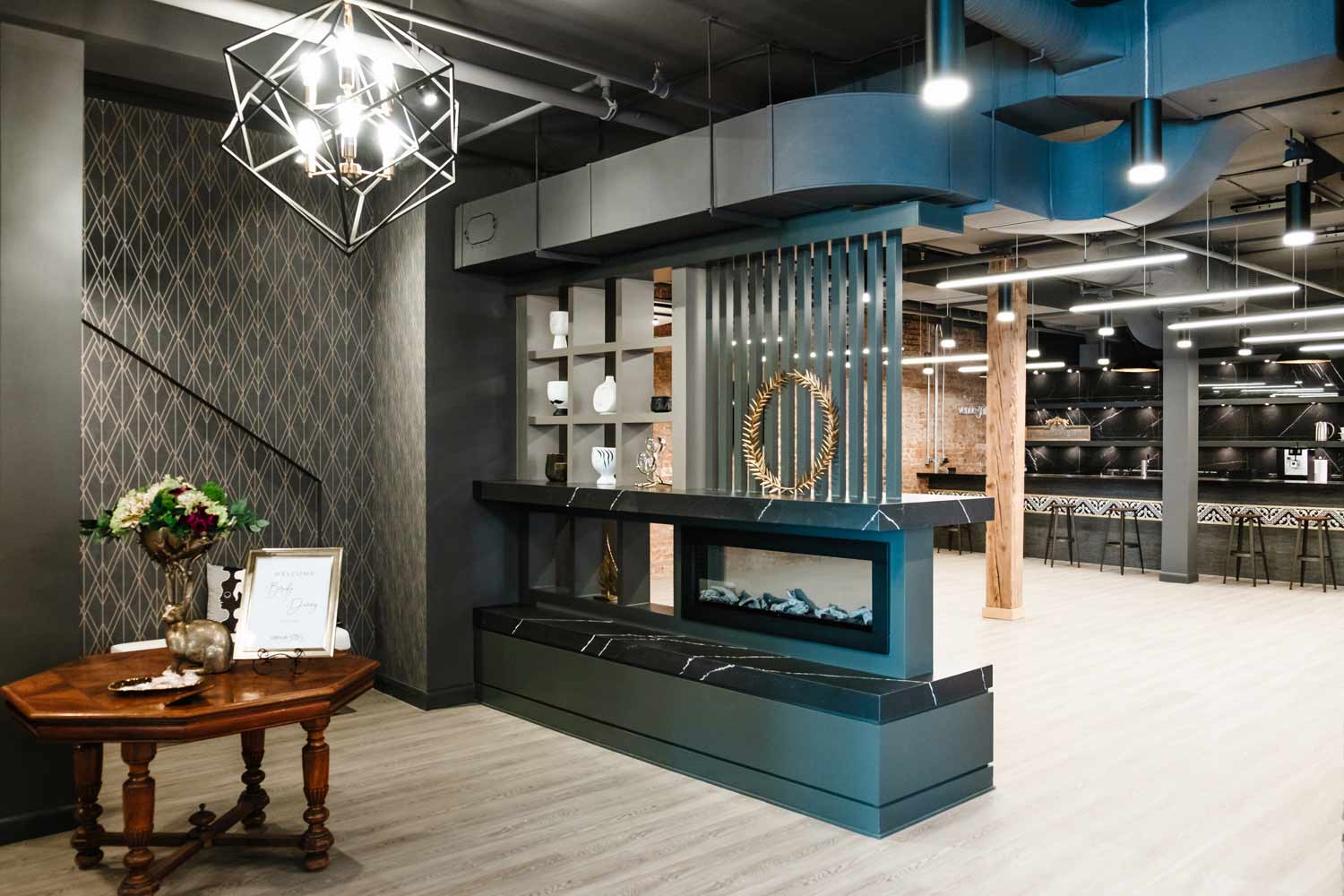 Newcomer to the Calgary event and wedding scene, Venue 308 is already the buzz of the town and for good reason.
1. Heritage Bones with Creative Styling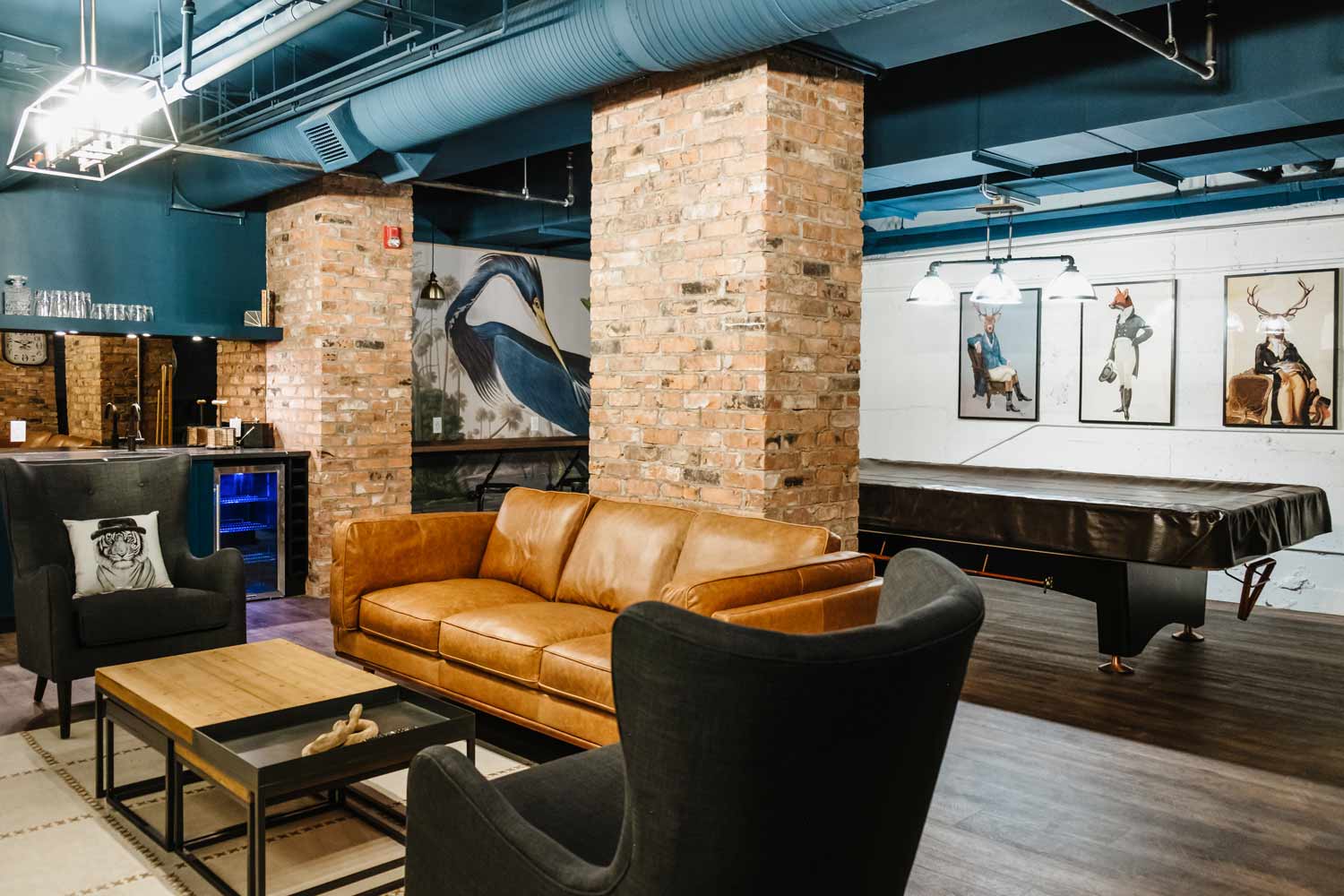 In the Heritage Louise Block Building in Victoria Park, Venue 308 opened its doors in mid-October and has brought new life to builder Frank Fairey's 1910 building. In what used to be a warehouse multi-use district, Venue 308 is a perfect fit for the City's vision to create Calgary's own "Warehouse District" in Victoria Park. Original brick walls, muddled and dark with the burnt effects of warehouse history (the building survived a fire in the 60's), frame the large bright halls and are pulled together by modern touches like marble counters and art deco touches.
Every inch of Venue 308 is both photographable and instagrammable. The fireplace and mantle welcome you in as if it were your own home — with a touch of wow-factor. Then as the space opens, you see the two sides.
2. Light & Dark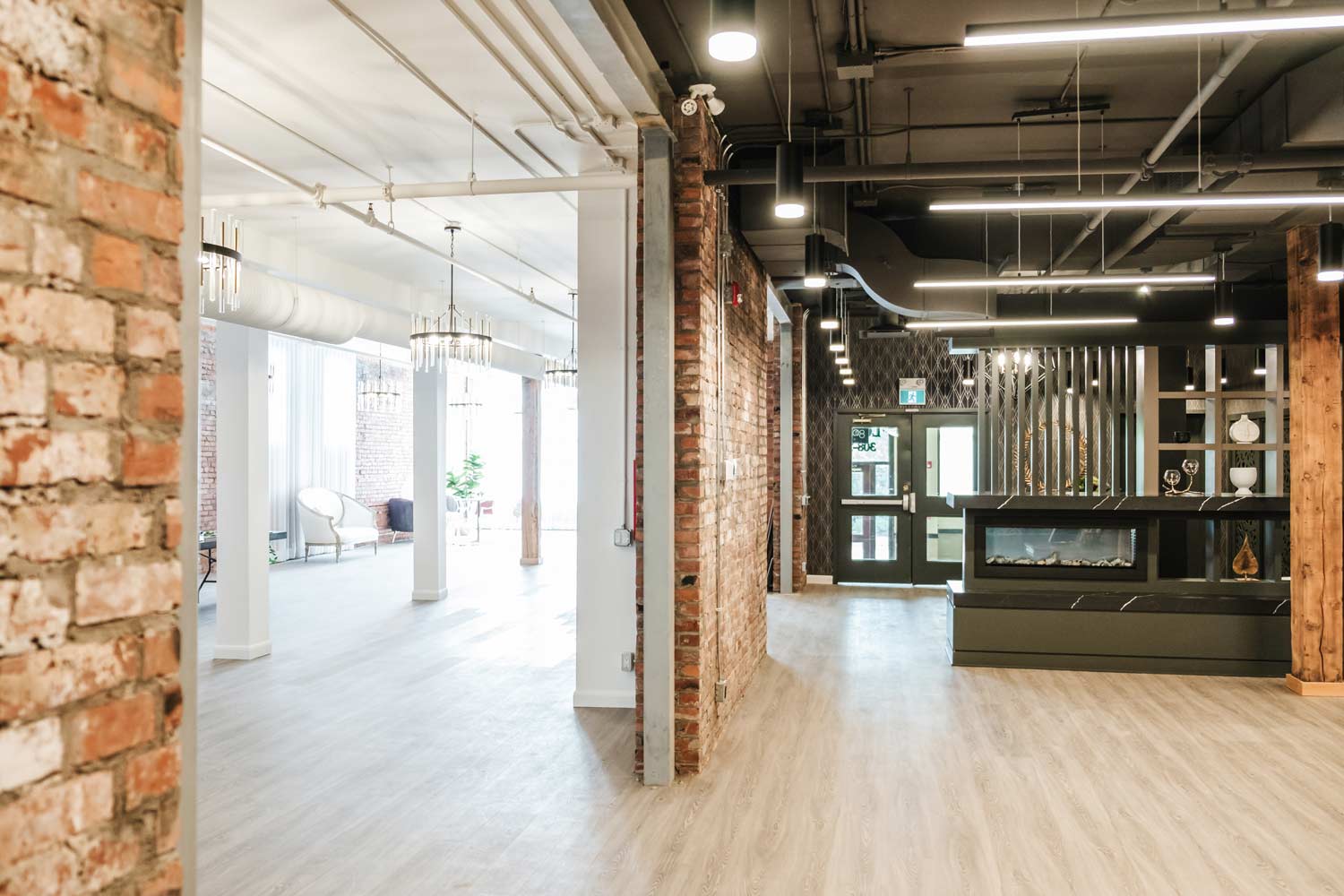 With two halls side-by-side, partially divided by even more brick, each side entirely has its own personality. The light side, where the sun shines through huge floor to ceiling windows, is romantic, elegant and spacious. Rows of wooden farmhouse tables line the floor ready to host a delicious dinner, a wellness workshop, or any manner of possibility. 
In the much more intimate space, the dark side, is always ready to host a party, whether that be on the dance floor just feet away from a 20 ft full-length bar or with classic cocktails waiting in the ready for you on wine barrel cocktail tables.
With both sides so unique, going from your ceremony to cocktails to reception will feel like completely different experiences, and you'll be amazed at how quickly that transformation takes place to fit your vision.
3. Wallpaper and Tile Magic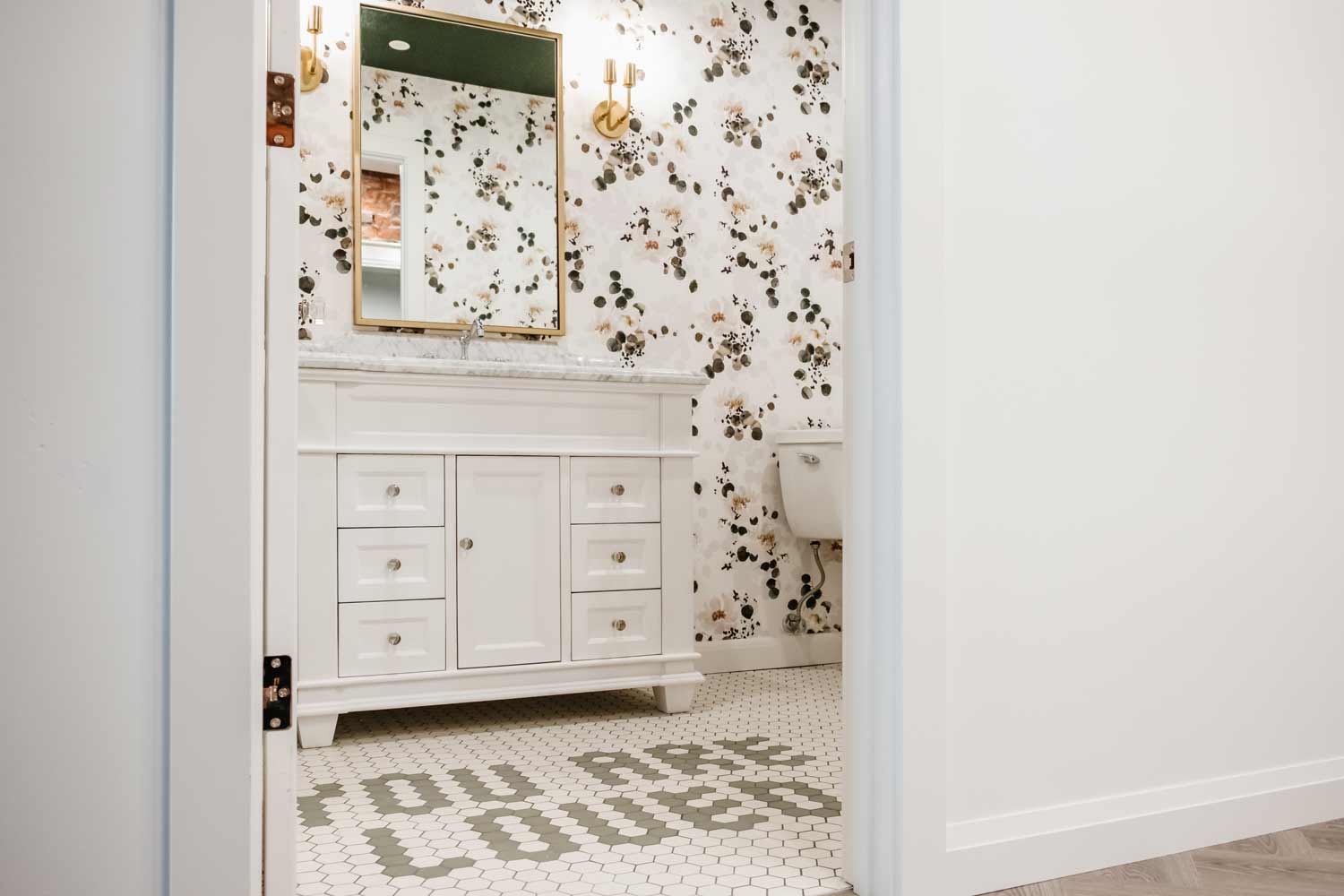 Where did they get that wallpaper?! The gold and grey geometric print in the lobby is a work of art in and of itself; however, not even close to forgotten about, the bathrooms in Venue 308 are an extension of the vision for this modern beautiful venue. There are monkeys and toucans, orange puffer fish on black, and a green flower print new to Calgary (sourced from New York, by Calgary designer Leanne Bunnell Interiors). Designed to not only be gorgeous but the space also houses mirrors exactly where you want them, floor tiling that reminds you how loved you are and our personal favourite, glistening shelf lighting on black marble tile behind the bar. Every detail is accounted for.
4. Lounges You Almost Won't Want to Leave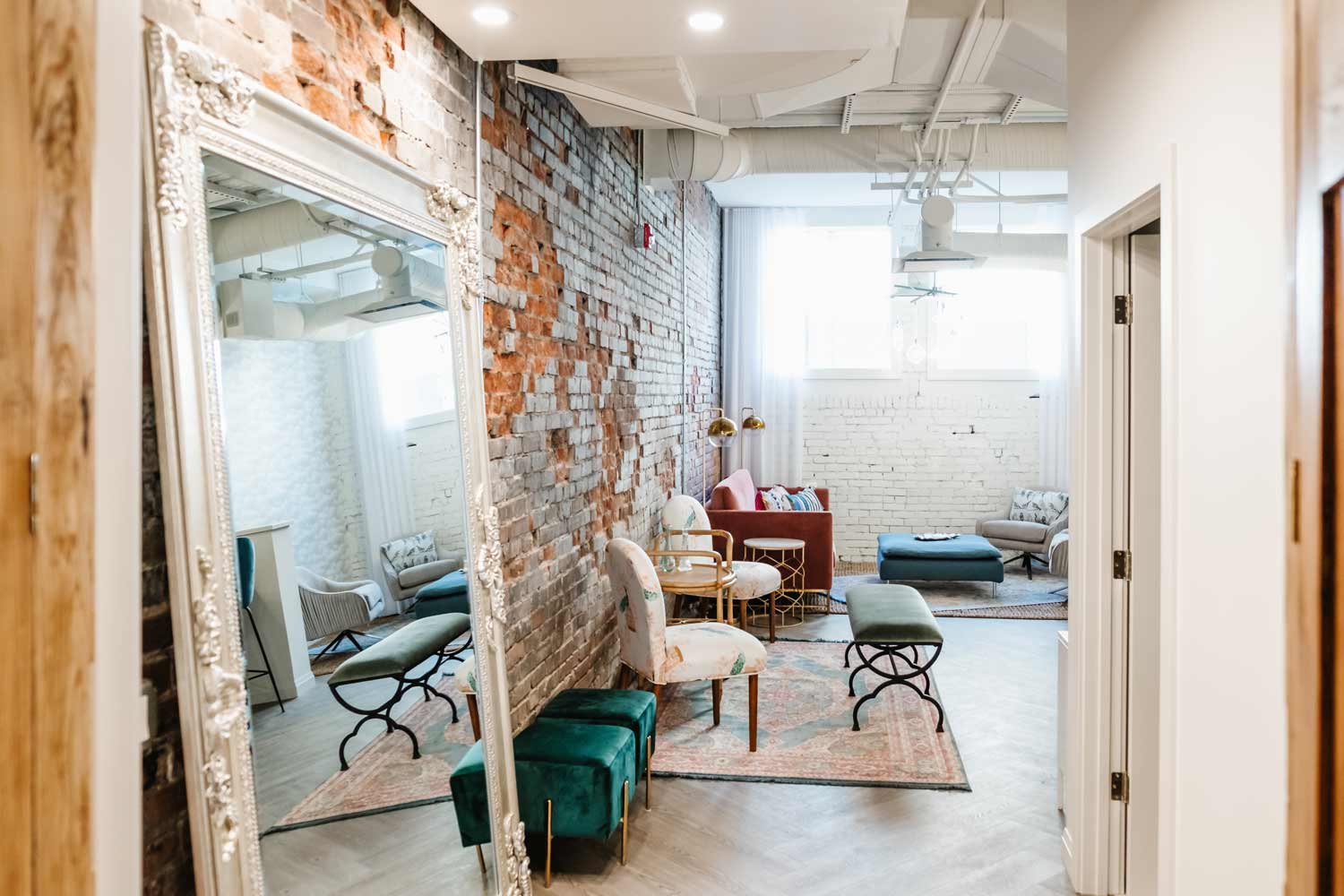 Lounges at your wedding venue are the treat you never knew you needed and the ones at Venue 308 will have you over the moon for their beautiful styling, and the functionality (allowing you to have your whole day in one place). The Grace and Walter Lounges, names pulled from the Family Tree of Co-Founder Bretton Grassie, are the perfect option for your bridal party to get ready, sip on pre-event champagne and wait in anticipation for whatever you have planned to come next. 
No more cluttered kitchens of sleep-over guests, Timmies cups, or pizza boxes, for a photographer to find you behind. No one left with the chaos of clean up and no running between house and home: everything in one venue, all included in pricing, that you can enjoy and walk away from by the end of your event.
5. You Won't Be Left Hanging
Run by two boss ladies who know the ins and outs of both the corporate and wedding event world, you will feel their "Service and Humility" mantra through timely responses and team personalities. Make an inquiry through their website venue308.com and you'll find a response in your inbox welcoming you into the folds of their space and access to each team member every step of the way.
For more information about Venue 308 head to their website venue308.com or to see what's happening inside their walls check them out on their social media links below. Like their logo implies, they are excited to welcome you through their open doors and the possibilities you create.
---
Venue 308
308 11 Ave SE #110
Calgary, AB, T2G 0Y2
403-888-4718
venue308.com
This content was supplied by the advertiser for commercial purposes. It is not written by and does not necessarily reflect the views of Avenue staff.