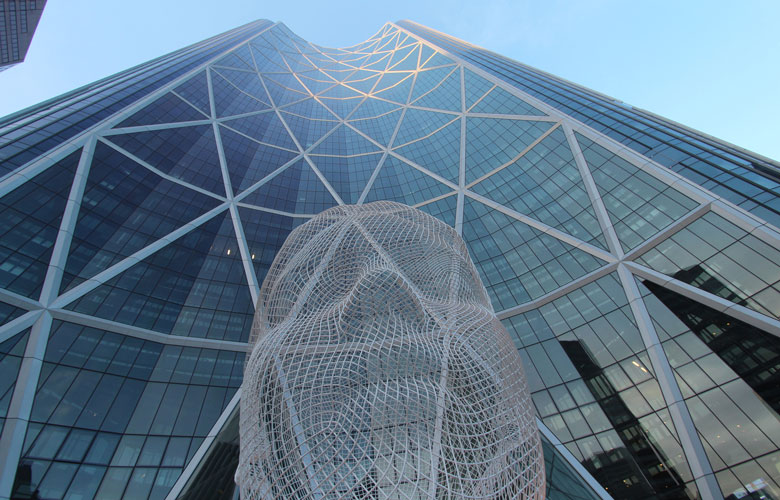 The most interesting thing about an image is the photographer's unique ability to capture a specific perspective and convey a story. Luckily for us, Calgary is an extremely photogenic city that is home to different landscapes, artistic architecture, historical character and modern designs – truly a photographer's paradise.
Here are some great spots around Calgary for you and your camera to discover:
The Best Spots for Panoramas of Downtown Calgary
Rotary Park: No matter the time of day, Rotary Park always offers a picturesque view of the Downtown Core. It also overlooks the Bow River, giving spectacular views of both the Centre Street Bridge and the iconic Peace Bridge.
Scotsman's Hill: Ever since Calgary became a city, multiple generations have come and sat on the iconic bench that sits overlooking a gorgeous view of the city's skyline. It's a popular photography spot as it frames the Saddledome perfectly between the high-rises that make up our downtown core. It's also a great place to catch a beautiful sunset or the Stampede Fireworks, if you are looking to play around with different types of photography.
The Best Spot for a Family Photo
Central Memorial Park: Located in the heart of the Beltline, this park is the perfect spot to capture a special moment with your family. Along the many diagonal pathways that connect each corner of the park lay exquisite flowerbeds and luscious green space that is always perfectly groomed and maintained. You can also find a beautiful fountain that serves as a perfect photo backdrop, along with a ton of old trees that add a lucid charm to the park.
The Best Spots to Capture Nature within the City
Edworthy Park: Located in the valley along the Bow River, this beautiful woodland will transport you out of the city and into the great outdoors without you having to drive very far at all. There are a couple dirt trails that lead you past a plethora of large Douglas-fir trees, along with dramatic views of the Bow Valley, natural springs and an abundance of plants and wildlife, making them great spots to capture serene natural moments.
Fish Creek Provincial Park: This Alberta Provincial Park is the second largest urban park in Canada, making it a hugely popular spot for photographers to do photoshoots and landscape photography. Here you will find artisan gardens, stretches of woodlands, stunning views of the Bow Valley and a beautiful manmade lake, giving you a ton of diverse settings to pick from.
The Best Spots with Character
Ramsay School: If you are looking for a good spot to take some portraits, the rustic wall of this building is a perfect choice. The building was erected in 1912 and is located in one of Calgary's oldest communities. It was built from sandstone, giving it a unique character that you can't find many other places throughout the city.
Heritage Park Historical Village: This village will transport you back to the inner workings of our city many years ago, giving you many fantastic photo opportunities. Choose from backdrops of the antique train, preserved heritage buildings and homesteads and an antique midway. This is a great place to go if you're looking to expand your photography skills, or just take a trip back in time and capture a bit of our city's history.
The Rundle Ruins: It sounds exotic, but yes Calgary has "ruins" which are the remnants of Calgary's second general hospital, built initially in 1894. This spot, located in Victoria Park, brings together the old and new, making it a fantastic photo-op for photographers.
The Best Spots to Capture Public Art 
The Wonderland Sculpture at the Bow Building: This beautiful structure, located on the south side of Calgary's newly iconic Bow Building, has caught the lenses of more than a couple photographers. It was designed by Barcelona-based designer Jaume Plensa and is situated in the arc of the Bow, which frames it uniquely from both the inside and outside of the building.
Fourth St. SW Underpass: This iconic overpass is the key connection for traffic and pedestrians travelling from the Beltline to the downtown core, making it especially good if you enjoy shooting action shots. It has been renovated and redesigned to integrate new architecture, creative infrastructure and a public art piece by Derek Michael Besant. This space represents community and connection, which gives a photographer some great urban subject matter with a deeper meaning than simply a concrete jungle.
The Best Spot for Indoor Photography 
The Decidedly Jazz Dance Centre on 12th Avenue: This magnificent glass building is absolutely stunning and contains a ton of natural lighting – a photographer's dream come true. It also offers a beautiful backdrop of the Calgary Tower and other iconic downtown buildings, making it the perfect place to shoot while staying indoors away from the cold weather and the elements.
Especially these days, most photographers will want to edit and share their photos to their social networks almost immediately. But to successfully share your photos at their highest resolution, you'll need upload and download speeds that are just as fast.
It's also important to have access to a fast and efficient network, otherwise those files can take a while to download and require a lot of data to store on the cloud. The TELUS PureFibre network allows for downloading and uploading at 150 Mbps in each direction- an unreal speed that can have you saving and sharing your photos within a matter of minutes, so you can get back to capturing the beauty of our vibrant city.
This content was supplied by the advertiser for commercial purposes. It is not written by and does not necessarily reflect the views of Avenue staff.