As one of the easiest and safest ways to get our daily dose of exercise in, Calgarians have been lacing up like never before. Like you, we've spent the last few years running locally in our own backyards. After much time spent running solo, in-person racing is back to its normal weekend in May 2022, and we are excited to host you at the Calgary Marathon.
For those who have just started lacing up and are new to racing, you might be wondering what it's like to participate in your local city race and how it differs from your neighbourhood jog. When you run the Calgary Marathon, you not only support local, but you also contribute to the health of the community. These are just some of the reasons why we hope to encourage you to try moving your run from your neighbourhood to the city streets on Sunday, May 29. For those of you that have raced with us before, keep reading for your reminder of what an in-person race day feels like (hint, it's really great).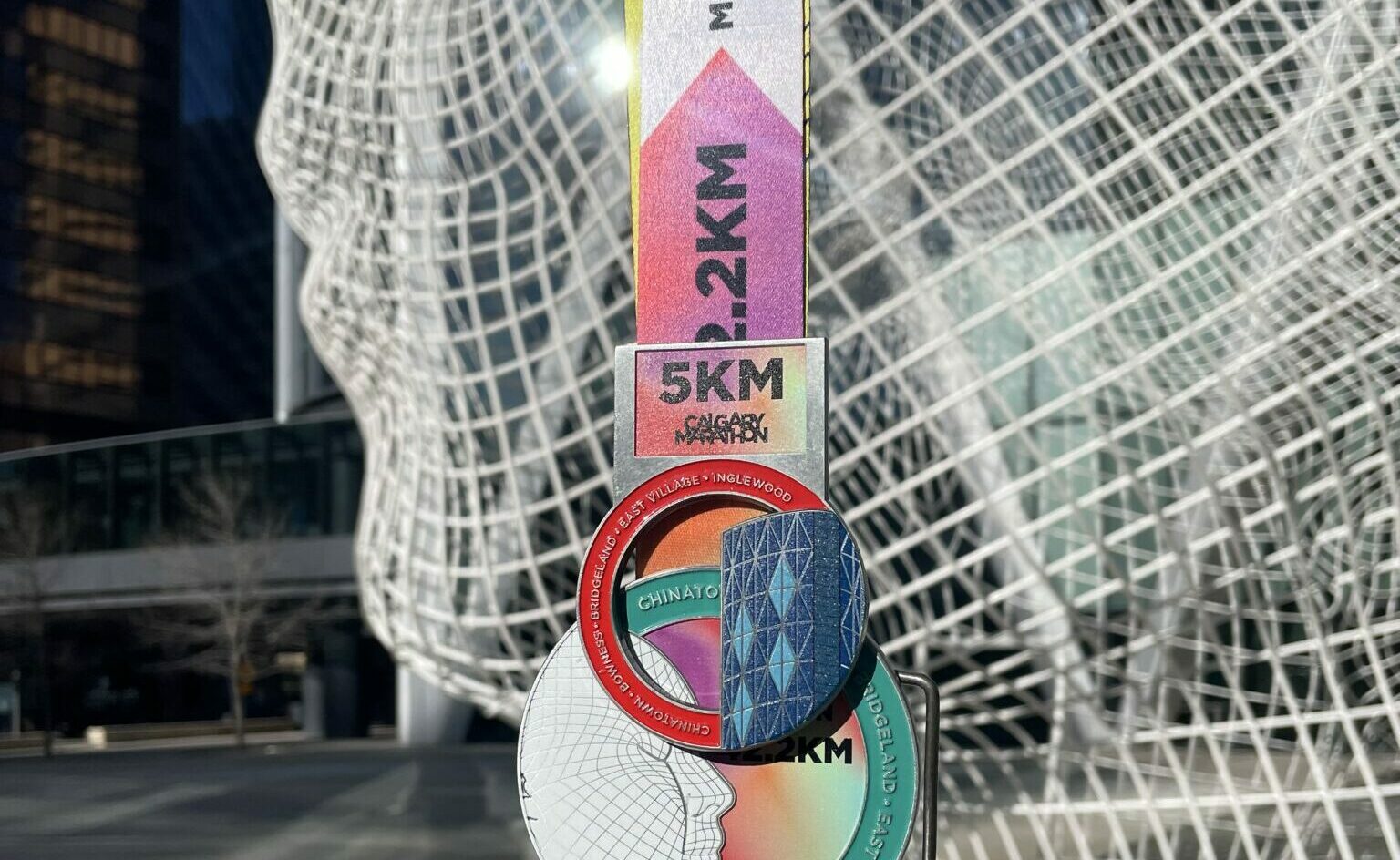 Racing supports community health
You likely started running because you value your health. Running is a great way to take care of yourself, but did you know that when you participate in the Calgary Marathon, you also look after the health of our local community? The Calgary Marathon Charity Challenge supports over 60 local charities and has raised over $9 million in Calgary. You can put your new (or renewed) love of running to a good cause by registering and signing up to support a local charity. Have a charity you want to support but don't see it on the list? Just reach out as we are always adding new charities.
Racing brings out the locals 
Encouraging waves from the kids next door and the beep from our training apps notifying us of the next kilometre has been our cheer squad and our long-run companions for much of the past few years. Did you know that when you run in the Calgary Marathon, you get neighbourly encouragement and cheer squads on every single block? Plus, local entertainers are there to provide you with a sweet soundtrack to keep you running. Midnight Taiko Kai Japanese drummers, just one of the many performers who come out on race day, have kept racers on tempo in Kensington for several years. Be sure to look for them as you race by (they are guaranteed to give you more than a passing wave).
Racing celebrates you and the places you love to run 
Coming home to your favourite meal after a long run or a high five from your running buddy is pretty great, but when you accomplish a really big achievement, you deserve a big reward. Get recognized for all those solo months you spent pounding the pavement. When you sign up for the Calgary Marathon, you are guaranteed to be rewarded for that hard effort. To help you commemorate your race day achievements, we have thoughtfully designed your finishers medal and race shirts in partnership with local creative agency Bespoke. In 2022, your medal features local landmarks, making your hometown race moment even more memorable.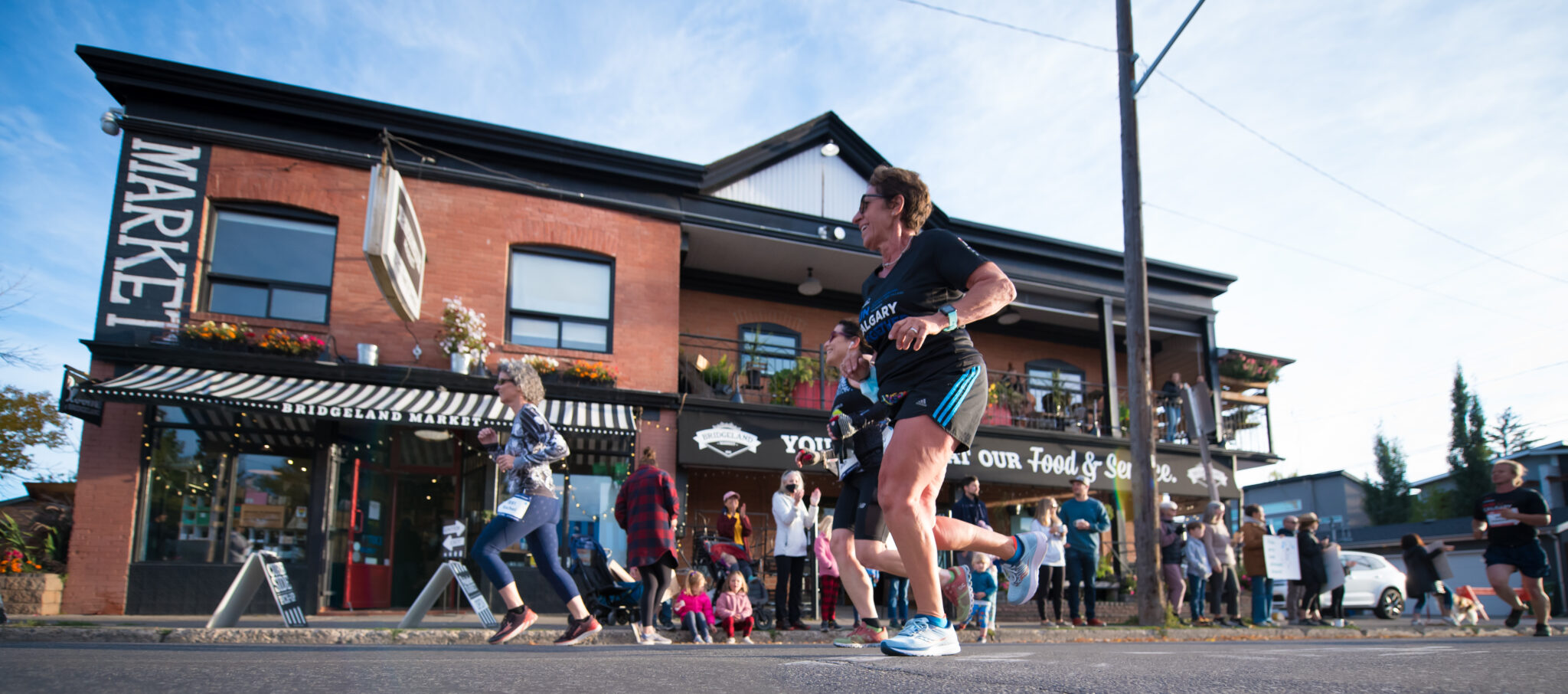 Racing gives you the big finish you deserve 
Although crossing through those makeshift toilet paper finish lines was fun, racing with us means an epic finish line experience is guaranteed. In 2022, we are bringing back local light and screen wizards UVS to elevate your finish line experience with a digital arch. You may recognize their work from the stunning installations on the streets of Downtown Calgary as part of the Chinook Blast Festival. The only way to experience the digital arch in its full glory is to cross the finish line for yourself. We promise there is nothing much better than finishing a race with others and celebrating your achievements together.
Racing locally together feels good. Register today and see for yourself what it is like to participate in a world-class event while you support local, run for your health and the health of our community.
This content was supplied by the advertiser for commercial purposes. It is not written by and does not necessarily reflect the views of Avenue staff.