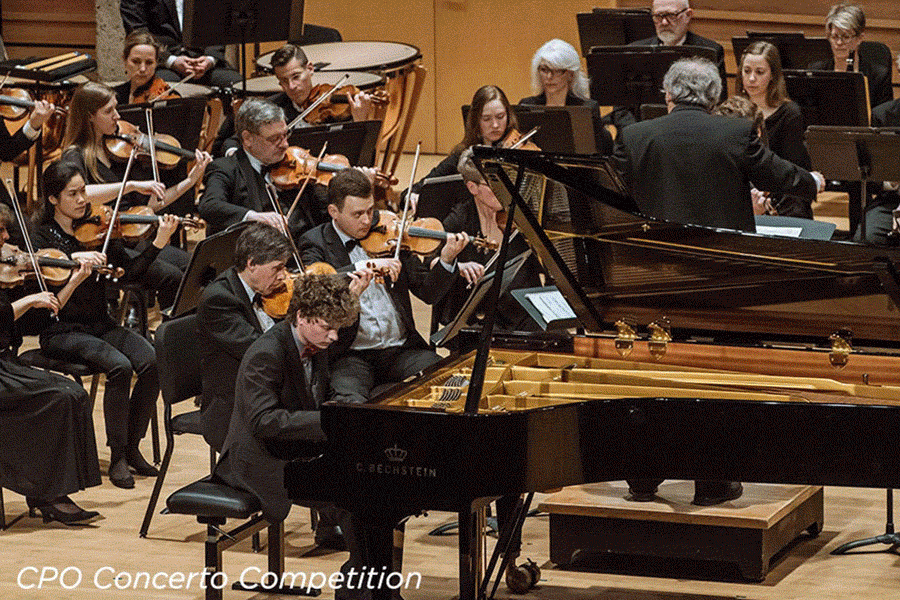 The performances presented by the School of Creative and Performing Arts at the University of Calgary are hidden gems in the Calgary arts community. Professional local and international artists, as well as student performers, present a wide range of affordable or free events.
Go on a musical journey
Quartetto Gelato — the highly unusual classical quartet with oboe, cello, accordion and violin — presents Amore!, an evening dedicated to romance, featuring classics like Bésame Mucho, La Vie en rose and O sole mio.
Jan. 19 at 8 p.m. in the Eckhardt-Gramatté Hall
Organist Neil Cockburn takes you on a Viaggio a Roma (Journey to Rome), performing Renaissance and Baroque music by composers who lived in Rome or who were influenced by the Italian style.
Feb. 9 at 8 p.m. in the Eckhardt-Gramatté Hall
GRAMMY-award winning saxophonist Timothy McAllister and pianist Liz Ames present Meeting Points: Music of France, England and the United States. The program highlights the diversity and intriguing overlaps of music styles found among 20th-century icons and today's most exciting composers.
March 9 at 8 p.m. in the Eckhardt-Gramatté Hall
Catch a play inspired by a real-life murder case
Inspired by the true story of Ruth Snyder, who was executed in 1928 for the murder of her husband, Sophie Treadwell's Machinal takes a powerful look at the status of women in an increasingly mechanized society. Graduate student Zachary McKendrick directs the play as his MFA in Drama thesis.
Feb. 8 – 16 in the Reeve Theatre
See new and remounted dance pieces
After a three-year hiatus, Marie France Forcier will be premiering two new solos by nationally celebrated and internationally recognized choreographers Linnea Swan and Brandy Leary as part of ProSeries II, while Melanie Kloetzel and Jocelyn Leiver will perform in The Faustian Chronicles: Part I, The Bargain by kloetzel&co. This new piece examines the evolution of the character of Faust as related to larger structures of unchecked growth. It marries Goethe's timeless tale with Kloetzel's investment in deconstructive characterization and political satire.
Jan. 25 – 26 at 8 p.m. in the University Theatre
Co-produced with W&M Physical Theatre, Mainstage Dance 2019 is the final Mainstage Dance production for dance faculty member Melissa Monteros and theatre technician Steve Isom. This year's show will offer a retrospective of dance creations by Melissa Monteros, performed by alumni and current students, as well as professional performances by dance artists Miku Tsuchiya (Japan), Mark Medrano (Fortier Danse-Création, Québec), Ceinwen Gobert (Toronto) and more.
March 14 – 16 in the University Theatre
Find out who will win the Calgary Philharmonic Orchestra Concerto Competition
Two music students from each of the School of Creative and Performing Arts and Mount Royal University Conservatory compete as soloists in the annual Calgary Philharmonic Orchestra Concerto Competition, performed on stage with the Calgary Philharmonic Orchestra.
March 5 at 8 p.m. in the Eckhardt-Gramatté Hall
Ticket prices vary by event: BUY TICKETS
This content was supplied by the advertiser for commercial purposes. It is not written by and does not necessarily reflect the views of Avenue staff.