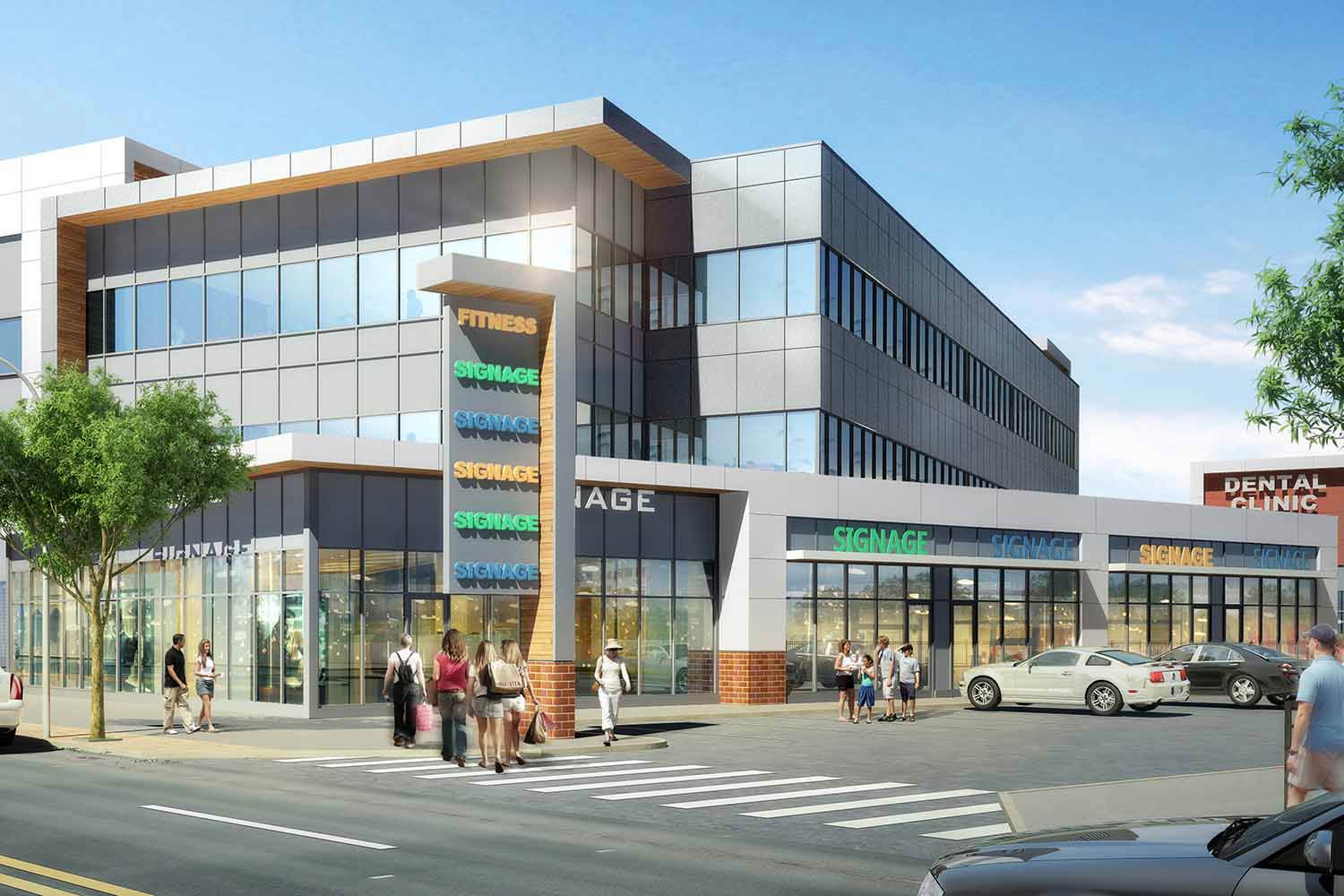 Poplar trees are the foundation of Calgary's urban forest. Poplars are known for their ability to thrive in all climates and have an inspiring ability to adapt to the city's unique and rapidly changing conditions. Poplar Centre, Calgary's newest health and wellness hub, is aptly named and shares many of the same characteristics as its namesake. Developed in partnership with Gracorp Properties, this modern, design-forward project is another star in the portfolio of RISE Commercial Developments, who have built ten similar health and wellness centres across Canada. This modern, design-forward project is another star in the portfolio of RISE Commercial Developments, which has completed ten similar health and wellness centres across Canada. Located just north of Chinook Centre Mall, on Macleod Trail S.W., Poplar Centre offers terrific accessibility and over 70,000 square feet of prime medical, professional and retail space across three stories. While the design of the space itself is impressive, it is the vision behind the project that really sets it apart.
Customer-Focused Wellness Services
While most would agree that the medical industry has been undergoing an extensive transformation, this change, which is primarily driven by the expectation of service, is something RISE Developments intrinsically understands. Today's patients are much more discriminate, and for the first time in history, the power differential is landing on their side. As a physician turned entrepreneur, Dr. Greg Appelt, President and Founder of RISE Developments, has a uniquely informed perspective on the "new normal" of offering customer-focused wellness services.
"The vision with Poplar Centre is aligned with the change in the delivery of health care that we are seeing nationally," Dr. Appelt says. "In the old days, the approach was very much physician-centric, and little thought went into the patient experience. The new trends are user-oriented and offer services, amenities and choices that the patients now want."
To this end, Poplar Centre was designed to offer a first-class health and wellness experience. This mindful approach takes every element into consideration. From interiors that create a comfortable atmosphere with plenty of natural light to easy access to all quadrants of the city by car or transit to conveniences such as retail services and ample parking, RISE has thought of it at Poplar Centre.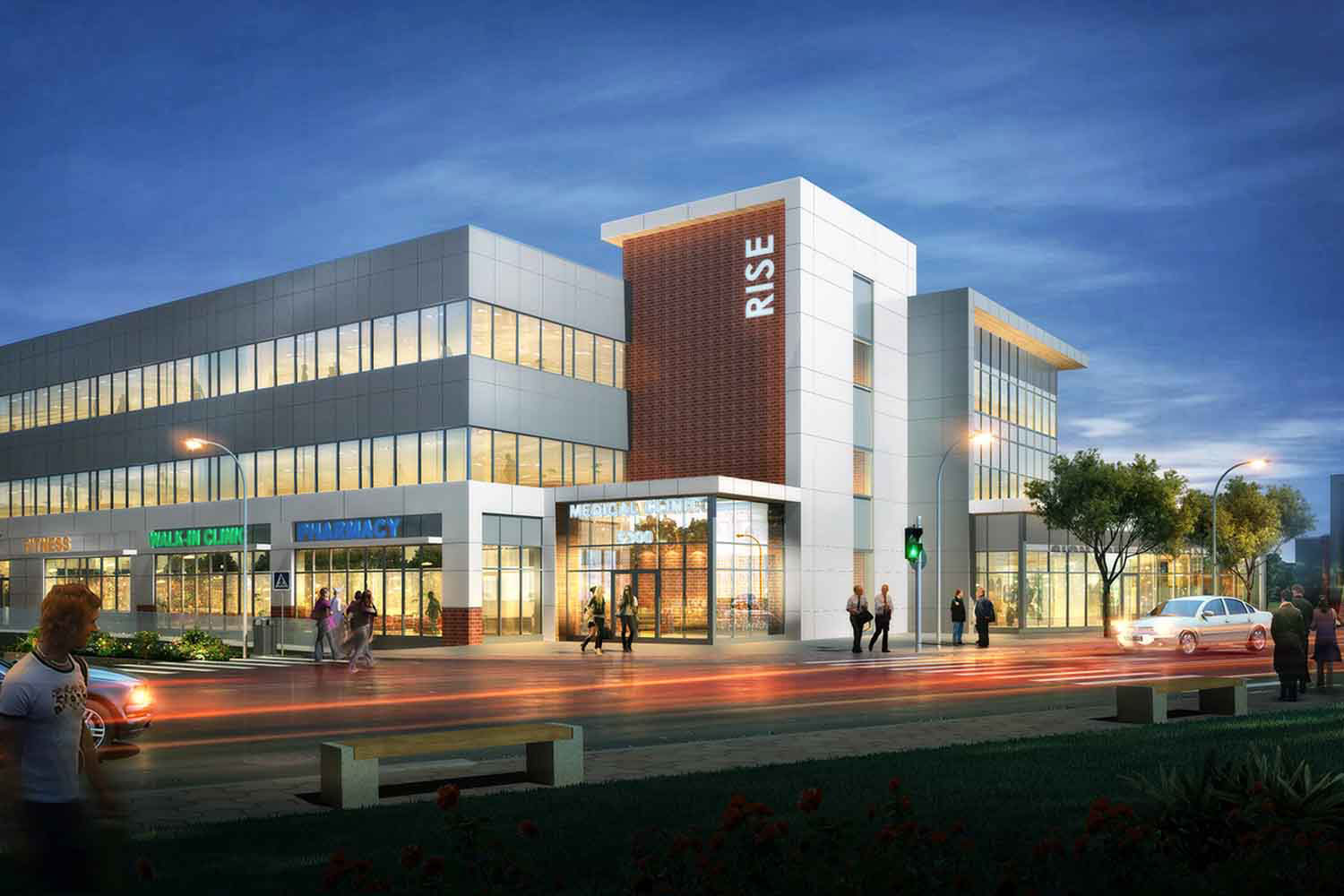 Creating Connection
Thanks to its central location, Poplar Centre will create connection and a sense of community in Calgary. The building offers approximately 40,000 sq. ft. of medical office space and 20,000 sq. ft. of main floor retail space. For physicians and specialists in surrounding areas who are looking for an improved and more modern way to practice, Poplar Centre delivers a prime opportunity to upgrade their space without changing their geography.
For clients, Poplar Centre offers a collaborative blend of medical service providers, including Family Medicine, Walk-in Clinic, Allergy and Immunology, Respiratory Services, Sleep Centre, Dentistry, Physiotherapy and Pharmacy. Proximity to MacLeod Trail, Glenmore Trail and Blackfoot Trail make the commute easy by vehicle, and over 200 dedicated parking spots provide a hassle-free experience. For those who prefer to commute by transit, Poplar Centre is near LRT and bus lines. Surrounded by the residential communities of Britannia, Bel-Aire, Elbow Park and Mayfair, the client-focused and tech-forward Poplar Centre is certain to become a prime medical services destination for Calgarians. Poplar Centre will increase Calgarians quality of life by bringing them together and offering an experience unlike any other.
---
Chris Law
Senior Vice President | Partner
Direct (403) 571-8769
Mobile (403) 710-0918
View my profile
Chris.Law@colliers.com
Colliers International
900 Royal Bank Building 335 – 8th Avenue SW
Calgary, AB, T2P 1C9
 (403) 266-5544
collierscanada.com
This content was supplied by the advertiser for commercial purposes. It is not written by and does not necessarily reflect the views of Avenue staff.