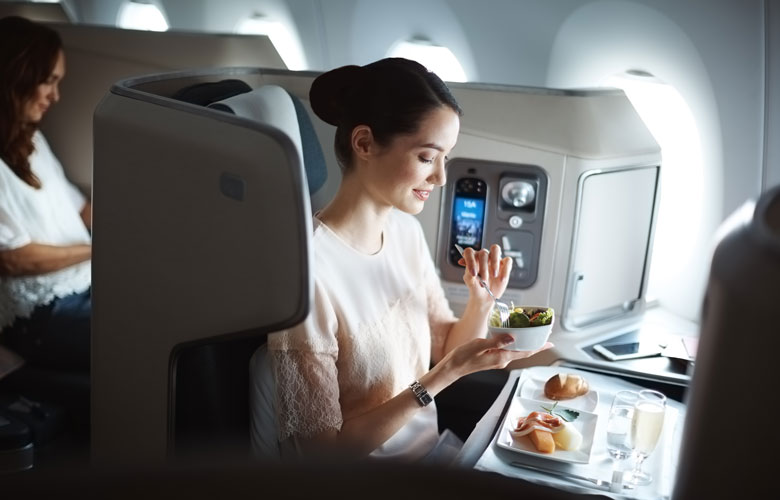 Well, Canada, the friendly skies just got a whole lot friendlier. Cathay Pacific is introducing their brand new A350-900 aircraft with flights via Vancouver to Hong Kong. The plane is the first of its kind to come to Canada, and Canadians should rejoice! After all, a 13-hour flight across the Pacific warrants comfort and amenities like no other.
Whether you're working, sleeping or just enjoying the inflight entertainment, you'll appreciate the attention to detail that has gone into this aircraft.
The A350's sleek design emphasizes a wider body, making everyone from Business to Economy class more comfortable for long journeys. The plane offers larger, panoramic windows, self-adjusting LED mood lighting, Wi-Fi connectivity and a quieter, more spacious cabin to help relieve jetlag and make your experience more enjoyable. Even the overhead lockers are bigger, giving you a little extra space for your carry-on.
Have we peaked your interest yet?
Here are a few more ways Cathay Pacific's inflight experience is taking things up a notch.
More Oxygen
Part of what makes the A350 so incredible for long-haul flights is what you don't see: the lower cabin altitude. Usually, a cabin will be pressurized at 8,000ft, but in the A350, the cabin is pressurized at 6,000ft. What does this mean? It equals more oxygen in the air, which helps everyone rest better and reduces flight fatigue. And as we know, this is a big part of the problem when it comes to combating jetlag.
Ultimate Comfort
Ever feel like you were too hot or too cold on board an airplane? Well, fret no more. The A350 offers seven independent temperature zones for precise adjustment. That means no more extra blankets. On second thought… Cathay Pacific's pillows and blankets now boast softer materials. Depending on the type of ticket you buy, you'll receive pillowcases made of linen, cotton or polyester and blankets made from recycled plastic bottles (yes, they're soft!) or a cozy comforter.
Business Class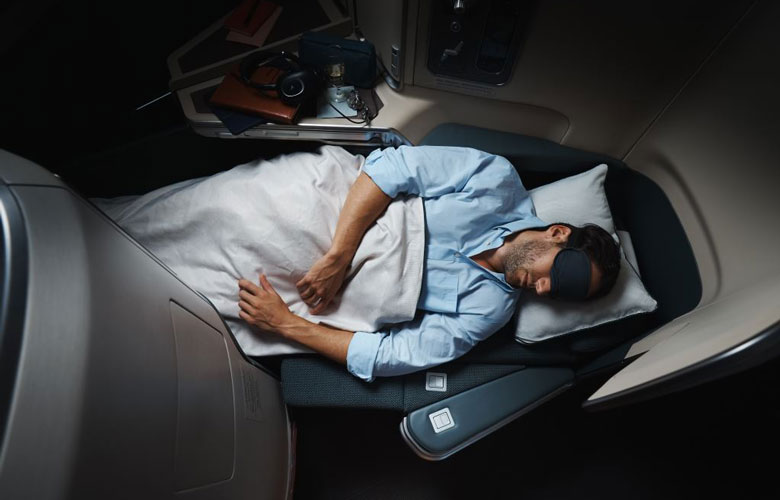 Business class passengers can still enjoy the Cathay Pacific signature standards, however with a few upgrades. The fully-flat bed stretches up to 75″ (that's 6'3″ for those of you who are wondering, so most humans can comfortably stretch out and enjoy the ride. There is also a personal "Do Not Disturb" and "Wake Up Call" service offered only in Business class. The fully-flat floor means more storage space, and passengers will enjoy individual power sockets and USB ports at their seat.
Premium Economy Class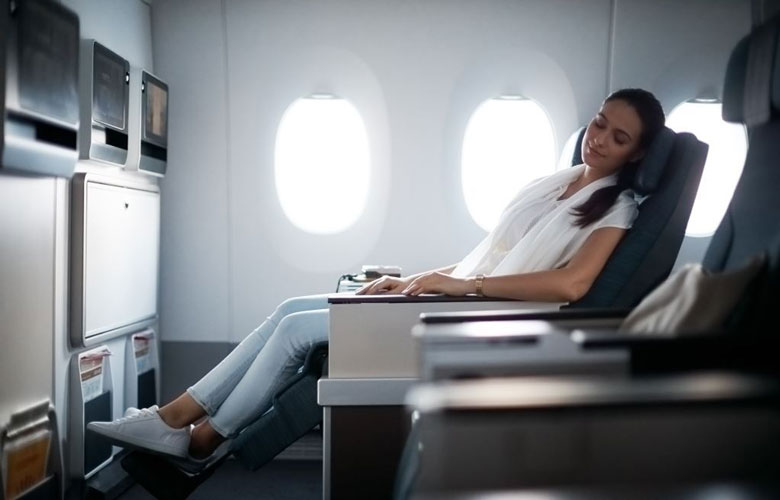 Each Premium Economy seat offers in-seat power and USB ports as well as a dimmable personal reading light that can be adjusted to fit your reading position (and not bother your seatmates). The biggest improvement is probably the leg rest, which has leather padding for extra comfort.
Economy Class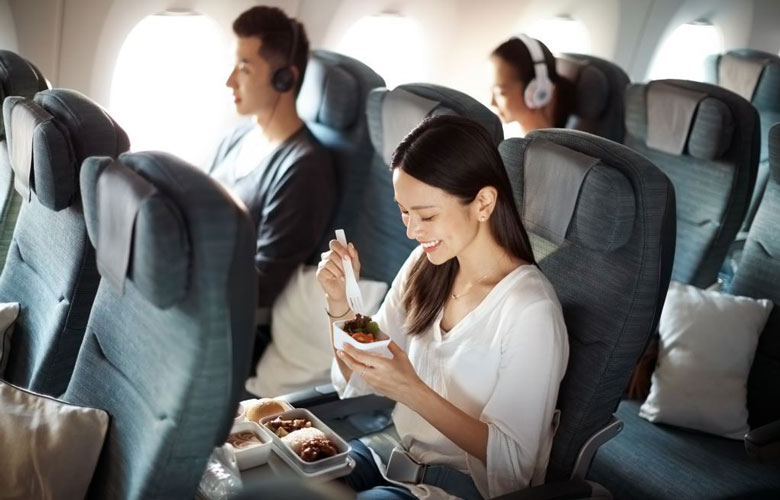 Individual power outlets and USB ports let passengers charge their devices in-flight (particularly important for long-haul flights). There are dedicated tablet holders at eye-level so you can enjoy your entertainment a little easier, and each six-way headrest hugs the head for better comfort and support. Oh, and there's also a cup holder so you don't have to precariously balance your cup on those little food trays.
Flying Green
What Canadians will truly appreciate about the new A350 is its greener footprint. During all phases of flight, Cathay Pacific's greener flight program means less of an environmental footprint when you fly. Take-offs are quieter and offer 25 percent lower emissions than international standards. With upgrades like these, Canadians can arrive in Hong Kong in both style and comfort knowing the A350 is a greener way to travel.
This content was supplied by the advertiser for commercial purposes. It is not written by and does not necessarily reflect the views of Avenue staff.