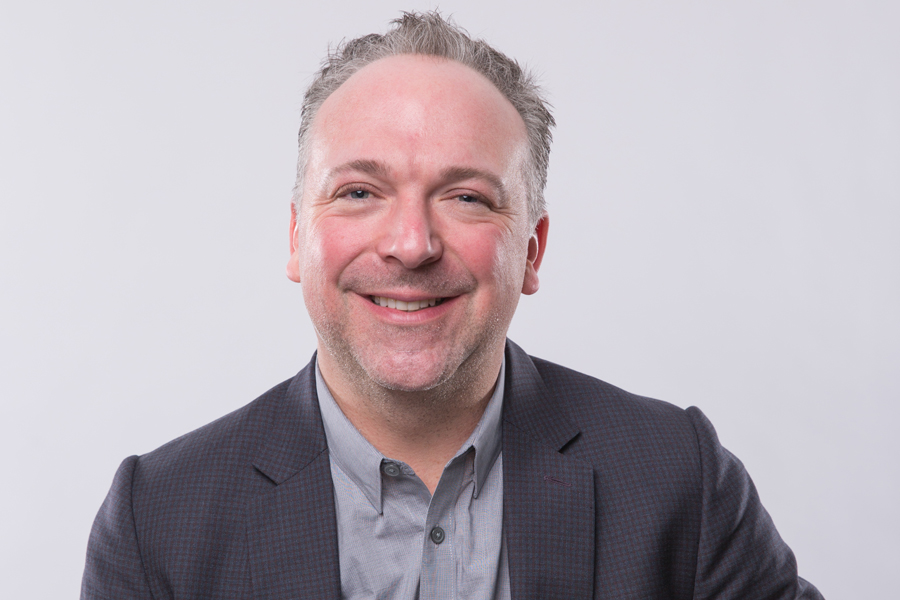 Over the course of his 25-year career, ATB's Chief Transformation Officer, Wellington Holbrook, has had a front-row seat to a fascinating and continually changing business landscape.
"I've pretty much seen every kind of business at every stage of development," Holbrook says. "I've seen what's worked and I've seen a lot of failures, too."
Holbrook, an Oxford grad, has held executive roles at ATB for more than a decade. In his current role as Chief Transformation Officer, he is drawing on his breadth of experience investing in entrepreneurs to transform ATB into a future-ready financial institution.
"[My background and experience] equipped me with the skills I needed to break the status quo and really put ATB on a course to change the way we operate," Holbrook says. "ATB meant it when we said we were going to transform banking. We went all in, and that's a pretty special company to work for."
One of the transformations at ATB was to build a bank from the ground up — today. Its new banking platform, Brightside, eschews the overhead of physical branches and the confinement of legacy processes, helping to bring new ideas to ATB, and to transform the banking experience for all of its customers.
But designing and ushering in these transformations requires a unique set of skills — skills that Holbrook says will be highly valued by most employers in the near-future. Here, he breaks these skills down into four essentials groupings:
The Ability to Soften Up
The rise of artificial intelligence (AI) and automation will completely transform the job market. Holbrook says ATB is already using bots to do simple tasks and processes that full-time human team members would have been doing just a few years back. Because AI strips away the need for repetitive tasks to be completed by humans, Holbrook believes that what are commonly referred to as soft skills — things such as creativity, willingness to learn and unlearn, and effective communication — will continuously increase in demand.
"The skills that would make someone successful in [the banking] industry in the past would have been [the know-how] to get something done, or expertise in a process or system," Holbrook says. "But more and more in the future, those things will be done by technology. We'll still need people, but you'll be valued more for your ability to connect to and understand your customer, and for your ability to understand the environment around the marketplace to foresee where the next opportunities will be."
Being Comfortable with Change and Uncertainty
Holbrook says an uncertain future, as far as job prospects go, is the only thing you can truly be certain of. The sooner you accept and embrace this reality, the stronger a candidate you will become for working in a somewhat chaotic future. Holbrook says these skills of acceptance and flexibility will be crucial to employers throughout the next 10 years. They're also skills that he looks for when discovering talent at ATB.
"The bottom line is everyone is going to need more resilience, and that means you're able to comfort yourself in a world of increasing uncertainty," Holbrook says. "You can't have the confidence that you're going to start your career today and retire 35 years from now doing the same thing. That is not likely in the future."
Cultivating (and Demonstrating) Curiosity and Openness
When seeking team members who can help with transformation, Holbrook looks for certain key characteristics. "We have nine key behaviours we look for that are important for transformers," he says. "These include courage, a growth mindset, grit, being customer-obsessed, being team-first, hustle, adaptability, ownership and balance."
When asked how he quantifies abstract skills like "courage" or "having a growth-mindset," in the hiring process, Holbrook says he digs into things beyond just education and work experience to understand the person, not just the professional.
"What kinds of personal risks have they taken? How much have they travelled? What kind of curiosity and openness to explore do they display in their [everyday] life?" Holbrook says. "It's not just about your degrees and experience anymore — those are certainly important — but we really look for people who have built up muscles in managing change and solving problems."
Exposure to a Diversity of Ideas
When asked what career advice he gives to his own children, Holbrook keeps things simple. "If you do something you love, you're going to be good at it. If you do something for money, you might find out that you end up hating it."
Beyond that key bit of wisdom, he believes it's also important to get consistent exposure to new ideas and technologies to gain an overall advantage in the job market. This not only expands your knowledge, but inspires creativity — a critical attribute that often gets overlooked. According to Holbrook, creativity is paramount. Especially when paired with an understanding of the technological landscape.
"Certainly, the growth industries of tomorrow are going to be technology-based, but I think people get caught up in thinking that they need to learn highly technical skills, like coding," Holbrook points out. "Expose yourself to as much as you can. Because the more exposure you have to a diversity of thoughts and skills, the more likely you are going to be successful in the world of the future."
This content was supplied by the advertiser for commercial purposes. It is not written by and does not necessarily reflect the views of Avenue staff.