Legacy's acres of green space, welcoming front porches and strong community spirit all mean it feels a little different than the average new neighbourhood — a difference, the community's developers say, is by design.
"[Developing] a community does not just mean the houses that you're building," says Kalida Manarin, marketing manager with WestCreek Developments, the residential land development team behind Legacy.
While not always obvious at first glance, Manarin says transforming Legacy into a community in the truest sense of the word has been one of continued conscious effort since 2013, when residents first started moving in.
Boasting 30 acres of green space — which allows residents and visitors to wander the community from one side to the other without ever touching sidewalk — as well as five playgrounds (and more to come), intentional design from WestCreek creates plenty of room to get out and meet with neighbours. As put by Manarin: "That's our job as a developer — to create spaces where people can come together."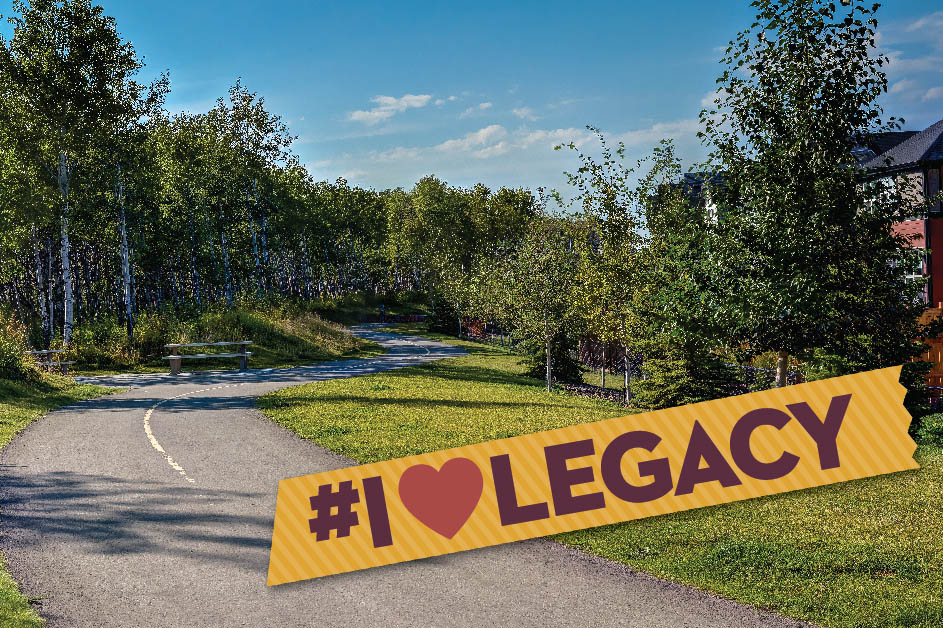 WestCreek's public art program aims for a similar objective in fostering spaces to gather. There are currently three sculptures in the community: a silver geometric dog near the Bone & Biscuit Company, a functional sundial in Legacy's Green Park and the "Open Hearts Icon" statue by artist and actress Jane Seymour. On a smaller scale, thoughtful design choices were also made to convey a welcome feel, like keeping front porches of homes to three stairs rather than four to make the visiting neighbours feel less intimidating and more inviting.
"Residents might not notice [these details] as they walk or drive into the community, but they'll feel them when they live there," says Manarin.
While WestCreek is doing what it can to build community, Manarin says residents are largely to thank for Legacy's welcoming feel to this point. Each holiday season, WestCreek donates Christmas lights to the Legacy Residents Association, which has taken the lead on creating more and more elaborate displays throughout public spaces. Manarin says homeowners throughout Legacy have also embraced the tradition, filling backyards along pathways with festive décor for Legacy and neighbouring community residents to enjoy.
Further adding to the holiday festivities is the community's open-to-the-public skating and hockey rinks, both of which are also maintained by the Legacy Residents Association.
"A lot of times you get the glitz and glam when the developer is there, and then once they're gone it's over, and in Legacy that's something that we didn't want to see happen," says Manarin. "And so, the residents association has been a great partner for us to make sure that you get Christmas lights every year that you're living in Legacy, and that community initiatives can continue on."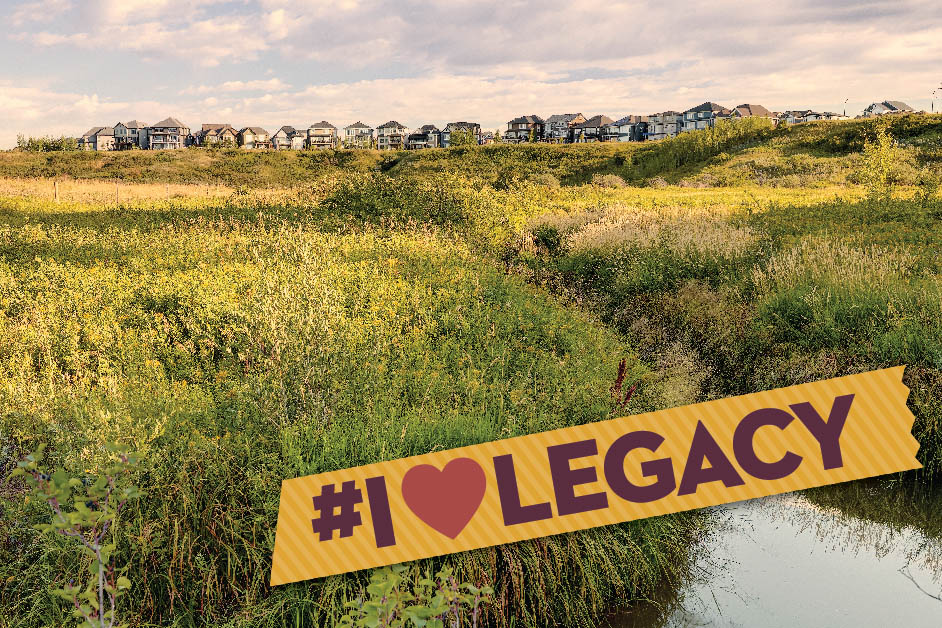 Efforts both from the developers and the residents association seem to be resonating. For the annual "I Love Legacy" campaign, WestCreek sets up heart-shaped installations for residents to attach notes to listing their favourite parts about their community. This year's edition runs until October 25, with installations at Legacy's Move-up Parade (17 Legacy Woods Circle S.E.) and the Green Park (around the corner from 307 Legacy Mount S.E). Manarin says the positive responses from the project have been consistently overwhelming, both from residents and visitors.
Manarin says WestCreek is continuing its commitment to help Legacy reach its full potential, including supporting the in-progress construction of Township. As Legacy's largest commercial site, Township will host retailers and restaurants like Sobeys, Bed, Bath & Beyond and Canadian Brewhouse in 2021.
Ultimately, Manarin says she hopes Legacy will maintain its high-end community feel for decades to come for all residents, from first-time condo owners to those looking to upsize into estate homes. Meanwhile, WestCreek and community residents will continue to create more and more reasons to love Legacy.
Learn more about WestCreek's continued commitment to Legacy at legacylife.ca.
Facebook: CalgaryLegacy
Instagram: @westcreekdevelopments
Twitter: @LegacyCalgary
This content was supplied by the advertiser for commercial purposes. It is not written by and does not necessarily reflect the views of Avenue staff.