Gray Jay Deluxe Canadian Whisky is a new kind of whisky. Named after Canada's national bird, the friendly and fearless Gray Jay, this is a whisky that's totally unpretentious and approachable.
Handcrafted in Canada from pure Canadian ingredients, Gray Jay is as smooth and easy drinking as whisky gets.
The brand's slogan is "Your whisky. Your rules." Because at Gray Jay, they love whisky. And hate the idea that you can't enjoy it unless you follow some sacred rules and rituals, that were invented by some stuffy old gents hundreds of years ago.
Everything from its eye-catching bottle to its sweet, smooth and easy-drinking flavour, with character notes of vanilla and caramel, has been designed to welcome new whisky drinkers, while appealing to experienced Canadian whisky enthusiasts, who will appreciate Gray Jay's well-rounded character and versatility. This is a deluxe Canadian whisky that you can enjoy neat, in a cocktail, a mixed drink, paired with food… or any way you like.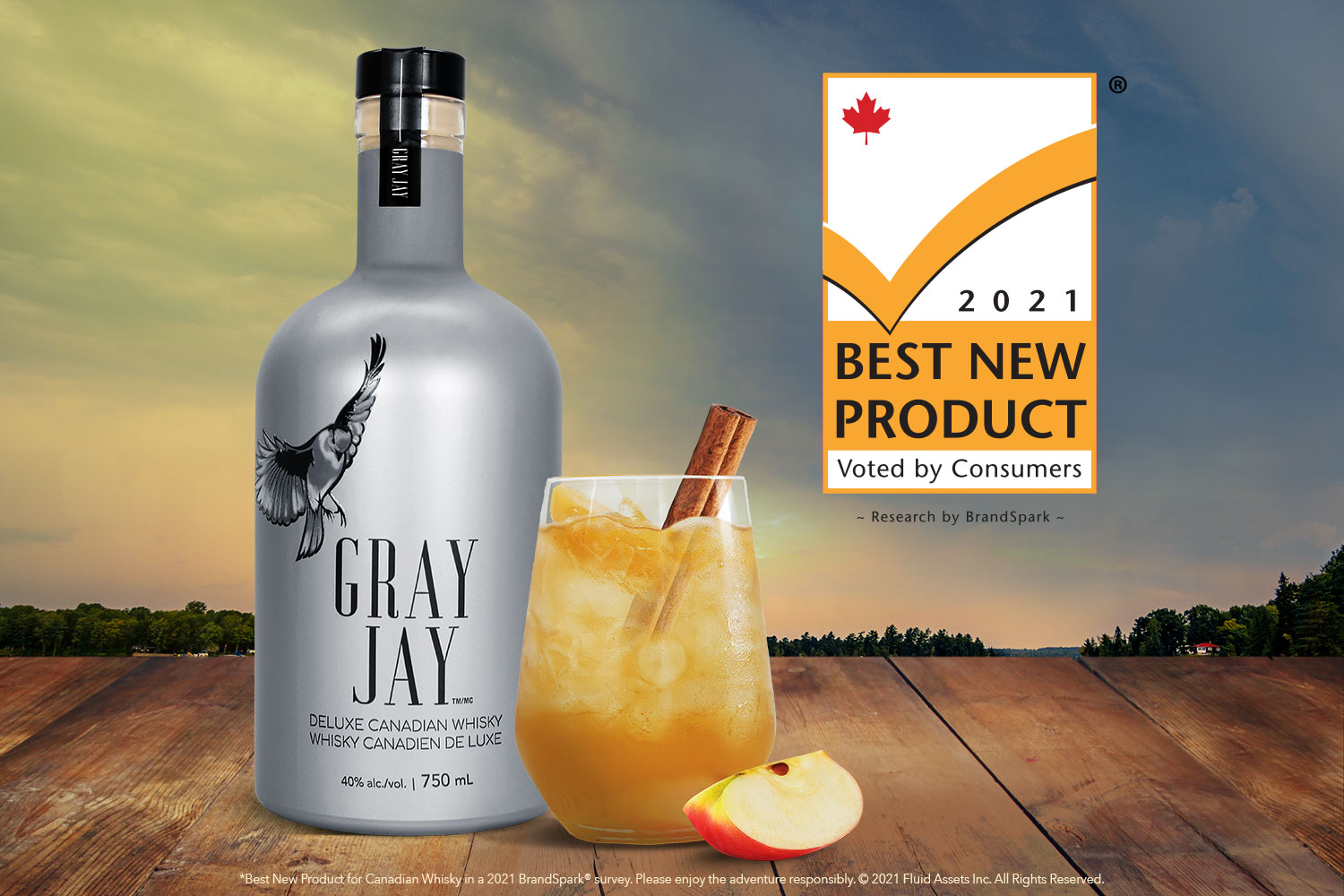 Ever tried a Caesar with whisky instead of vodka? Or tasted whisky with apple cider and lemon? Or whisky, grapefruit juice and ginger ale? They're all ridiculously good. And they're just a few of the recipe suggestions that you'll find on Gray Jay's website.
With Gray Jay you make the rules. Its great taste and gentle finish make it so inviting and versatile, there's really no wrong way to enjoy it.
If you are a newcomer to the world of Canadian whisky, Gray Jay is perfect for you. There's no mystique. No steep learning curve. Just a great-tasting whisky that you can enjoy by itself, on ice, mixed with a soda, or in any number of different cocktails. Gray Jay is a whisky that you can call your own, and make your own. You don't need any fancy glasses, and you don't need any special occasion. All you need to do, is try it. And you may just discover your new favourite spirit.
If you're already an experienced whisky drinker, you'll find that Gray Jay flies in the face of tradition, and away from the Old Guard of Canadian whiskies. Gray Jay invites you to embrace your sense of adventure and explore the many ways you can enjoy its smooth and easy-drinking flavour. You could experiment with a new craft cocktail. Try a new twist on a classic recipe. If you enjoy Canadian whisky, there's no end to the exciting possibilities with Gray Jay, which is handcrafted right here in Canada.
Award-winning Gray Jay Deluxe Canadian Whisky is now available at a store near you.
This content was supplied by the advertiser for commercial purposes. It is not written by and does not necessarily reflect the views of Avenue staff.