It's that time of year when the days get shorter and the leaves begin to change colour. For Calgarians, this can mean taking an annual hike to Larch Valley, getting lost in the corn maze, and spending time at the many fall fairs that happen around the city.
For those living in the northwest community of Symons Gate, it means participating in a fall ritual that is both delicious and fun: canning and making homemade preserves.
Canning is a great way to hold onto the flavours of summer while enjoying fresh-farm local produce for months to come. And if you live in Symons Gate, your canning options are endless due to the close proximity of the Symons Valley Ranch Farmers Market, which is one of the only markets open year-round.
Located in northwest Calgary, Symons Gate won the New Community of the Year Award in 2015. Since opening a couple years ago the community has attracted many young professionals and growing families who appreciate features like the proximity of the market, access to vibrant green spaces, and a true sense of belonging.
Canning takes time and precision, but if you get the whole family involved, it can be full of fun, laughs, good food and messy hands. Here is a basic guide to help you enjoy delicious preserves all winter long.
Canning Basics
Simply put, canning is the process of preserving food in airtight jars at extremely high temperatures in order to kill anything that could cause spoilage or, even worse, food poisoning. By creating a vacuum inside the can and preventing it from being exposed to the air you're extending the expiration date of your food.
The key to canning is taking the time to properly prepare with the right tools and best ingredients – there are no fancy short cuts. However, if you follow the steps highlighted below it can be a very rewarding process and a fun, economical way to preserve quality food instead of buying pre-packaged goods.
Ingredients – Stick to Local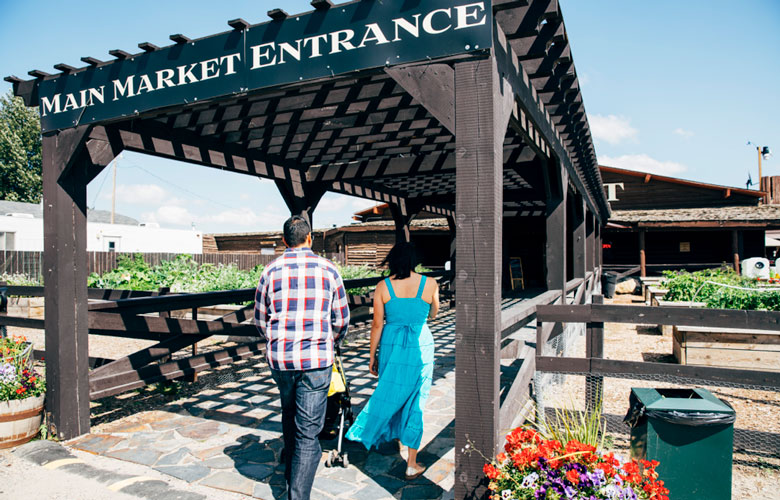 Nothing compares to the taste of local produce that's been freshly harvested. When you're preparing your canning recipe you'll get the best results if you use fresh, high-quality food that is rich in colour, flavour and nutrients and at its peak ripeness.
With the recent events concerning Calgary's economy, it's more important than ever to support farmers and small business owners in the area. Luckily for the residents of Symons Gate and nearby communities, the Symons Valley Ranch Farmers Market is open 10 a.m. to 5 p.m., Friday through Sunday. The market provides shoppers with fruits, vegetables, meats, coffee, freshly-baked goods and other items from local farms and businesses around Alberta and Western Canada.
Having the market essentially in your backyard makes it extremely convenient to find fresh, local produce for your canning needs. Grab a drink from Phil & Sebastian Coffee Roasters and spend some time browsing the different stalls, checking out the vendors to find the best quality produce. A few to look for are Walkers Own Produce, Shirley's Greenhouse, and Fork in the Rowed Farms.
Equipment
Most of the items needed in the canning process should already be in your kitchen, but if they aren't, you can easily find them at a kitchen store nearby. Here's a list of items to get you started:
Tempered-glass mason jars
Two-piece vacuum caps that includes snap lids and screw bands
Large pot or canner
Measuring spoons
Ladle
Plastic or stainless steel funnel
Tongs
Canning wand
Boiling Process
Not all preserves can be made the same way. You need to keep in mind the acidic level of the food you plan on canning as a different process is required for high acidic (pH values lower than 4.6) versus low acidic foods (pH values higher than 4.6).
High acidic foods generally include all fruits, jams, jellies, tomatoes (with added acid), chutneys, relishes, sauces, vinegars and condiments. When preparing high acidic produce, process your jars at 212 degrees Fahrenheit (100 degrees Celsius) in your boiling water canner to inhibit the growth of any harmful bacteria.
Low acidic foods include vegetables, soups or stews, meats, poultry and seafood. Jars used for these preserves must be processed at 240 degrees Fahrenheit (116 degrees Celsius) to destroy bacteria specific to these foods. This is why you need to use a pressure canner, rather than just a boiling water canner, to reach temperatures high enough to prepare low acidic preserves.
Instructions
Now for the good part – actually making your preserves! Here's what you do:
1. Wash the jars and place them in your canner to let simmer.
2. Set the screw-bands aside and place the heat snap-lids in hot, but not boiling, water.
3. Wash your produce and prepare your recipe.
4. Use your ladle and fill your jars with your preserve, leaving the recommended headspace to ensure your jars seal properly.
5. Add salt if necessary.
6. Use a non-metallic utensil to release trapped air bubbles in the jar by stirring it around the side of the jars.
7. With a damp cloth, wipe the rim of the jar to make sure you get a perfect seal.
8. Centre the snap-lid and apply the screw-band securely, but don't over-tighten.
9. When the processing time has lapsed, remove the jars from the canner without tilting them. The processing time will be specific to your recipe, the type of canner you are using, and the altitude you are at.
10. Cool the jars for 12-24 hours.
11. When fully cooled, press the center of each lid to ensure that the lid curves downward and holds when pressed. If a few jars are not sealed, place them in the fridge and use within 2 or 3 days.
12. Remove screw-bands and wash jars and lids to remove any residue. Replace screw-band loosely on jars as desired.
13. Label and store preserves in a cool, dry dark place until your next family picnic or get-together.
With features like the Symons Valley Farmers Market so close by, northwest Calgary residents have no excuse for missing out on this seasonal activity. Be sure to use your preserves within one year of making them to enjoy their rich flavours to the fullest. Happy canning!
This content was supplied by the advertiser for commercial purposes. It is not written by and does not necessarily reflect the views of Avenue staff.