If skate enthusiasts in Mattamy Homes' new master planned community of Carrington community look up, they'll see a canopy of 17 intertwined metal leaves. While each leaf on its own is a geometric marvel, they come together to compose a stunning canopy, which lights up at night to create a magical, sparkling structure.
Toronto-based builders Mattamy Homes say the art installation, hung above the Skate Board Area in the Gateway to Carrington in Carrington's Greenway Park, is more than a shiny piece of eye candy—it's a metaphor for the connection and possibility that bloom from the groundbreaking of a new community.
On October 14, Mattamy Homes held the grand opening for Carrington, its first northwest community in Calgary. The 159-hectare community is located beside Evanston at the intersection of 14th Street and 128th Avenue N.W., a 20-minute drive downtown and a 15-minute drive to the airport.
The neighbourhood is planned to house approximately 3,000 homes. The first stage of Carrington includes townhomes, rear-lane duplexes and single-family homes starting from the mid $300Ks. These options make it a uniquely flexible area for aspiring owners, from those starting their first family home, to those looking to move out of the urban core while still being connected to local attractions and nature.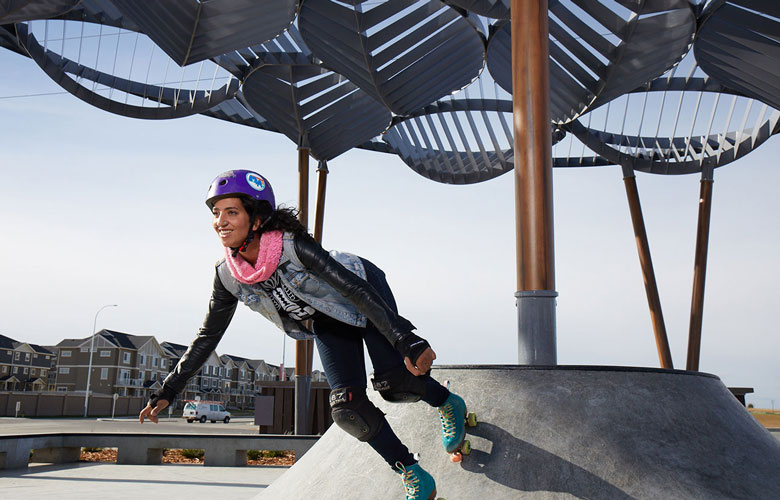 Although Carrington is a mere two hours away from the mountains, residents won't have to walk far to get a taste of the great outdoors. The art feature's botanical theme is closely tied to the greenspaces woven throughout Carrington. The community not only holds two natural environmental reserves, but is also connected to the 138-kilometre Rotary/Mattamy Greenway. This parks and pathways network will circle the city and connect Mattamy's Calgary communities: Cityscape and Carrington.
The Rotary/Mattamy Greenway is the longest urban pathway and park system in North America, accented with off-leash dog parks, family fitness parks and educational wetland interpretive areas.
The sculpture was created through a collaborative design process by Heavy Industries and NAK Design, who were inspired by the community's natural assets when creating the piece.
"The canopy structures are designed to evoke a stand of Aspen trees.  As a pioneer species, Aspens are one of the first trees to take root in nature and assist in establishing conditions that can help other tree species grow and flourish," explains Paul DiProfio, Associate Landscape Architect at NAK Design.
"We felt the spirit of what the Aspen tree means in nature is a good representation of the people who are choosing to live in a brand new community and their will to carve a place for themselves to live for the future."
Carrington's 0.9-hectare Greenway Park is home to the skatepark and its art feature, a playground, a half-court basketball court and gathering plaza. The interconnected leaves of the art feature, which greets residents at the Gateway to Carrington from its 14th Street NW entrance, represent the myriad of interactions and shared experiences to be found in the park, says Warren Saunders, VP of Marketing & Sales at Mattamy Homes.
"The park is a place for people to gather, play and reflect, while the art structure represents the very essence of Carrington," he explains.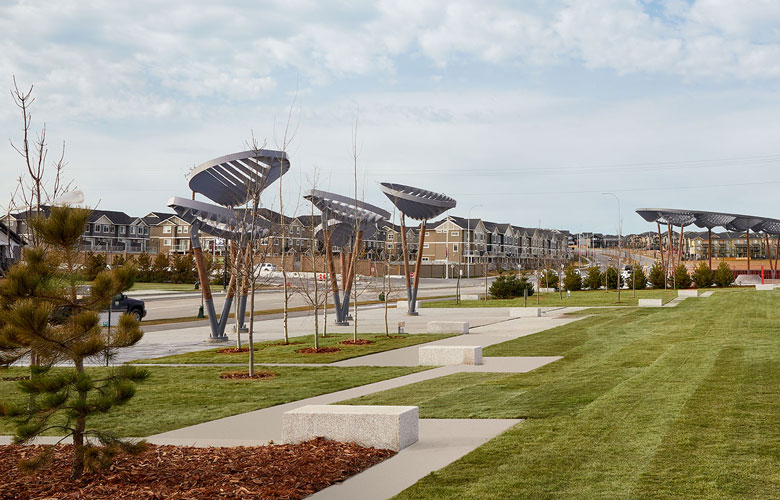 The park is poised to develop its Greenway plaza area, which will offer shopping, restaurants and coffee shops. Two future school sites are also zoned in the neighbourhood.
Mattamy Homes believes that an investment into community art structures—no matter how small—holds the power to transform neighbourhoods for the better, adding a sense of culture, wonder and pride. Smaller versions of the art installation are slated to be placed around the community.
Karla Schultz, Marketing Manager at Mattamy Homes, says the pieces will not only serve as a visual interest or a handy gathering space—they will remind homeowners that even from the beginnings of a community, each new resident is connected to their neighbour.
"Each leaf symbolizes new beginnings and new growth, and also demonstrates how every homeowner plays an important role in developing the collective spirit of the community."
This content was supplied by the advertiser for commercial purposes. It is not written by and does not necessarily reflect the views of Avenue staff.