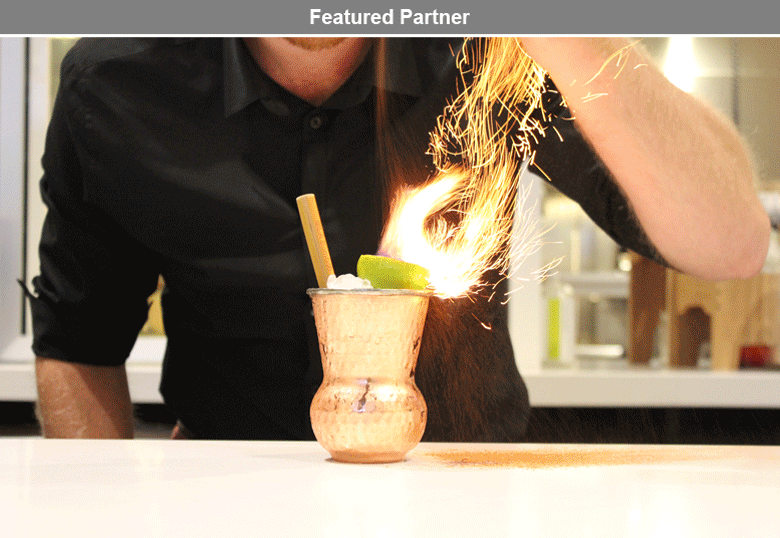 In September, YAKIMA Social Kitchen + Bar launched a cocktail program that takes inspiration from the many international arrivals and departures at the YYC Calgary Airport. The new lineup features classic cocktails from around the world, infused with local ingredients. The menu has been divided into two creative lists: "Arrivals" and "Departures." Every detail has been considered, including glassware. Beverages from "Departures" are served in raised stemware, while "Arrivals" drinks are closer to the table in lower glassware.
As guests arrive from distant destinations or embark on new journeys, YAKIMA Social Kitchen + Bar helps to create memories of their adventures in Calgary. The new Chai Thai is our take on the popular Mai Thai, infusing locally distilled spirits with Asian elements. The base is Glacier Rye, an award-winning unaged rye from Park Distillery in Banff. It's mixed with fresh, house-made ingredients and topped off with a biodegradable bamboo straw and a traditional Lime Boat that adds to the aromatics and flair of this tropical styled classic.
Many classic drinks have a history rooted in the place where they were created. Others revolutionized the bar industry. The new Witalu Mimim is a tequila-based cocktail featuring Tromba tequila. In the native language of the Indigenous tribes of the Yakima region, witalu mimim means "mourning dove." This new addition to the cocktail program is inspired by the Paloma, a classic tequila-based cocktail from Mexico. In fact, it's Mexico's most beloved cocktail (not the margarita), and it's also named after the mourning dove. The Witalu Mimim can be found under "Departures" on our cocktail list.
Specialty beverage tools are used to customize the cocktail program. This allows the team to carbonate cocktails without the use of tonic or soda. Adding carbonation to the cocktails themselves balances out sweeter ingredients to create a flawless blend each time. The new cocktail program at YAKIMA Social Kitchen + Bar demonstrates the innovation and refinement our beverage specialists pursue daily. Prepare to upgrade your drink to a first-class beverage — one that's almost worth missing your flight for.
Witalu Mimim


2

 oz 

Tromba

 tequila




1 oz lime juice




1 oz grapefruit juice




1 oz mango nectar




1 oz agave nectar




Carbonate




Dehydrated grapefruit

Chai Thai
1.25 oz Dark rum
.75 oz Glacier rye
½ lime, squeezed
1 oz chai tea syrup
.5 oz orgeat syrup
1 dash Angostura
Lime flame dust with Thai chili powder
Worth the Trip
Calgary's destination restaurant, YAKIMA Social Kitchen + Bar at the YYC Calgary International Airport, offers a locally inspired menu featuring items that are meticulously handcrafted. Every ingredient is carefully and precisely placed by our culinarians and mixologists for every single order. Many menu items are inspired by the fruits of our land, from game meats and berries to Alberta-harvested grain, all of which are showcased through a unique blend of Asian, Indigenous, and North American influences.
YAKIMA Social Kitchen + Bar offers complimentary 4 hour parking.
Join them every Thursday from 6pm – 8pm for live entertainment.
---
yakimayyc.ca | 1-587-232-0538
2008 Airport Road NE
Hours: 6 am – Midnight
This content was supplied by the advertiser for commercial purposes. It is not written by and does not necessarily reflect the views of Avenue staff.