We waved at you as we passed by on the pathways. We hosted you at our virtual races, and virtually celebrated your best times and solo achievements. Now, after 18 months of running virtually and staying connected from afar, the Scotiabank Calgary Marathon returns in-person on September 19th, 2021. And we're excited to Run Calgary together once again.
Though we are racing in the fall for this year only — the race will take place on last weekend in May in 2022! — expect a return of all the race distances you know and love. This year, choose between racing the GoodLife Fitness 5 km, the Jugo Juice 10 km, the Centaur Subaru 21.1 km, the Scotiabank Calgary Marathon and the 50 km ultra. There is also the Scotiabank Kids Race.
Depending on the distance you choose to run, you'll pass through several of the city's most desirable neighbourhoods. So, what can you expect as we race together through some of Calgary's best communities?
Inglewood
The excitement is high as runners leave the Stampede Park start line and collectively cruise through Inglewood. Shake off those race-start jitters as you run along the Music Mile and through one of Calgary's more unique, historic and indie neighbourhoods.
Bridgeland
Ease into the pace while local jazz musicians serenade you from the roof of Bridgeland Market. Lukes Drug Mart is on the horizon, but you will have to wait to enjoy their coffee until post-race!

Bowness
Marathoners and 50 km ultra runners are rewarded with river views and encouraging cheer stations along Bowness Road. Runners may even want to pick up the pace when they hear the pots and pans the cheer-staff at Leopold's Tavern bang together!

Chinatown
As you cross the Centre Street Bridge and enter downtown, runners begin to feel the anticipation of that finish line nearing. Spotting the lion dancers in Chinatown means those finish line feels are close.
East Village
Any Calgary Marathon veteran will tell you that the East Village is always a party. It is also the home of the Charity Block Party — the Scotiabank Charity Challenge brings many fundraisers together on race day to support the event's official charities. Runners should feel pride as they pass through this final Calgary community in the race, and soak up the appreciation of the cheerleaders who work for local charities.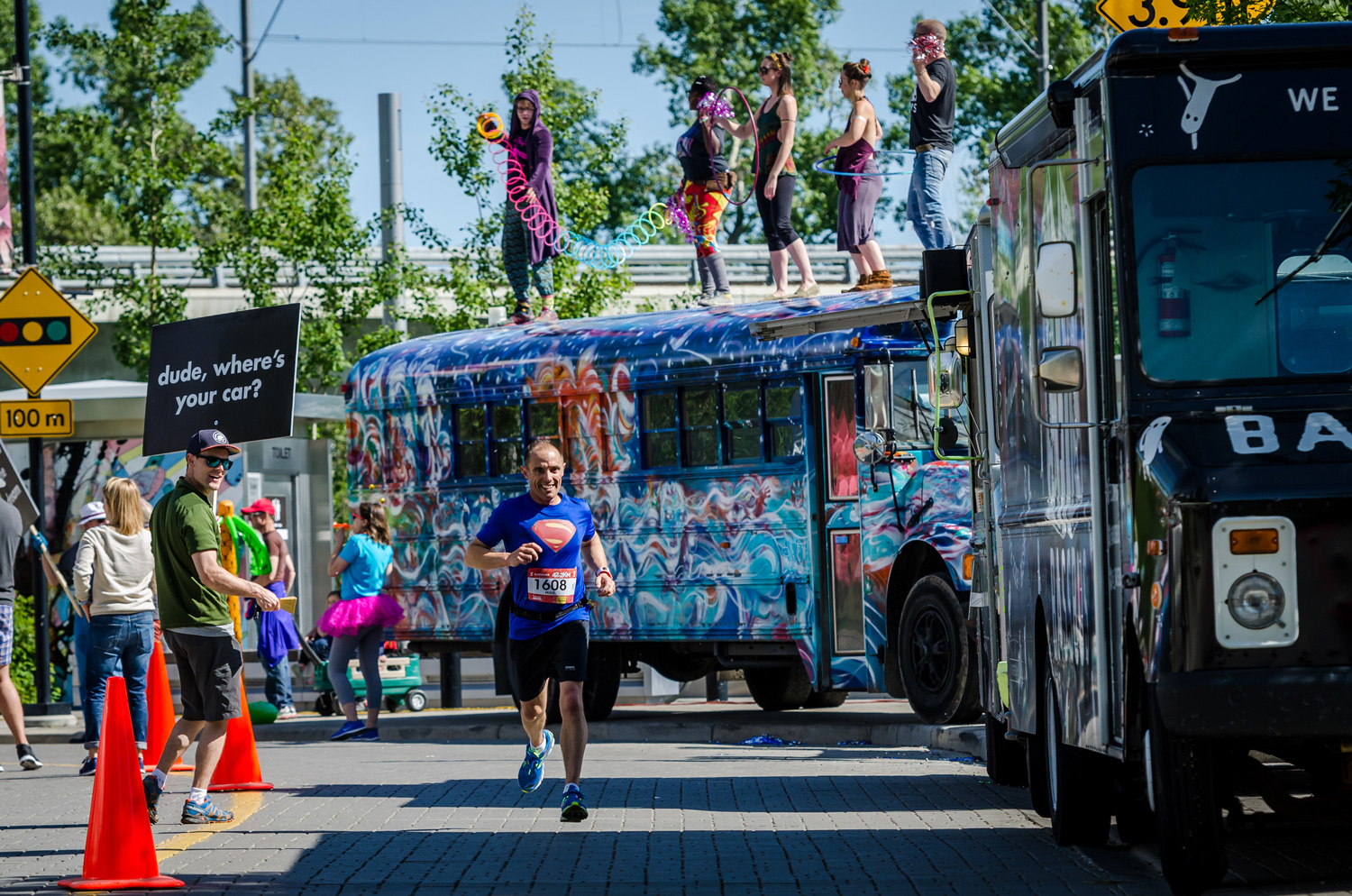 Celebrate finish lines. Celebrate togetherness. Run Calgary on September 19, 2021. Capacity is limited and spots are quickly selling out. Register now to race in-person and avoid disappointment.
This content was supplied by the advertiser for commercial purposes. It is not written by and does not necessarily reflect the views of Avenue staff.