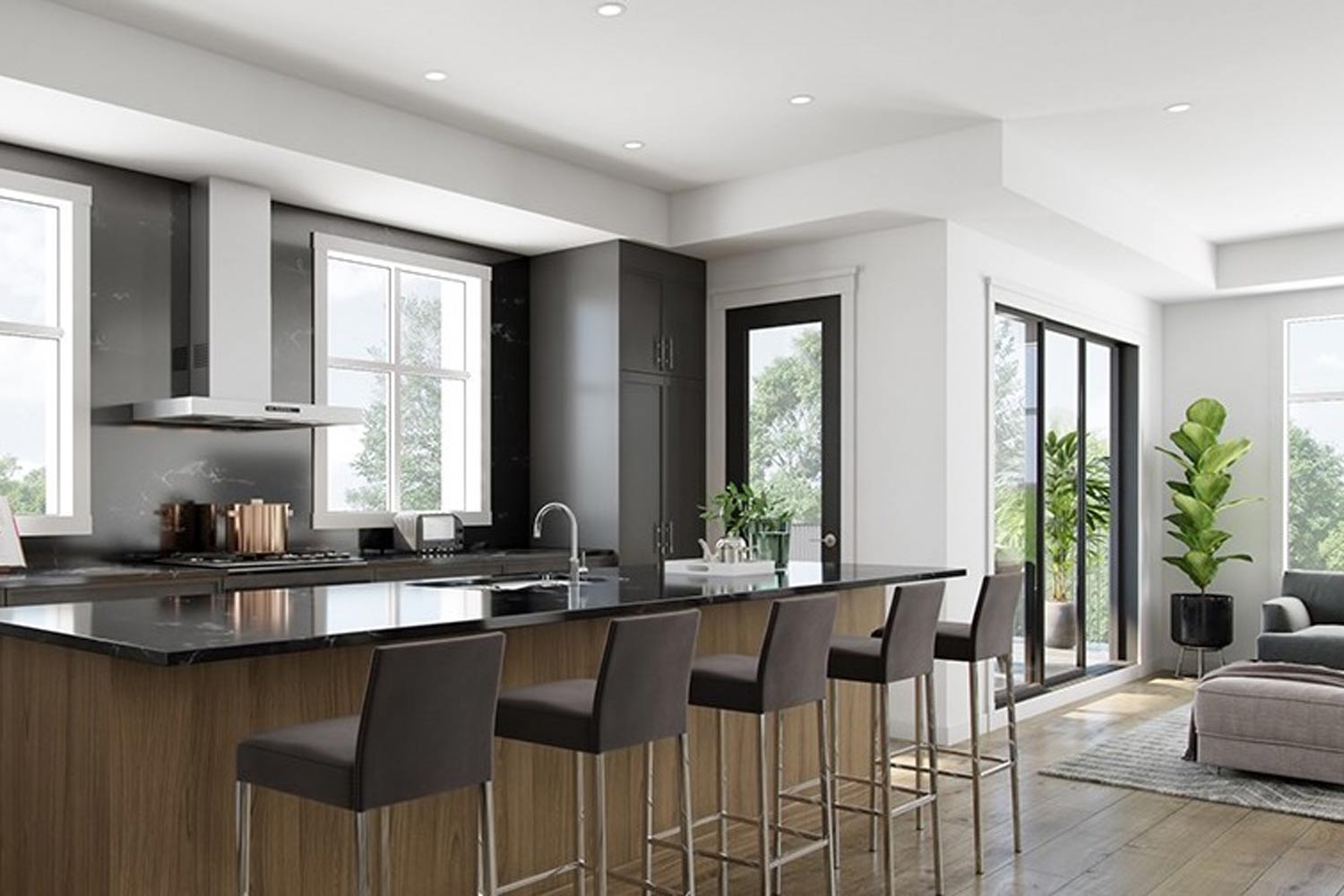 When it comes time to look for a new home — whether because your current one is no longer the right size, or you just want a change of pace — you shouldn't have to compromise on essential elements. You need a home that suits your needs, whether they be layout, uniquely "you" design or access to nearby amenities.  
Enter Capella, a distinctive development of sophisticated homes located in Calgary's desirable University District. Not only are these modern homes beautifully designed, but you can also personalize them to your own taste, ensuring that you're getting the place of your dreams. From multipurpose flex spaces to your choice of hardwood and carpeting, you decide exactly how you want your new home to look and feel.
Capella's single-level residences are a great choice for so many reasons. In addition to their wide range of design options, they feature spacious two- and three-bedroom floorplans ranging from 1,300 to 2,000 square feet. Each home also boasts soaring 10-foot ceilings with stunning oversized windows, giving you room to breathe. They've been designed to maximize functionality with a spacious open-concept living area and a master suite, plus open flex areas, which can be utilized as either a third bedroom, office space, reading nook or storage solution. Each single-level residence is equipped with its own private garage and semi-private elevator. Plus, every home is also stair-free, meaning you, your family and even your pets can grow old here.
Let's step inside some of these homes, starting with the sleekly modern two-bedroom Carina.
This floorplan boasts a refreshing, neutral colour palette and a seamless kitchen and living room space. Chic grey cabinets provide the perfect backdrop for a minimalist kitchen, designed to do double-duty as a cooking and entertaining space. Towering windows make for a bright, airy space that would look stunning accented with hanging plants and vibrant décor like colourful throw pillows and paintings.
If you're seeking a home with plenty of space to grow, consider setting your sights on the Dorado.
With three bedrooms and two-and-a-half-baths spread across 1,724 square feet, this chic floorplan leaves more than enough room for you and your family. Another stunning example of Capella's open-concept design, Dorado's inviting entryway leads you into the main living area and out onto the sunny patio beyond. Stately black marble backsplash and countertops give this space a sophisticated vibe perfect for cocktail parties and romantic nights in.
For those in need of a truly personalized space, look no further than the Aquila.

This floorplan can easily be tweaked to suit your unique needs. Need the full three bedrooms? You've got it. Prefer to have extra office or play space? Two bedrooms and a flex space it is. Regardless of how you make this home your own, however, you'll be treated to a show-stopping patio perfect for entertaining, a bright and soothing master bedroom and a deep soaker tub in the bathroom. Consider the Aquila your standing invitation to take a staycation.
With Capella's single-level residences, you can rest assured that your next home will be of the highest quality regardless of what floorplan you choose. Brookfield Residential has been providing Calgarians with the best places to call home for over 60 years, and Capella is no different. From developing award-winning, master-planned communities to designing and constructing premiere homes, trust Brookfield to provide you with a cozy and quality space.  
Whether you're downsizing from a detached home that no longer suits your needs or upgrading from a condo or apartment to a more spacious single-level option, Capella is worth keeping an eye on. From its desirable location in North Calgary's University District to its highly personalized design, this development may just be the perfect place for you and your family to put down roots.
This content was supplied by the advertiser for commercial purposes. It is not written by and does not necessarily reflect the views of Avenue staff.