The Hub Calgary is shaping the mould for student and young professional living, combining comfort, convenience, and unique amenities, all while creating a living experience custom-designed for its residents.
"Students are very different in what they're looking for — from technology to communication, to resident events," says Sarah Stewart, associate vice president of marketing and call centre operations with Centurion Property Associates Inc., the team that manages The Hub. "It really does take an experienced manager to be able to do that."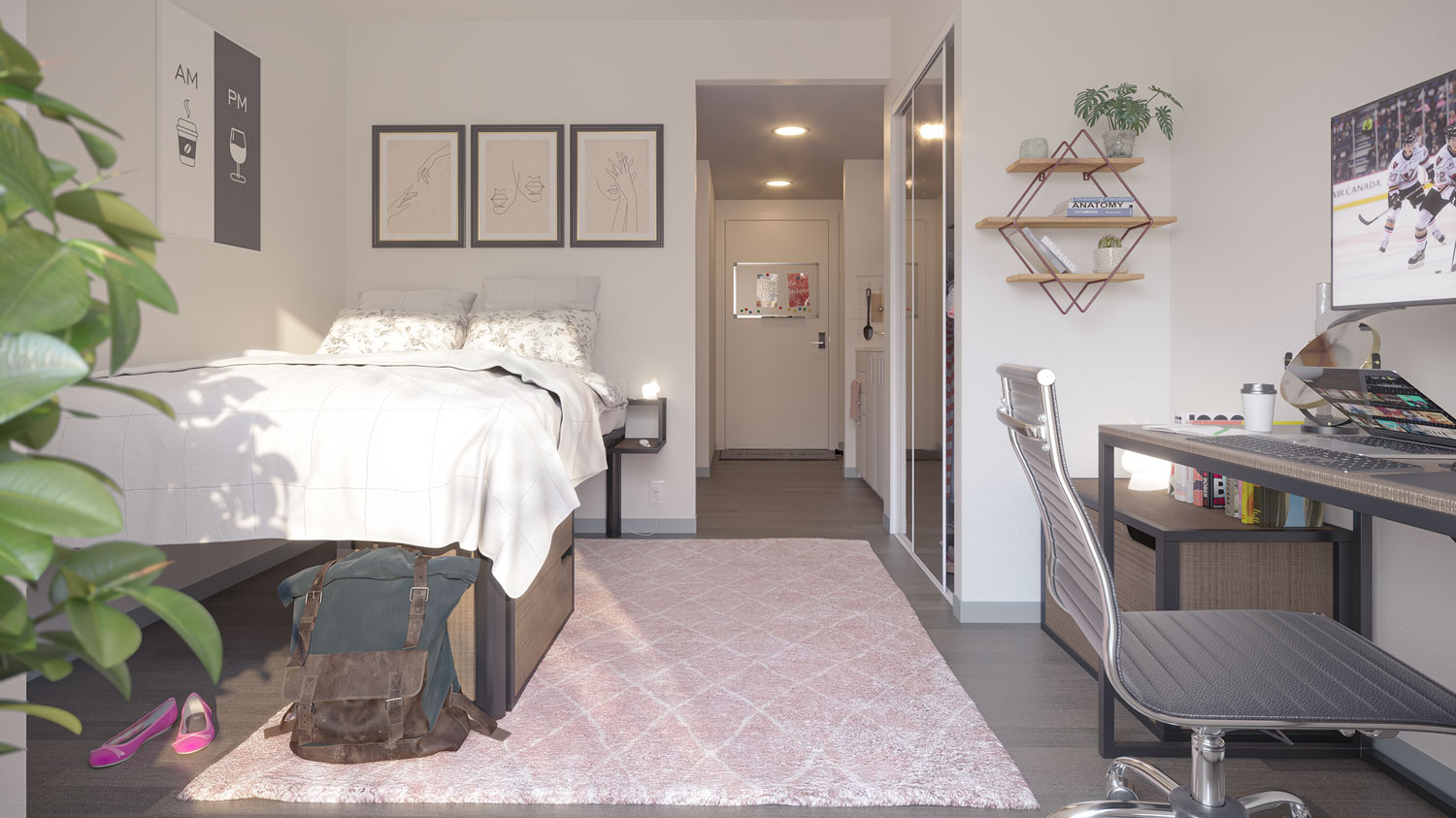 Centurion's track record with the demographic shows they're well equipped for the task. In 2009, Centurion first entered the student-living market, further growing their high-reputation and experience over the next decade with The Marq — a student-focused residential development with locations in Waterloo and London, Ontario, as well as Montreal, Quebec.
Now, the expertise gathered in managing these properties has headed west to Calgary as The Hub, which Stewart describes as a "second-generation" endeavour for Centurion.
"We took 11 years of learning in our other student housing communities and applied it to The Hub," explains Stewart.
Centrally located near the University of Calgary and SAIT at 2416 16 Avenue NW, The Hub consists of 486 units, individually priced by bedroom. Options range from single studio, two-bedroom, or three-bedroom rentals, all of which come fully furnished with contemporary furniture and include WiFi, heating, and cooling. Kitchens with energy-efficient appliances, smart TVs, XL full beds, and programmable thermostats in individual suites, all help enhance the innovative vision that The Hub brings to life.
Recognizing the importance of both authenticity and convenience, Centurion utilizes streamlined digital platforms complemented by an experienced on-site team that is ready to support any needs.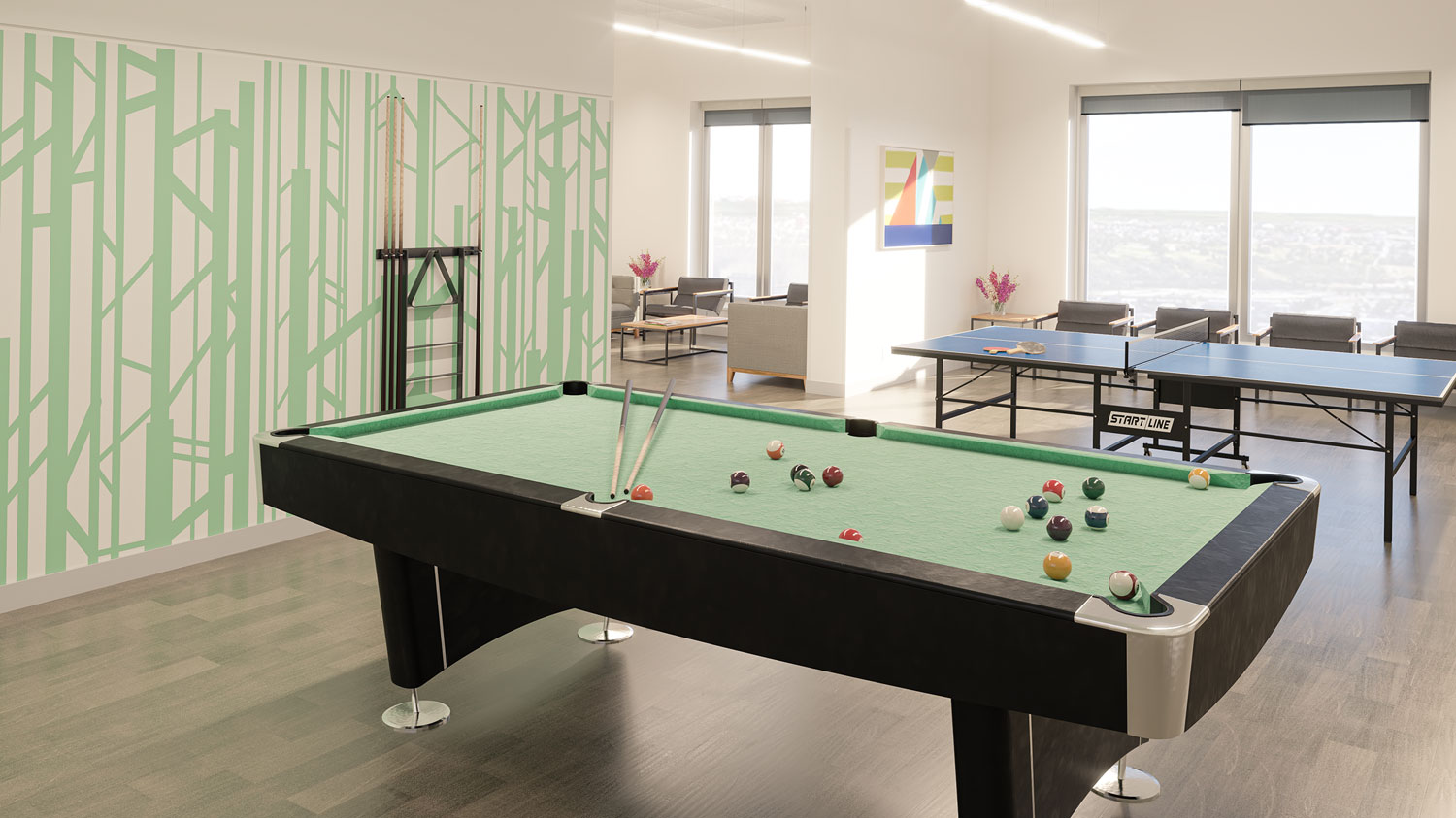 Residents at The Hub can easily pay bills with the tap of a smartphone, submit maintenance requests online, and even receive notifications when laundry is done, thanks to an Online Laundry Management service. A 24/7 parcel locker is also available to receive online purchases with peace of mind and collect them when ready.
The Hub fosters community at its lounge, which features billiards, table tennis, foosball tables, and a communal kitchen for group get-togethers. Resident events are also on the rise to bring neighbours together. As Stewart puts it, "the whole on-site experience is meant to be one of community."
With a move-in date of September 1, The Hub Calgary is set to offer something fresh, creating a student-life experience regardless of what classes may look like this year. Bringing something new and innovative to Calgary, Stewart says, is a personal highlight of the project.
"I'm really excited that we're going to be the first," says Stewart. "We love setting trends and creating benchmarks."
Want to learn more? Visit thehubcalgary.ca today!
The HUB Calgary is a collaboration between Centurion Property Associates Inc. and Campus Suites.
This content was produced in partnership with the advertiser by RedPoint Media for commercial purposes.