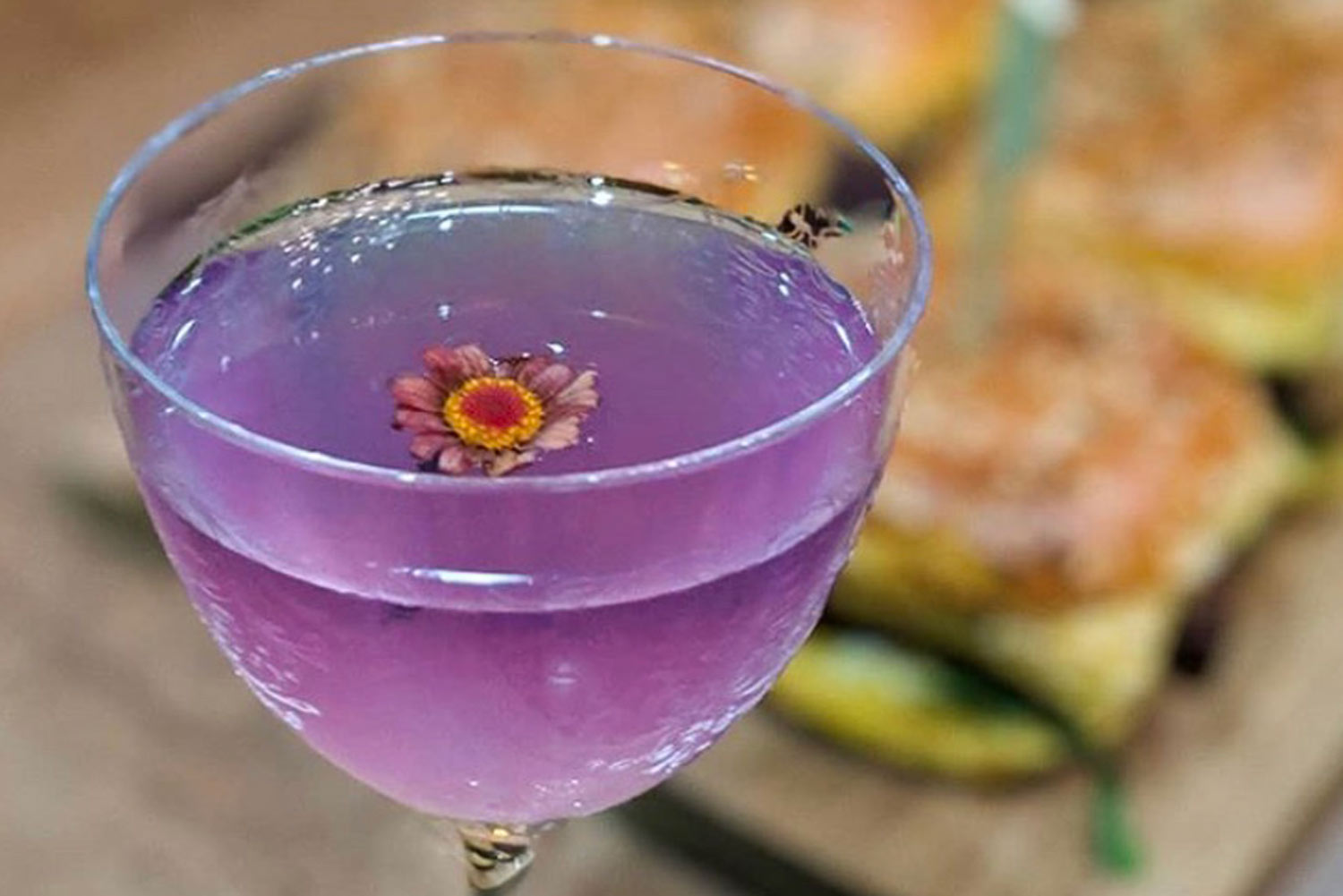 Whether you're looking for a great meal, a refreshing cocktail or both, Yakima Social Kitchen + Bar is a must. Located pre-security at the Calgary International Airport, the restaurant is the perfect spot for welcoming guests to the culinary scene of Calgary and area, or sending them off in a magnificent farewell.  
The team at Yakima Social Kitchen + Bar stays ahead of trends by continuously expanding their crafts and experimenting with flavours. And this spring, the restaurant launched new menus that feature a variety of exciting, locally-inspired dishes and buzz-worthy cocktails.  
At the Bar
Yakima's new bar menu has something for every taste — and there's a story behind each cocktail on offer. For on-site mixologist Mihail Stalianof, creativity is key when crafting a new cocktail; he begins by building a narrative, where ideas are connected to form a story. Among his newest, story-rich concoctions is the Year of the Butterfly, which begins in a midnight blue hue, then transforms to a rich violet. The transformation is completely natural and comes from the extract of a flower called the butterfly pea, which changes colour depending on pH levels. The butterfly pea is one of many plants that have pigment molecules that are pH indicators. In a neutral or basic solution they will appear green-blue or blue-purple, but add some acid and they'll turn purple or red. When Mihail first learned about colour-changing food pigments, he couldn't wait to experiment with the possibilities. The secret ingredient used to change the colour of the Year of the Butterfly is a simple squeeze of a lemon.  
Whether you choose to sip on a Year of the Butterfly or opt for one of the other intriguing cocktails on the bar menu, you'll be inspired by the creativity and thought that goes into each of Mihail's signature drinks. Of course, the bar also offers a variety of options for wine-lovers, as well as a beer selection that is exclusively reserved to local Calgary craft beers.
From the Kitchen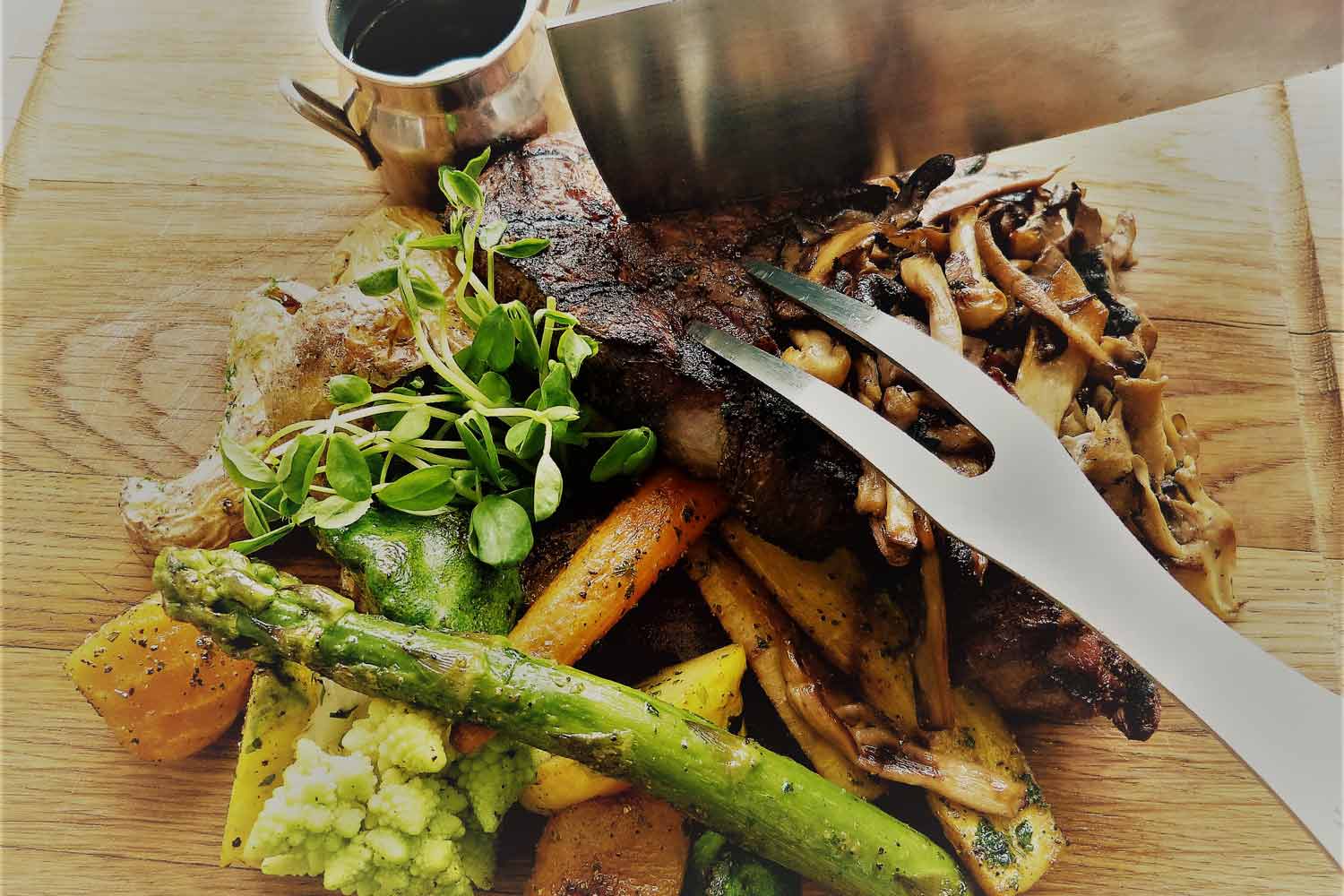 Once you've finished your cocktail at the bar, make your way to the restaurant side of Yakima Social Kitchen + Bar, where you'll find the new menu that was proudly created by executive chef John Forsythe and his team. Inspired by seasonal ingredients, the latest food trends, and unique interpretations of travellers' favourite meals, this inventive menu offers elevated options that take guests well beyond the typical airport dining experience.
"Some recipes start from an idea, and just have a way of coming together when the ingredients are in your hands," says Chef Forsythe. Others, he explains, take years of research, trial and error, starting from scratch, seeking expert advice, and retesting before satisfying results emerge.
Yakima Social Kitchen + Bar's new menu is certainly in the latter group. Among its delectable options is the Canadian Rangeland Bison Ribeye, from bison that was born and raised on the Pilatus Bison Farm near Bentley, AB. Low in fat and cholesterol, bison is one of Alberta's signature foods, and this 10 oz cut is served on a wooden plank, with a butcher knife and meat fork. It's the perfect dish for travellers (and locals) looking for an authentic Alberta dining experience.
If you're heading to the Calgary International Airport, or just want to try an exquisite meal, be sure to stop in at Yakima Social Kitchen + Bar. Complimentary valet parking is available for dinner guests near Door 13 on the Departures level.
---
Yakima Social Kitchen & Bar
2008 Airport Road NE
Calgary, Alberta, T2E 3B9
YYC Airport, Departures Level, Door 13
1-587-232-0538
Parking: Complimentary Valet (up to 4 hours)
Hours: Mon-Sun 6am-late
YakimaYYC.ca
This content was supplied by the advertiser for commercial purposes. It is not written by and does not necessarily reflect the views of Avenue staff.