For the past few years, PARK has worked closely with local artists to create beautiful and experiential murals and art installations in different communities across Calgary. This year, PARK is partnering again with Deerfoot City to launch the third annual #YYCBlockParty for another fun-filled summer celebrating local artists and enjoying some retro '70s vibes thanks to the new 120-foot roller rink. Block Party is open throughout the summer until Sept. 30 and is filled with colourful art and outdoor spaces where you can explore, interact and immerse yourself in the culture of the city.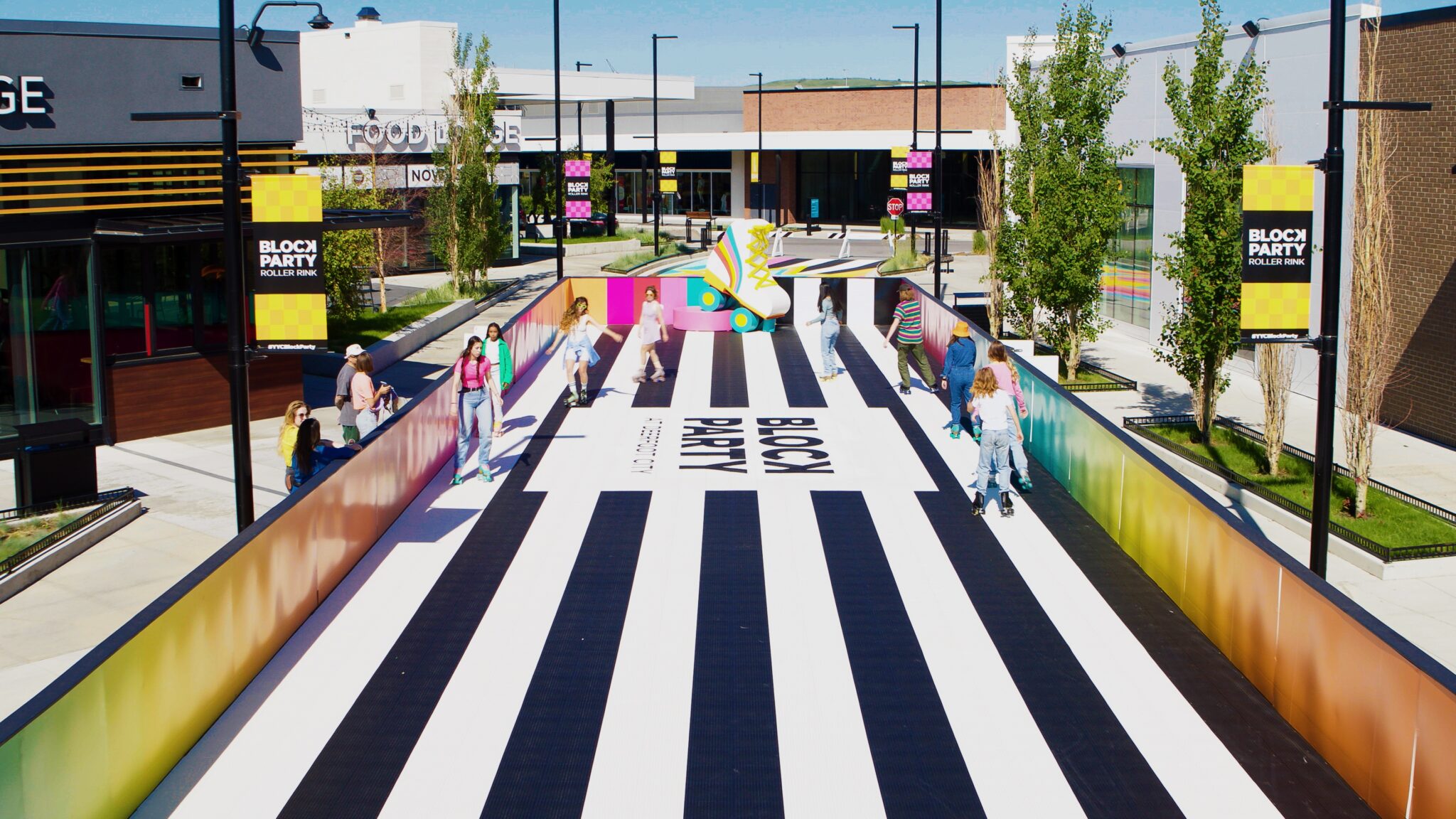 Skate The Retro-Inspired Roller Eink
Dig out your vintage roller blades or rent a pair of colourful skates and take a spin on the vibrant roller rink located in the heart of the Blocky Party. Entrance is free, and all rental proceeds will be donated to Kids Up Front, a charitable organization that gives children access to enriching experiences like attending arts, culture or sporting events. Further connecting to the cultural collaboration, five local artists have also teamed up with PARK and Deerfoot City to bring festive and eye-catching murals and art installations to the Block City. The colourful rainbows and popping stars on the retro roller rink and street mural were designed and painted by Rachel Rivera and Claire Ouchi of the WKNDRS. The artistic duo aims to connect with the community through their artistic endeavours and make art and design accessible to everyone.
Fuel Up With A Local Snack And Interact With Art
After enjoying the '70s atmosphere on the rink, take the chance to enjoy the Deerfoot City culture and fuel up at the Deerfoot City Food Lodge with some samples of local goods. Enjoy a boutique burger and shake combo at RE:GRUB, try some authentic Mexican cuisine at Chronic Tacos or quench your thirst with a bubble tea from Chatime. Then, take the chance to interact with more of the innovative artwork located throughout Block Party. Enjoy an Instagram photo-op alongside the supersized roller skate or boombox sculpture, or take a seat at one of the groovy picnic tables each designed by Tyler Lemermeyer, who pairs playful and lighthearted themes that delight viewers. Alongside the tables, Natalia Ionescu brings more playful and whimsical murals to the streets that guide visitors in exploring Block Party.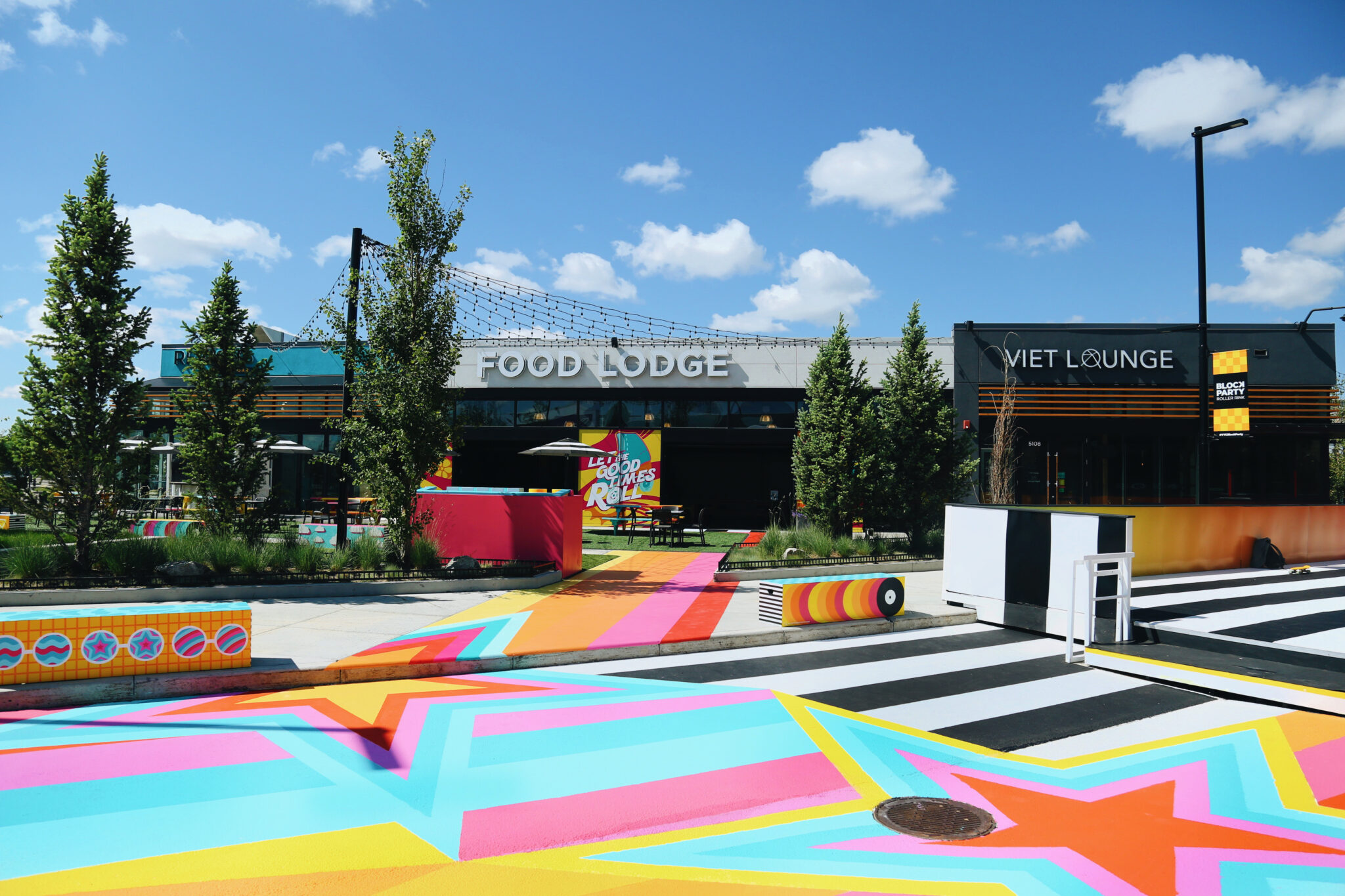 Support Local Businesses
Before ending your day of fun, don't miss out on shopping the boulevard and some unique activities at #YYCBlockParty. Beyond the roller rink, enjoy a game of tetherball and lawn games for guests of all ages across the Boulevard. Then, you can visit The Rec Room or enjoy an adrenaline rush at iFly. If you need to rest your feet, take a seat at one of the colourful, summer-infused benches created by Sarah Lamoureux, who transforms spaces with larger-than-life creations. Block Party is spread across 215 feet of art and play space for summer-long fun you can visit again and again.

For more information, visit deerfootcity.com/events-promotions/block-party.
This content was supplied by the advertiser for commercial purposes. It is not written by and does not necessarily reflect the views of Avenue staff.