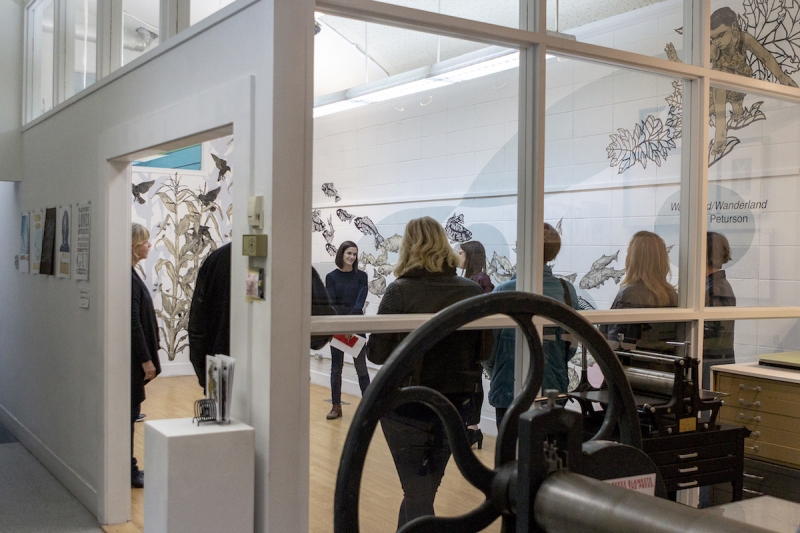 The annual Not-So-Mini Print Exhibition and Sale will feature handmade art prints exchanged by artists across the world and here at home during its runtime of December 7 to 20 at Alberta Printmakers (closed Sundays). Read on to learn what the event is all about, what exactly printmaking is and to see some works you can bid on at the show.
What on Earth is a print exchange?
The annual Not-So-Mini Print Exchange held by Alberta Printmakers (A/P) brings together emerging and established artists from home and afar to swap works and learn more about printmaking from one another. Participants are invited to submit a work in an edition of ten prints. Then, they receive eight different works in exchange. The remaining two copies from each submission are displayed and auctioned off at the gallery and studio space's Manchester Industrial location.
And what is printmaking, exactly?
Hint: Click on the hyperlinks in this section to see video examples.
Printmaking is the name of an artistic practice that comes in many forms. In essence, it's exactly what it sounds like: printing stuff. But what makes it so fascinating to artists is the way different methods can yield unique, texturally diverse results. The most common form of printmaking is screen printing posters, garments or other creations, but A/P's facilities also allow for more arcane methods like stone lithography and photopolymer plate-making for letterpress. You can see it for yourself by visiting A/P's gallery space, learn how to do it at a workshop or sign up for a membership to book some hands-on time in the studio.
Why should I care about it?
Funds raised by the Not-So-Mini Print Exchange will go towards keeping the space open both to the public who want to come see art shows as well to the artists whose options for printing equipment rentals and workshops are limited. Its opening night party (open to members and guests) takes place on December 7 while the show and sale continue to run through December 20. Not terrible timing for holiday shopping, is it?
That's a lot of words. Can't you just show me?
You know we can! Below is a preview of select works available at the show and a little insight on their creators. We've chosen one emerging artist, one founding member of A/P and an international artist from the show to give you a sense of the breadth of No-So-Mini's participants and the kind of things you'll see there.
Kate Baillies, founding member of A/P
The ties that bind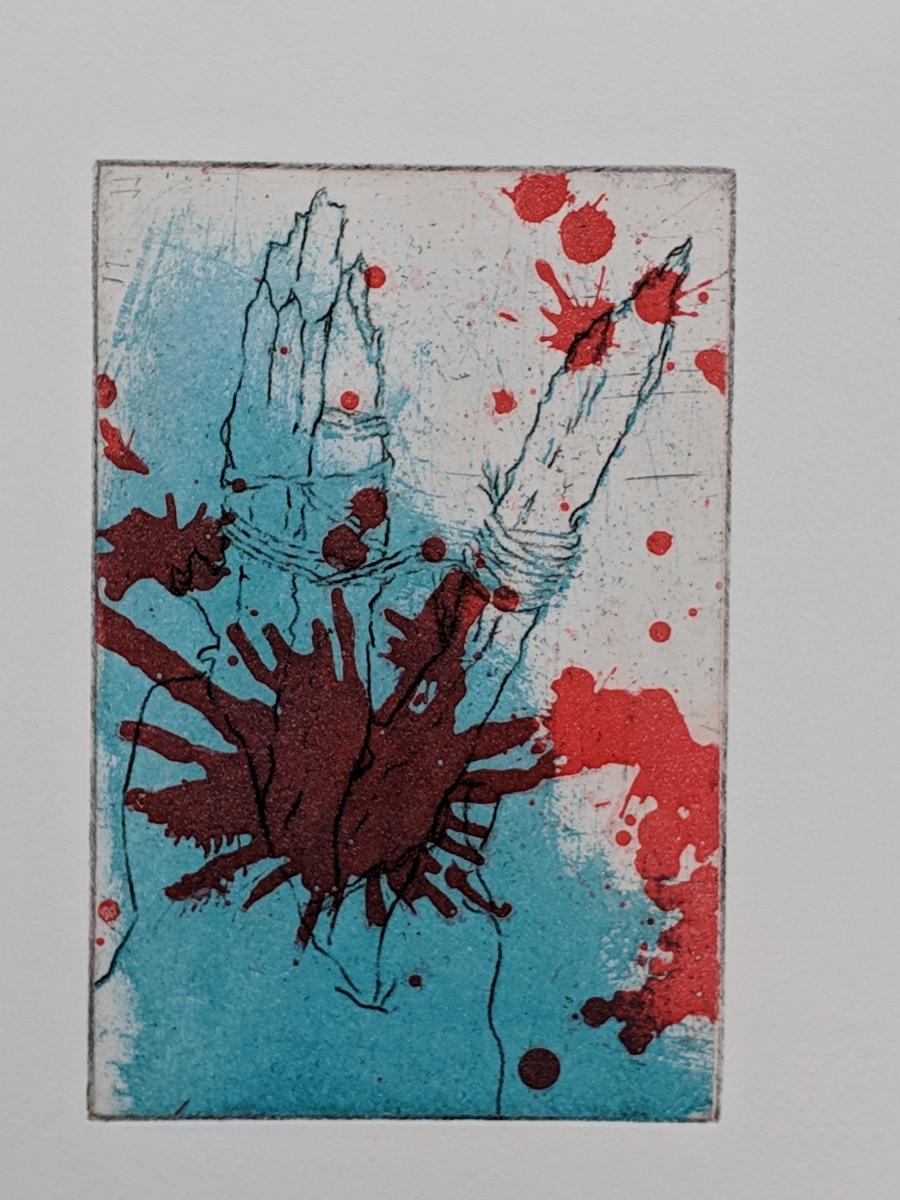 What method of printmaking did you choose for your piece and why?
"I choose to work in Intaglio printmaking (also known as etching) as it allows me to work with drawing in a very visceral way. I love working with contemporary techniques in a medium that originated in the 15th century."
What was the inspiration for your piece?
"I make work by responding to thoughts and feelings which surface from living in a complex (historic) time."
Why did you decide to take part in the Not-So-Mini Print Exchange?
"The Not-So-Mini exchange and exhibition is a wonderful opportunity for a participating artist and art lovers. As a participant, I receive a surprising collection of diverse prints through the exchange. On the opening night, I have a lot fun bidding on the prints that I did not receive in my package of exchanged work. And most importantly the money raised by this event goes towards supporting our organization over the upcoming year."
Where can people check out more of your work?
"Come to Alberta Printmakers Studio and you will see me working! Check out their online store to see my work. Also, on permanent display at our new beautiful Central Library is a book I created with Calgary poet Weyman Chan as a part of Print(ed) Word (a joint project in 2017-18 between A/P and Loft 112)."
Anything to add?
"The Alberta Printmakers has participated in many initiatives in over the past 30 tears — a Steamroller Print Project and City of Calgary utility box project, to name a couple of recent examples. In 2019, to celebrate our three decades as a society, we are organizing a portfolio of original prints by 25 artists entitled Futurology."
Rachel MacKinnon, emerging artist
Gazelle

What method of printmaking did you choose for your piece and why?
"I chose to silkscreen [synonym for screen print] my image, as I find it the quickest method for me, as well as the easiest to produce flat graphic images."
What was the inspiration for your piece?
"This piece was inspired by some sketches that I did this summer; it's part of a series that I'm working on where I create fun animal prints that are appealing for all ages."
Why did you decide to take part in the Not-So-Mini Print Exchange?
"I joined the A/P this summer as a student to rent out the studio for the two months that I was unable to print at ACAD. I thought this was a neat idea to get my work out and see some of the other work of printmakers in the local community."
Where can people see more of your work?
"I can be found at r_rutabaga on Instagram, and contacted by email for commissions."
Anything to add?
"I am a fourth year illustration major and print minor currently attending ACAD."
Marek Pospiech, international artist
Sign XX & Sign IX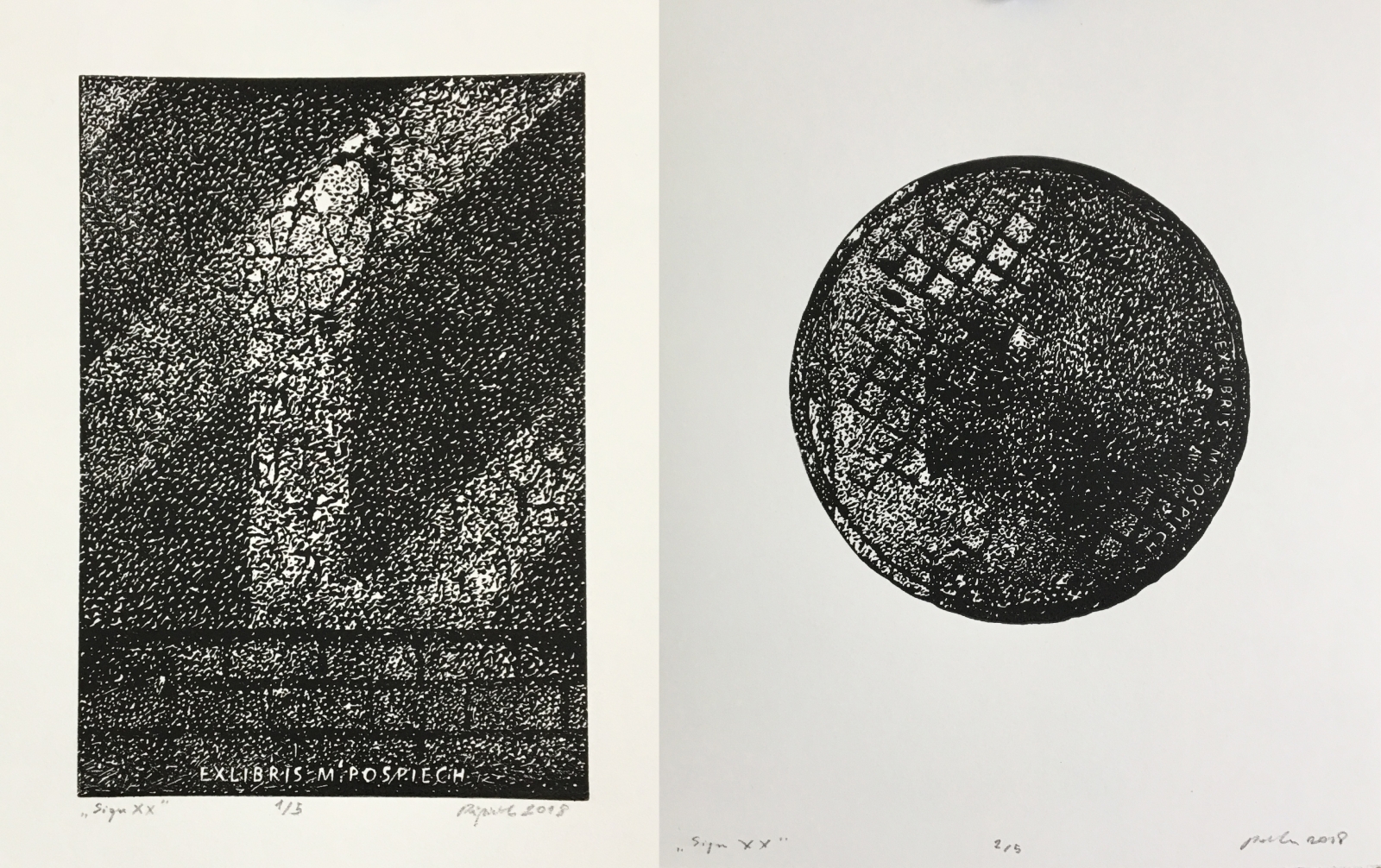 What method of printmaking did you choose for your piece and why?
"Because, in my opinion, linocut was the perfect artistic technique to illustrate the convexity of urban space, which were the convexity of the textures of the city pavement. Very precisely, thanks to this technique, I showed the richness of the urban structure."
What was the inspiration for your piece?
"Whether we want it or not, the space of our worldly existence is totally immersed in a hyper-reality created with maximum effort by the media. For some time, the key to each level of our contemporary living has been the internet empire. The overwhelming world of trash fueled by countless accidental pictures deprived of sense or aesthetic value makes people follow blindly wherever the crowd decides to go. Our thinking and feelings are becoming dangerously shallow. That is why I would like to investigate this problem in my artistic creation and turn your attention to it, especially because it is apparently simple in its ideology and meaning. Throughout the process of creation I have been accompanied by a leading idea which has finally brought me to a conclusion that seems to be crucial in our context: we are surrounded by hyperrealism, a topography of our more or less realistic activities,  we create — constantly and usually unconsciously — an unlimited wealth of form, matter and values, a hyperrealistic matrix of our towns.​"
Why did you decide to take part in the Not-So-Mini Print Exchange?
"Because I liked the idea of this project very much, which allows me to confront different artistic attitudes and talk about it on the forum."
Where can people see more of your work?
dyplomy-archiwum.triennial.cracow.pl
Anything to add?
"I am a member of the Albert Printmakers gallery and I work very well in this team, I hope that our cooperation will develop and will result in great artistic activities in Calgary and beyond."
The Not-So-Mini Print Exhibition and Sale​ is December 7 to 20 at Alberta Printmakers, 4025 4 St. S.E., 403-287-1056, albertaprintmakers.com