5 Questions with Third Street's Jonathan Brower
Meredith Bailey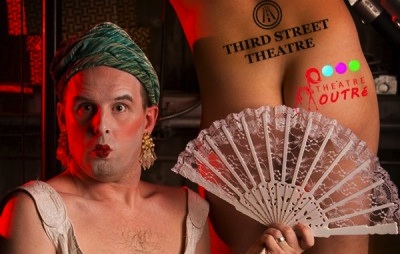 For an emerging theatre company Third Street's first season was a definite success. The not-for-profit company's spring show "I Am My Own Wife", starring Third Street's artistic director Paul Welch, won a 2013 Calgary Theatre Critics' award for best solo performance. The company is committed to presenting authentic and positive queer content on stage and its second season promises to be funny, moving, engaging and thought-provoking.
We catch up with Third Street's artistic producer Jonathan Brower to chat about juggling schedules, building audiences and lessons learned.
As artistic producer, what does your job involve?
Between Paul and I, we both kind of do everything. I mainly deal with publicity, social media and I work to get the word out. I'm dealing with the queer community, the theatre community and I'm always trying to include and engage different types of audiences. I'm also a full-time student – I'll graduate with a double degree in communication and drama in April – and I work part-time for a catering company.
You're busy! Does it ever feel like too much?
It's tough, but I never think of not doing Third Street, because I'm so passionate about it. Society and media tells us that there's a stereotypical way to be queer, but there isn't. We want to present authentic representations of queer people on stage that cover all aspects of what it means to be human.
What was the most challenging part of your first season?
The amount of work. I definitely learned the importance of delegating and relying on volunteers. We also wrestled with our title. We wanted to be a queer theatre company but we didn't want to push people away. We want straight people who might not even know a person who is queer to feel welcome. We've been surprised by the people who've come to our shows and I don't think we really know who our audience is yet. I love that – it's a perfect example that queer theatre can be for everyone.
What else did you learn from your first season?
There's a lot of support from other companies in the Calgary theatre scene. It feels like everyone wants each other to succeed and that was really new to me. We also learned how important word-of-mouth is when it comes to advertising. For our second season we've brought on a community liaison who will help us connect with queer commnunity.
Tell me about your new show "Unsex'd"
It's the perfect fit for Third Street's second season, because it's hilarious and a little crass, but it has a really important message. It explores the expectations around masculine beauty. It takes place in Shakespearean times when being considered feminine as a man was an asset. It challenges all of the ideas of what the standard is for beauty in men.
Third Street and Theatre Outre's production of "Unsex'd" runs Oct 29. to Nov. 2 at Motel at the Epcor Centre. Visit epcorcentre.org or call 403-294-9494 for tickets.