More than three years since Body Worlds last brought its unique scientific works to the city with Body Worlds Vital, the much-talked-about exhibitor returns with a new show uncovering the wonders of the animal kingdom through Body Worlds: Animal Inside Out.
Telus Spark will host the anatomical exploration of wildlife, with specimens that give the inside look of how animals move, breathe, connect, eat and reproduce. The exhibition, which runs October 25, 2019 to March 29, 2020, displays various species from around the globe without skin, fur or feathers, revealing their inner workings and anatomy.
"The main goal is to just get people excited about science and be curious — to not be afraid to wonder, explore and find that connection within themselves," explains Telus Spark marketing and communications coordinator Jacqueline Tran. "Our hope is that our visitors leave here with a different perspective."
From common pets to a giant squid, the exhibition will give Calgarians a view of wildlife they've never seen before. Here are six things to know before checking out Body Worlds: Animal Inside Out.
Exhibition Specimens Are Made With a Process Known as Plastination
First developed by Body Worlds co-creator Dr. Gunther von Hagens in 1977, plastination is the process used to halt decomposition, carried out through removing bodily fluids and soluble fats, then replacing them with materials such as silicone rubber, polyester and epoxy resin within a vacuum. "It is not only life that is dependent on water, it's also decomposition," explains Body Worlds co-creator and curator Dr. Angelina Whalley of the plastination process. "If [water] is completely taken out, no decomposition can take place."
The process is much the same when applied to animals as it is with humans, according to Whalley, though the differing anatomy and sizes of the animals can make it slightly more complicated in action. "We need to be very careful when dissecting all the fine structures, and that slows down the process," says Whalley, adding that the dehydration and vacuuming also requires larger equipment to accommodate the bigger animals, as well as more labour to transport the specimens.
No Animals Were Harmed in the Making of This Exhibition
Animal Inside Out is possible through Body Worlds's collaboration with zoos, veterinary programs and animal groups, who donate the animals after they die to be displayed in the exhibition. Whalley notes that while many of the animal donations come from within Germany — where the organization's Institute for Plastination is located — other donations have come from around the globe. The giant squid, for instance, was donated from a veterinary program in New Zealand.
Beyond the purpose of anatomical study, the exhibition also works to raise awareness of diminishing animal populations. "What I would want to achieve with an exhibition like Animal Inside Out is to draw people's attention to the fragility of nature and provide them with the knowledge that makes them understand how nature functions. I would want them to understand that these animals are very diverse, they look different, but at the very end, they have the very same needs to survive," explains Whalley. "By realizing that, I do hope that people leave the exhibition with a higher respect, and that they think twice about nature before they do silly things."
There's More Than 100 Specimens, Ranging from the World's Tallest Mammal to Cats and Dogs
Specimens in Body Worlds: Animal Inside Out include everything from single organs to entirely preserved animals, originating from different ecosystems and habitats around the globe. "It ranges from exotic and aquatic animals to more familiar animals that we recognize and identify with on a daily basis" explains Tran. "We're getting the world's tallest mammal, the giraffe, and the world's largest bird, the ostrich, and even some familiar animals, like dogs and a cat brain."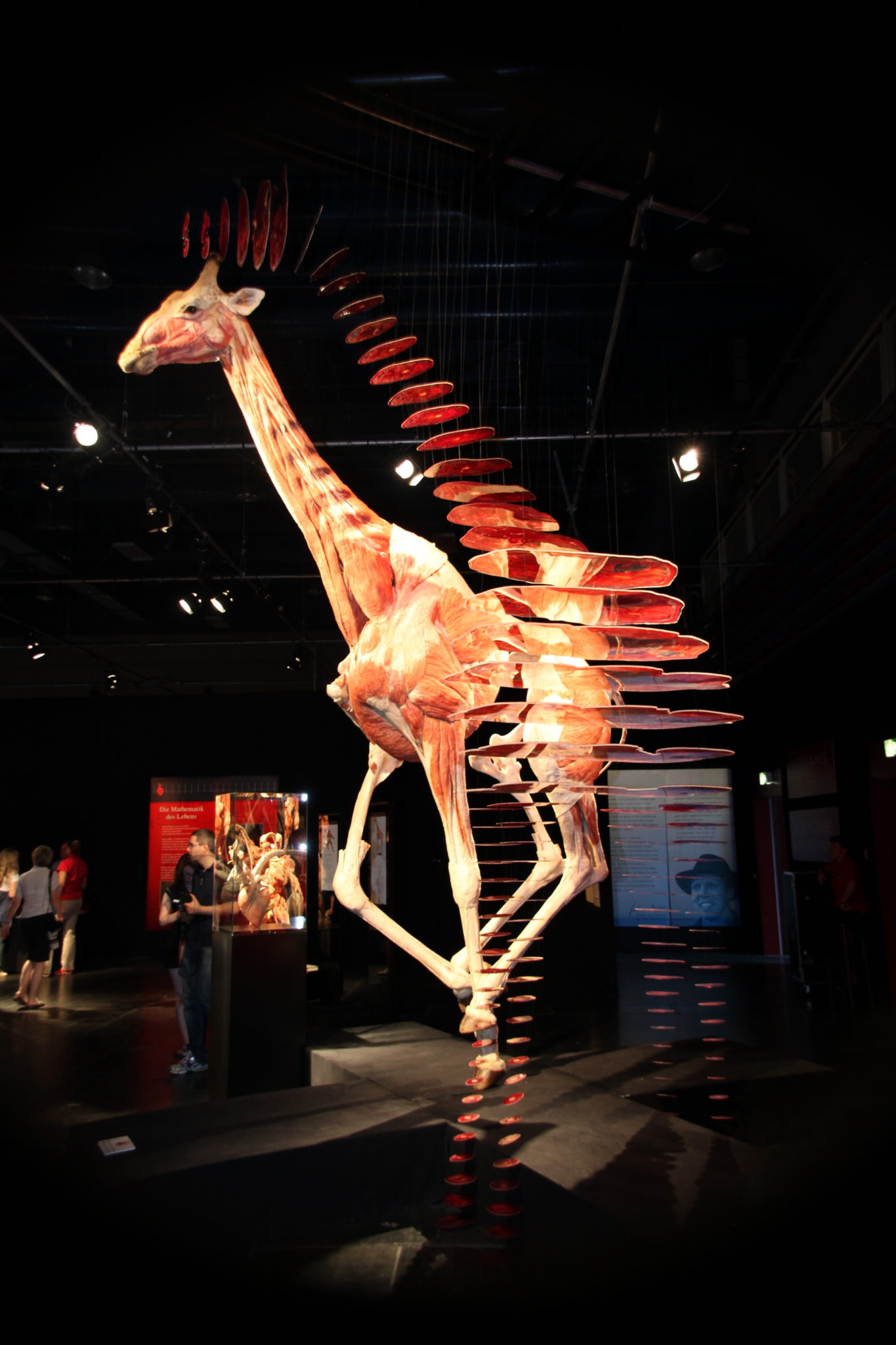 The Exhibition Isn't Just Animals
In addition to animals, the exhibition will also bring a number of plastinated human specimens to compare and connect visitors to their animal counterparts. "One of the purposes of this exhibition is actually to showcase how connected different animals from different species are to not only themselves, but to us as humans as well," says Tran. "This is just to really peel down the layers and showcase that all species are kind of the same on a molecular level."
As is the case with other Body Worlds exhibitions, the human specimens originate from the Institute for Plastination's body donation program, in which donors sign up for plastination before death.
Processing Specimens is a Major Time Commitment
While the exhibit will only take about an hour to explore, a single component takes far more than that to prepare. The giraffe specimen, for instance, took the Body Worlds team approximately 20,000 total hours to complete. In comparison, Whalley notes that the average plastination process of a human body takes roughly 1,500 hours to complete.
Transporting the full-sized giraffe also comes with its challenges. The process requires the Body Worlds team to disassemble the specimen into several large pieces and reassemble once it arrives at each stop.
It May Make You Emotional
The team at Telus Spark is preparing for Animal Inside Out to strike an emotional chord with guests during its more than four-month run.
"We're definitely training our staff for this exhibition in a different way," says Tran when comparing the exhibit to previous attractions. "This one is much more emotional. There's a really deep connection to humanity in this exhibition, as well. And so we are training our staff members to really be sensitive, but also aware of where these animals came from, and the story behind it, and the science behind why we're displaying these animals here at a science centre."
Body Worlds: Animal Inside Out will be on display at Telus Spark from October 25, 2019 until March 29, 2020. The exhibition is included with regular admission and will be hosted in Telus Spark's atrium to accommodate the height of the giraffe.
Update: This article has been changed to reflect that Body Worlds: Animal Inside Out has been extended to March 29, 2020.