At a time when personal space and the ability to maintain safe distance from others is a primary consideration when planning a vacation getaway, individual cabin accommodations are ideal. Having a self-contained space lets you avoid interactions with other guests in hotel lobbies and elevators, while cabins equipped with dining tables, kitchen facilities and barbecues provide the option to eat in. There is no shortage of private cabin rentals out there, however, cabin resort properties provide the perk of hotel-style service along with personal space. Most properties limit in-person contact from the time you arrive to when you leave by offering features such as self-check-in and check-out and being available by text if guests need anything.
Since nothing is more intrinsically Canadian than a cozy cabin in an alpine setting, here are some charming options that offer respite from the city crowds and easy access to our province's natural wonders.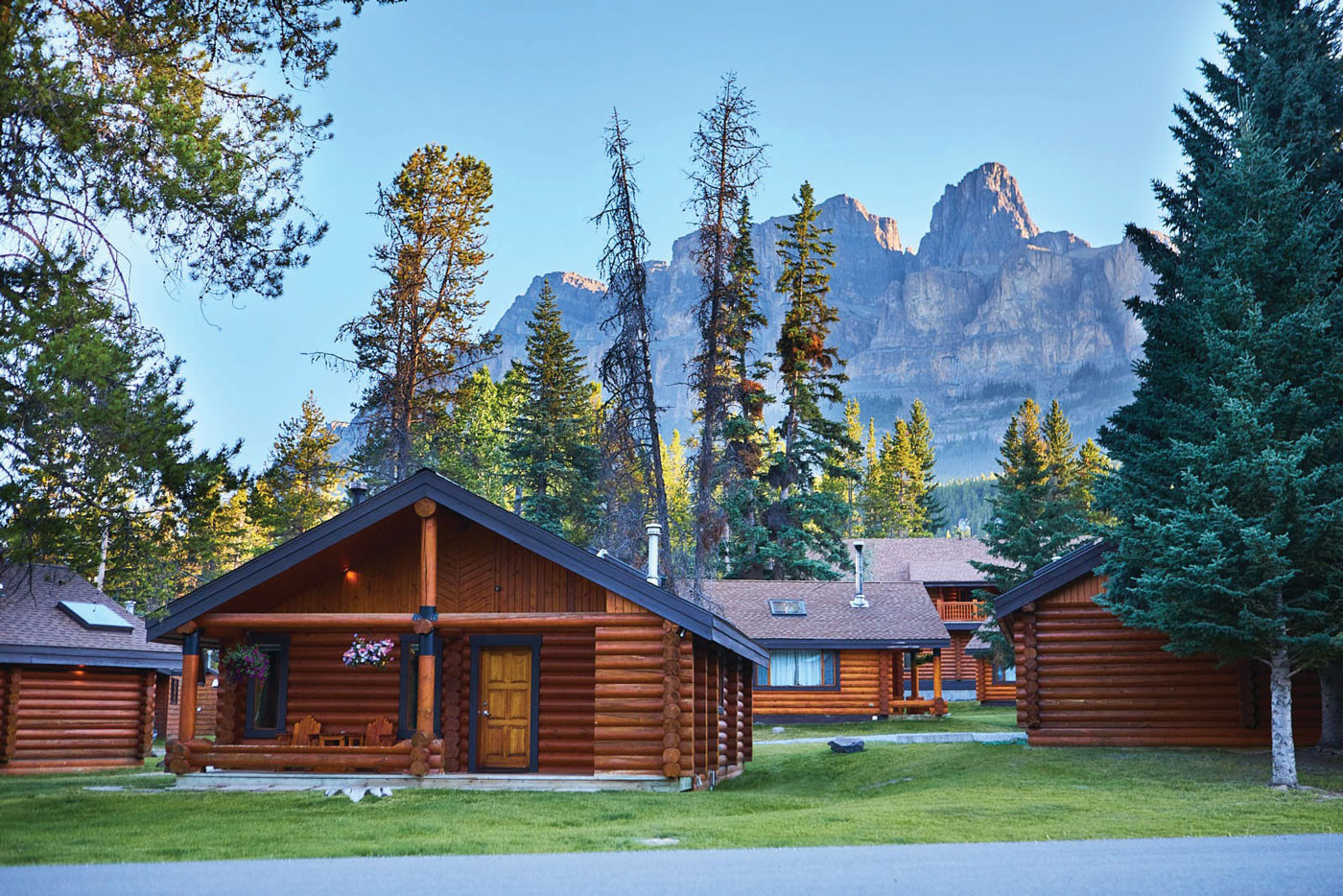 Sitting at the base of one of the Rockies' most majestic peaks, the 22 rustic-yet-refined individual units at Castle Mountain Chalets all have jaw-dropping views of their 2,766-metre-high namesake. The fully equipped chalets were built originally in 1939 and are located on more than 6,641 square feet of parkland. It's the perfect home base for exploring Banff, Yoho and Kootenay National Parks or driving the scenic Icefields Parkway. The iconic (and immensely popular) Johnston Canyon is close by, as is Silverton Falls, a 1.8 km out-and-back walk. For cyclists, Castle Mountain Chalets offer easy access to one of the most scenic bike rides in the world, the Bow Valley Parkway (Highway 1A), which is closed to vehicle traffic again this summer, from the junction of Highway 93 south to where it connects with the Trans-Canada. Reserve a portable deck firepit to cap off your day of adventuring by relaxing around a cozy fire.
Banff-Windermere Hwy, Improvement District No. 9, 403-762-3868, castlemountain.com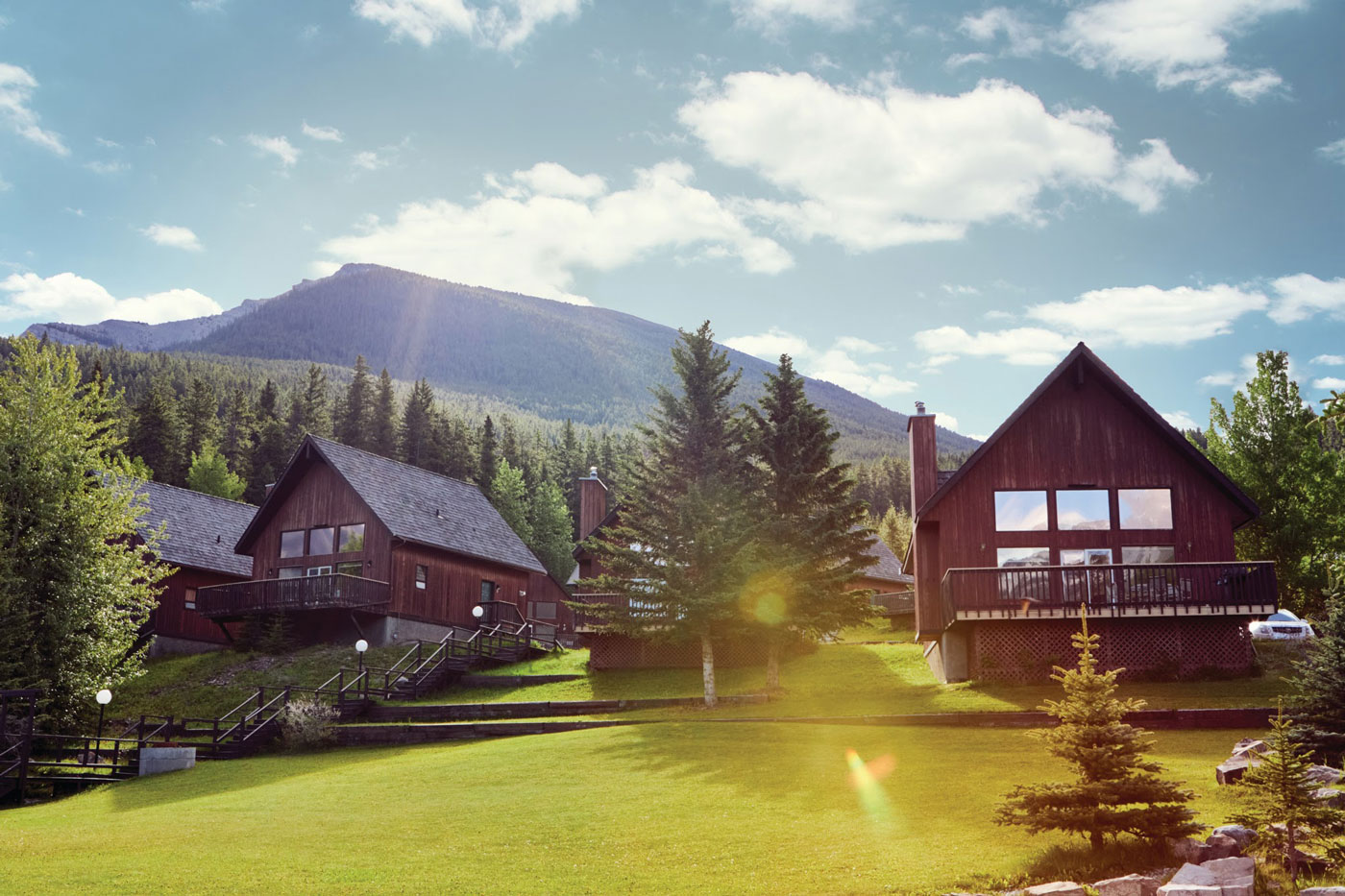 Most of us drive by Dead Man's Flats en route to Canmore and Banff, but there's a hidden gem to discover just across the highway from this overlooked hamlet. Located in Wind Valley of Bow Valley Wildland Provincial Park, Banff Gate Mountain Resort has 46 cozy chalets with sleeping capacity for between six and eight. Each chalet has a massive deck for taking in the views of morning light hitting Pigeon and Windtower mountains or watching twilight cast on the majestic four summits of Mount Lougheed. You can set off on a hike without starting your car: trails weave throughout the property and the trailhead for the Mount Lougheed Viewpoint is just five minutes away. Other great hikes in the area include Skogan Pass, Centennial Ridge and Windy Viewpoint. On hot days, you can walk to Upper and Lower Spray Falls from the resort in around 30 to 45 minutes (return) and cool down with a refreshing dip.
302 George Biggy Sr Rd, Dead Man's Flats, 403-609-9229, banffgatemountainresort.com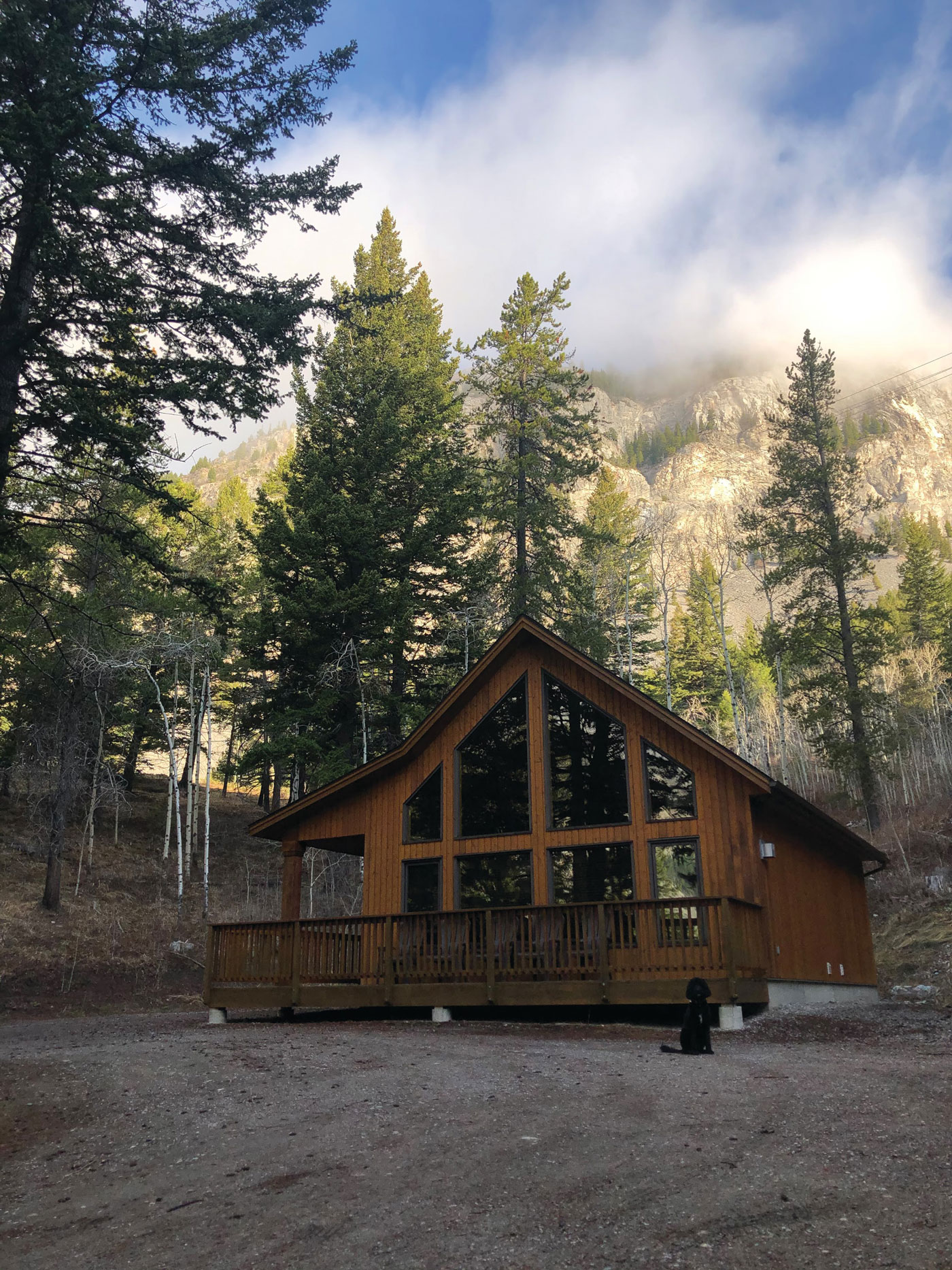 You'll find Goat Mountain Get-A-Way nestled next to Bluff Mountain (known to locals as Goat Mountain) in between the towns of Frank and Blairmore in Crowsnest Pass. Husband and wife Dale and Shelley Kuta built Goat Mountain Get-A-Way in 1997 on just under 17 acres of land they bought nearly 30 years ago. There are seven cedar chalets with 14-foot open-beam ceilings, and one deluxe cabin suitable for larger families, all surrounded by cottonwood, aspen and large fir trees. Fly fishers can cast for numerous varieties of trout in the Crowsnest River that borders the property. Turtle Mountain, home of the Frank Slide and its great interpretive centre, is minutes away, but don't miss the Allison/Chinook Provincial Recreation Area with its many hiking and biking trails, or the North York Creek Plane Crash site where you can encounter the wreckage of an RCAF DC-3 Dakota that went down in 1946. For local eats (in-person or takeout, COVID restrictions depending) check out Frida's for Mexican, Chris's Restaurant for breakfast fare, Stone's Throw Cafe for coffee and baked goods or The Pass Beer Company for craft brews, pizza and wings.
14701 20 Ave, Blairmore, 403-562-8897, goatmountain.ca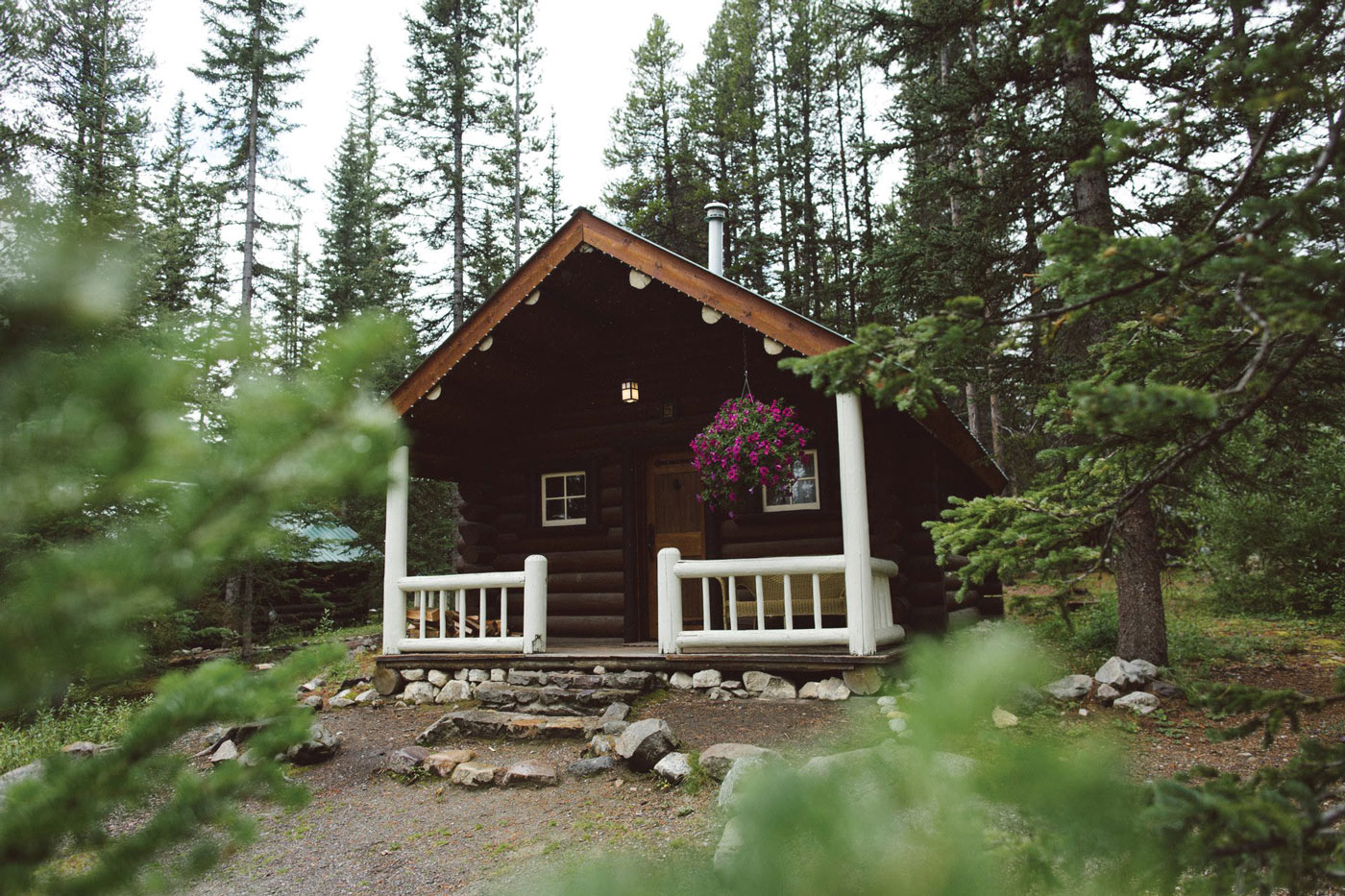 Storm Mountain Lodge's log cabins were once part of the bungalow camps built by the Canadian Pacific Railway circa 1922. The cabins have retained their historic charm with rustic decor, wood-burning fireplaces and old clawfoot tubs (with showers). Although Storm Mountain's restaurant hasn't been operating as per usual due to COVID-19 restrictions, guests can still get meals delivered to the cabins. Located just south of the Trans-Canada along Highway 93, the Lodge allows easy access to Banff, Kootenay, Yoho and Jasper National Parks. Boom Lake and Stanley Glacier are popular hikes nearby, or for a kid-friendly option check out Marble Canyon, a walk that cuts over an impressive gorge and turquoise glacial waters with a series of bridges. Make sure to pull off at the Continental Divide parking lot on the south side of Highway 93, where you can stand on the continental spine of western North America with one foot in Alberta and one foot in B.C. Whatever your plans for the day, your first stop should be Storm Mountain's takeout window to pick up a hikers' lunch.
Banff National Park Of Canada, Highway 93 South, 403-762-4155, stormmountainlodge.com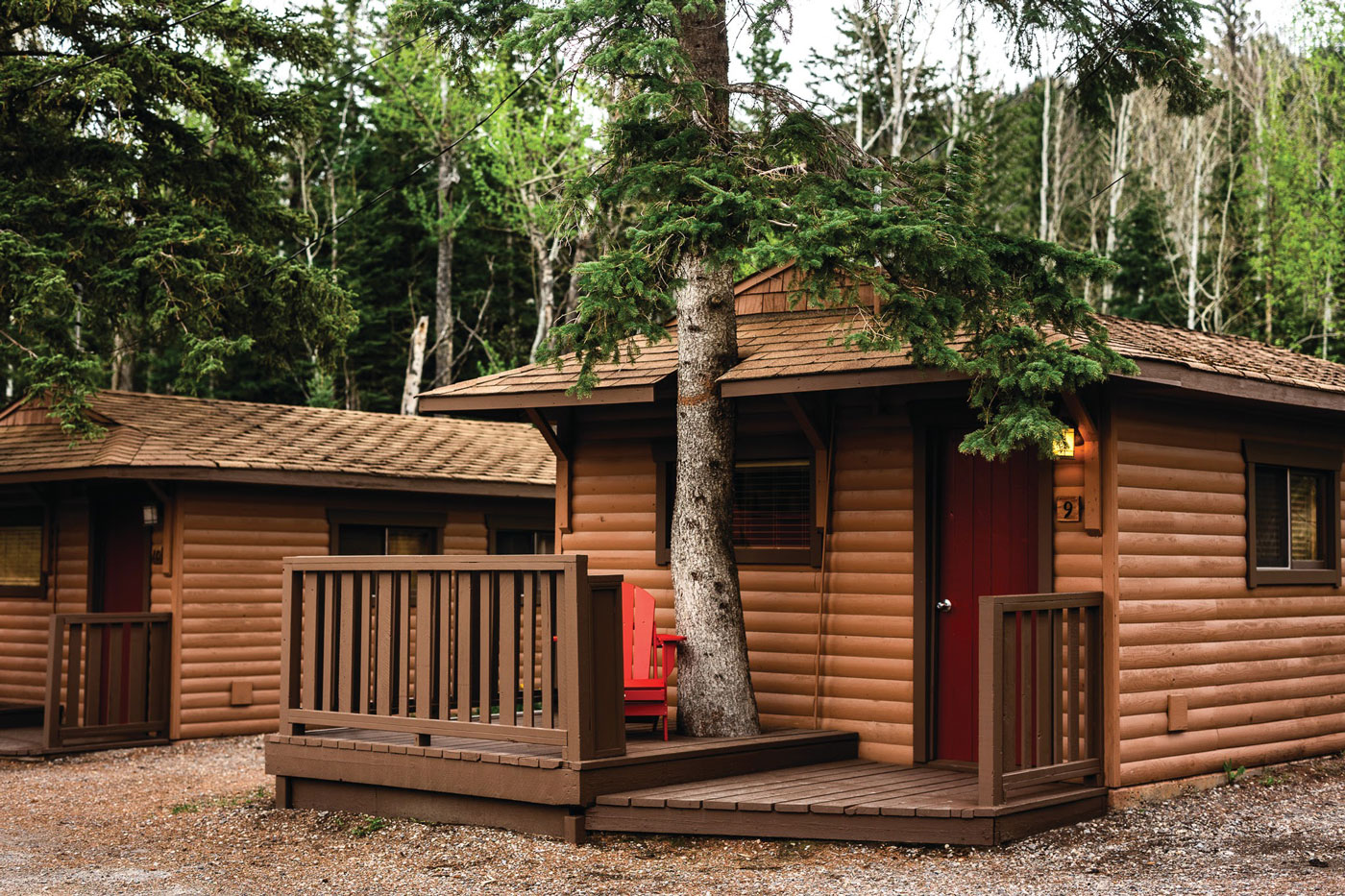 Pocahontas Cabins are ideal if you're looking for a quiet Jasper getaway with great hiking and the hottest hot springs in the Canadian Rockies. Located just outside the east gate of Jasper National Park at the base of the road to Miette Hot Springs, the cabins all have full kitchens and private decks. While the town of Jasper is only a 30-minute drive away, you can avoid the crowds by picking up groceries, snacks and souvenirs at the Trading Post shop on site. For a nearby hiking trail with a dose of history, the Pocahontas Upper Loop takes you through an original mine site. For something heart-pumping with a panoramic payoff, hike the Sulphur Skyline trail, then soothe your muscles at the hot springs. If you have no desire to cook after a day of adventuring, hit up the taproom patio of nearby Folding Mountain Brewing, or enjoy the smokehouse menu on the outdoor deck of Maligne Canyon Wilderness Kitchen. Once the sun goes down, enjoy the stellar stargazing that Jasper National Park offers as an official Dark-Sky Preserve.
Highway 16 East, Jasper, +1 866-845-6338, banffjaspercollection.com